Indonesia Travel Guide
Indonesia is one of my favorite countries in Southeast Asia so far. It combines everything I like: amazing beaches, lush jungles, culture, and history. I also loved it because there are so many non-touristy places, be prepared to have your picture taken a lot, Indonesian people love selfies!
Beyond Bali, each island is a new adventure, with different landscapes and traditions. In some places, the ethnic way of life is still really preserved and it's just an amazing thing to discover.
Also, Indonesian people are super nice, I didn't think people so generous, so kind and so openhearted existed. They will help you, feed you, and bend over backward for you. In a lot of places they don't really speak English, so try to learn some Bahasa, it's super easy and it will make them so happy.
Whether you're planning a backpacking trip, a family vacation, or you're looking for the best Indonesian islands for your honeymoon, you'll find plenty of awesome destinations for everyone all around the country.
Here is everything you need to know before visiting Indonesia
Table of Contents
Main Indonesian Islands to visit
Flores
Flores is my favorite place in Indonesia. The island is beautiful and left me often open-mouthed, the landscape is amazing with a lot of greeneries and a lot of mountains. Furthermore, there still are many traditional villages left and you'll be able to get a truly authentic experience there.
The island also offers a lot of volcano climbing opportunities such as in Kelimutu National Park. If you're more into culture check out the villages around Paga or in Bajawa.
Flores is attracting more and more tourists each year, especially with the famous Komodo Island, but not many go farther than Labuan Bajo. Flores is starting to get organized around tourism which will facilitate your time there. At the same time, the island is far from being overcrowded (yet).
Planning your itinerary should be easy, there's only one road crossing the island from east to west. You would need about 10 to 14 days to visit it. You can easily fly to Ende or Maumere from any point in Indonesia. From Lombok, you can take the 3 days cruise to Labuan Bajo.
RELATED – BEST PLACES TO VISIT ON FLORES ISLAND
Java
Java is Indonesia's most modern island, there are a lot of big cities with not much to offer. However, Java, especially East Java, is also full of interesting places if you like nature, with many UNESCO-protected national parks, such as Gunung Bromo, Java's most famous volcano.
Java will also please history and culture lovers, with many archaeological sites mostly from the Majapahit Empire such as Trowulan or Gunung Lawu.
Kalimantan
Kalimantan is the ultimate adventure, from trekking through the jungle to swimming with jellyfishes, the island has a lot to offer for nature-lovers and adrenaline junkies.
When traveling in Borneo keep in mind that distances between two destinations are usually huge and that most activities are quite expensive. You can travel Borneo on a budget but you'll be missing a lot of great adventures.
RELATED – BEST THINGS TO DO IN KALIMANTAN
Sulawesi
Sulawesi is definitively one of my favorite Indonesian Islands. It has so much to offer: amazing beaches, great diving, impressive tribal culture, and friendly people. The best part is, that apart from some places, it's almost void of tourists. If you want to get off-of-the-beaten-path visit places like Tentena, Lore Lindu, and Danau Tempe.
If you want to really explore the whole island you'll need at least a month. Places are really far from each other, and you usually lose a day in transportation. Don't forget to try Pisang Ijo (green banana) a local dessert and coto Makassar (pronounced tchoto), traditionally it's an organ soup but in most places, you can ask for meat instead.
RELATED – BEST PLACES TO VISIT IN SULAWESI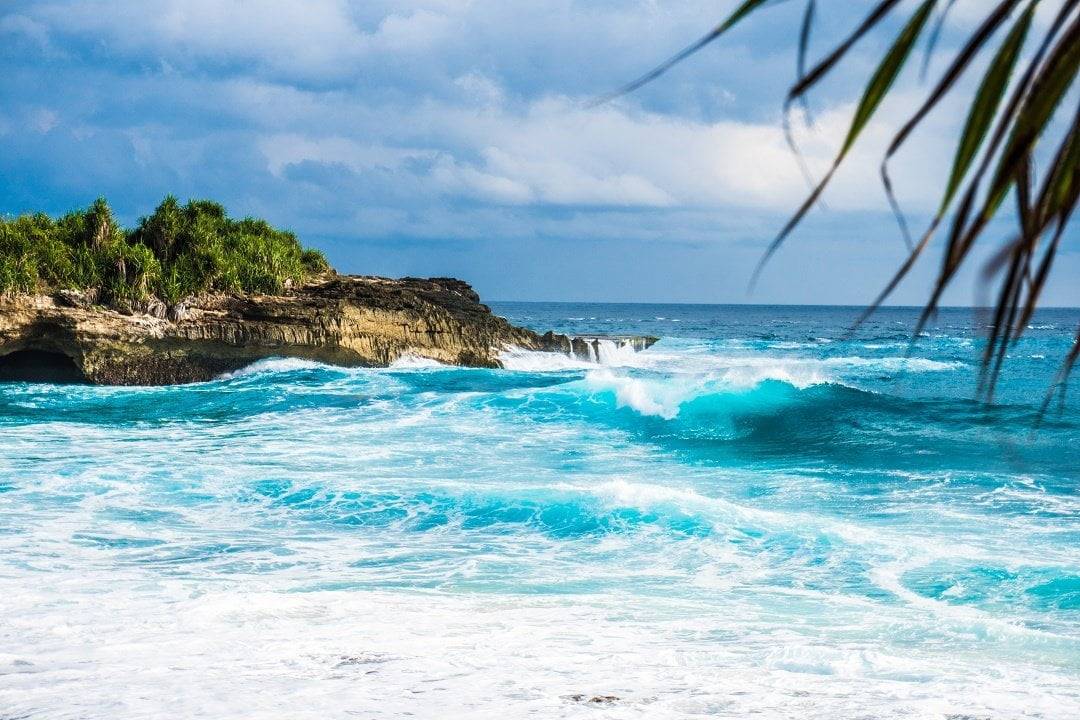 Timor
Timor is probably one of the less-visited islands of Indonesia and it's probably why the feel of the place is really different. Locals really are sticking to their traditional way of living and all through the island, you'll notice the traditional houses and clothing. Most of them are Christians now but they still regularly practice old animist rituals, especially sacrifices.
Communication there is hard as no one speaks English except in Kupang, and public transportation is sporadic if you want to go somewhere that's not on the main road. The best way to explore Timor is to rent a motorbike and drive around the island for a couple of days.
Be careful when visiting villages, some of them don't allow foreigners without a guide. But you'll see, even by staying on the main road, you'll be able to get an idea of the traditional life people are living here.
Getting out-of-the-beaten-path in Indonesia
Getting out-of-the-beaten-path in Indonesia is super easy, the country is so big. There are a lot of wonderful islands where you won't see many foreign visitors. Try Sulawesi, Timor, Kalimantan, Papua, and the smaller islands east of Flores.
These islands are so rich in culture and natural beauties, but most travelers never make it there. They usually offer great adventure opportunities and experiences you won't forget.
Some of these islands are really hard to travel around in, if you look at the map of Papua you'll see there are no roads, which mean a week of jungle trekking or taking a plane each time you want to go somewhere.
You should be extra careful when planning your itinerary in this type of place and have plenty of time. Same with the islands east of Flores, if you're planning on taking the boat, check the schedule first because most islands see the boat only once or twice a month.
What to eat in Indonesia
Indonesian food is usually really tasty and often spicy. Each island has its own specialties, making it a paradise for foodies with hundreds of different dishes to try. Among the most famous ones are rendang (a type of beef stew), nasi goreng (fried rice), gado-gado (vegetables with peanut sauce), and satay (chicken kebab in peanut sauce).
A famous street food you'll find almost everywhere is martabak, a type of crepe filled with eggs, vegetables, and meat (you can choose what's in it). They usually also make martabak manis, the sweet version. More like a pancake you'll have the choice between different fillings. You'll notice soon enough that Indonesians think cheese and chocolate are a good match. The name can be different in some places.
Another unique dish is the one they make with jack fruits, it's usually really tasty.
To make it easier you should learn some of the food vocabulary:
Ayam: Chicken
Ikan: Fish
Babi: Pork
Beef: Sapi
Nasi: Rice
Mie: Noodles
Goreng: fried
Bakar: Grilled
You will easily find sweets such as rice cakes, palm cakes, fried bananas (pisang goreng), and my favorite: es pisang ijo.
Be aware that in the none-Muslim parts of the country they sometimes eat dogs. There's also a scam going on in Bali where sellers on the beach would sell you dog kebab saying it's chicken.
Culture and religion in Indonesia
As you may already know, Indonesia's main religion is Islam, but there are also a lot of Christians and Hindus.
Culture and traditions are wildly different from one island to another. What you generally have to keep in mind is that Indonesians are deeply religious and that Bali doesn't represent Indonesia. Bali is a place where Indonesians that don't « fit in » come to be free.
There are also tons of tourists there so people are used to more « western » culture. If you travel to other islands, you'll have to respect their way of life, which mostly means being dressed appropriately and being discreet.
I've met so many people via Couchsurfing who told me they had stopped hosting because foreigners weren't able to respect their traditions. Of course, if you're wearing shorts or being loud no one will say anything to you or even give you a bad look, but when you're doing this you're giving a bad image of foreigners.
Indonesians are the nicest people on earth, they are so generous and so kind. They are always happy to meet foreigners, to share everything they have with you, and also to learn about different cultures. But you have to understand that, to most of them, a woman wearing shorts or a shirtless man is shocking and inappropriate.
Another cultural difference is about getting mad. In Indonesia, as well as several other Asian countries, getting mad, yelling, losing patience is a really bad thing. People don't get mad here, shooting won't get you anywhere. It's considered a weakness and as being disrespectful. Try to always keep your cool.
Transportation in Indonesia
For short distances, you can use Ojeks (moto-taxi), always agree on the price first. To be sure not to get the « tourist » price you can use apps such as Uber, Grab, and Go-Jek, they all offer transportation by motorbike or by car with a fixed price.
To get between cities you can take the bus or mini-vans (called bemo on some islands), you can stop them anywhere along the road. Bemos are also used to get around the cities but you'll have to ask locals about it as there's no way to know the schedule and route otherwise.
Buses are usually crappy and tend to break down easily. The quality of transportation varies wildly depending on the island you're on. In Java, you can also travel by train, it's a bit faster but not much.
To get between islands you can either fly or take the boat. To travel between Sumatra, Java, Bali, Lombok, Sumbawa, and Flores, there are frequent boats. Elsewhere the boat schedule is way less frequent, the ferry usually does a loop that takes 2 to 4 weeks, which means you'll have to wait for the boat to finish its loop to get to the next island. In most cases, flying is your best option.
Browse by destination