So'E: Exploring Timor's traditional villages
Last Updated on November 5, 2022
Timor is famous for its many traditional villages and its bee-hive houses. Listed below, you'll find some places to visit to learn more about the incredible Timorese culture.
You can stay in the town of So'E, Timor, a good base to explore the surrounding traditional villages, or take a day trip from Kupang.
Related – Everything you need to know before your trip to Indonesia
Disclaimer: this post contains affiliate links, which means that if you click on any links and make a purchase I'll get a small commission, at no cost to you.
Best villages to visit near So'e, Timor:
None village – Dawan ethnic group
None is one of the last villages to have stopped headhunting, in 1945. People believed that by decapitating a man and keeping his head, they would absorb his forces. Fifty-six families live there, most of them in traditional bee-hive like houses called ume bubu, made of a really low straw roof. These houses are really common in Timor, and you'll see that people often live in concrete houses but have kept their ume bubu next to it.
They also have communal houses called lopo, where they hold ceremonies, share a meal, or work together. At the end of the village, there's a cliff with a really nice view over rice fields. You'll also find a huge and really old Banyan tree, next to it a totem and a sacrificial altar. Villagers, mostly animists, still make sacrifices during harvest ceremonies, but also for important events such as death, wedding, or birth. Mostly chickens are sacrificed.
From the main road, it's a 1-kilometer walk to the first house where you sign up, make the donation, and are assigned a guide. The best is to stay in So'E, Timor, where there is plenty of accommodation, and you can just take a bemo to None. Ask the driver to drop you off at the crossroad.
Another option is to arrange to spend the night at the village. You can also arrange for a weaving demonstration, but you'll probably have to buy something in exchange.
While you're in So'E don't forget to ask when the markets in the nearby villages are held, some of them are really impressive and you'll get a look at local life and traditional crafts.
None village is super nice, and even if the guide doesn't speak English really well, he was able to explain to me about their traditions.
You'll see in the village, they are building concrete houses and giving up little by little their traditional houses, so now is a good time to visit. You'll feel it's a bit of what I call a "tourist village," they decided to make money out of tourism which is ok, but sometimes the authenticity of the place suffers from it. At the end of the visit, the guide took me to one of the communal huts where I saw women making crafts, so I thought oh that's nice, but it's more of the "tourist shop" where the people wait there all day for tourists to come and buy something.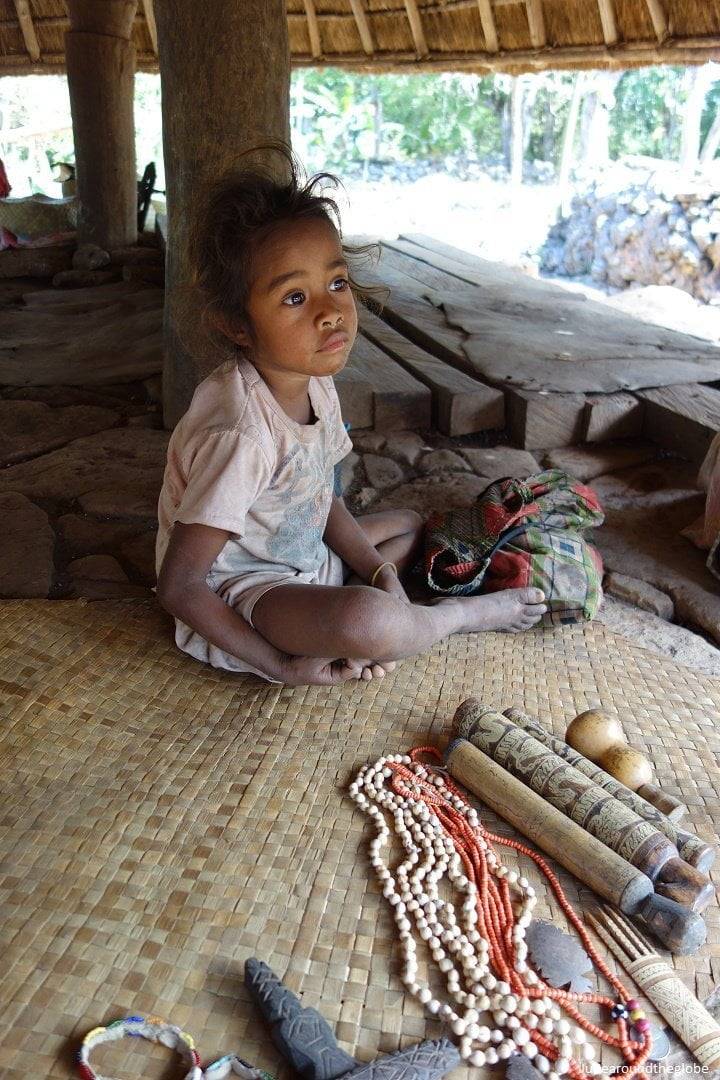 Overall it was still a nice experience, the houses are just amazing and typical of the Timorese style.
Boti village – Adat ethnic group
Boti is a remote traditional village that opened up to tourism in the 80s but still tries to live as far away from the modern world as they can. It's also the last village in Timor with a king, whose role is to preserve traditions and the very strict Adat local laws.
They lived in total isolation for centuries, the Dutch never found the village neither did the headhunters. They refuse any help from the government, are self-sufficient, and even have their own school, which consists only of primary school because they believe education is a source of unhappiness. Men are encouraged to marry outside the village to bring new blood in, but if a woman does that she gets forever banned.
You'll need to hire a guide to go there, it's mandatory, they won't let you in without one. If you get there on your own, there's a sign at the entrance which gives you the contact numbers of local guides. But they might not be available, and there's no place to spend the night there, so it's better if you arrange for a guide in Kupang or in So'E.
You'll also have to hire a car with a driver if your guide doesn't have a means of transportation to offer you. I didn't go there because the cost was too expensive for a single person, try to find at least 3 other people to go with you and share the costs.
Boti offers homestays for really cheap if you want to spend the night there. There is not a lot of tourists coming to Timor, and even less coming to Boti (less than 400 a year) because it's so hard to get there. This way the village stayed authentic, and when you go there, you won't be surrounded by other tourists.
You can find a guide on the lonely planet website or ask at your hotel, make sure the guide speak adat, the dialect spoken in Boti, because most of them don't speak Bahasa.
Related articles to help you plan your trip to Indonesia:
Like it? Save it for later – Traditional villages near So'e, Timor: