Best Kid-Friendly Vacation Destinations in Europe for Families
Last Updated on September 26, 2023
Planning a family vacation in Europe and wondering where to go? Discover some of the best European destinations for families. Filled with kid-friendly activities, these vacation spots are ideal for families wanting to visit Europe.
Whether it's your first family trip to Europe and you want to visit the most popular kid-friendly destinations in Europe, or maybe you've already been there and want to discover Europe's hidden gems, you'll find the perfect destinations for your family.
From city breaks featuring stunning architecture, a rich cultural life, and tasty food, to more off-beat locations in the countryside, explore Europe and some of its top family destinations on your next vacation!
Keep on reading to discover the best destinations in Europe for families.
Disclaimer: This post contains affiliate links, which means that if you click on any links and make a purchase, we'll get a small commission, at no cost to you.
Wicklow, Ireland
By Amber from Amber Everywhere
Wicklow, Ireland is a fun and unique destination in Europe for families, with an abundance of outdoor activities for kids to enjoy.
There are charming towns, one of which was a recent filming location for Disney's Disenchanted, as well as a local Irish adventure park, the Clara Lara Funpark. The Clara Lara Funpark features canoeing and boating along the Avonmore River, along with other classic games like mini golf and go-carts.
For kids who enjoy swimming and playing in the water, Wicklow also has several beaches, the most popular of which is Brittas Bay. There, children can play in the water on a warm day and see the occasional seal and/or seal pup.
Some of the best things to do in Wicklow for kids include nature walks in Glendalough and the Clara Vale Woods. For an extra special treat, visit Beyond the Trees in Avondale, a large wooden platform that ascends above the trees and offers expansive views of the Wicklow Mountains in all directions. Then, assuming the weather isn't too wet, children can slide down to the bottom of the platform.
The Wicklow Mountains are only an hour's drive from Dublin, so you can still visit the city for a day or two without the hustle and bustle of staying in the city center. If you decide to stay in Wicklow, the Wicklow Way Lodge is a charming B&B that serves a delicious breakfast in a great location.
Lake Garda, Italy
By Gabi from Under Flower Sky
Lake Garda is one of the largest lakes in Italy, full of castles and pretty places, and will make a perfect European vacation destination for families.
The area is home to three amusement parks. The most famous, Gardaland, offers many fun rides for all ages, while Caneva World offers fun at its swimming pools, and Movieland many rides and entertainment options.
With its mountainous background and lovely beaches, Lake Garda is the perfect place to enjoy the outdoors. There are plenty of places to go for easy hikes with castles and wildlife along the way. Riva del Garda offers easy hikes and scenic landscapes. In Parco delle Cascate del Varone (Varone Waterfall) you can explore caves and canyons, and you can enjoy spending some time at the beach in Bordolino.
Don't miss Sirmione and its stunning castle as well, one of the most popular attractions around the lake.
There are plenty of great places to stay by the lake. In Riva del Garda, you'll find several family-friendly hotels, such as the Active and Family Hotel Gioiosa, the Hotel Savoy, and the Astoria Park Hotel. In Bardolino, the Sisan Family Resort is ideal for families. Alternatively, you can rent a lake house for more comfort and privacy.
Cardiff, Wales
By Lowri from Many Other Roads
Europe is a fantastic destination for families to visit year-round. With so much to see and do, you will have plenty of options. But if you are looking for one of Europe's best destinations for families to visit, add Cardiff, UK to your list.
The capital city of Wales is popular with families thanks to its welcoming and safe atmosphere. Combine this with great food spots for all and a variety of indoor and outdoor activities to enjoy, and you have one of the best family trips in Europe.
Throughout Cardiff, you can find great activities to do together, no matter what your budget is. One of the most popular things to do is visit Cardiff Castle. For £14.50 per adult and £10.00 for children over 5, you can tour this historic site, right in the heart of Cardiff! During your visit, you can see the norman keep, the castle apartments and so much more! You will also find events here throughout the year like the Cardiff Christmas Market and historical reenactments in the summer months.
Another great place to visit with the family is Techniquest Science Museum. In Cardiff Bay, a small distance from the center of Cardiff City, you will find this interactive museum that is really popular with Welsh families for a great day out. For £10.90 per adult and £9.00 per child, you can spend the day exploring and engaging with displays and technology. Not only is it educational but is really fun for adults too!
There are also many free activities you can enjoy throughout Cardiff with the family. You can stroll through Bute and Roath park for the most amazing views. But the best free thing to do in Cardiff is to tour the St Fagans National Museum of History.
You will find that Cardiff has many great places to stay for families visiting the city. The best one for value for money and location is Novotel. You'll also find plenty of cozy and affordable vacation rentals around town.
Kos, Greece
By Lowri from Many Other Roads
Kos is one of the most family-friendly Greek islands and is the ultimate family getaway. From exploring its clear waters to visiting historic sites, this is one of the best locations in Europe to keep your family entertained.
No matter your budget, there are so many things to do around Kos to spend quality time together. One of the best places to visit is the Traditional Windmill Of Antimachia. For only a few Euros you can explore the oldest working windmill on Kos Island. During your tour, you will be shown the inside of the windmill and how it works. You will even have a chance to move the windmill sail yourself. This is a great tour because the staff takes photos of you around the windmill and they are of amazing quality!
Kos is a great Island to explore ancient greek history. One of the best places to visit is the world's first hospital, Asklepios hospital. This is one of the most recommended places to visit in Kos and there are some great tours you can do here to learn more about the site.
To make the most of your family getaway to Kos, hitting the beach is a must. And if you want to visit one of the best beaches on the Island, stop by Marmari Beach. With its crystal clear waters and golden sand, this is a popular place for families to visit. The beach is private, safe, and has great facilities and water sports available.
Whether you want an all-inclusive hotel to stay at or a vacation rental in the mountains, Kos is full of great places to stay. However, if you are looking for the very best hotel for families, book your stay at Astir Odysseus Kos Resort & Spa. With 3 swimming pools, a children's club and spa facilities, this is a great stay for all the family.
Algarve, Portugal
By Linn Haglund of Amused by Algarve
The Algarve is an incredible destination in Portugal for families to travel all year round. Whether you like to explore spectacular beaches with hidden tunnels leading to other secluded beaches, or you prefer going on boat trips to discover the impressive rocky coastline made from jaw-dropping cliffs and majestic natural sea caves.
There are endless water activities from snorkeling, paddleboarding, kayaking, jet skiing, and scuba diving, so there is something for any kind of adventure-seeking family. Even on land, you can go on inland 4WD trips or boogie trips to raise the heartbeat.
Among the top-rated activities that should be on any Algarve itinerary is Benagil cave. The epic sea cave is also called the Cathedral due to its grandness. Entering the cave by kayak or paddleboard, you can step onto the golden beach inside that is only lit up by the sun penetrating through the giant hole in the ceiling.
Algarve, unfortunately, is also home to Algarve Zoomarine, where they promote swimming with captive dolphins. This is a highly unethical practice as dolphins that would normally swim many kilometers a day in the wild are kept in captivity without this possibility. Instead, show your children dolphins in their natural habitat by going on an ethical dolphin safari on the open ocean. Some of these trips include a marine biologist that will teach you a lot about dolphins.
If you are looking for a more low-key and relaxed vacation with your family, head to the east coast of the Algarve where you can relax in Tavira, take the little tourist train to the Anchor Cemetery on Tavira Island, and make sand castles on the beach. A wonderful family-friendly and central hotel in Tavira is the Vila Gale Hotel where you can enjoy the outdoor pools.
If you're planning to move around the region, you'll find plenty of great vacation rentals along the coast that are ideal for a couple of nights.
Cadiz, Spain
By Joannna from The World in My Pocket
Cadiz is one of the best destinations in Europe for families. Located in the South of Spain, Cadiz is one of the oldest settlements on the continent, being founded in 1100BC. There are plenty of things to do in Cadiz that will make every member of the family happy.
Firstly, the beaches around Cadiz are sandy and safe for children. The most popular beach in town is La Caleta, which is a small bay with soft sand and shallow waters. It is surrounded by the vibrant La Vina neighborhood, popular with locals to go out or to eat tapas and late dinners in the evenings. The Spanish are very family orientated, bringing their children along when they go out and including them in all their activities.
One of the most popular spots in Cadiz for families is the Park Genoves, a green-shaded area to hide away from the heat. Here, there is a beautiful fountain with dinosaur statues in the pool below it, which is the main attraction for kids.
Cadiz is located on an island and is divided between the old town and the new residential area. In the old town expect the pass underneath old city walls to reach the majestic Cathedral that is facing the sea.
A good kid-friendly hotel to stay at in Cadiz is the Parador or you can book a vacation rental.
Paris, France
By Imee from Journey to France
Paris's fairy-tale-like architecture and scenery will leave children in awe. Many regard the French capital as one of the most family-friendly destinations in Europe.
The Parc de la Villette, just 5 kilometers northeast of Paris, is a great place to take the kids for the morning or afternoon. The Cité des Sciences et de l'Industrie (City of Science and Industry) and the Géode are the two most popular attractions in the park (IMAX theatre).
There are also museums in Paris specifically geared for kids so that even the youngest visitors can experience the city's rich cultural heritage. The Musée de la Magie and the Musée en Herbe are only two examples. Both offer rotating and permanent exhibits, as well as activities, tours, and workshops.
Last but not least, plan a visit to Disneyland Resort Paris. A must for children of all ages, this resort features Walt Disney Studios Park, where everyone will enjoy the many beloved attractions and characters.
With its many interior and outdoor attractions, Paris is a popular vacation spot all through the year. However, the best time to go is between the end of April and the beginning of October (excluding August). Hotels fill up quickly during these months, so make your reservations early. Saint-Germain, Rue Cler, and the Marais are the most kid-friendly neighborhoods in all of Paris.
One of the best luxury hotels in Paris for families is the Four Seasons George V, while families on a budget can still experience great accommodations in places like Staycity Aparthotel Gare de l'Est.
Douro Valley, Portugal
By Alexander from Travel Your Memories
The Douro Valley has been on the UNESCO World Heritage List for many years and it is one of the oldest wine regions in the world. Right through the valley flows the almost 900 km long Douro River, which flows into Porto. The wine itself was, and still is, produced in the valley, and used to be brought to Porto by traditional boats. In the Douro valley, you will find many active wineries and in some, you can even stay overnight.
It is recommended to discover the Douro valley by car. There are many beautiful viewpoints along the way where you can easily stop to enjoy the scenery.
From Pinhão, you can take a boat trip which is nice to do for families because it is a great activity for everyone. The boat trips last 1 or 2 hours and departs from Cais do Pinhão. Alternatively, there are also a few companies that rent out kayaks. A 2-person kayak for 1 hour is €20 euros, €30 for a half-day, and €40 for the whole day.
Although the Douro Valley is all about nature, it is certainly nice to visit the surrounding villages and towns. Nice places to visit are Lamego (be sure to climb the imposing Santuário de Nosso Senhora dos Remedios church on top of a hill), Viseu (mainly stroll through the small center), and Vila Real.
A recommended place to stay is a Quinta. A nice option is Quinta de la Rosa, just outside Pinhão. The rooms are spread over several layers of wine terraces. The rooms are lovely and breakfast is included. You can eat on the terrace with a great view over the Douro. In addition, there is also a swimming pool to cool off.
You'll also find plenty of vacation rentals offering stunning views over the valley and the river.
Copenhagen, Denmark
By Melissa from Parenthood and Passports
Copenhagen is an ideal European city for families. Safe, easy to get around, and full of kid-friendly activities, the capital city of Denmark is the perfect destination in Europe for a family vacation.
Copenhagen is home to one of the world's oldest theme parks, Tivoli Gardens. Established in 1843, Tivoli has lots of fun rides for kids of all ages – from toddlers to thrill-seeking teens and adults. But the park, with its pristine gardens, also serves as a venue for concerts and theatrical performances.
Aside from having one of the best amusement parks in Europe, Copenhagen also boasts palaces and castles where kids can channel their inner prince or princess.
Of course, a visit to Copenhagen isn't complete without spending some time wandering around the Nyhavn canal. Nyhavn is the city's tourism hub. The picturesque canal is lined with brightly colored buildings and large sailboats. For a little history and a fun guided experience, take a canal tour to see Copenhagen from the water.
While you could easily see Copenhagen in 2 days or so, give yourself at least 3 or 4 to truly enjoy this Scandinavian city. The Radisson Collection Royal Hotel is ideally situated across from Tivoli Gardens and the Central Train Station and Metro, Kovenhavn H.
Seville, Spain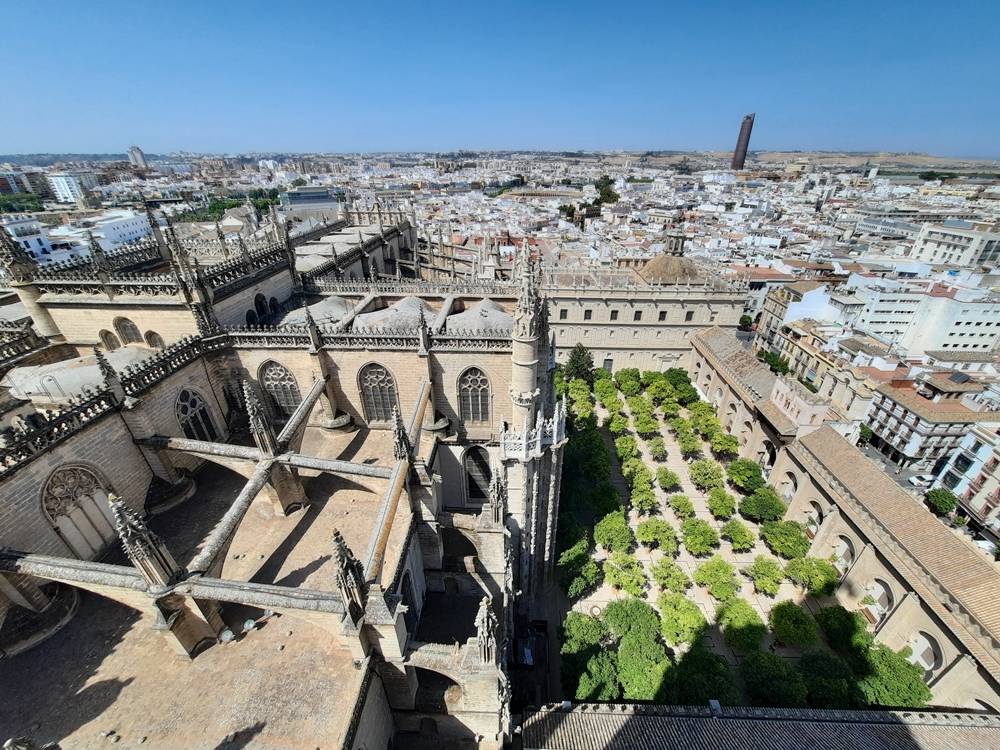 By Becki from Meet Me In Departures
Spain, in general, is an incredibly family-friendly destination thanks to it being naturally a family-orientated nation. One of the best places to visit is the south of Spain in the region of Andalucia where you'll find fascinating cities, plenty of outdoor space and of course, fantastic beaches all well connected to each other.
The city of Seville is an excellent destination for a family break. The Spaniards adore children, so if you're traveling with a young family, not only will you be made to feel incredibly welcome and well catered for, but the children are often made a fuss over.
Just to the north of the city, you'll find the theme park Isla Magica, and its neighboring water park, Agua Mágica.
If you have a family that is a fan of history and culture, then the Roman Ruins of Italica is an easy bus journey 8km out of the city.
In the city center, they will also enjoy climbing the iconic Giralda or Metropol Parasol for panoramic views over the city.
For more active things, Seville is an incredibly flat city and home to a 180km bicycle trail network. A great way to explore the city is by bike or rollerblading. A cycle path follows the Guadalquivir River and leads all the way up to Alamillo Park which is the largest of Seville's urban parks. Here there are plenty of picnic spots, bird watching, and keep-fit trails.
Insider Tip: Seville has a great hire-bike system called 'Sevici'. There are over 260 bike stations dotted all over the city. This makes it a really fun and easy way to get about all the tourist attractions. It works via an app, and after signing up. There's no limit on the number of bikes you use in a day, you just have to check the bike in every 30 minutes at any station.
The best area to stay for a family vacation is either in the historical center, where you're close to all the iconic attractions. Another popular place to stay in is Triana which is just over the river and has a more residential feel to it, it's also a little quieter in this district. You'll find plenty of great family-friendly hotels like the Casa de Triana or vacation rentals in both areas.
Malta
By Linn Haglund from Brainy Backpackers
If you are looking for an epic European travel destination for families, look no further than Malta. The tiny island south of Italy hides a myriad of fun activities for all types of families.
Valletta is a stunning city to walk around for the whole family, explore the parks and witness the cannon salute that takes place above the harbor every day at 4 PM.
But the island has so much more to offer. Malta is crisscrossed with hiking trails and the most fun one that you can do with younger children is the Roman Road where you will pass a series of ancient remains like a Roman Bath carved into the rock where you can enter, old Roman bee-keeping structures where you can walk inside, Punic tombs, and a 2000-year old tree.
Among the many historical towns in Malta that you should visit is the fortified medieval town Mdina right next to Rabat where you can explore some of the biggest catacombs on the island. You can also discover Malta underground in one of the many World War Two shelters that kept the locals safe during the extreme bombings the country experienced during the war.
But the absolute highlight for any family must be the Pop Eye Village that was built as a film set for Pop Eye the Movie. A ticket will get you access to walk the actual village which is super cute as well as shows.
An excellent family-friendly hotel to stay in Valletta is Grand Hotel Excelsior where you can enjoy the outdoor pools. You'll also find plenty of stunning vacation rentals around the island, from seafront apartments to hilltop villas.
Hallstatt, Austria
By Jessica from UpRooted Traveler
If you're looking for a magical destination to explore with your family, Hallstatt, Austria is an excellent choice. Set on the banks of a turquoise lake at the foot of the Alps and brimming with fairytale cottages, Hallstatt looks like something straight out of a Hallmark movie.
Be sure to carve out some time to explore the Old Town, with its colorful gingerbread cottages and epic views of the mountains. Here, you can rent a boat for the day, paddling around Lake Hallstatt and admiring the swans gliding along the water.
For one of the most unique things to do in Hallstatt, you can visit the world's first salt mine, dating back 7,000 years. While that initially may not sound that kid-friendly, there's plenty to keep the kiddos entertained, from a salt mummy that was found in 1734 or the longest wooden slide in the entire continent (all of which is underground!).
During the popular summer months, Hallstatt can get extremely busy with tour buses from Salzburg, so your best bet will be staying in town for the night and starting your day off bright and early. Try booking a stay at Seewirt Zauner, a cozy inn with balconies overlooking the charming city.
You'll also find many vacation homes with stunning views over the lake.
Strasbourg, France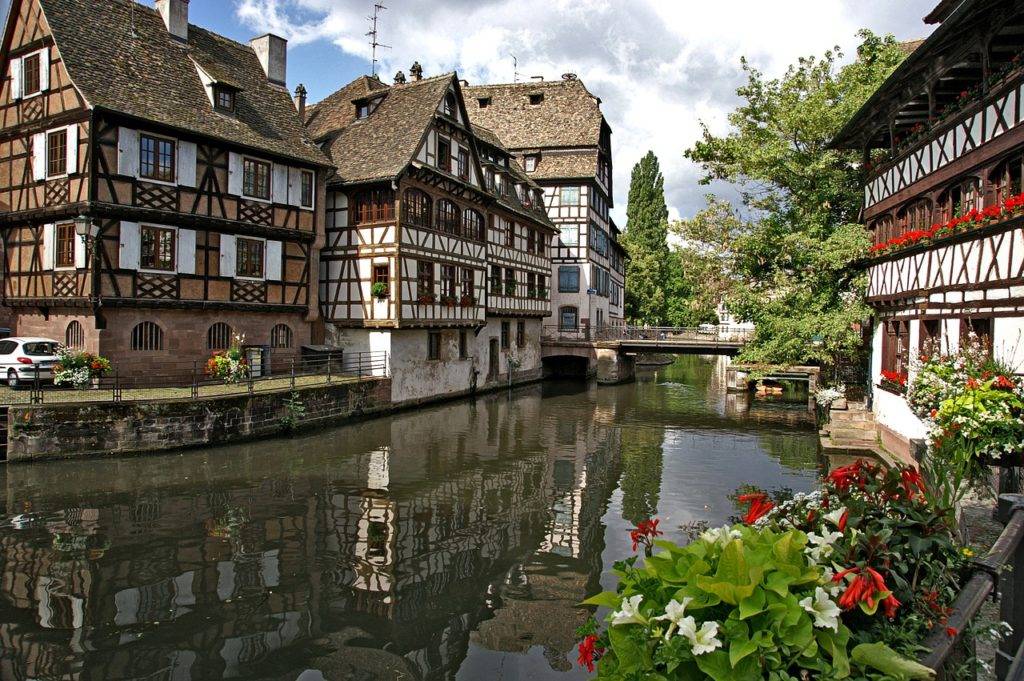 By Bec from Visit the Alsace
For fairytale villages, amazing food, and unbelievable experiences for families you must visit Strasbourg in Alsace, France.
Strasbourg is one of the larger towns in the Alsace region and most people when visiting arrive here. The airport has flights arriving daily from so many different places and while the winter months are the most popular for foreigners to experience the world-famous Christmas markets you really can't go wrong in any season.
Winter sees the streets, and the small squares dotted through the city, buzzing with locals and tourists alike, roaming to get their fill of the Christmas festivities. You will find plenty of families having fun at the food stalls and warming themselves on Vin Chaud, although that is not for the children!
Some stalls you will find are open in the morning whereas others open just before lunch. Some squares will have small rides for younger children and plenty are decorated with trees, ornaments, and nativity scenes for the kids to enjoy.
Strasbourg has so much more to offer in the warmer months too. There is a brilliant playground right near the Barrage Vauban that on a sunny day can keep the kids happy for hours. You can wander Le Petite France and find a lovely little restaurant to sample some of the most beautiful local dishes. Many will have seating outside for you to enjoy the street performers and the stunning blooms that are everywhere.
If you need to escape the heat or the cold, you can spend a couple of hours exploring the Palace Rohan. There are also some smaller museums located in the halls there that are a small extra added onto your admission ticket.
The Alsace Region is also known for many of the other sites that are situated around Strasbourg. You can easily hire a car and get out to see more of what the area has to offer. Small towns like Ribeauville, Eguisheim, and Kayserberg are all insta-worthy places to visit and are also wonderful for families.
You can visit the Forweger Gingerbread museum and get epic views from the Chateau Haut Konigsburg. Small boulangeries (bakeries) are great places to pick up a treat to enjoy as you tour one of the world's most stunning places.
When it comes to kid-friendly places to stay, you'll find many vacation rentals within the city center so you can walk everywhere, as well as plenty of hotels like the Hôtel & Spa Le Bouclier D'or, set in a renovated 16th-century building.
Krakow, Poland
By Mark from Poland Travel Expert
Poland is an emerging family travel destination and rightly so. There are so many wonderful things to see and do in Poland, especially in Krakow.
Most tourists start their Krakow visit in the Old Town area. Here you will find the main square (Rynek Glowny) where your children can stretch their legs. Pigeons are a plenty and you will find many children chasing them or if you are lucky enough you will find someone more than happy to sell you an extremely overpriced bag of seed to feed them with, although it is starting to be discouraged.
After you have had a stretch, you can wander the small stalls located in the Market Hall or the Sukiennice Cloth Hall. While you can find some traditional souvenirs here you will also find some cheaper toys that always draw the kids in. Some of our favorites are the hand-stitched tablecloths and the carved wooden jewelry boxes.
On the hour every hour, you will hear the Trumpeter from the tower at St Mary's Basilica which is located in the square just across from the cloth hall. An easy walk from the market square is the Krakow Barbican. You will also find the world-famous Christmas Market is held in the square too.
In the Market Square, you will find the prices to be quite expensive. You can find a smaller restaurant off the main strip and get some traditional pierogi. It is a Polish dumpling and they come in both sweet and savory options. They are a great meal on the go or one to sit down to enjoy.
If you are staying at a local hotel you can ask the desk to guide you to a local milk bar. These small restaurants were popular with people back in the Soviet era and they used only local, in-season ingredients to make the meals. Now they feed anyone who walks through the door and you are bound to get a wonderfully traditional, homemade Polish meal.
Wawel Castle is a favorite for families in Krakow. It has a large grassed area in the center and a grotto where you can learn about the legend of the Wawel Castle. If you are lucky you may find it and see its fire!
Kosciuszko Mound is a great treat for anyone who wants to discover more Polish History and has great views over the city.
One day tour from Krakokw that can't be missed is the amazing Wieliczka Salt Mine. These mines are a sight you have to see to believe. On your way out don't forget to purchase some of the salt from the mines you toured in the gift shop to take home with you.
If you are traveling to Krakow with older children you may wish to visit some WWII sites. You can do a tour of the Schindler's Factory and day tours are available to Auschwitz-Birkenau Concentration Camp.
When it comes to places to stay, the well-rated Hotel H15 Luxury Palace and its family suites are ideal. Larger families can also rent a vacation home within the Old Town to be near everything.
South Tyrol, Italy
By Paul D'Souza from Paulmarina
South Tyrol in Italy is a stunning alpine region located to the north of the country. It's also known as alto adige in Italian, and it is bordering Austria. The region has a mild climate but offers all the perks that you would expect to find in a family destination in the alps. The area has a lot to offer for a family with children of all ages.
Taking a cable car up the Dolomites and immersing in nature is always on top of the bucket list when in South Tyrol. Other fun must-dos include trying some of the most thrilling summer toboggan runs, such as the Fun Bob near Toblach or the Klausberg Flitzer in Ahrntal.
High rope courses and adventure amusement parks located in nature are sure to bring up a smile on your kid's face. The Caldaro Adventure Park, the Skytrek and the Dobbiaco Wood Wonder World are always highly rated by kids and grownups alike.
Children also get a chance to take part in the daily farm life at a special children-friendly farm hotel, which can be found all over the province. The Glinzhof in Candido and the Thalhofer Hof in Latzfons are special farm hotels catering to kids.
The region has made it an aim to accommodate families and the tourism board has created special educational and adventure trail walks for families. Children can take part and the trails are animated and come in various difficulty levels. The Rodengo Bee Trail, Funimal Forest, PanaRaida Adventure Trail are just a few of the many walks that you can discover with your kids.
Don't forget to visit some of the most famous landmarks such as the bell tower in Resia Lake and the Trauttmansdorff Castle!
Visiting South Tyrol in winter with kids is also an excellent choice. The region is known for its top-of-the-class ski resorts and winter sports activities. Children can join a skiing club to learn to ski with trained instructors. Most of these skiing courses are set for 7 days, and they start on Mondays, you can register your kid in advance by contacting the skiing school.
All in all, your time in South Tyrol will be a fantastic memory to share with your family.
Gran Canaria, Spain
By Alya from Stingy Nomads
Gran Canaria is a Spanish island, situated 1350 km south of mainland Europe, and one of the seven islands of the Canary Archipelago. Gran Canaria is a great place for a family holiday in Europe. The island has a mild climate, it's warm and sunny all year round and perfect for a summer holiday or for a winter getaway. Gran Canaria boasts beautiful sandy beaches, incredible landscapes, and diverse wildlife.
Maspalomas Beach is one of the best areas to stay with children in Gran Canaria. Aparthotel El Capricho offers nice accommodation right on the beach. Maspalomas Beach is a wide and long stretch of sand with calm waters, ideal for swimming.
In the north, the beach borders the Dunas de Maspalomas Natural Park which looks like a mini desert. Children will enjoy exploring sand dunes in between swimming sessions. The south end of the beach near Maspalomas Lighthouse is a good place for older children to learn surfing or bodyboarding. The whole family will enjoy watching the beautiful sunrise and sunset from Maspalomas Beach.
Aqualand Maspalomas is a fun place to come with children for a day. There are many waterslides and pools for children of different ages.
Gran Canaria is a good place for dolphin and whale watching. Boat tours are suitable for any age. It's an adventurous and educational trip during which children can learn about marine life around the island, dolphin and whale behavior, and see these majestic animals in the wild.
Beaches and water activities are not the only things to do in Gran Canaria. The island has many beautiful walking trails. From easy day walks to more challenging multi-day routes such as the Camino de Gran Canaria.
Dublin, Ireland
By Adam from Where in Dublin
A list of top places in Europe for families wouldn't be complete without including the Irish capital. It's a city that was once considered a hidden gem among European cities but now sees millions of families every year. The weather isn't always the best in Dublin, but the people make up for it. Just make sure you and your kiddos have rain jackets with you at all times.
On your family visit, you won't be short of things to do, whether you and the kids are history buffs and want to check out one of the many free museums like the National Gallery of Ireland, or maybe your family is a bit more on the adventurous side and wants to climb 17 stories high to the top of the city's biggest stadium, Croke Park. All of which are family activities.
Before arriving, make sure you book your accommodation well in advance because if you leave it until the last minute, you'll pay extortionate prices as Dublin isn't as cheap as other cities in Europe. An all-time favorite place to stay among travelers and Dubliners is the Camden Court Hotel, which is well-known to be child-friendly. They even have a pool to keep your little ones occupied.
Istria, Croatia
By Martina from Places of Juma
Visiting Istria in Croatia is a fantastic choice for a vacation with all the family. Children love the wide range of fun activities and parents will also find plenty of exciting things to do in this charming part of Croatia. There are many stunning beaches for swimming, where you can do water sports like snorkeling, kayaking, and SUP.
In addition, you will find 2 cool new water parks in Istria and also one lovely Dinopark.
But there is also a lot to see in Istria. Beautiful are the coastal towns like Rovinj. Here you will be amazed by the colorful townhouses that wind up a hill and together with the sea conjure up a magnificent backdrop. Also wonderful are the restaurants and bars right by the sea, where you can admire beautiful sunsets.
Other great places to visit for a vacation are Umag, Porec, Novigrad and not to forget the city of Pula, where there is even a Roman amphitheater. If you want to experience something different with your family, then go hiking in the green hinterland or go for a ride on a zipline.
Great is also the culinary offer in Istria, there is definitely something delicious for everyone. In addition, there are many opportunities to go out in the evening, enjoy a delicious meal or eat ice cream.
When it comes to places to stay, you'll find plenty of great affordable family-friendly vacation homes sparkled along the coast.
Save it on Pinterest for later: