2-week Borneo Itinerary (Malaysia)
Last Updated on November 5, 2022
Visiting the Malaysian part of Borneo is one of the most exceptional experiences you could live. From trekking to villages deep into the jungle to watching incredibly diverse wildlife, Borneo will wake up the adventurer in you. Here is a great two weeks Borneo itinerary that will take you to all the main attractions.
Disclaimer: This post contains affiliate links, which means that if you click on any links and make a purchase I'll get a small commission, at no cost to you.
Borneo itinerary:
1 – Kuching – 2 days
Kuching is one of the biggest city in Sarawak, and if you come from peninsular Malaysia, you'll feel the change in the atmosphere right away. Borneo is more relaxed and laid back. Kuching is a great place to sink in the local culture and start your Borneo itinerary.

On the first day, you can visit the main sites in the city such as:
the waterfront;
the Astana: the city palace built in 1870, you cannot visit it, but you can still take a look from the outside;
the Cat Museum (because Kuching means cat in Malay);
the Kuching Mosque (all pink);
the Sarawak Museum (to learn more about the local culture);
the Main Bazar: great to buy handicrafts;
the Tua Pek Kong Chinese Temple: Sarawak has a significant Chinese population;
the Kubah Ria Complex: great place to have dinner and try local food;
One the second day rent a car or scooter and visit the following sites:
Many local tribes used to be headhunters; they lived in longhouses, a huge tilt structure with a main open hallway and houses on both side. The houses were built this way to be able to remove the ladders at night and be protected from rival tribes. They believed that by cutting the head of your enemies and collecting their skulls, you would "absorb" your enemies' power (the significance may vary a bit depending on the tribe). The practice was banned in the 19th century, but the tradition perdured until well into the 20th century. There are still people alive in Borneo who used to cut heads when they were young.
Because the Annah Ray Longhouse is one of the easiest longhouses to access from Kuching, it's also touristy, and people there turned it into a business. If you want to visit a more authentic one, go through an agency or find a local guide, that will arrange the trip. Apart from the more touristy Longhouses, you cannot just show up uninvited, that's why you'll need to have a guide. You should add a stay in a longhouse in your Borneo itinerary; it's a great way to learn more about the local culture.
The Semenggoh Nature Reserve

This sanctuary is the best place to see orangutans near Kuching. They rescue orphans and train them to survive on their own in the wild. They keep on feeding them when they're adults, but they're free to go as they please. Some never return, and some often come to the feedings. There are no fences; once they're adults, they are set free.
There are two feedings a day, one at 9 am and one at 3 pm. You can check out their website for more information.
The Sarawak Culture Village
This village (created as a tourist attraction) showcases the different types of houses you'll see on the island. It also explains everything about the various tribes and their crafts. They often organize live demonstrations of ancestral crafts such as bamboo carving, weaving and bead making.
2 – Bako National Park – 2 days
On your third day, go in the morning to Bako National Park and spend the night there.
The park is great. The trails there are exceptional, the landscape is just breathtaking, and it's the perfect place to see wildlife, especially the rare and shy Proboscis monkey.
You can read more about the park here.
If you have more time or want to check out other options, there are quite a lot of national parks near Kuching. Here are some you can check out:
Gunung Gading National Park: the best place to see the Rafflesia flower, call first to ask if they're in bloom or not;
Satang Turtle Island National Park: great place to see turtles, you can also snorkel there, the marine life is diverse and the corals colorful;
Kubah National Park: a lot of trails with waterfalls and amazing viewpoints on the way;
Kuching Wetland National Park
3 – Cruising along the Rajang river – 4 days

As the boat live early morning, you'll need to spend another night in Kuching. Check out the schedule on the official website (half in English, half in Malay). The riverboats in Sarawak are called "flying coffins," because of their shape. You usually have to stay inside, but you can ask to travel on top (bad idea if it's sunny).
Traveling on the Rajang river is one of my favorite experience in Borneo. You're on this small boat, moving through the jungle, going to remote places, and meeting people who grew up in uncontacted villages in the middle of the jungle. You'll notice in Borneo that many people don't know their age because 40-50 years ago, they were still a lot of isolated villages that didn't have any contact with the exterior world.
Your first stop will be Sibu, a mid-size city home to the biggest covered market in Malaysia. A stroll through it will make you discover tons of unknown fruits and veggies; you can also buy local handicrafts there. You should try the rainbow cake, one of the area specialty. There's a night market nearby where you can get your dinner. You can also visit the Tua Pek Kong Temple, built in the 1850s.
If you have one more day to spare on your Borneo itinerary, you can visit and spend the night at the Bawang Assan Longhouse Village, you'll need to arrange a tour with one of the travel agency in Sibu, or you can try to find the phone number for the Bawang Assan Homestay Programme and contact them directly (once again you cannot show up uninvited).

On the next day head for Kapit, there, you can visit the fort, built in 1880 and turned into a small museum. You can also stroll through the market and visit the Hock Leong Tieng temple.

In Belaga you arrive in the heart of the jungle, it's best to spend two days there if you have time. You should stay at Daniel Levoh's Guesthouse, there's only one other hotel in town, and he's the only one offering activities around Belaga. I have mixed feelings about the owner, he's nice, but he's also after your money, always ask him the price of things, and don't hesitate to negotiate.
He can organize a trip to a nearby waterfall, and he has marked a trail across the river to trek in the jungle to a hunters village, they're nomadic so they're not always there. Don't do this trek alone, three persons are best. Some parts are dangerous, so if something happens, someone should stay with the injured person, and another should get help. The jungle is full of fire ants too, so put your pants inside your socks. Apart from this, it's a great trek; if you're lucky you'll see hornbills.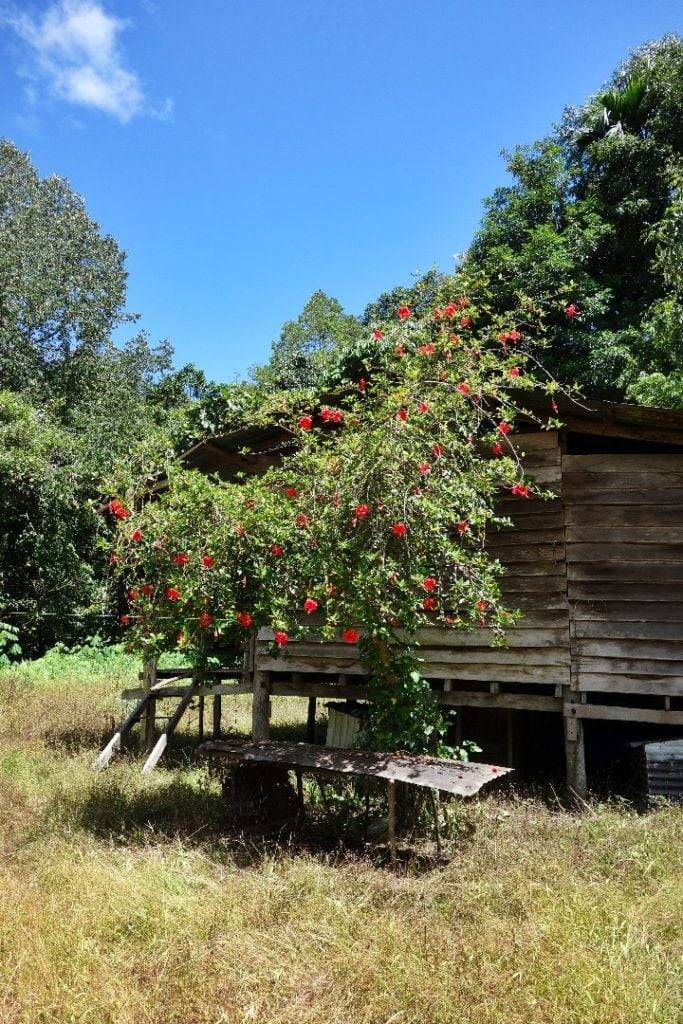 Daniel (the owner of the guesthouse) can also arrange for a longhouse stay and the transportation out of Belaga, as there's no public transportation there (unless you're going back to Kapit).
FYI: you're still supposed to have a permit to go to Belaga and around, you can get it in Kapit. In reality, no one checks or cares, so it's up to you (it's free and it takes 10 minutes).
7 – Mulu National Park – 2 days

Ideally, you could get from Belaga to Mulu on the same day, but that might be a bit too optimistic. If not, you can spend the night in Miri, arrive early morning in Mulu and leave with the last flight the next day. Otherwise plan to spend two nights in Mulu, or more if you have time.
Trekking in Mulu National Park is a great adventure and is not for the faint-hearted; you should include it on your Borneo itinerary. The best part about this park is that there's no road to it, is literally in the middle of the jungle. You can only fly or charter a boat to reach it.
Mulu National Park is known to have one of the biggest cave in the world, it's around 1 km long, and you can go through it. The trek through it is challenging, at least it was to me because you have to crawl through tons of bat poop, so I'm glad I did it, but I would not do it again.
It's not the only trek you can take there. What is great about the park is that they group you with other persons, and you go with a guide (you cannot visit without one). Check out their website for more info.
8 – Mount Kinabalu – 2 days

From Mulu, fly directly to Kota Kinabalu, from there you can easily take a bus to Kinabalu Park Headquarters. It takes two days to climb up and down, it's accessible to everyone, but it's still hard. If you do it, you need to love trekking and the outdoors. Guides are mandatory, and you should be in good health. Spend the first night at the HQ to acclimate yourself to the altitude. You need to arrange for a permit in advance. Plan also to have warm clothing as it's cold there.

Many local tribes think Mount Kinabalu is sacred and that it's a sort of purgatory. They realize sacrifices at least once a year to honor the spirit of the mountain and the gods. It's also a UNESCO World Heritage Site thanks to its rich fauna and flora. Kinabalu is the 20th most prominent mountain in the world and is 13 450 feet high.
10 – Sepilok – 1 day
After your trek, the next stop on your Borneo Itinerary is Sepilok, spend a night there, visit the centers in the morning and leave in the afternoon.
Sepilok is a great place to see orangutans and sun bears. The two sanctuaries are next to each other and the best time to go is in the morning.
Both are super ethical. The Sepilok Orangutan Rehabilitation Centre rescues orphans, trains them and then releases them in the jungle. There's not enough food in the forest, so they keep on feeding them, but they're free to come or not, as they want. That's when you can see them, during the feeding time.

The Bornean Sun Bear Conservation Centre is privately owned, and they do the best they can with the few resources they have. Sun bears are usually exploited for their bile because, in Chinese medicine, it has great properties. The sanctuary rescues them, and they are usually so traumatized that they don't want to leave the cage. The park doesn't have enough space to let them roam free, so they take turns. The goal of the center is to release them in the wild but it's only possible with a few as most of them will never adapt to wildlife.
There's also a proboscis monkey sanctuary nearby (Labuk Bay Proboscis Monkey Sanctuary), this one I don't recommend, it's a money-making business, and in my opinion, it does more bad than good. The owner is also responsible for destroying the nearby rainforest for his palm oil business.
11 – Sukau: wildlife encounters – 1 day

Sukau is one of the rare places in the world where you can see pygmy elephants. It's a one-of-a-kind experience. Sukau is a small village in a rural area, surrounded by jungle (and a lot of palm tree fields too) with a layback vibe. You'll not only see elephants but proboscis monkeys, hornbills, eagles and if you're lucky orangutans. You must add this stop to your Borneo itinerary.

The usual way to see the elephants is to take a boat ride down the river. It's not guaranteed you'll see any elephants, but it's really frequent. You can plan to take two boat tours to be sure to spot the herd. You can take one when you arrive in the evening and one the next morning. Then head to Semporna.
If you get the chance, between Sukau and Semporna, stop at the Agop Batu Tulug Caves, an ancient burial sites. Most of the wooden coffins are still there, and it's a unique site.

12 – Semporna: Diving in Paradise – 2 days

For the last stop on your Borneo itinerary, head for Semporna, one of the best places to dive in Asia. The nearby Sipadan National Park is a world-renowned dive site, and the marine life there is just incredible.
To dive in Sipadan, you'll need a permit. There are only 120 spots a day so plan ahead. The currents are strong there, so it's not fit for beginners.
The other alternative is Mabul Island; you can take a day-trip from Semporna, or even stay there as there are several resorts around. The diving there is also fantastic, and even if you don't dive, you can do some snorkeling. I've never seen water so blue; it's like being in a pool.
From this part of Malaysia, you can easily get to Indonesia and continue your Borneo itinerary in Kalimantan. For more info on what to do there, check out this guide.
What to pack for Borneo:
You'll need a pair of anti-leech socks if you're planning to do any sort of treks in the jungle. The ones below are a great way to avoid leeches while making a fashion statement. If you're more of the discrete type, just pull your pants over them.
If you're sticking to the cities, you won't need this, but if you're planning to go to more remote locations and spend the night there, you should have something to filter water. You can fill this bottle with any kind of water and it will filter out the bacterias.
You cannot go to Borneo without a pair of binoculars, especially if you intend to do any kind of wildlife watching.
Check out some of the tours you take while in Borneo:
Like it? Save it for later – 2 week Borneo itinerary: