15 Best Lake Vacation Spots on the East Coast
Last Updated on August 23, 2023
Planning a lake vacation? The East Coast of the United States is graced with an array of captivating lake destinations that cater to a diverse range of preferences, whether you're yearning for lazy afternoons by the shore, thrilling water sports, or invigorating hikes along wooded trails.
From the rustic charm of Lake Winnipesaukee in New Hampshire to the tranquil beauty of Lake Lure in North Carolina, each destination deserves to be on your bucket list.
Discover our selection of the best lake vacation spots on the East Coast for travelers seeking the perfect blend of leisure and adventure on their next trip.
Lake Kissimmee, Florida
By Victoria of Florida Trippers
One of the best lake vacation spots on the East Coast is Lake Kissimmee in Florida. After all, this is easily one of the most famous lakes in Florida, which is largely due to the fact that it's well-located near Orlando and Disney World.
However, in addition to a great location 70 miles south of Orlando, visitors will love the fact that the third-largest lake in the state is surrounded by vibrant forests and marshes that make up Lake Kissimmee State Park.
So, get ready to explore 13 miles of hiking trails and be on the lookout for local wildlife which includes eagles, bobcats, and white-tailed deer.
You can also try swimming, canoeing, boating, kayaking, and so much more.
Just be sure to pack a nice picnic lunch since picnic tables are everywhere. You'll also love that bathrooms and playgrounds are plentiful, making this a perfect family destination.
Finally, spend a relaxing night at Quality Inn & Suites Heritage Park. It's well-located near the lake and is a bit quieter than some of the other properties in the area. Plus, there is a nice on-site breakfast buffet too.
Lake Oconee, Georgia
By Victoria of Southern Trippers
If you want to plan a perfect getaway to one of the best lake vacation spots on the East Coast then you can't beat Lake Oconee.
After all, this Georgia lake is a majestic reservoir that sits about three hours away from Savannah, Georgia. Therefore, it makes a great weekend vacation spot if you want to escape the crowds of the city.
And with 375 miles of shoreline to enjoy, you'll have no trouble finding fun things to do like kayaking, water skiing, wakeboarding, jet skiing, and boating.
However, more adventurous travelers will want to head right to Jumping Rock. It's a 10-foot-tall rock formation suspended over the lake, making it an excellent diving spot.
Afterward, hit the links since Lake Oconee is home to five different championship courses, like The Landing. However, many courses aren't public, except Harbor Club. Therefore, do a bit of research before you visit.
And for the ultimate relaxing getaway, book a room at The Ritz-Carlton Reynolds, Lake Oconee. It's a fabulous, AAA Four Diamond resort with colonial-style cottages, three pools, and an on-site spa. You can also enjoy an excellent al fresco meal at Gaby's by the Lake while you're here.
Lake Norman, North Carolina
By Sarah of Mukikapup's Travels
Lake Norman is the largest freshwater man-made lake in North Carolina, located in the Charlotte area. It's called North Carolina's "inland sea" because there are 520 miles of shoreline and its surface area is over 50 square miles!
There are many places to stay and things to do around the lake that make it a fantastic vacation spot, from lake activities like boating, waterskiing, kayaking, SUP, swimming, and jet skiing to hiking, biking (the area's most extensive mountain biking trails are here), picnicking, camping, and lake photography.
There are parks with beach access locations, such as Ramsey Creek Park, plus dinner cruises with Queens Landing.
Beyond the lake, there's much more to the area to fill out a well-rounded vacation, including exploring historic downtown Davidson's boutique shopping and restaurants like Toast. Nearby Birkdale is a popular outdoor shopping area with restaurants and a movie theater.
There are museums and activities in the area for all ages like Discovery Place Kids, Lazy 5 Ranch, camping at Lake Norman State Park, Carowinds Amusement Park, US National Whitewater Center, and much more.
There are many hotels, VRBOs, and more around the lake. The Davidson Village Inn is an award-winning top choice that's a European-style inn located in the historic downtown, with excellent amenities, afternoon tea, and more!
The best time to visit is in the summer when the weather is warm and the water is inviting.
Smith Mountain Lake, Virginia
By Erin Gifford of Go Hike Virginia
Set in Virginia's Blue Ridge Mountains, Smith Mountain Lake is the state's second-largest lake and is the centerpiece of Smith Mountain Lake State Park. It's also a paradise for water enthusiasts, boasting opportunities for water sports like kayaking, jet skiing, and wakeboarding.
The lake's extensive shoreline and calm waters also make Smith Mountain Lake a favorite with boaters, including those who opt to take out sailboats and powerboats, even houseboats. The lake also hosts boating events and regattas during warm weather months.
Smith Mountain Lake is popular among those who love lake life and waterfront living. You'll find beautiful views, local shops and restaurants, golf courses, and a close-knit lakeside community.
There are plenty of vacation rentals around the lake, as well as Bernard's Landing, a 72-acre lakefront retreat with accommodations that range from one to three bedrooms.
Thanks to the state park, visitors have access to plenty of great hiking near Smith Mountain Lake. Favorite trails include the Turtle Island Trail and Chestnut Ridge Trail.
There is also a swimming beach and a campground at the state park.
Fall is a great time to visit the lake when the summer crowds have gone home and the leaves pop with amber and fiery orange hues.
Lake Champlain, Vermont/New York
By Karen of Outdoor Adventure Sampler
Lake Champlain, a huge body of water separating Vermont and New York, is a delightful lake vacation spot. The vibrant city of Burlington, Vermont is an excellent place to base to explore Lake Champlain.
Stroll through Waterfront Park to get a panoramic view of the lake and the Adirondack Mountain peaks on the other side. Take a lake cruise on the Spirit of Ethan Allen to learn about the region's rich history. A lunch or dinner cruise is a popular way to get out on the water, while couples will enjoy the champagne cruises offered.
Rent a bike at Local Motion and pedal the Burlington Greenway along the lake. You can cycle to several popular sand beaches for swimming and relaxing. For a longer ride, continue on the Colchester Causeway, a bike rail trail that crosses Lake Champlain. With views of the highest mountains in Vermont across the expanse of the lake, the Causeway is one of the best bike trails in Vermont.
Don't miss the pedestrian mall of Church Street. Boutique shops, street performers, and outdoor dining are a highlight. Grab an outdoor table to feast on farm-to-table inspired food. A local favorite is Honey Road with its Mediterranean-influenced small plates.
Finish the day by watching the sunset over Lake Champlain from your water-view room at the Hilton Garden Inn.
Fort Mountain Lake, Georgia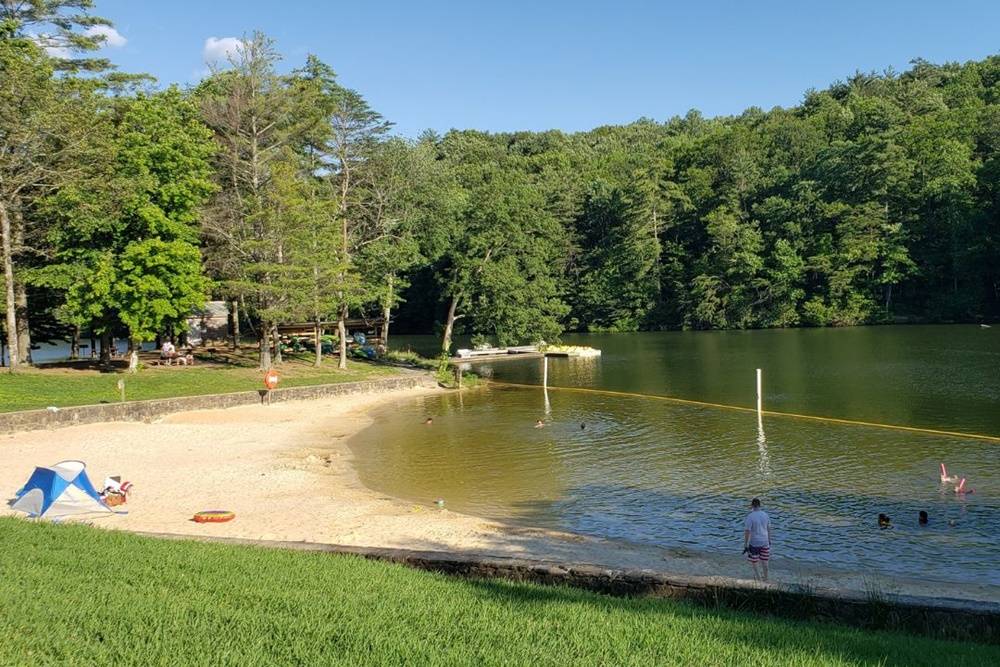 By Jillian Michelle from Adventure Dragon
Fort Mountain Lake is a lesser-known lake located in one of the largest state parks in Georgia, Fort Mountain State Park. The 17-acre lake is surrounded by mountains, so it's an absolutely beautiful place to vacation on the East Coast! The park itself is 4,058 acres, so there are plenty of things to do during your visit to this hidden-away spot.
For the most scenic views, head to the West Overlook and the Cool Springs Overlook. The West Overlook requires a short hike, but the Cool Springs Overlook does not. It's just a few steps away from the closest parking lot.
There are many other hiking trails nearby, including a nature trail that will take you on a walk around the lake. If you wish to swim, there's a sandy beach area that's been roped off for safe swimming. You can also rent pedal boats, canoes, and kayaks nearby. There's even a putt-putt golf course that families with kids will especially enjoy.
For the best weather, head to Fort Mountain Lake in late September or early October. Temperatures will still be comfortably warm then, but they won't be as unbearably hot as mid-summer months!
Fort Mountain has fully equipped cottages for rent inside the park. They range in size from 2-bedroom to 3-bedroom and come fully furnished with 2 full bathrooms so that you can have a comfortable stay. For a camping experience instead, there are also 70 tent and RV campsites available as well.
Cochituate State Park, Massachusetts
By Sierra of Your Guide to Wandering
Cochituate State Park and Reservoir is an excellent destination for a vacation or weekend trip outside of Boston.
Families can enjoy renting kayaks to explore the interconnected lakes within the state park, which spans over 625 acres across three ponds: North Pond, Middle Pond, and South Pond. Additionally, visitors can take advantage of small hiking trails and a family-friendly swimming/picnic area.
Boating enthusiasts can bring their own boats, kayaks, or canoes, or rent them from the onsite Boating in Boston service.
The South Pond offers thrilling water activities such as tubing or waterskiing at speeds of up to 42 miles per hour. The Middle Pond, accessible from the main entrance and parking lots of Cochituate State Park, features a small swimming area with lifeguard supervision, a sandy beach, picnic areas, and restroom facilities.
Please note that during the summer months, the swimming area can become crowded with children enjoying the water. It is advisable to arrive early to secure a parking spot.
In addition to water sports, Cochituate's Snake Brook Trail provides a pleasant and easily accessible 1.5-mile trail for a relaxing walk. Located between Rt 27 and Rt 30, this trail serves as an escape from the bustling nearby city life. Starting on N. Main Street (Rt 27), the trail continues all the way to Route 30, where you can catch a glimpse of Lake Cochituate by crossing the road.
Leashed dogs are welcome on the hiking trails and picnic areas in Cochituate State Park; however, please note that from May 14 to Labor Day, dogs are not allowed on the beach or in the swimming area.
The Verve Hotel Boston Natick provides close access to the lake as well as Boston!
Raystown Lake, Pennsylvania
By Susan of Beans Bikes and Blooms
Pennsylvania's Raystown Lake offers one of the best lake vacation destinations on the East Coast. Located less than 4 hours from Pittsburgh, Philadelphia, and DC, in Huntingdon County, this 30-mile recreational lake offers 118 miles of mostly undeveloped (only 4%) coastline. It is the largest lake entirely within the Commonwealth.
One of the best ways to enjoy this marvelous lake is to rent a luxury houseboat for a weekend or a week from Seven Points Marina and pilot it to a private cove where you can completely disconnect. These upscale houseboats are equipped with full kitchens and baths. Many even have hot tubs and sliding boards. Tucked along the remote shoreline, you can enjoy the lake's tranquility and outstanding sunsets.
If you're not sure you want that much time on the water, kayaking and tubing are other fun unplugged aquatic activities. Or set sail on the Proud Mary Paddleboat and enjoy a 90-minute narrated sightseeing cruise where you'll learn about the lake's history and some local lore.
If you prefer land-based activities, there are plenty. The Allegrippis trail system offers 30+ miles of some of Pennsylvania's best mountain biking.
If you favor hiking then consider the Old Loggers Trail, a popular easy 4.5-mile hiking trail accessed from the recreation area. For more of a challenge, try the Terrace Mountain Trail, a rugged 27-mile path along the lake's east side offering scenic vistas.
Step away from the lake to visit Lincoln Caverns and Whisper Rocks, an exceptional underground attraction featuring two incredible limestone caverns filled with exquisite rock formations.
Or step back in time aboard the East Broad Top Railroad, where you can experience the scenic rural countryside, learn about the region's railroading history, and create lasting memories.
Lake Winnipesaukee, New Hampshire
Lake Winnipesaukee is a stunning and popular destination located in the heart of New Hampshire. Known for its crystal-clear waters, charming towns, and a plethora of recreational activities, the lake offers a perfect blend of relaxation and adventure.
The lake is accessible by car and is roughly a 2-3 hour drive from Boston, Massachusetts, and a 5-6 hour drive from New York City. Manchester-Boston Regional Airport is the closest major airport.
The prime time to visit is during the summer months, from June to August, when the weather is warm and most attractions and activities are in full swing. Fall (September to October) offers gorgeous foliage, and winter (December to February) is ideal for snow sports enthusiasts.
There are several lakeside resorts offering picturesque views and convenient access to the water. Check out places like The Margate Resort and Mill Falls at the Lake for upscale accommodations.
Otherwise, many cabins, cottages, and vacation homes are available for rent along the shores of Lake Winnipesaukee, providing a more private and cozy experience – or, if you're a nature enthusiast, consider camping at one of the area's campgrounds, such as Ellacoya State Park or Meredith Woods.
During your vacation, experience the diverse range of activities that Lake Winnipesaukee has to offer. Whether you're an outdoor enthusiast or seeking a more relaxed getaway, this destination has something to captivate every visitor.
Start your exploration by venturing out onto the pristine waters of the lake. Boating is a popular pastime here, allowing you to navigate the expanses of the lake and discover hidden coves and charming islands.
If you're keen on embracing the outdoors, lace up your hiking boots and explore the scenic trails that wind through the region. Hike up Mount Major for panoramic views that reward your efforts, or take on one of the trails at the Castle in the Clouds Conservation Area.
For a more leisurely experience, consider taking a scenic cruise. Step aboard one of the historic steamships, such as the M/S Mount Washington, and let the captivating landscapes unfold before your eyes.
Lake Winnipesaukee is dotted with several charming beaches as well, each offering its own unique atmosphere and recreational opportunities.
Carry Beach stands out with its sandy shores and clear waters, providing an idyllic setting for swimming and sunbathing. Weirs Beach is another favorite, known for its bustling boardwalk, lively entertainment, and panoramic lake vistas.
For a quieter escape, Ellacoya State Park Beach offers a serene retreat with its natural beauty, picnicking areas, and gentle waves.
Thrill-seekers and water sports enthusiasts will find their paradise at Lake Winnipesaukee. Engage in a variety of activities, from kayaking and paddleboarding to the exhilarating rush of jet skiing or water skiing across the waves.
As you explore the shores, be sure to immerse yourself in the charm of the nearby towns. Stroll through picturesque lakeside communities like Meredith, Wolfeboro, and Laconia. Indulge in the local culture, browse boutique shops, and savor the flavors of the region in quaint restaurants.
During the winter months, Lake Winnipesaukee transforms into a winter wonderland. Head to Gunstock Mountain Resort for snow-covered slopes and a range of snow sports, including skiing, snowboarding, and tubing.
Lake Sebago, Maine
Lake Sebago, nestled in the picturesque landscapes of western Maine, offers a peaceful and fun vacation destination. With its pristine waters, abundant outdoor activities, and charming surroundings, Lake Sebago is an ideal spot for nature enthusiasts, families, and anyone seeking a tranquil escape.
Lake Sebago is easily accessible by car, approximately 30 miles northwest of Portland, Maine. If flying, Portland International Jetport is the nearest major airport. From there, you can rent a car and take a scenic drive to the lake.
The best time to visit is during the warmer months, from late spring to early fall (May to September). This period offers pleasant weather for outdoor activities, swimming, and exploration. Fall foliage in September and October adds a beautiful touch to the already stunning scenery.
There are plenty of places to stay around the lake. Sebago Lake State Park offers campsites and cabin rentals for a rustic lakeside experience. Reservations are recommended, especially during peak seasons.
Beyond its camping facilities, the park offers picnic areas perfect for a relaxed afternoon, playgrounds for family fun, and opportunities for observing the region's vibrant birdlife and wildlife.
There are also plenty of vacation home and cabin rentals along the lake's shores for a more private and personalized stay. Otherwise, nearby towns like Naples and Bridgton offer charming inns and resorts that provide comfortable accommodations, often with stunning lake views.
Embrace the refreshing allure of Lake Sebago through a variety of water-based activities. Wade into the pristine waters for a leisurely swim, enjoy the sandy beach, or opt for something more active like kayaking, canoeing, or paddleboarding.
If you like hiking and/or mountain biking, trails like the Sebago to the Sea Trail offer an opportunity to immerse yourself in the lush landscapes, meandering through forests, wetlands, and charming villages. There are also several well-marked, easy to moderate, trails within Sebago State Park.
To explore the lake further and learn more about its rich history and ecology, join a guided boat tour. As you glide across the water, knowledgeable guides will offer insights into the lake's past, present, and the intricate ecosystems that thrive within its boundaries.
Venture into the charming town of Naples and stroll along the picturesque Naples Causeway. Explore local shops showcasing unique crafts and souvenirs, and relish delectable dining experiences in waterfront restaurants.
Moosehead Lake, Maine
Nestled in the picturesque landscapes of northern Maine, Moosehead Lake is a haven for outdoor enthusiasts and nature lovers. With its pristine waters, lush forests, and abundant wildlife, Moosehead Lake offers a quintessential Maine experience that promises relaxation and adventure.
Moosehead Lake is situated in the town of Greenville, approximately a 4.5-hour drive from Portland, Maine. Bangor International Airport is the nearest major airport, about a 2.5-hour drive away.
The best time to visit is during the summer months, from June to August, when the weather is pleasant for outdoor activities and the lake is most vibrant. Fall (September to October) brings stunning foliage, making it a popular time for scenic drives and hiking. Winter offers opportunities for snow sports like snowmobiling.
Moosehead Lake offers a variety of lodges and cabins that allow you to immerse yourself in the natural surroundings. You can also enjoy a more rustic experience by camping at one of the lake's campgrounds, such as Lily Bay State Park.
During your vacation, explore the myriad activities that Moosehead Lake has to offer. Discover the lake's beauty through water-based adventures. Kayak or canoe across the serene waters, or embark on a boating excursion to explore secluded coves and islands.
If you enjoy hiking, traverse the surrounding trails and immerse yourself in the wilderness. Hike to the summit of Mount Kineo for panoramic views, or explore the extensive network of hiking trails that wind through the woods.
Keep an eye out for moose, deer, bald eagles, and other creatures that call this area home.
You can also learn about the lake's history and the region's maritime heritage at the Moosehead Marine Museum, featuring historic steamboats and exhibits.
Deep Creek Lake, Maryland
Nestled in the western part of Maryland, Deep Creek Lake offers a diverse array of outdoor activities, serene landscapes, and a peaceful lakeside atmosphere. With its clear waters, surrounding forests, and year-round recreation, it's an ideal destination for those seeking a tranquil retreat or an adventurous escape.
Deep Creek Lake is located in Garrett County, Maryland. It's approximately a 3-hour drive from Washington, D.C., and a 2.5-hour drive from Pittsburgh, Pennsylvania. The nearest major airport is Pittsburgh International Airport.
The best time to visit Deep Creek Lake varies by season. Summer (June to August) is perfect for boating, swimming, and enjoying the lake's vibrant atmosphere. Fall (September to November) brings stunning foliage and outdoor hiking opportunities. Winter (December to February) offers snow sports and the chance to experience the lake in a serene, snowy setting.
When it comes to places to stay, choose from a variety of vacation rentals, including cabins, cottages, and lodges along the lake's shores. You'll also find several resorts and inns that offer comfort and convenience, often featuring lake views and outdoor amenities – like the well-rated Lake Pointe Inn with its private beach, tasty breakfast, and comfy rooms.
Thanks to the multitude of activities available, Deep Creek Lake is easily one of the best lake vacation spots on the East Coast.
Make the most of the lake's expanse by engaging in water-based activities such as boating, jet skiing, kayaking, paddleboarding, and tubing – before relaxing at one of the sandy beaches around the lake like the ones at Deep Creek Lake State Park.
For land-based activities, explore the scenic trails that wind through the surrounding forests. Popular trails include the ones found at Swallow Falls State Park and the Deep Creek Lake State Park Discovery Center Trail.
You can also spend some time at Wisp Resort for outdoor fun year-round. In the winter, enjoy skiing and snowboarding. In the warmer months, partake in activities like zip-lining, mountain biking, and golfing.
Lake George, New York
Nestled in the Adirondack Mountains, Lake George is a gem of the Northeast, known for its pristine waters, charming villages, and recreational opportunities. With its stunning vistas and a rich history, Lake George offers a diverse range of experiences for visitors of all ages.
Lake George is approximately a 3 to 4-hour drive from New York City and a 1-hour drive from Albany, New York. Albany International Airport is the nearest major airport for those flying in.
Lake George is a year-round destination, each season offering a unique experience. Summer (June to August) is perfect for water activities, while fall (September to November) brings vibrant foliage. Winter (December to February) offers snow sports and cozy winter getaways.
Around the lake, you'll find an array of lakeside resorts offering stunning views and access to the water. Many resorts provide amenities such as boat rentals and lakeside dining. One such resort is the well-rated and popular Juliana Resort which caters to couples and families alike. You'll also find plenty of cozy vacation homes.
During your lake getaway, indulge in the array of activities that Lake George has to offer.
In summer, experience the clear waters by swimming, kayaking, paddleboarding, or renting a boat. You can also cruise the lake on a historic steamboat for a scenic voyage (May through the end of October).
For thrill-seekers, challenge yourself with zip lines, rope courses, and elevated obstacles in the treetops at Adirondack Extreme Adventure Course.
If you like hiking and scenic walks, explore the nearby Adirondack trails, like the challenging hike up Prospect Mountain for panoramic views or the scenic Shelving Rock Falls trail.
In the area, don't miss Fort William Henry Museum, a historic fort offering guided tours and reenactments, giving you a glimpse into the region's colonial past. Next, stroll through the charming Lake George village, known for its shops, restaurants, arcades, and lakeside parks.
For those who like wine, indulge in local flavors by joining a winery and distillery tour, tasting the region's wines, spirits, and craft beverages.
Lake Lure, North Carolina
Located in the Blue Ridge Mountains of North Carolina, Lake Lure is a hidden gem known for its pristine waters, scenic beauty, and outdoor activities. With its inviting shores, charming village, and picturesque landscapes, Lake Lure is one of the best lake vacation spots on the East Coast.
Lake Lure is approximately a 1.5-hour drive from Asheville, North Carolina, and about 2.5 hours from Charlotte. The nearest major airport is Asheville Regional Airport.
Lake Lure is enjoyable year-round, with each season offering a unique experience. Spring (April to June) brings mild temperatures and blooming flora, while summer (July to August) is perfect for water activities. Fall (September to November) offers stunning foliage, and winter (December to February) provides a quieter, serene atmosphere.
Book a room at the well-rated Grafton Lodge featuring a beautiful garden, a convenient location near the lake, and great amenities.
Along the shore, you'll also find a range of vacation homes and cabins available for rent, offering a more private and personalized experience.
During your vacation, delve into the array of activities that Lake Lure has to offer. Experience the beauty of the lake by indulging in water sports such as swimming, kayaking, paddleboarding… You can also rent a pontoon or canoe to explore the calm waters and take a cruise on the lake.
For some beach time and family fun, head to Lake Lure Beach and Water Park where you can relax on the sandy shores of the lake's beach area, or enjoy family-friendly fun at the water park, complete with slides and water features.
In the area, don't miss Chimney Rock State Park, offering hiking trails with breathtaking vistas. Hike to the top of Chimney Rock for panoramic views of the surrounding landscapes.
Stroll across the Lake Lure Flowering Bridge, a former highway bridge transformed into a lush garden adorned with vibrant blooms.
Lake Anna, Virginia
Nestled in the heart of Virginia, Lake Anna is a captivating destination offering a perfect blend of relaxation and outdoor adventure. With its sprawling waters, scenic landscapes, and a range of recreational activities, Lake Anna beckons travelers seeking a serene lakeside getaway.
Lake Anna is conveniently located about an hour's drive from Richmond and approximately 90 minutes from Washington, D.C. The nearest major airport is Richmond International Airport (RIC). Renting a car is recommended for easy exploration of the area.
The prime time to visit Lake Anna is during the late spring to early fall months, from April to October. This period offers pleasant weather for outdoor activities, boating, and enjoying the lake's beauty. The fall season, with its vibrant foliage, adds an extra layer of charm.
Consider renting a lakeside cabin, cottage, or vacation home for a cozy and immersive experience by the water. Alternatively, Lake Anna State Park offers cabin rentals and campsites, while nearby towns like Mineral and Louisa offer charming inns and resorts with a range of amenities, such as the Boxley Place Inn.
Lake Anna is a paradise for water enthusiasts. Engage in activities like swimming, kayaking, and paddleboarding to make the most of the inviting waters.
You can also rent a pontoon boat, speedboat, or jet ski to explore the lake's vast expanse, picturesque coves, and tranquil inlets.
Lake Anna State Park is also a great destination for hikers. During your stay, discover the hiking trails within the park and spend some time relaxing at the sandy beach. The park also offers opportunities for bird-watching and wildlife observation.
Wine lovers can explore nearby wineries, such as Lake Anna Winery and Fifty-Third Winery, and indulge in wine tasting and scenic vineyard views.
Save it on Pinterest for later: