16 Romantic Getaways on the East Coast for Couples
Last Updated on September 30, 2023
Looking forward to planning a romantic trip with your better half? In need of some inspiration? We share with you some of the most romantic getaways on the East Coast, perfect for a quick weekend trip or a full-on vacation.
Whether it's your honeymoon, anniversary, first trip together, or just a regular vacation, discover some of the best destinations on the East Coast for couples. From quaint seaside villages to busy cities and everything in between, you'll find the perfect vacation spot on the East Coast for a romantic trip to sparkle some romance.

Disclaimer: This post contains affiliate links, which means that if you click on any links and make a purchase, I might get a small commission, at no cost to you.
Our Top Picks
Top Romantic Getaways on the East Coast
Charlottesville, Virginia
By Erin Gifford from Go Hike Virginia
For couples, there's a lot to love about Charlottesville, Virginia, which sits tucked away in the foothills of the Blue Ridge Mountains. Beautiful wineries, historic landmarks, public art spaces, hiking trails that boast spectacular views, and of course, the University of Virginia (UVA), await visitors in the Central Virginia town of Charlottesville.
Begin with Monticello, the historic residence of Thomas Jefferson, our third president. Tour the main house, then wander through manicured outdoor spaces, like the vegetable gardens, fish ponds, and flower gardens. An app-based scavenger hunt encourages couples to explore the property and snap photos. From here, sample whites and reds all along the Monticello Wine Trail.
The IX Art Park is a must while in Charlottesville. This walkable outdoor art park boasts vibrant murals and sculptures. An outdoor stage hosts concerts, performances, and music events. The art space is adjacent to Three Notch'd Craft Kitchen & Brewery, which makes a nice stop for lunch on the outdoor patio while in town.
RECOMMENDED EXPERIENCE – 5 Days Shenandoah & West Virginia Camping Adventure with Rock Climbing
Hit the trails as a couple on numerous scenic Charlottesville hikes. From UVA, it's an easy 30-minute drive to the trailhead for Humpback Rocks, which wows with 360-degree panoramas. This hike is especially spectacular for sunrise and sunset views. Alternatively, a 15-minute drive leads to Ivy Creek Natural Area, which has seven miles of easy hiking trails.
Alternatively, book a vacation rental or, for something more budget-friendly, check out this list of the best inexpensive romantic getaways in Virginia.
For dinner, stop in Roots Natural Kitchen for delicious create-your-own vegetarian bowls.
Related – 20+ Dreamy Mountain Destinations in the USA
Stowe, Vermont
By Kat from World Wide Honeymoon
When it comes to the best romantic getaways on the East Coast for couples, then Stowe, Vermont easily makes the list.
Visiting in the fall is idyllic for beautiful crisp hikes and gorgeous autumn foliage.
Some things to do in Stowe in the fall include visiting a sugar shack and tasting the freshest maple syrups, hiking up Stowe Pinnacle for jaw-droppingly beautiful views of the valley below and amazing foliage, stopping by some enchanting covered bridges like the Red Covered Bridge, taking a gondola ride at Stowe Mountain Resort for breathtaking mountain views, and driving through Route 108 through Smugglers Notch for incredible craggy mountains and crisp foliage.
RECOMMENDED EXPERIENCE – 5 Days Best of Stowe and Northern Vermont – Small Group Hiking Tour
You also can't miss checking out the amazing beer and cider scene at places like The Alchemist Brewery and Stowe Cider.
For the ultimate romantic date night, be sure to visit the Trapp Family Lodge, or better yet, stay there! The views are stunning and perfect for a sunset. Enjoy a delightful meal and drinks while cozying up on the terrace here. For even more privacy, book a cabin with views over the mountains.
Winter is also a good time to visit with many winter activities you can do and plenty of romantic winter cabins in Vermont to stay at for the perfect winter getaway with your better half.
Stowe truly is a gorgeous destination to visit for couples, and it makes for a perfect addition to a Vermont road trip.
Charleston, South Carolina
By Julien Casanova of Cultures Traveled
Historic homes, romantic churches, and incredible restaurants are just a few of the reasons Charleston, SC is one of the best East Coast destinations for couples. The best time to visit is in the spring or fall when temperatures are moderate and the humidity is relatively low.
Plus, in late March and early April, the Festival of Houses and Gardens is in full swing. These tours offer an enchanting glimpse into some of Charleston's finest homes.
RECOMMENDED EXPERIENCE – 6 Days Charleston to Savannah: Exploring Gullah Geechee Culture – Small Group
Regardless of what time of year you visit, you should take a stroll south of Broad Street to admire Charleston's magnificent architecture, lush gardens, and intricate iron gates. You can also buy tickets to tour the Edmondston-Alston House, one of the grandest homes along the Battery.
You can also book a vacation rental for more privacy and something more budget-friendly.
And no trip to Charleston would be complete without a visit to one of the area's many beaches. Adventurous couples will have fun exploring the old fort on Sullivan's Island before walking along the beach for stunning views of the city across the harbor.
Others will enjoy a leisurely 45-minute drive under the grand oaks to Kiawah Island's Beachwalker Park. On the way, stop at Angel Oak Tree, a majestic live oak tree that is estimated to be 500 years old.
Charleston is one of those destinations that captivates its visitors with its historic charm and southern hospitality – a fabulous combination for a couple's getaway.
Related – Best Destinations in South Carolina for a Romantic Getaway
Hamptons, New York
By Kelly of Travel New York Now
One of the best couples' destinations on the East Coast is the Hamptons, NY. Located on Long Island, the Hamptons are the perfect place to visit either right before Memorial Day or right after Labor Day. This way, the weather is still nice but you can avoid the intense crowds that inundate this vibrant summer community every year.
Upon your arrival, enjoy a romantic stay at the Rose Hill Vineyards and Inn. Not only is it one of the best vineyards on Long Island, but it has a romantic bed and breakfast where you and your partner can spend the night inside a gorgeous farmhouse.
Highlights of your stay include a welcome glass of wine, homemade breakfast daily (the Belgian waffles are amazing), and a 10% discount on their exceptional Harvest wine flight. Plus, the vineyard is located in nearby North Fork, which is only about a 30-minute drive from the Hamptons.
Then, once you're ready to explore the area, head over to the Hamptons and take a romantic stroll along one of the area's many beaches. Some of the best include Cooper's Beach in Southampton, and Georgica Beach in East Hampton. Just be sure to grab a parking permit since many of these places require one.
Next, enjoy a little bit of local culture with a trip to The Southampton Arts Center with its incredible outdoor gardens and stunning indoor art exhibits.
Afterward, unwind with a romantic dinner for two at Topping Rose House. Be sure to grab a seat on their lovely, wraparound veranda before enjoying award-winning, farm-to-table cuisines from acclaimed chef, Jean-Georges Vongerichten.
Mystic, Connecticut
By Corinne Vail of Grannies Go Digital
There's nothing more romantic than walking along the river or the marina at sunset in Mystic. Founded in 1654, the town has always been known for its seafaring culture, and it's still true today.

Book a ride on a boat and become part of the landscape. You can sail, ride on a schooner, or even kayak in the area. There are so many ways to ride the water, and they're all perfect for an adventurous couple who loves the outdoors. There are plenty of parks, like the Denison Pequotsepos Nature Center which has over 10 miles of hiking trails.
Another place not to miss is the Mystic Seaport Museum and Village, which depicts life in the early days of the town. Along with the many historic boats you can climb aboard, you can also watch smiths, coopers, riggers, and woodworkers all plying their traditional trades. It's a lot of fun and pretty informative as well.
The town itself is full of charming shops, cafes, and restaurants, where you can while away a few hours enjoying the sun, and getting in a little retail therapy. Unmissable is Mystic Knotwork, which has been open since 1957, it boasts the most nautical sailor knot bracelets and tons of other knot products. While you are downtown, don't miss the rising of the Bascule Bridge, an amazing feat of moving weights and counterweights to let the boats pass underneath.
There are also plenty of cozy vacation rentals to stay in and around Mystic – it's perfect for something more intimate or if you're on a budget.
Savannah, Georgia
By Sam Opp from Find Love & Travel
Savannah, Georgia is easily one of the most charming and romantic destinations to visit on the East Coast for couples. With a weekend in Savannah, this southern city will offer tons of fun and romantic things to do.
One of the most romantic things to do in Savannah is to visit Forsyth Park. This is likely the most famous and photographed park in all of Savannah, Georgia. Located in the heart of the Historic District, you can enjoy a walk under the giant oak trees covered in Spanish moss or have a picnic on one of the many large green lawns. It's no wonder so many couples pop the question and do their engagement/wedding photos here!
If you love quaint green spaces, Savannah also has 22 squares sprinkled throughout downtown Savannah. They were planned and designed when Savannah was first founded and offer a lovely place to enjoy the city's charm.
Couples will also enjoy exploring down River Street and taking in the famous Savannah Riverfront. With history, dining, river cruises, and shopping, there is something for every couple!
While Savannah is great to visit throughout the year, the most magical time to visit is definitely in the Spring when all the azaleas are blooming. The city is covered in flowers and the Spring temperatures are more comfortable than in Summer.
Something to know when visiting Savannah is that a car is not necessary during your vacation. The Downtown area isn't terribly large and can easily be walked or even biked around.
Another one of the best places to stay in Savannah is at the JW Marriott Savannah Plant Riverside District. This new hotel is located on the Riverfront in the Plant Riverside District. You'll also find plenty of stunning and comfortable vacation rentals in the downtown area. If you're on a budget, check out this list of the best affordable getaways in Georgia.
Washington, DC
By Krystianna from Volumes & Voyages
If you're looking for a romantic getaway on the East Coast, look no further than Washington, DC. This location is often overlooked by other places on the East Coast like Boston or NYC, but with even just 2 days in Washington DC, you can truly witness the highlights and have an excellent romantic weekend.
Washington DC is perfect for couples for quite a few reasons. The food is incredible, there are many historic locations worth visiting, and the weather is pretty great year-round. Plus, it's a pretty affordable place to book a hotel as well.
RECOMMENDED EXPERIENCE – 4 Days American Gateway (New York City, Finger Lakes, Niagara Falls (USA), Philadelphia, Washington DC) – Small Group
Some of the best things to see as a couple in DC include having breakfast at Urban Roast, exploring Georgetown, catching the sunset over the Tidal Basin, and of course, perusing the National Mall and seeing as many things as possible. For adventurous couples, rent a boat to go out on the Tidal Basin. This is a great way to get away from the busyness of the city and relax, just the two of you.
For another great hotel downtown that won't break the bank, book a night at Sofitel Washington DC Lafayette Square.
The best time to visit DC is in the spring. It can get pretty hot there in the summer, especially with all the people who are on summer break and decide to visit.
Outer Banks, North Carolina
By Denise from Chef Denise
Looking for the best romantic getaways on the East Coast for couples? Head to Outer Banks, North Carolina to explore over 100 miles of shoreline. The barrier islands that comprise OBX create a harbor on the west coast and have the Atlantic Ocean on the east. Both options offer dreamy vistas, but wherever you choose to stay, a view of the water is highly recommended.
Start your day on the Atlantic side watching the sunrise. The long white sandy beaches are perfect for romantic walks and swimming in the waves. Then perhaps rent paddleboards to tulle around the calm waters of the harbor which is just a few minutes across the island. The more adventurous couple may want to take a kite surfing lesson to see the coast from the air and then watch the sunset.
Capture more instagrammable moments at one of five historic lighthouses. Cape Hatteras Lighthouse in Buxton is the most famous. And best of all, you can stop at Orange Blossom Cafe for the best breakfast in OBX. Don't leave without trying an Apple Ugly!
Buxton is located on the southern end of the Outer Banks with ample restaurants, shops, and places to stay like the Cape Hatteras Motel and vacation rentals.
Charming towns dot the islands each with its own character. To the north, Rodanthe, famed for the movie Nights in Rodanthe, is the place for couples to get away from it all. Even more north still, Kitty Hawk provides a more lively atmosphere and a bit of history with a Wright brothers mural and monument.
Summer, which also coincides with hurricane season (June-November), is the most popular time to visit this gorgeous area. If the hurricanes sound too scary, consider visiting March through May when it will be a little cooler and less populated.
New York City, New York
By Lindsay from The Purposely Lost
New York City is an excellent destination on the East Coast for couples. There's no better place than the City That Never Sleeps to spend a romantic getaway with your partner.
To enjoy the view of New York City from above, climb to the top of the Empire State Building, which has starred in classic romance films such as Sleepless in Seattle and An Affair to Remember. Then, spend the evening on a romantic Hudson River boat tour, where you'll get to see the city glimmering at night.
Dinner and a Broadway performance is the most traditional romantic evening in New York City. One of the top tips for attending a Broadway show is to check out the eateries in Hell's Kitchen, a New York City area that stretches from 34th Street to 59th Street, from 8th Avenue to the Hudson River.
There are so many fantastic restaurants in this neighborhood, and it's only a short walk to the Theatre District, where all of New York City's Broadway theaters are located.
If the weather is warm, grab takeout and have a picnic on one of Central Park's numerous benches.
You can even spend the day strolling through Greenwich Village, dropping in at shops and small businesses before eating dinner on the patio of a café you walk by.
And if your hotel has a rooftop deck, like the Arlo NoMad, finish your evening with a drink and a gorgeous view.
Boston, Massachusetts
By Amanda from Hey! East Coast USA
Visiting Boston is ideal if you and your partner like food, history, and sport!
Couples who enjoy trying new food and drink together will want to head to Faneuil Hall Marketplace at Quincy Market, fueling up for the next activity.
Since Boston is one of the US's oldest cities, most visitors walk the 2.5-mile Freedom Trail, visiting 16 attractions to learn about the American Revolution.
Next, take a breather and sip a Sam Adams at Cheers, the pub used in the 80's TV show, or head to Boston's Common (park) to people-watch.
Pics, or it didn't happen! Couples should head to Beacon Hill to capture the perfect Instagram pic at one of Boston's prettiest streets, Acorn Street. This neighborhood is also where the self-guided Black Heritage Trail of Boston takes place.
If visiting during baseball season, sports fans will want to buy tickets for a Red Sox game or book a Fenway Park tour.
Boston is a city you can visit all year round unless you don't like the cold, then you will want to avoid the winter months.
For a modern hotel with harbor views, consider The Envoy. It also has a rooftop bar and cozy igloos in winter, a perfect thing to do at night in Boston. Alternatively, you can book a vacation rental.
Williamsburg, Virginia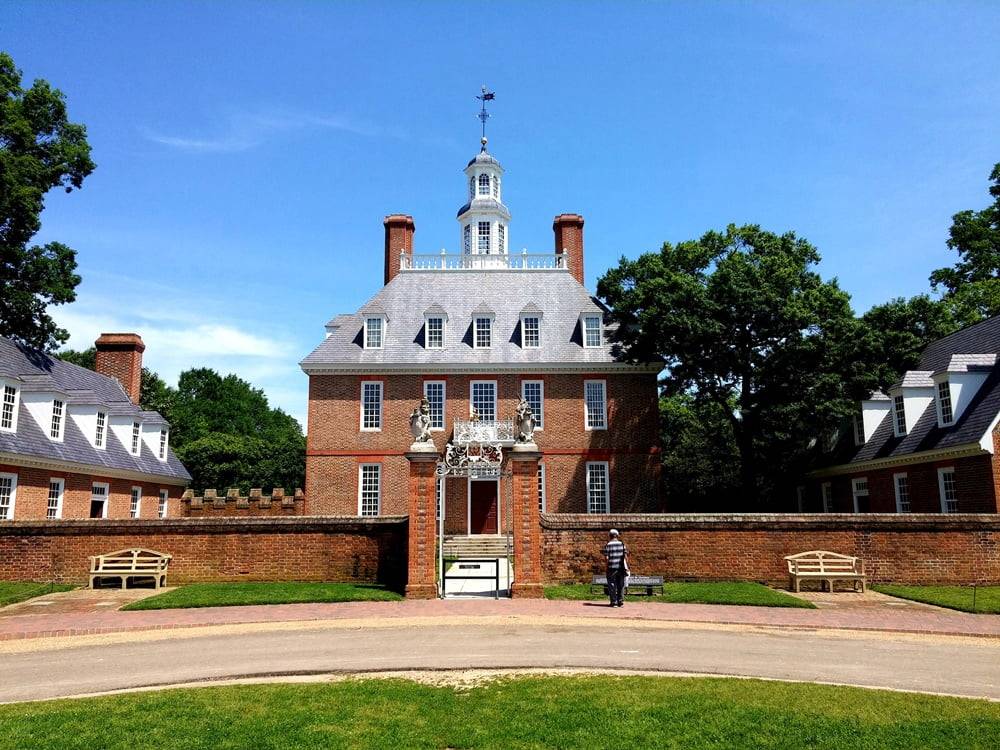 By Cortney of Tin Can Living
Williamsburg is a quaint Virginia town that offers the perfect backdrop for couples to enjoy time together. Williamsburg's historic charm will have you feeling like you're in Europe, without any of the jet lag. It offers a diverse range of restaurants and activities that will suit any couple looking to spend quality time with their partner.
I recommend Williamsburg for any couple that wants to get away from it all. This town has a lot of history and also offers great shopping, dining, and entertainment options. You can take a stroll down the historic streets, walk through the amazing gardens and sip wine at the many wineries that this endearing city has to offer.
Saude Creek Vineyards is a must-visit for those who desire a beautiful landscape and a delectable wine-tasting experience.
For a romantic dining experience, check out Williamsburg's Food For Thought. This restaurant is known by locals to be one of the best in Williamsburg. Food For Thought is located near Colonial Williamsburg. It offers a friendly and charming atmosphere for any couple looking to spend time together over mouthwatering meals. Try the portabella stack.
For a fantastic place to spend the night, check out Williamsburg Inn. Williamsburg Inn is a lovely hotel that offers the perfect place to stay for any couple looking for a romantic getaway. They have many amenities including a full spa, pool, and in-house restaurant with fine dining. You'll also find plenty of charming vacation rentals around town.
If you're looking for a couples getaway, consider taking a trip to explore all that Williamsburg has to offer while holding hands with your partner. You won't be disappointed.
Annapolis, Maryland
By Erin Gifford from Maryland Hikes
Annapolis, Maryland is a wonderful destination for couples on the East Coast thanks to historic brick-lined streets, relaxing outdoor spaces, and, of course, yachts and sailboats aplenty. Annapolis may be the state capital, but it's also widely considered to be America's Sailing Capital.
In fair-weather months, ogle the boats tethered at marinas and docks across town. On evenings and weekends, amble along the Annapolis City Dock. Known as "Ego Alley," prepare to be awed by the gorgeous and wildly expensive boats that buoyantly sail the waterway on their way in and out of the Chesapeake Bay.
Stroll Main Street to pop in and out of boutiques, art galleries, hat shops, and wine stores. Settle in for lunch or dinner at True Food Kitchen, a self-described eco-chic restaurant boasting delicious fare, like charred cauliflower and teriyaki quinoa bowls. For dessert, order up scoops at the Annapolis Ice Cream Company, including non-dairy flavors like Mint Chip and Matcha.
Make the short drive to Sandy Point State Park to walk the easy trails and savor sweeping views of the iconic Chesapeake Bay Bridge. Scenic water views abound from the park's mile-long man-made sandy beach. Settle in for the evening at the Annapolis Waterfront Hotel, which wows with gorgeous views across Spa Creek, or book a vacation rental.
Bar Harbor, Maine
By James Ian from Parks Collecting
Bar Harbor and nearby Acadia National Park are perfect for couples looking for a romantic getaway on the East Coast. The area has cute villages that are perfect for romantic walks, and dozens of tiny islands and peninsulas that are ideal for relaxing and adventurous activities to enjoy together.
If you like to relax, take a sailing boat trip at sunset with champagne and enjoy the stunning views all around you. Catch a local ferry out to the nearby Cranberry Islands and stroll around a quintessential New England village. Have lunch on the lawn beside the lake at Jordan Pond House (their salads are vegan and delicious). You can even hang out on the beach at the ocean Sand Beach (which is chilly) or the warmer Echo Lake beach.
RECOMMENDED EXPERIENCE – 5 Days Acadia Hiking and Kayaking – Small Group
If you'd like to do something more active together, there are dozens of hiking trails in Acadia, most ending at stunning overlooks with views of the surrounding islands. Highlights include the Beehive and Precipice Trails. The national park is laced with historic carriage trails that you can walk or cycle along. You can rent bikes in Bar Harbor. You can also take a kayak tour (rent a tandem kayak, of course), and paddle around the rocky shoreline.
The best time to visit is summer. This is peak season when the weather is best. The entire area is also stunning – and incredibly romantic – in the fall.
Another top hotel pick is the Grand Hotel, a gorgeous boutique hotel located right on Main Street. It's a replica of the historic Rodick House and couldn't be more romantic. You'll also find plenty of secluded cabins in the woods and charming ocean-front cottages.
Atlanta, Georgia
By James Ian from Travel Collecting
Atlanta has loads of fun things to do for couples. The center of the action is Centennial Olympic Park, a large green space with trees for shade and paths for romantic strolls. Most of the city's main attractions are found nearby.
Atlanta is the home of Coca-Cola, and the World of Coca-Cola showcases their products over time and around the world. Watch a movie with moving seats for a whole-body experience, see souvenirs from every stage of Coke's history, and sample over 200 sodas from dozens of countries.
For something completely different, head to CNN Studios. Take a tour of a TV studio and play co-anchors in a dummy news reading! If you're both interested in American history, the National Center for Civil and Human Rights provides fascinating insights into the civil rights movement in the US.
For more romantic activities, try canoeing together on the Chattanooga River, cycling the Atlanta Beltline, or taking a wine-tasting tour at a nearby vineyard. And, of course, don't miss taking a ride together on the gigantic Ferris wheel SkyView Atlanta. It's right next to Centennial Olympic Park and has sensational views from the top.
Atlanta is also a center for southern soul food and there are several vegan restaurants including Soul Vegetarian for a romantic dinner.
A great place to stay is the Ritz Carlton, which is conveniently located in downtown Atlanta near most of the action and attractions. You'll also find plenty of vacation rentals for added convenience, access to a kitchen, and more privacy.
St. Augustine, Florida
By Disha from Disha Discovers
One of the best romantic getaways on the East Coast for couples is St. Augustine, Florida. With unique and romantic historical attractions and a laid-back and relaxed atmosphere, the city is perfect for couples looking to get away from it all.
Claimed to be the oldest city in the USA, St. Augustine is filled with small-town charm, gorgeous beaches, historical landmarks, diverse dining, and more. Couples can easily enjoy their trip in this town while wandering around old neighborhoods and strolling through the cobblestone streets and hidden alleyways.
There are plenty of sights to see in this old town, starting with the Castillo de San Marcos. This 16th-century fort was built by the Spanish and is located along Matanzas Bay.
St. Augustine also offers several museums and galleries to peruse, such as the infamous Lightner Museum and the St. Augustine Lighthouse and Maritime Museum.
Couples who love ghost stories will enjoy touring haunted spots such as the Old Jail and Scarlett O'Hara's.
Whether you want to plan an adventure or just relax and enjoy each other's company, St. Augustine has plenty of romantic activities. Couples can explore quaint shops or dine at fine-dining establishments, go on a sunset dolphin-watching cruise, and watch the sunrise or sunset at one of the beaches.
Other adventurous and romantic activities include kayaking around Anastasia State Park, paddleboarding through the salt marshes or coast along the beautiful beaches of Vilano Beach, and biking around the coast.
The spring months (March-May) are the best time to visit St. Augustine. A great place to stay is the DoubleTree by Hilton in the Historic District or you can book a vacation rental.
Before leaving St. Augustine, be sure to try an ice pop at Hyppo Gourmet Ice Pops. Their flavors are delicious and they're all-natural.
Related – Romantic Getaways in Florida for Couples on a Budget
Key West, Florida
By Lavina from Continent Hop
Key West is located to the south of Miami and is part of the Florida archipelago. The southernmost point of Florida, Key West, is stunning and is perfect for couples.
It takes about four hours to get to Key West from Miami and on the way, there are many other islands you can take a pit stop at or even spend a few days exploring.
What makes it so good is the range of activities one can indulge in when visiting. There are numerous water-based things to do here like diving to see shipwrecks or snorkeling to see the marine life present here. You can also swim with dolphins while you're here and the best bit is that they aren't in captivity!
RECOMMENDED EXPERIENCE – 5 Days South Florida Highlights Miami to Key West – Small Group
In addition to this, there are also antique shops, museums, and galleries if you're an art buff. For example, you will find Ernest Hemingway's home here which is now a museum, and the Mel Fisher Maritime Museum to name a few.
The Gates Hotel Key West is an excellent hotel to spend your time in while you're visiting as it is budget-friendly and offers a range of amenities. You'll also find plenty of great vacation rentals near the beach.
Restaurants like Off the Hook Grill and the Conch Shack are worth checking out!
While you're here if you'd instead not do anything and relax the stunning beaches here will undoubtedly help you do that!
More USA and couple travel guides:
Save it for later – Romantic Getaways on the East Coast: