7 tourist spots in Legazpi you cannot miss
Last Updated on September 25, 2023
Albay district is famous for being home to the Mayon volcano, easily recognizable by its almost conical shape. Legazpi (or Legaspi) is the gateway to the province and a good base-camp to explore the surroundings. The 2460-meters high Mayon volcano is the Philippines' most active volcano, it often erupts, so if you're planning to climb it, check beforehand. For non-climbers, there are plenty of other tourist spots in Legazpi and things to do in the region.
Disclaimer: This post contains affiliate links, which means that if you click on any links and make a purchase, I'll get a small commission, at no cost to you.
Tourist spots in Legazpi and things to do:
Mount Mayon

When possible, climbing Mount Mayon is a challenge. The best season is from February to April, but even then, expect cold temperatures at night and frequent showers. You might have to wait at the base for a couple of days, waiting for the weather to improve. It takes a minimum of 2 days to reach the highest point, which is 2000-meters high (climbing higher is forbidden). You can arrange for a guide a the tourist office in Legaspi.
Cagsawa Ruins Park – The best tourist spot in Legazpi

Destroyed by a volcanic eruption centuries ago, Cagsawa is now left in ruins and is one of Legazpi's best tourist spots. Now, remains of buildings appear here and there and you can walk among what used to be a peaceful village. The church bell tower is pretty well preserved as well as the school. The park offers also one of the best views on the Mayon Volcano. If you're lucky (or not if the volcano is really active), you might see some hot lava running along the volcano.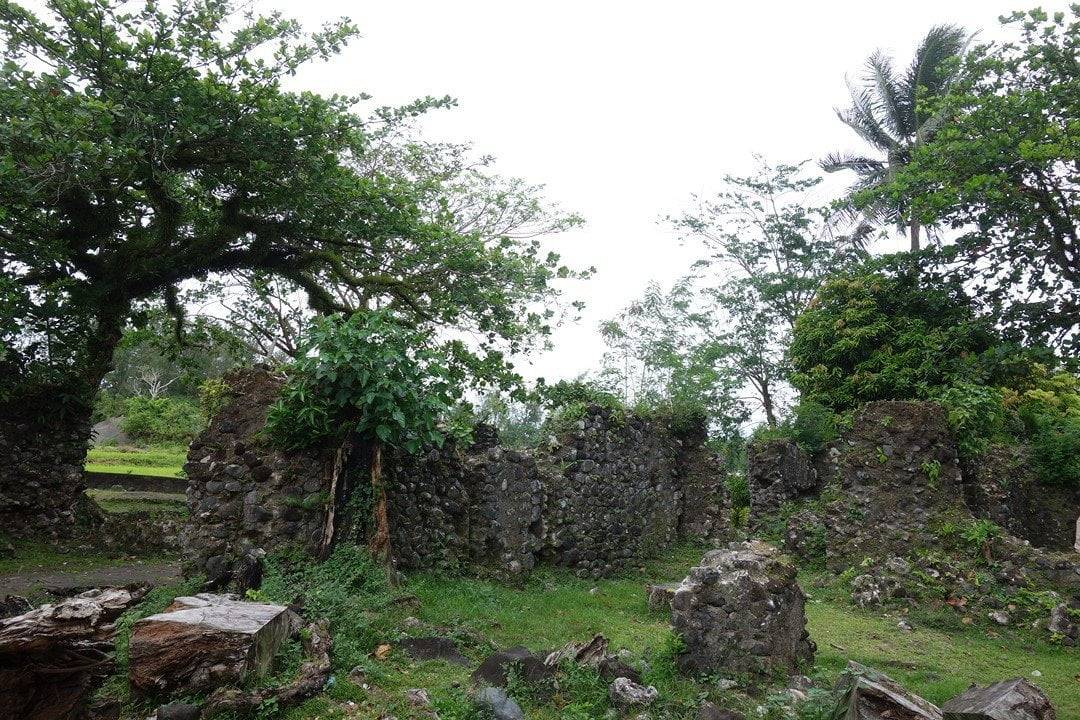 To get to the park, take a jeepney from Legazpi bound for Guinobatan. Get out at the crossroad to the park. You can either walk or take a tricycle. On the way, you'll notice a lot of operators renting ATV and offering to ride them towards the volcano.
Lignon Hill

This 2-kilometers trek is popular with locals as it offers plenty of activities. There you can zip line, go through hanging bridges, visit Japanese war tunnels and also rent ATV to see the Mayon volcano from up close. It's also a great viewpoint to see the volcano on clear days.
Entrance fee: 25 pesos
Daraga Church
Entirely made of volcanic rocks, Daraga church was built in the 18th century in a baroque style by Franciscan missionaries. The exterior is nicely decorated with many carvings and sculptures.
More traditional, you can also visit Albay Cathedral in Legazpi.
Saint Dominic of Guzman Church

Entirely made of volcanic rocks, this black church, built in 1820 in Santo Domingo, is impressive. You won't see many churches this color.
Near Santo Domingo, there are a couple of amazing black sand beaches, literally covered with ashes. It mixes with the sand and gives it this amazing black/dark color. Nearby Calayucay Beach and Saogod beach are also worth the trip.

Hoyop Hoyopan Cave
Located 17 km west of Legaspi, the Hoyop Hoyopan Cave is one of the easiest cave to visit in the area. Its name means blowing wind. There you will see pieces of 2000 years old burial jars. You'll also notice a concrete dance floor in the middle of the cave. People used to come here in the '70s during martial laws to have some fun.
To get there from Legazpi you'll have to take a jeepney to Camalig then another bound for Cotmon.
Price: 300 pesos for a group of up to 6 people.
If you like spelunking you can visit nearby Calabidongan cave also known as the bats' cave. You'll have to check first the water level, sometimes it's too high to explore the cave. At any time of the year, you'll have to get in the water so wear rubber shoes and bring a dry bag if you want to take your camera with you. The best time to visit is between April and May. Guides are mandatory and can be arranged at Hoyop Hoyopan cave.
Mirisbiris Garden and Nature Center
This nature center offers a couple of accommodations, a restaurant, and a beautiful garden. The place is really quiet and peaceful, surrounded by nature. The garden is a successful attempt to rebuilding the rain forest. It's pretty big and offers a couple of easy treks. At the end of one, you'll end up at a small rocky private beach. There's a really nice snorkeling spot right in front of it and a lot of lava transformed in rocks by times.

The owner uses the profits to give scholarships to students from disadvantaged backgrounds. He also tries to increase community awareness of the environment.
Try the Bicolano food
Bicol cuisine is known to be slightly different from the rest of the Philippines' traditional dishes. Here, they often cook with coconut milk and chilies. One of Bicol's most famous dishes is Bicol Express, made of pork, coconut milk, and chilies. The savory dish is a must-try if you're in Bicol Province. You can also try Laing, made with taro leaves, shrimps, minced pork, and of course coconut cream and chilies.
Related articles to help you plan your trip to the Philippines:
Like it? Save it for later – Legazpi's best tourist spots: