Best Negros tourist spots
Last Updated on November 5, 2022
Negros is one of the biggest islands in the Philippines and is known to be the country's Sugar Capital, aka Sugarlandia. Covered by sugar cane plantations, the island grows two-thirds of the nation's production. The Island is split diagonally in two (Negros Oriental and Negros Occidental) by the lush vegetation and high mountains you'll find in the center. Both parts speak different languages, Illongo towards Panay and Cebuano towards Cebu Island. Negros has a lot to offer and is full of amazing tourist spots, from beaches to mountains.
Indeed, Negros is famous for Mount Kanlaon, the highest peak in the Visayas and also a very active volcano. The area is great for trekking, and when the volcano is quiet, you can even go all the way to the top. There are also a lot of amazing beaches to discover, especially on the less-developed southwest coast.
Disclaimer: This post contains affiliate links, which means that if you click on any links and make a purchase, I'll get a small commission, at no cost to you.
Best Negros tourist spots:
1 – Silay

Silay used to be an important city during colonization and was the center of activity for the cane plantation industry. Many wealthy European settled there and many locals got rich thanks to the sugar cane industry. The houses build during this period are a blend of colonial and local architecture, some of them have been restored and can be visited. Just walking around the city you'll see a lot of ancestral houses, some in better shape than others, but the city has recently started an extensive restoration program.
2 – Bacolod

Bacolod, Negros' capital, is famous for its many cakes, a paradise for sugar addicts. If you're craving sweets, you're in the right place. But don't worry if you're already diabetic, there's plenty of other things to do apart from eating cheesecakes and chocolate pastries.
You can visit the famous Ruins, which tragic story resembles the one of the Taj Mahal. The place is majestic and perfect for pictures during sunset.
In the city center, the Negro Forest and Ecological Foundation is home to many endangered species who lost their habitat to the island's fast development.
Bacolod is also a good base camp to explore the surrounding volcanoes and the mountainside.
3 – Kabankalan

Quiet and tiny Kabankalan is definitely an off-the-beaten-path tourist destination. As a matter of fact, I was probably the first foreigner they had seen in a while, everywhere I went, I saw happy and welcoming faces. The city in itself has not much to offer, but that's what's around that's interesting. It's the perfect place for nature lovers. There are plenty of waterfalls, amazing viewpoints, and caves to discover. Kabankalan is also home to many faith healers, it's a good place to learn more about the Philippines' mystic side.
4 – Sipalay

Unspoiled beaches, pristine water, and a diverse marine life make Sipalay a must-go destination if you enjoy beaches and diving. The city is bound to become a top destination in the Philippines in the years to come.
The beaches are surprisingly clean and even with all the resorts that are spreading along the coast, the place is still super quiet with a laid-back atmosphere. It's the perfect place to relax for a couple of days. Even the beach in the city proper is nice, it's the perfect place to watch the sunset and to eat barbecue. There's also a lot of fresh seafood available.
5 – Apo Island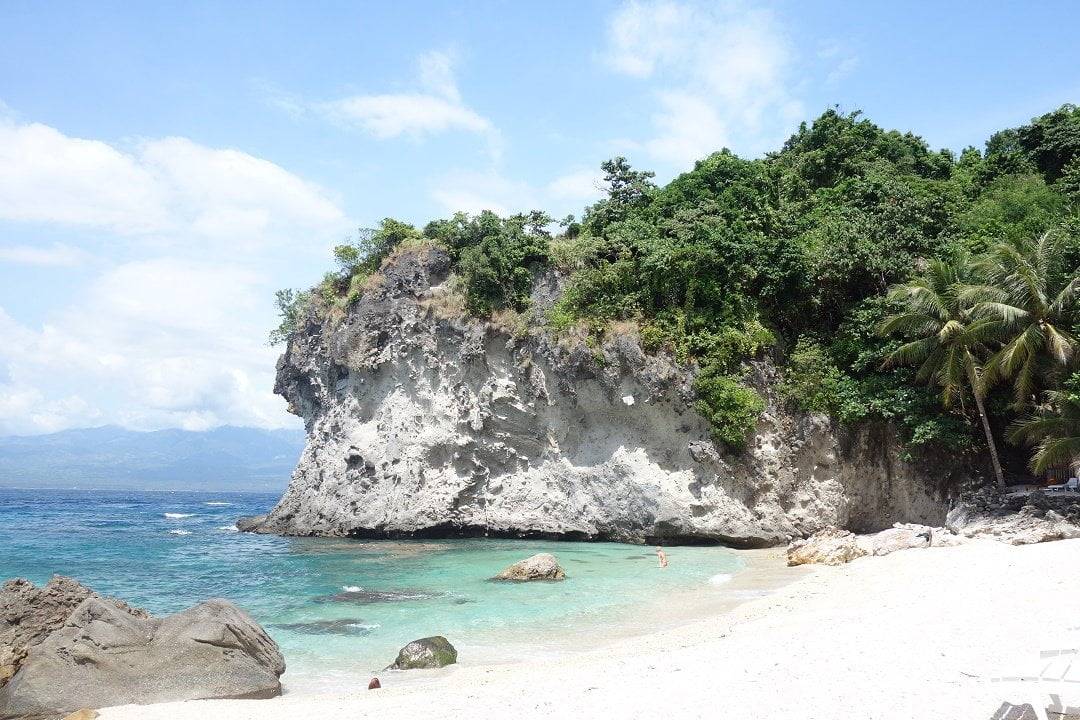 Tiny volcanic Apo Island near Dumaguete is famous amongst divers. Home to the Philippines' first and most successful marine reserve, the reefs can be counted as some of the most beautiful reefs in the country. Rich in corals and marine species, Apo's underwater world is amazing. Diving in Apo Island really is a treat for the eyes. Non-divers will also have a great time with some nice snorkeling spots and great trekking. One of Apo Island's best features is that the island attracts many turtles near its shore, making it easy to swim with them.
6 – Dumaguete

Dumaguete is a small but busy city and one of the top Negros tourist spots. There you can explore old colonial buildings or enjoy the sparkling nightlife. Dumaguete is also a good base to visit its enchanting surroundings. From swimming with turtles to trekking to impressive waterfalls, with some farniente in paradise-like beaches in between, Dumaguete's tourist spots are enough to keep you busy for a couple of days.
Nearby Valencia is great for trekking and boasts several hot spring and waterfall. In Bais, you can go dolphins watching and visit the famous Manjuyod sandbar.
7 – Sagay Marine Reserve
If you happen to be in the south of Negros, you should visit Sagay's Marine reserve, a natural wonder often overlooked by tourists. The reserve is great for snorkeling and enjoying its amazing beach. The municipality only allows 70 persons to go each day to preserve the sanctuary. To get there, you can find a bangka in Sagay wharf. The entrance fee is free.
Like it? Save it for later – Negros' tourist spots: