16 Top Midwest Spring Break Destinations
Last Updated on March 22, 2023
While most people may want to fly away to sunny destinations for Spring Break, there are a lot of advantages to traveling closer to home. The weather in the Midwest during spring might still be chilly but days are getting sunnier and warmer and the temperatures are good enough to enjoy many outdoor activities with plenty of destinations featuring many indoor things to do in case the weather turns bad.
Also, prices tend to be more affordable this time of year, you're sure to find good deals on accommodations.
We have listed below some of the best Midwest Spring Break destinations for families, couples, friends, and solo travelers. Whether you're looking for a city break, a peaceful retreat, or an adventurous trip, you'll find the perfect spring vacation spot for you and your group.
Chicago, Illinois
By Nausheen from Globe Gazers
Chicago is the perfect Midwest Spring Break destination for foodies, city lovers, outdoor enthusiasts, and more. As the city begins to thaw from winter and transitions into spring, the spirit of Chicago shifts as well and there's a refreshed energy in the air.
There's plenty to take advantage of during spring break in Chicago. You could take an architecture cruise along the river, explore the ever-evolving food scene, and even neighborhood-hop to explore all of Chicago's different environments.
One of the best things to do over spring break in Chicago is to explore the city by bike. Choose from one of these 8 best bike tours in Chicago with options including lakefront rides, combined bike and food tours, and more. You'll be guided by a Chicago local on your tour and get to know the city beyond what meets the eye.
You can also visit one of the city's popular beaches, including North Avenue Beach or Oak Park Beach, to catch views of the lake set against the Chicago skyline. Spend some time bar-hopping in Wrigleyville, if that's your scene. And of course, get your fill of Chicago's famous foods through a walking tour, if you have a sweet tooth, you can even take a donut-tasting tour!
Wondering where to stay? Consider the Palmer House, a Chicago classic in the heart of downtown. You'll be near Millennium Park. Plus, this is where the brownie was invented! A sweet experience, for sure.
Wisconsin Dells, Wisconsin
By Kylie from Between England and Everywhere
A great spring break destination in the Midwest is the Wisconsin Dells in Wisconsin. If the weather is still touch-and-go, there are plenty of indoor attractions to keep the whole family entertained.
Wisconsin Dells is said to be the 'Water Park Capital of the World' and The Wilderness or The Kalahari resorts are an awesome place to start! As well as having on-site accommodation, you'll find large indoor water parks with slides for both adults and younger guests, indoor go-kart tracks, mini golf, arcades, and more! Entrances to the water parks are included within the room rate (rooms sleep 4+ people). Alternatively, The Kalahari offers day passes for those that are staying somewhere else within the Dells.
If the weather is OK, there are several places to go zip lining (that are open year-round) or if not, head to the Tommy Bartlett Exploratory with over 150 hands-on science displays or Wizard Quest which is an interactive scavenger hunt where visitors have to solve riddles to find wizards!
There are a wide variety of restaurants in the Wisconsin Dells, from large chains to more unique offerings. The Grateful Shed Truckyard has a range of food trucks and a bar located in an old Greyhound bus depot. They often have live music and events throughout the year.
Des Moines, Iowa
By Vicky from Buddy The Traveling Monkey
One of the best spring break destinations in the Midwest is Des Moines, Iowa. There are a lot of fun things to do in Des Moines! It's a great artsy city and there is a big focus on making art accessible to everyone in the community. That is why you'll find that the city's art museum, Des Moines Art Center Museum, offers free admission.
Downtown you'll also find a 4.4-acre sculpture park that is free to the public. It is also very easy to find cool street art as you explore the town.
There's also a really lovely botanical garden in Des Moines. The geodesic-domed conservatory is a focal point, and there are both indoor and outdoor gardens. Of course, visiting the Capitol Building is a must. There are formal tours available, but you can also do a free self-guided tour. The building is beautiful and the detail and artwork inside are very impressive.
If you'd like a yummy meal while exploring Des Moines, we recommend visiting New World Kitchen. They are a pop-up, takeout-only business and they were the first 100% vegan restaurant in Des Moines.
To stay, a great option is the Holiday Inn and Suites West Des Moines Jordan Creek. It's just outside of the hustle and bust of the city but it is a quick drive to anywhere you'd want to go in Des Moines.
Springfield, Illinois
By Yukti from Travel With Me 24×7
Springfield is the capital of Illinois and a favorite city among history buffs. This historic city is associated with its famous resident – Abraham Lincoln and many sites are related to him. Spring is the second busiest for tourism, which makes it a good time for those looking for things to do. Therefore read about beautiful things to do in Springfield Il during springtime.
High Temperatures vary from 82.5°F (28.1°C) and 42.2°F (5.7°C), with far warmer temperatures in the later months.
Lincoln – a very humble person from a humble background, started his political journey in Springfield and lived here for 17 years before moving to Washington, DC. The famous Abraham Lincoln Presidential Library and Museum here depicts his humble lifestyle, saddening childhood stories, tragic family life, and how he became a leader. Through audio-visuals, we can get a complete glimpse of this legendary man who abolished slavery and has given the true definition of Democracy.
Though all have read many things about Lincoln, these live museums and historic sites in Springfield will showcase the life of Lincoln-like visuals in front of you. You can also see the historic house where he used to live. Not only museums but the Capitol of Springfield is worth visiting. The Old Capitol, which is currently not functional, is very iconic because Lincoln's famous speech – "House Divided"- was delivered there.
The Great Western Rail Depot railway station is also worth visiting, as Lincoln delivered his famous departing speech before becoming President. All such historic sites bring live moments of President Lincoln in front of you. Springfield in Illinois has done a great job by preserving all these historical moments and presenting them through many milestones in this historic city of the USA.
One of the best hotels to stay in Springfield is the Inn at 835 Boutique Hotel. Located in the historic part of town, they feature spacious family rooms, romantic rooms with a spa bath, free bikes, and serve a daily tasty breakfast. For those looking for something more practical consider booking a vacation home.
Shawnee National Forest, Illinois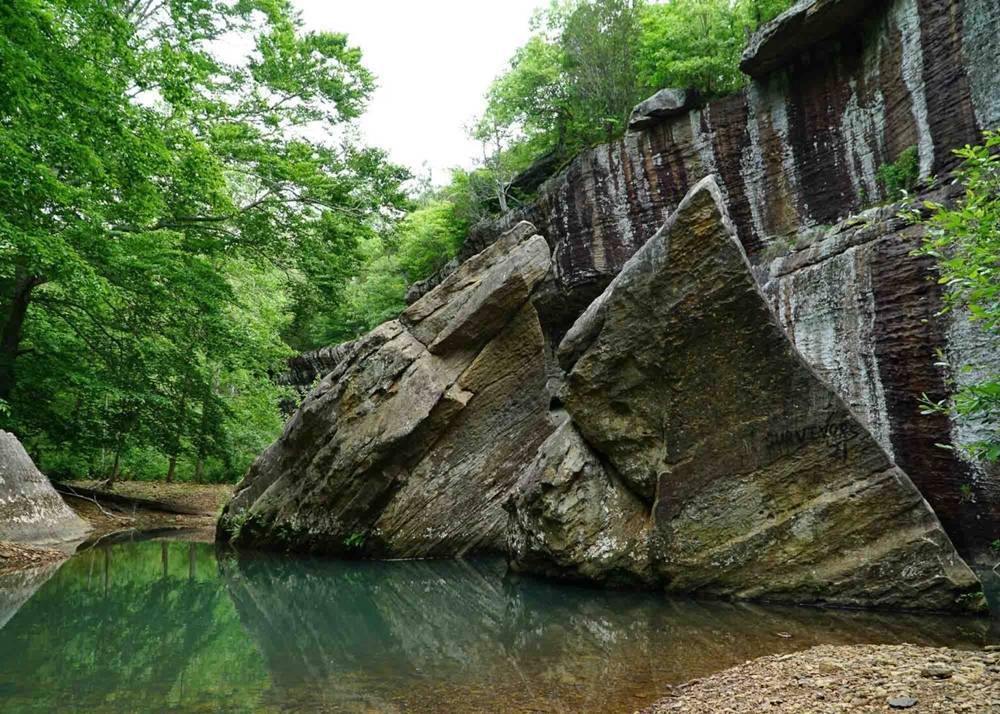 By Jessica from Unearth the Voyage
One of the best spring break destinations in the Midwest is Shawnee National Forest. There are so many amazing things to do in Shawnee National Forest you could spend weeks and not see the whole place.
Of course, since it's an outdoor destination one of the best things to do is go hiking. One of the most beautiful areas to go hiking is Bell Smith Springs. Bell Smith Springs has a gorgeous river running through the area with huge boulders and interesting rock faces. It's also home to the largest natural bridge in Shawnee National Forest!
Another must-see while in the area is the Garden of the God Recreation Area. Garden of the Gods is a mix of gorgeous forested areas, incredible views, and rocky bluffs that you can climb around on. It's a great place to take kids where they can climb all over the rocks and enjoy the views. Just make sure to be careful! There are lots of steep cliff faces here.
There aren't a ton of hotels in the area due to the remote location. However, there are quite a few VRBOs in the area to choose from. One of the best places to stay is at this adorable Micro Cabin located less than 5 minutes from Lake of Egypt and 15 minutes from Ferne Clyffe State Park!
Madison, Wisconsin
By Lisa from Waves and Cobblestones
Madison, Wisconsin is a great choice for a Midwest Spring Break travel destination. Madison is the capital of the state of Wisconsin, and the Capitol Building is one of the top attractions in Madison. You'll definitely want to explore the Capitol. It's a gorgeous building, and it's free to tour. Be sure to climb up to the observation deck and take in the panoramic views of the city.
The Olbrich Botanical Gardens are one of the must-see attractions in Madison. In March, enjoy the spring flower show with favorite blooms such as daffodils, hyacinths, and tulips. One of Madison's hidden gems is the Thai Pavilion at the Olbrich Botanical Gardens. This incredible pavilion is decorated in gold leaf and is one of only four Thai pavilions that exist outside of Thailand.
There are plenty of museums to visit in this university town, including the Chazen Museum of Art. Here you can view a wide variety of art including works from famous artists such as Pablo Picasso and Andy Warhol. Best of all, it's free to visit.
For a unique day trip, take a short 30-minute drive west and visit Mount Horeb. How can you pass up a visit to "The Troll Capital of the World?"
Stay at the Madison Concourse Hotel and Governor's Club. This hotel is just a stone's throw from the Capitol building, and some rooms even have views of the Capitol. Plus, it's close to State Street with its many restaurants, shops, and entertainment venues.
Stillwater, Minnesota
By Jill from Let's Travel Family
Nestled on the bank of the St. Croix River, Stillwater is an idyllic small town in Minnesota that makes for a great spring break vacation spot. Offering a charming historic downtown, outdoor activities, and plenty of opportunities to relax and explore, Stillwater is sure to make your spring break an unforgettable experience.
If you're looking to unwind and take it slow, Stillwater has plenty of options. Here are some fun activities to do in Stillwater, MN:
Hike or Bike The St. Croix Loop Trail – Go on a 4.7-mile loop trail ride with breathtaking views of the rolling hills, forests, and wetlands of Stillwater.
Stillwater Trolley Company Tour – Go on a 45-minute narrated tour of Stillwater and check out some of its most iconic spots like the Victorian mansions up close.
Stillwater Riverboat Cruise – Experience Venice in Minnesota with a relaxing riverboat cruise along the St. Croix River. Glide under the Historic Lift Bridge and take in the natural beauty of the river.
Visit Teddy Bear Park – If you're planning on visiting Stillwater with kids, then the Teddy Bear Park downtown is a must-visit. With dozens of activities, playgrounds, and even a tree fort and trains, there's plenty of fun to be had.
These are some of the awesome food and drink options in the area:
Freight House Stillwater – Enjoy some delicious farm-to-table cuisine and craft beers at this popular spot.
The Wild Hare – If you're searching for gluten-free and vegan options, The Wild Hare serves up some tasty dishes and has a great selection of craft cocktails.
Nelsons Ice Cream – For the sweet tooth, Nelsons Ice Cream is the place to be. Since 1923, they've been serving up some of the best ice creams in town.
When it comes to tips, plan ahead and book early to get the best deals. You can also look for lodging options that offer discounts for long-term stays, like the many vacation rentals you'll find on VRBO.
Lake Geneva, Wisconsin
By Alyssa from An Apple A Plane
Lake Geneva is known to locals as Chicago's charming weekend getaway. A one-hour-and-a-half drive northwest of Chicago makes it an easy road trip. Consider relaxing at the beach, renting a boat, shopping at the Riviera along Lake Geneva's waterfront, or just exploring. Visitors enjoy checking out Lake Geneva's unique restaurants and small-town shops, from art galleries to boutiques.
Spring is a beautiful time to visit as the weather warms up, and outdoor activities such as walking along the river and exploring the beach are back in full swing. Active enthusiasts will love zip-lining and golfing. For a special experience, take a hot air balloon ride from Lake Geneva Balloon Company for views over the waterfront and the city.
If you are curious to learn about the history of Lake Geneva, consider signing up for a boat tour and cruise the afternoon away.
If it's a rainy day and you are looking to tuck inside, consider heading to Tristan Crist Magic Theater for a magic show, or go shopping, and explore local restaurants.
The Grand Geneva Resort and Spa is one of the town's most popular hotels. Visitors can relax the evening away and treat themselves to a spa experience without ever leaving the resort!
Hannibal, Missouri
Located on the Mississippi River in northeast Missouri, Hannibal is where Mark Twain grew up and many places in and around town are centered around his life and his novels. The area is also great for outdoorsy people wanting to spend some time outside. Temperatures are still cool (in the 50s) but it's usually sunny during March/April.
In town, you can visit the Mark Twain Boyhood Home & Museum and the Mark Twain Cave Complex. Stroll around the downtown area and the waterfront, where you'll find plenty more interesting places to visit. Don't miss the Hannibal History Museum, Becky Thatcher House, the lighthouse, and the Tom Sawyer and Huckleberry Finn Statue.
Not far from town, you can hike to the top of Lovers' Leap to get a stunning panoramic view of the town and the river. Hikers can also check out the trails at Sodalis Preserve and Steyermark Woods Conservation Area. If you have extra time, you can visit Mark Twain State Park as well.
If you're looking for a great place to stay, check out Garth Woodside Mansion Bed and Breakfast. This historic B&B feature antique furnishing, luxurious rooms, some with a spa bath, and serves a tasty homemade breakfast. For something more family-friendly, if you're traveling with young kids, consider renting a vacation home in town.
Camdenton, Missouri
Located in the Lake of the Ozarks Area, Camdenton is one of the best Spring Break destinations in the Midwest for families, couples, and friends alike. You'll be there outside of the busy season so accommodations tend to be cheaper but most things will be open.
One of the main draughts of visiting Camdenton during Spring Break is that plenty of wildflowers will start to bloom as early as March. The best place to enjoy the flowers is to hike at Ha Ha Tonka State Park. There you'll find sinkholes, caves, a huge natural bridge, castle ruins, and bluffs as well, everything creating stunning scenery and breathtaking views.
Another top place to visit for adventurous people is the Bridal Cave & Thunder Mountain Park – you can take a guided tour of the cave (children under 4 don't pay) and learn more about geology.
You can also drop by the Camden County Historical Society on your way to Lake of the Ozarks State Park where you can hike and bike and maybe go on a kayak trip if the cold doesn't scare you.
You'll find plenty of great cabins in the area you can rent for your vacation. If hotels are more your thing, check out the Lodge at Old Kinderhook with its indoor swimming pool, room with views, and great amenities.
Black Hills, South Dakota
One of the best places in the Midwest to plan a Spring Break road trip, the Black Hills in South Dakota features wonder after wonder. It's ideal for a family vacation as most stops are close by so you won't have endless stretches of road on your itinerary. Count around 7 days to visit the whole area or pick and choose if you need to shorten it.
Some of the top places to visit include the Wildlife Loop in Custer State Park, Mount Rushmore, Wind Cave National Park, Evans Plunge Hot Springs, Crazy Horse, and Badlands National Park. All offer plenty of hiking opportunities and stunning overlooks to take in the magnificent scenery.
The easiest way to plan your trip is to base yourself in Rapid City for the first few nights, then spend your last night near Badlands National Park.
French Lick, Indiana
A Midwest hidden gem, French Lick is a small-town packed with fun things to do for all ages. With plenty of indoor activities in case the weather is bad, outdoor recreational activities, and cultural activities, the town is a perfect spring destination.
Every Saturday, starting in March, you can ride aboard an antique train on the 20-mile French Lick Scenic Railway, visit the museum, and maybe catch a reenactment. Another must-do in town is to tour the French Lick West Baden Museum and discover its local history exhibits.
Nearby, you can drive around the Hoosier National Forest, stopping along the way to see historic monuments and maybe go for a hike or two. For some indoor fun, you can spend some time splashing around at Big Splash Adventure, a big indoor waterpark – they also have an on-site resort with comfy family rooms and 2 restaurants.
In town, stop by the French Lick Winery where you can enjoy their tasting room and their Italian-style cafe. There aren't many hotels in the area, but you'll find plenty of vacation rentals.
Hocking Hills State Park, Ohio
Hocking Hills State Park makes for a great year-round getaway and is a great spring break trip for outdoorsy people. It's also a great budget-friendly destination as there are no entrance fees, you can camp there for as low as $25, pack your own food, and enjoy the freedom of the outdoors.
Be prepared for the possibility of snow, especially around March, and bring adequate gear. If you're visiting in March you might be able to attend the famed Maple Sugaring in the Hills festival at Old Man's Cave Visitor Center where you can watch as they make maple syrup.
There are seven major hiking areas in Hocking Hills State Park: Ash Cave, Old Man's Cave, Rock House, Conkle's Hollow, Cedar Falls, Cantwell Cliffs, and Whispering Cave Trail. All are breathtaking and worth the hike. Most hikes are short and easy and can be done by the whole family.
You can stay in the nearby town of Logan and enjoy plenty of family-friendly activities there as well. The best option is to book a vacation rental in town. If you are there for a full week, you'll find plenty of other state parks and natural areas nearby that are worth checking out as well.
Lincoln, Nebraska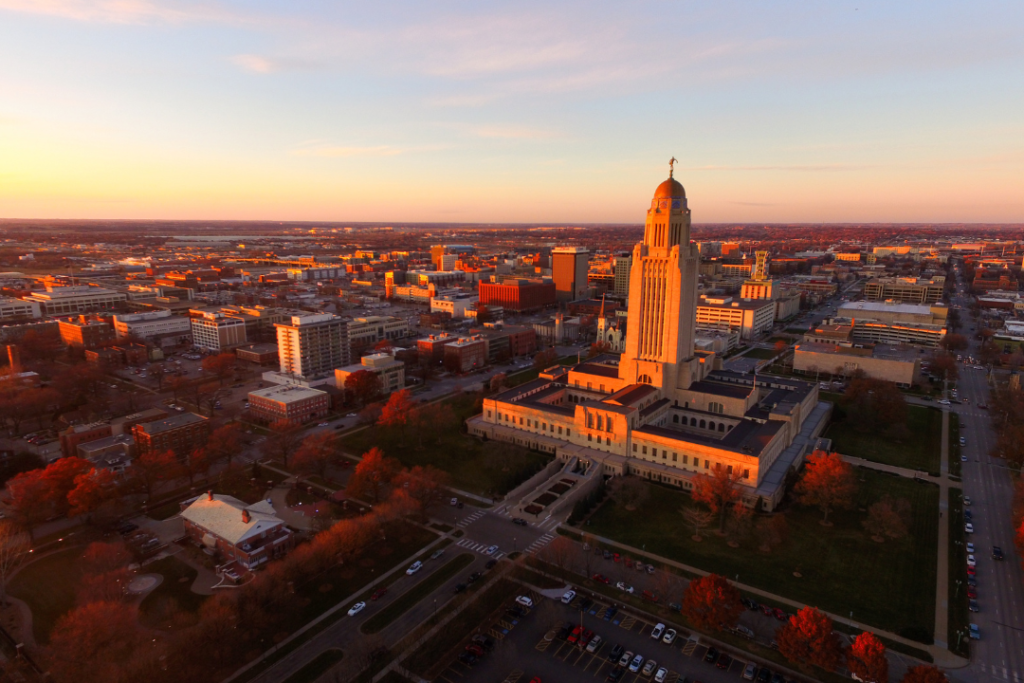 Lincoln is a fun vacation spot in the Midwest and makes for a great spring break destination as it's a good blend of outdoor and cultural activities.
In town, you can walk around the Sunken Gardens where you'll find lush landscapes, ponds, and sculptures. Head to the downtown area and visit the Lincoln Children's Museum, Nebraska History Museum, and the Historic Haymarket. For something educational, tour the state capitol building.
For something more adventurous, schedule a cave tour with Robber's Cave Tours and explore Lincoln's underground attraction. Outside of town, head to Pioneers Park Nature Center to spend some time outdoors.
The Graduate Lincoln is a great hotel to stay at with an indoor swimming pool. a restaurant, and comfy rooms. It's also well located, within walking distance of restaurants, shops, and several sights.
Kansas City
Kansas City makes a perfect Midwestern spring break getaway for people looking for a blend of entertainment, culture, and a great food scene. With plenty of things to do for all ages, the city is sure to please anyone looking to spend a fun Spring Break vacation.
If you're visiting with kids, don't miss visiting a couple of kid-friendly museums such as the Museum at Prairiefire with its natural history exhibits, the Arabia Steamboat Museum, Science City, or the National Museum of Toys and Miniatures among many others.
Head to Shoal Creek Living History Museum and wander through the trails while learning more about local history and how people used to live. If you like the outdoors, head to nearby Clinton State Park where you can hike and enjoy the peaceful scenery.
There are also plenty of wineries and breweries you can visit as well as the famed KC Wine Trail if you want to take a little road trip exploring Kansas and Missouri's countryside.
You can also take a walking tour of Strawberry Hill and Downtown KCK passing by murals, river views, and the city's top sights.
A great place to stay during your visit is the La Quinta Inn & Suites by Wyndham Kansas City Beacon Hill. It is centrally located, includes breakfast, and has free parking. You'll also find plenty of great and affordable vacation rentals in the area.
Traverse City, Michigan
Located on the shores of Lake Michigan, Traverse City is one of the best Midwest Spring Break destinations. While the temperature is still too low to enjoy the water, there are plenty of things to do regardless.
You can take a road trip along Lake Michigan, stopping along the way to take in the views, go for short hikes, and sample some local delicacies. Don't miss exploring the sand dunes in Ludington State Park Beach, the Manistee North Pier Lighthouse, and the Muskegon Museum of Art.
Closer to town, you can enjoy the walking trails and scenery at the Boardman River Nature Center, sample some wine at Rove Estate Vineyard & Winery, or have fun with the kids at Great Wolf Lodge Water Park. You'll find several museums worth checking out as well as parks from which you can enjoy views over Lake Michigan.
If you're not afraid to brave the water, you can also go on a kayak or sailing trip.
While you can stay at the Great Wolf Lodge if you want to enjoy the water park, you can also check out the affordable Howard Johnson by Wyndham or the many vacation rentals in the area.
Save it on Pinterest for later: