Sibuyan Island tourist spots: Discovering the Galapagos of Asia
Last Updated on November 5, 2022
This remote island is part of the Romblon group and will please the most adventurous travelers. Being so isolated, it sees almost no tourists, the only few ones come from the neighboring islands. Sibuyan Island is mostly self-sufficient, and its 50 000 residents live from fishing and farming. It offers a large range of mountains and waterfalls trekking options through rich vegetation. The most famous one being the three days trek to Mount Guiting-Guiting, but it's only for the fit, it is not an easy trek. Read on to discover the best Sibuyan Island tourist spots.
Sibuyan island is also famous for its rich fauna and flora, some of it being exclusive to the island. In total, Sibuyan boasts 700 plant species and 130 bird species, to make the most of it the best way is through a guided trek in the mountain. Just make sure beforehand that the guide knows enough about plants and animals to show you the interesting ones.
The best way to explore Sibuyan island is by motorbike; you can easily go around the island in one day. The road is about 100 kilometers but beware, they are currently building it, and only half of it is finished, the other half is really, really, really bad. I would advise it only to experienced drivers who enjoy this type of road, it's really muddy and has a lot of rocks. Even if I wasn't riding, it was hell for me! A 4 wheeler would have been definitively better.
Disclaimer: This post contains affiliate links, which means that if you click on any links and make a purchase, I'll get a small commission, at no cost to you.

If you don't feel comfortable driving a motorbike, you can use jeepneys, but they are few and mostly leave in the morning and go from city to city so if you stop at one waterfall you won't be able to get another jeepney. What you can do is hire a tricycle and go around Magdiwang, and the next day takes a jeepney to San Fernando and do the same there. Sanctuary Garden Resort in Magdiwang can also arrange day trips with driver and guide around the island.
Sibuyan Island tourist spots:
1- Climb Mount Guiting-Guiting

Probably one of the biggest challenges in the Philippines, Mount Guiting-Guiting, an extinct, 2050 meters high volcano, is for the adventurous and experienced mountaineers. The hike takes three days, and two nights, you'll need to hire a guide (1000 pesos a day) and bring your own equipment (you can also hire a porter). The trail is difficult and pretty steep, but the view up there is worth the climb. Mount Guiting-Guiting is Sibuyan Island's best tourist spot.
Being not at all into mountaineering I didn't undertake the climb, but if you're like me, a good alternative would be to trek to camp 3 (you'll have to spend the night). From there, the view is good, and on the way, you can enjoy nature and maybe see some wildlife.
Another alternative is to climb Mayo's Peak, it only requires 24 hours, and you can see as many plants and wildlife as in Mount Guiting-Guiting.
2- Magdiwang Town

Sibuyan is not really famous for beaches so don't expect white sand and clear water beaches, but Magdiwang beach is pretty nice, with dark sand, coconut trees, and fishermen's boats even if it would need a good cleaning. It is still worth a walk at sunset or a swim during the day. There are a couple of bungalows where you can stay right in front of the beach.
You can also take a swim in Pawala River natural pool, right next to Sanctuary Garden Resort (250 pesos in the dormitory). Expect to be surrounded by excited local kids. Right there, if you cross the river, you can take the 1-hour hike to the Mount Guiting-Guiting Head Quarter, across the rice field and the forest. Ask a kid to show you the way, because, by yourself, it's almost impossible to find the right way.

If you're staying in Sanctuary Garden Resort, you'll have access to a nice viewpoint and it's only a 10 minutes walk.
3- Lambigan Falls
This fall, about 10km east of Magdiwang, is the most accessible one on the island. Really close to the main road, it's just a 10 minutes walk, and there's only one path so you can't get lost. You'll have to pay about 50 pesos for the entrance. Expect also to do some rock climbing if you want to see different stages of the fall.
4- Cajidiocan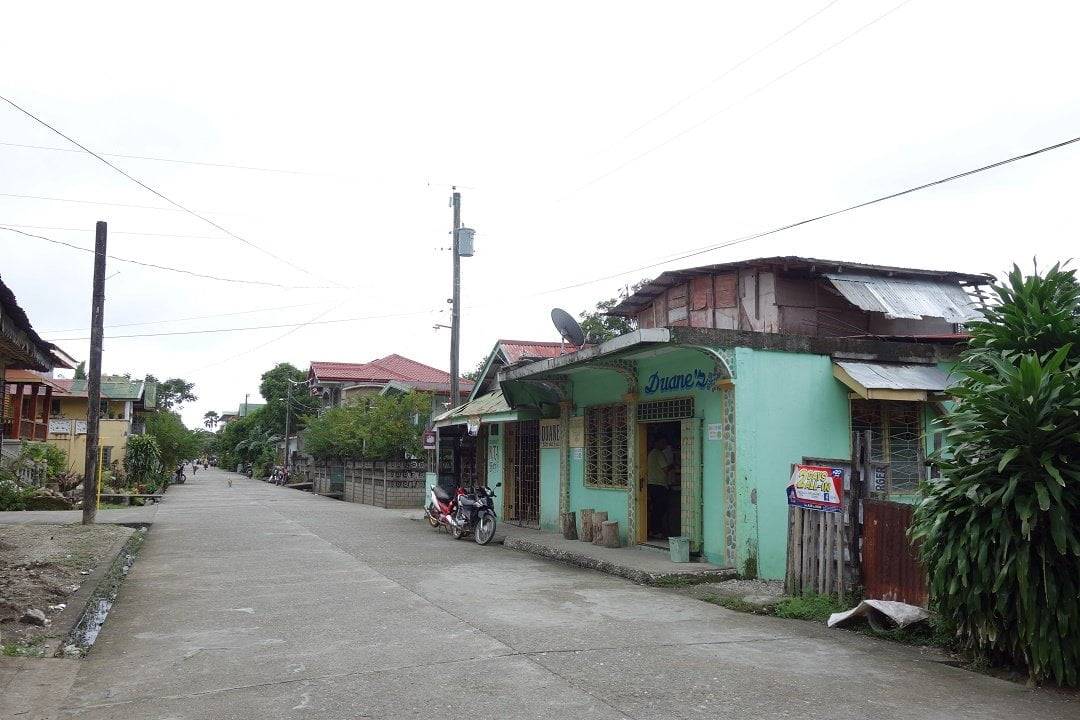 The only city with an ATM on the island, you will find there a nice little town with shops, some restaurants, and really nice houses. It's worth a short break but probably not an overnight stay.
5- San Fernando

San Fernando is also a cute little town worth walking around its busy streets. There are some accommodations if you want to spend the night. There's also a daily boat to Roxas in Capiz.
6- Catingas River

Take a refreshing swim in the crystal clear water of the Catingas River, one of the cleanest rivers in the Philippines and a must-visit Sibuyan Island tourist spot.
7- Dagub-Dub Falls
A 15 minutes walk from the main road will lead you to these gorgeous waterfalls, but once again you'll need to find someone to show you the way. This waterfall formed many pools, and you can just enjoy jumping from one to another.
8- Cataja Fall

Close to Magdiwan, this amazing waterfall requires a 30-minute guided walk through muddy paths but is worth the trek, especially if you enjoy adventurous walks.
Are you planning on going to Romblon Island? Check out the best beaches to visit there + everything you need to know before traveling to the Philippines.
Like it? Save it for later – Sibuyan Island tourist spots, the Galapagos of Asia: