Top 10 Best Thai Islands that need to be on your bucket list
Thailand is one of the most visited destinations in Asia, and it's not for nothing. A dream destination for many, Thailand features stunning scenery, paradise-like beaches, world-renown gastronomy, and cultural treasures.
Deciding where you should go can be an arduous task as there are so many wonderful destinations in Thailand. To help you plan your Thailand itinerary, travel bloggers share their favorite Thai island as well as useful travel tips and recommendations.
Pick and choose your favorite ones and start planning your next island-hopping adventure or relaxing retreat for a perfect vacation.
Related – Thailand complete packing list
Disclaimer: This post contains affiliate links, which means that if you click on any links and make a purchase, I'll get a small commission, at no cost to you.
Check out the new entry requirements and covid regulations on Thailand's official tourism board's website.
Pro tip: Before any international travel make sure you have travel insurance.
Koh Kradan
By Martina & Jürgen from PlacesOfJuma
Koh Kradan in Thailand is definitely one of the most beautiful islands in the country! Here you will enjoy a unique flair, far away from mass tourism. This dream island is never overcrowded, the atmosphere is calm, and the nature is stunningly beautiful. What makes it unique is the extraordinary setting with turquoise-blue sea colors, the white dream beaches, and even a jungle on this hidden island pearl.
There isn`t much to do: relax, read a good book, drink cocktails in the small beach bar, swim in the sea, and snorkel. In the offshore reef, you can discover many colorful fish, and even clownfish have settled here. If you like, you can hire a boat and go to the nearby Emerald Cave to explore a former pirate hideout.
This mini-island is located in the Trang region, in the Andaman Sea, and can be easily reached by speed boat. Although it is possible to see the entire island in one day, those who want to relax should definitely plan a few relaxing days here.
There is no party or nightlife here. Although there are a few resorts, there is never much going on and you always have peace and quiet on Koh Kradan. Really lovely is the Reef Resort directly on the beach and with amazing views!
Koh Tao
By Cecilie from Worldwide Walkers
Koh Tao is without a doubt one of the best islands you can visit in Thailand. Koh Tao is one of the most famous places to go diving and snorkeling in Thailand. So, if you want to go snorkeling or if you're considering taking a diving course, then you should head to Koh Tao!
There are also several places you can explore on the island if you're not into underwater activities. It's easy to rent a scooter and explore all corners of the island. You can easily spend hours discovering some of Koh Tao's best beaches such as Sai Daeng, Freedom, and Sairee Beach. Or you can jump on a short boat trip to Koh Nang Yuan, which hides one of Thailand's best viewpoints.
Sairee Beach is the best place to be if you're looking to experience Koh Tao's nightlife. Here you can find endless bars where you can watch a fire show while enjoying a cold drink with your toes in the sand.
Koh Tao is located next to the popular Koh Phangan and Koh Samui in the Gulf of Thailand. It's pretty easy to get to the island from Bangkok. You can either fly or take the train to Chumphon or Surat Thani from where you can catch a boat to the island.
If you want to do a diving course, then it's recommended to stay a week on Koh Tao. However, if you're only looking to enjoy the beaches and nightlife, then you can easily just stay a couple of nights and combine your trip with a couple of days on Koh Phangan or Koh Samui. Island-hopping is one of the best ways to experience beautiful Thailand.
Koh Lanta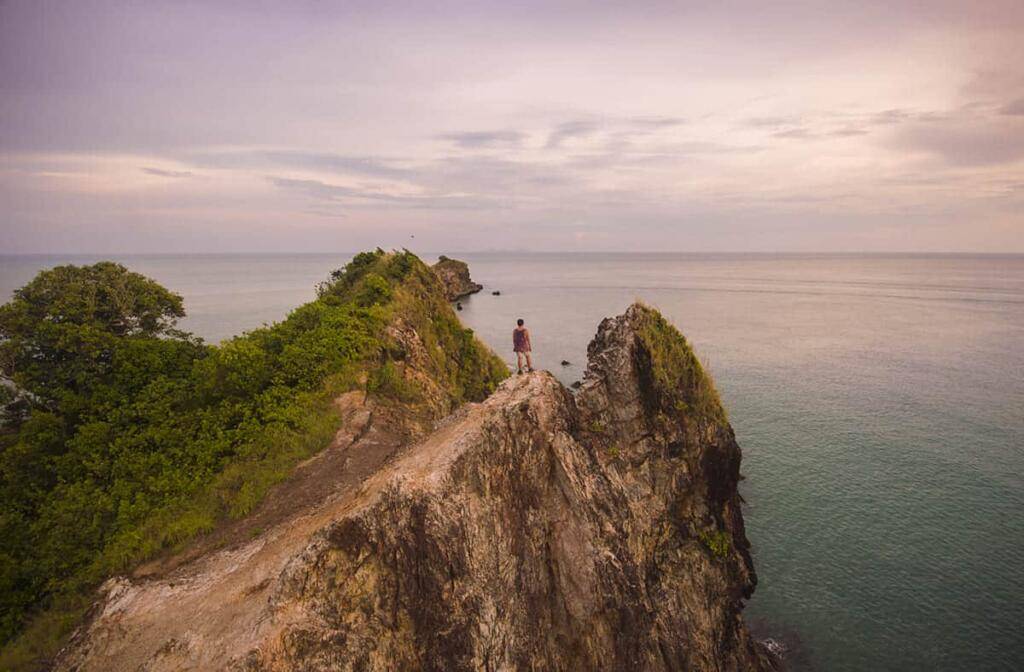 Tasha Amy from Backpackers Wanderlust
Tucked away in the Southwestern corner of Thailand along the Andaman Sea is the incredible island of Koh Lanta. This is far enough off those main tourist places such as Phuket, Koh Phi Phi, and Krabi, though close enough to only be a couple of hours journey away by van or boat.
One of the top things to do is to visit Mu Ko Lanta National Park which is a must in your Koh Lanta itinerary. Here you will find amazing clifftop views over the ocean. I also recommend simply hiring a motorbike and discovering the island at your own pace. There are numerous restaurants with mind-blowing views providing the perfect excuse for a cold beer. Lastly, make sure to check out Lanta Animal Welfare to meet some adorable doggy friends.
Koh Lanta is a lot slower pace than the other touristy areas around Southern Thailand so you will want at least 3 days here at minimum. This will allow you to take a deep breath, appreciate your surroundings and join in on that laid-back lifestyle.
Koh Mook
By Linn Haglund of Brainy Backpackers
Koh Mook is truly one of Thailand's hidden gems. The island is quite popular for the mesmerizing Emerald Cave, a swim through an 80 meters tunnel from the sea leading into a hidden beach lit up by the sun. But hardly any of these people take their time to actually set foot on the island as they're usually part of a boat tour from any of the surrounding islands.
There is so much more to Koh Mook and you should spend a few nights in a bungalow on the beachfront, like the luxury resort Koh Mook Sivalai Beach Resort that sits on the Hao-Laem beach.
The long, white beaches are often empty, and you can enjoy a real Thai island paradise by yourself. Yet there is so much more to do beyond the beaches. Explore the yet not saturated island's local restaurants and shops to get a real feel of the island life. Rent a scooter or a bike to get around and head out for a hike in the lush jungle to explore hidden beaches.
Make sure you bring enough cash for your stay at Koh Mook as they might not have any cash machines there. Consider if you are heading out to another remote island after Koh Mook too, so you have enough to keep you floating until you go back to a bigger island. Most hotels take cards as payment though.
The island is easily reached from either Trang or Koh Lanta, but only in the high season from December to March. The rest of the year there are heavy storms and most hotels and transport do not run.
Koh Phangan
By Cazzy from Dream Big Travel Far
Home to some of the world's most pristine beaches and tropical destinations, there's no doubt that Thailand is a paradise to go island-hopping. Koh Phangan is the fifth-largest island in the country and is known for its white-sand beaches, rolling hills, luscious jungles, and many dive sites.
There are more than 30 beaches to explore, each with its own unique charms. Some like Bottle Beach and Haad Rin Nok are popular among tourists, but the emptier Haad Chao Pao is no less beautiful too.
For a little bit of a mountain-escapade, you can hike the island's tallest mountain, Khao Ra. The path is relatively easy and it takes about 2 or 3 hours to hike all 627 meters of it. The view on top is really quite spectacular!
Koh Phangan also has its share of magical waterfalls, including the Phaeng Waterfall and Than Sadet Waterfall, and over 20 Buddhist temples. Catch a show at the open-air Moonlight Cinema and don't miss the ultimate sunset experience by grabbing a drink at the Three Sixty Bar. You might also want to stroll around the markets for delicious treats and unique souvenirs.
4 to 5 days are enough to visit all the island's most famous destinations and lesser-known gems. The island is just a 45 minutes ferry ride from Koh Samui or 2.5 hours from the main island. If you take a speedboat from Samui, it will take just 20 minutes.
When it comes to the food, Koh Phangan is teeming with a scrumptious culinary scene. Try Bluerama's rooftop bar for a luxurious venue with affordable prices, or explore the many street foods around the island!
Koh Chang
By Karolina from Lazy Travel Blog
Koh Chang (The Elephant Island) is one of the best islands in Thailand. It's located pretty close to the famous mainland cities – Bangkok and Pattaya. Even though Koh Chang's location is convenient, it's less popular than the famous Phuket or Koh Samui.
It's one of the best things about Elephant Island. Because it's not touristy, you can still feel the "vibe" of Thailand there. Plus, you will have a great chance to spot some monkeys!
There's no airport in Koh Chang, so you need to get to the Center Point in Trat from where you can take a ferry to the island. Depending on where you are traveling from, you can either take a flight to Trat, travel by bus, or hire a taxi.
One of the best things to do in Koh Chang is spending time on the beach, having a Thai massage, and of course, eating local food. If you like hiking, you can take some pretty awesome jungle treks!
Be sure to visit Blue Haven Bay if you want to take some Insta-worthy photos. It's also where you can find awesome restaurants and 2 great hotels to stay at – Marina Sands Resort and Peninsula Beach Resort.
The recommended time to spend on Elephant Island is 3 days. You will have enough time to explore the island and relax.
Koh Samui
By Hadas from Luxury Voyager
Koh Samui is one of Thailand's most popular islands and tourist destinations due to its white sandy beaches, activities to suit every age and taste, and a wide range of accommodation options.
A visit to Koh Samui is a must when in Thailand as it is perfect for any tourists; whether you are after a luxury holiday or a budget one, or whether you're traveling with your significant other, your friends, or your family. Koh Samui is indeed a dream destination for anyone.
Koh Samui offers some of the most beautiful beaches in Thailand including Coral Cove Beach and Silver Beach. It also has breathtaking viewpoints. Some of the best views can be seen from Lad Koh and the bar at the Jungle Club hotel, where it is recommended to watch the sunset.
Some of the best luxury hotels in Thailand are located in Koh Samui. My favorite ones are W Hotel, Six Senses, and Nikki Beach Resort.
The foodies amongst you also will not be disappointed as Koh Samui offers a range of upscale restaurants and local street food stalls.
I would generally recommend staying in Koh Samui for 4-5 days before heading to the nearby island of Koh Phangan.
James Bond Island
By Jesal from Tourist to Travellers
One of the gems of Ao Phang Nga National Park in Phang Nga Bay is James Bond Island or Khao Phing Kan. Located close to Phuket, James Bond Island is a very popular tourist destination.
The Island gets its name from the popular James Bond movie "The Man with the Golden Gun". A 20-meter tall islet called Ko Ta Pu or Khao Ta Pu, another popular structure visited by tourists.
You can reach James Bond Island either from Phuket or from Krabi and can take a boat from either place to visit the island. The best option is to opt for the 1-day tours that include a visit to this Island.
Ao Phang Nga Beach, Ko Panyi, Ko Panyi Rock Art, and Phi Phi Islands are some places to visit near James Bond Island.
One can opt for many things to do on James Bond Island:
Take a boat ride and enjoy the scenic views of the cliffs and the various hills.
Explore the island, relax on the beach, or click Instagram-worthy pictures with the unique structure in the backdrop.
Shop souvenirs from the local shops close by. Buy the popular Koh Tapu or the James Bond Rock from the shop.
Accommodation options:
Stay at the Samet Nangshe Boutique hotel in the Phang Nga bay to catch a perfect sunrise and sunset. Enjoy a hot meal at the rooftop café to watch stunning views of the bay
Pro Tip: The mobile connectivity is poor so try to keep the phone behind, relax and enjoy the island.
Koh Yao Yai
By Victoria from Guide your Travel
Koh Yao Yai is a small island located east of Phuket in the bay of Phang Nga. This beautiful spot is the perfect place to escape the busy streets of Phuket and enjoy a more secluded experience. It's definitely one of the best islands in Thailand by far.
Come here for incredible beaches, a laidback lifestyle, and stunning scenery. You should plan to spend at least two or three days here maybe more if you have time.
You can easily get to Koh Yao Yai via ferry or speedboat which both leave from Phuket. Tickets are affordable and booking in advance is highly recommended during the high season since tickets do tend to sell out.
Koh Yao Yai is all about resorts and incredible white sand beaches. Head to Son Bay Beach or Ao Muang beach for swimming, relaxing, and snorkeling. Just watch out for the jellyfish. During some seasons Thailand experiences high numbers of jellyfish which can give you a painful sting if you touch them.
Ban Rim Nam Restaurant is an absolute must-see. This beautiful little spot is located right on the water and offers stunning views and authentic Thai food as well as international options.
Koh Lipe
By Angeline from Go Around Philippines
Koh Lipe is an island off of the South of Thailand. It is a popular spot for locals and tourists alike because of its beautiful beaches and stunning crystal-clear waters.
Koh Lipe is accessible from Thailand or Malaysia via ferry. If you start from Thailand, you need to get to Satun and take a ferry from Pakbara Pier, Satun. However, Satun doesn't have an airport so you have to fly into Trang or Hat Yai and then take a minivan/bus to Satun.
From Malaysia, you can take a direct ferry from Langkawi to Koh Lipe too.
Koh Lipe is open year-round. However, there are two choices of when you visit – low season with rain but cheaper prices, it's quieter but the water is not so clear, or high season with better weather, more nightlife and daytime activities open, but it's much busier and higher prices.
I would recommend at least 5 days on the island, especially with the travel time from the mainland to the island.
There are many options on where to stay in Koh Lipe. I spent all 4 days at Castaway Resort and it was perfect! Castaway Resort is a rustic-themed resort reminiscent of the movie by Tom Hanks and perfectly located along Sunrise beach.
Definitely visit the National Park when you are on the island.
Related articles to help you plan your trip to Thailand:
Save this post for later or share it on social media: