12 Best Things to Do in Punta Gorda, Belize
Last Updated on May 4, 2023
The Toledo district in Southern Belize is often overlooked by tourists, and they're missing on a lot of great things. Punta Gorda, the main city, is a quiet fishermen's village with not much to do there, it's what's around it that's interesting.
Toledo is known for its natural beauty and diverse cultures. The district is home to several protected areas, including the Port Honduras Marine Reserve, the Payne's Creek National Park, and the Rio Blanco National Park. These areas are home to a wide variety of flora and fauna, including numerous species of birds, monkeys, and jaguars.
The district is also home to several indigenous communities, including the Kekchi and Mopan Maya people. Visitors to Toledo can learn about these cultures by visiting traditional villages and participating in cultural activities.
The town of Punta Gorda is the best place to stay if you are looking to experience the natural beauty and cultural diversity of Toledo.
Toledo has a lot to offer to travelers who add this remote place to their Belize bucket list. Read on to discover all the best things to do in Punta Gorda, Belize.
HELPFUL WEBSITES TO HELP YOU PLAN YOUR TRIP
HELPFUL WEBSITES TO HELP YOU PLAN YOUR TRIP
Disclaimer: This post contains affiliate links, which means that if you click on any links and make a purchase, we'll get a small commission, at no cost to you.
Best things to do in Punta Gorda
Punta Gorda is a good base to explore Southern Belize and the Toledo district. While the town is small, there are still a couple of nice things to do.
Learn About the Garifuna Culture
Staying there is a great opportunity to discover the Garifuna culture and take a drumming class. Garifunas are of African descent and migrated from the Caribbean Islands to settle in Belize, Guatemala, and Honduras. They are known for their cuisine, music, and dancing.
You can join a tour or find a restaurant/bar having live Garifuna music while you're in Punta Gorda. You can also check out the Warasa Garifuna Drum School where you can take drumming lessons, join drum-making workshops, or learn to dance.
RECOMMENDED EXPERIENCE – Half-Day Drumming, drum-making, and cultural meal experience
Try the Local Food
There's no beach in Punta Gorda, but you can enjoy the seafront in one of the many bars and restaurants facing the sea. I recommend trying Asha's Culture Kitchen. The food is delicious, and they often have themed nights.
You can also rent a kayak or paddleboard from there and go exploring the sea and nearby mangroves (if the sea is not too rough).
If you crave veggies, you can try Gomier's, a vegan and vegetarian restaurant.
For great cocktails and a nice local ambiance, check out the Rainforest Reggae Bar on Front Street.
Some popular traditional Garifuna dishes include:
Hudut: a fish stew made with coconut milk and plantains, usually served with a side of cassava bread.
Darasa: similar to a tamale, darasa is made with ground green bananas and coconut milk, and is usually filled with seafood or chicken.
Sere: a soup made with fish or seafood, okra, and a variety of spices.
Bundiga: a soup made with fish or meatballs, cassava, and spices.
Ereba: a staple food made with cassava root, usually served with fish or meat.
Tapado: a seafood stew made with a variety of seafood, coconut milk, and plantains.
Garifuna cuisine also includes a variety of desserts and drinks, such as cassava pudding, coconut candy, and cashew wine.
Check out local artwork at We Art Gallery
This small art gallery showcases art pieces from local artist, Ludwig Palacio. Most pieces are made from high-quality wood found in the nearby rainforests and you can get a quick tour of the place.
Tour the Copal Tree Distillery
If you're interested in learning about how rum is made, from scratch to finish, take a tour of the Copal Tree Distillery and discover this interesting process, typical of Belizean rum. The tour starts in the middle of the cane fields where you taste the different types of sugar cane before touring the distillery and tasting different rums, learning about their differences.
Discover the Mayan Culture
The Toledo Ecotourism Association (TEA) is a community-run program aiming at sharing the traditional Maya culture and developing tourism in the Toledo district while fighting poverty. They offer different types of activities such as farm and village visits, cacao grinding classes, craft classes, and such.
You either can plan a day trip from Punta Gorda or stay for a night or two in one of their homestays. Check out their website for more information.
It's a great way to learn more about the Mayas, their traditions, and their culture while supporting local tourism.
Explore Mayan ruins
There are two Maya sites easily accessible in the Toledo district: Nim Li Punit and Lubaantun. While they are smaller than other more popular Mayan ruins in Belize, both are worth checking out as they have been mostly left untouched and see few tourists.
Nim Li Punit dates back to the Classic period, around the 5th century. The city used to be an important religious and political center. Its name means "Big Hat", after one of the stelae depicting a man wearing a huge hat.
The site also features several other stone structures, including a ball court, plazas, and a ceremonial center.
One of the most notable structures at Nim Li Punit is the Stela Plaza, which features several large stelae (stone monuments) that are covered with intricate carvings depicting Maya rulers and gods. The carvings provide valuable insights into the political and religious practices of the ancient Maya people.
You can explore the site by yourself, book a tour from Punta Gorda, or hire a guide on-site. The site also features a museum that displays artifacts and information about the history and culture of the ancient Maya civilization.
Lubaantun dates back from the Late Classic period and is known for the special way its pyramids were built, really tall and without mortar. Its name means "The place where the stones fell" and refers to the many large stone blocks that are scattered throughout the site. The stone blocks were used to construct the many buildings and structures at the site, which are characterized by their distinctive rounded corners and lack of mortar.
One of the most notable structures at Lubaantun is the Castillo, a large pyramid-like structure that was likely used for ceremonial purposes. The Castillo features a series of rounded terraces and platforms, as well as several interior chambers.
Lubaantun is also known for its artifacts, which include a large collection of pottery, jade carvings, and other objects that were likely used in religious and ceremonial contexts. One of the most famous artifacts from Lubaantun is the "Crystal Skull," a small skull-shaped object made from clear quartz that is believed by some to have mystical powers.
Swim and hike in Rio Blanco National Park
Rio Blanco National Park is a protected area located in the southern part of Belize, in the Toledo District. The park covers an area of approximately 100 square kilometers and is known for its pristine natural beauty and diverse wildlife.
It makes a perfect day trip from Punta Gorda, especially if you have a car – otherwise, you can arrange for a tour or try hitchhiking.
The park is home to several hiking trails that wind through dense tropical forests and along the banks of the Rio Blanco River. Expect to see a variety of plant and animal life, including howler monkeys, toucans, and parrots. The park is also home to several waterfalls and natural pools that are ideal for swimming and picnicking.
One of the most popular attractions in the park is the Rio Blanco Waterfall, a stunning waterfall that cascades into a deep pool of crystal-clear water. There, you can swim in the pool, relax on the surrounding rocks, or take a dip in one of the natural Jacuzzi-like pools created by the waterfall's cascading water.
Other activities in the park include bird watching, wildlife spotting, and camping. The park also offers opportunities for guided tours and hikes led by knowledgeable local guides.
Check out their website for more information. If you go there to swim ask about rainfall beforehand to avoid disappointment.
Hike to Blue Creek Cave
In Blue Creek, you can hike along the river all the way to Hokeb Ha Cave where you can swim in one of its many pools. The hike is not too hard, around 20-30 minutes one way, but some parts are slippery so be careful. Bring enough food and water with you.
The cave is home to an underground river that flows through several large chambers and narrow passageways. It's recommended to hire a guide at the village if you want to explore the cave.
Make sure to come prepared with appropriate footwear and clothing, as the cave can be slippery and wet.
Get your adrenaline going at Big Falls Extreme Adventures
In Big Falls village, you can spend the day zip-lining and river tubing at Big Falls Extreme Adventures. Just grab a tube and float away following the river course, gazing at the clouds and the lush jungle. If you prefer the air and the treetop, the zip line follows the river's course and is a great adventure.
Kayak to Joe Taylor Creek
From Garbutts in Punta Gorda, you can rent a kayak and paddle to Joe Taylor Creek. It's a great way to explore the mangrove and see wildlife. You can also see volcanic rocks along the bank, the weird thing is the closest volcano is thousands of miles away, in Guatemala.
The best time to go is in the morning when it's not too hot, and it's easiest to spot birds.
Take a day trip to the Sapodilla Cayes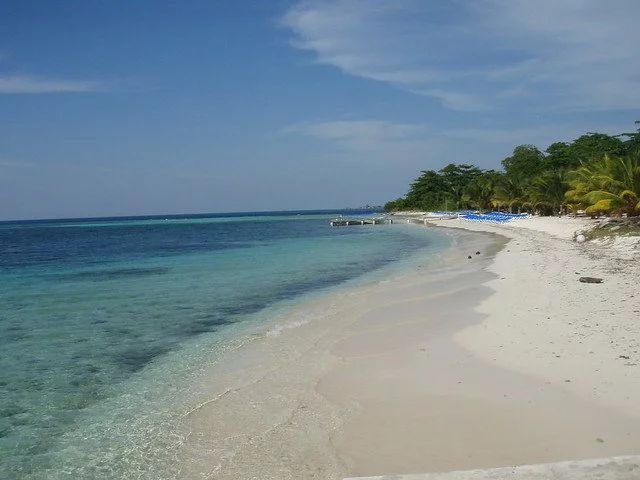 The Sapodilla Cayes are a group of small islands located off the southern coast of Belize, near the border with Guatemala. The cayes are part of the Belize Barrier Reef Reserve System, a UNESCO World Heritage Site, and are known for their pristine natural beauty and excellent opportunities for snorkeling, diving, and fishing.
Probably Belize's wildest and most gorgeous cayes, a visit to Sapodilla Cayes, 2.5 hours away from the coast, is a perfect day trip, where you can snorkel and visit deserted beaches.
Explore Tiger Cave
If you're feeling adventurous, book a guided tour to visit the stunning Tiger Cave – you'll only be the only ones there as this is not a popular attraction. Be prepared to climb and crawl a bit at times. Inside the caves, expect beautiful rock formations and Maya artifacts as it used to be a ceremonial place.
How to get around Punta Gorda, Belize
The best way to explore the area is by car but you can also easily get to most places listed above via public transportation. You can also hitchhike, I did it (alone), everybody there told me it was as safe as it gets. Avoid trying to take the bus on Sundays, as not many are running.
You can also organize tours via your hotel.
Where to stay in Punta Gorda, Belize
Accommodations in Punta Gorda are pretty basic and usually more expensive than in the rest of Belize. They are a couple of nice resorts outside of the city, but they're hard to reach without a car.
A Piece of Ground – The only hostel in Punta Gorda, overpriced, but it's a nice place to hang out and meet people, it's clean and well organized.
Lux Guesthouse – The cheapest accommodation in town ($30 BZ), basic fan rooms with shared bathrooms. It's not on Google map, it's close to where the boats from Livingston arrive, when you get out of there go right on Front Street, and you'll find it. Here's the owner's phone number: +501 603-2539
Beya Suites – a good mid-range option with sea view rooms, some have a kitchen, all have AC, a TV, and a private bathroom.
Hickatee Cottages – probably the nicest hotel in Punta Gorda, surrounded by nature, perfect if you want privacy and tranquility, the bungalows are spacious and far from each other. There's a pool and a restaurant/bar on site, the breakfast is included. Free bicycles.
If you want to splurge, consider staying at the Copal Tree Lodge, one of the best resorts in Belize. This luxury eco-resort is situated on a 12,000-acre sustainable farm that produces organic coffee, cacao, and other crops, and is surrounded by pristine rainforest, rivers, and Maya villages.
Accommodations at Copal Tree Lodge include spacious suites, villas, and guest rooms, each designed to offer a unique blend of modern comfort and traditional Belizean style. All accommodations feature luxurious amenities, such as king-size beds, private balconies or terraces, and stunning views of the surrounding rainforest.
The resort offers a wide range of activities and experiences, including guided tours of the farm, birdwatching, hiking, and cultural tours of nearby Maya villages. Guests can also enjoy a range of wellness treatments at the resort's spa, which offers a variety of massages, body treatments, and yoga classes.
Copal Tree Lodge is also home to a farm-to-table restaurant that serves a range of delicious Belizean and international dishes made with locally sourced, organic ingredients. The restaurant offers stunning views of the surrounding rainforest and nearby Maya Mountains, and is a popular destination for both guests and visitors.
Like it? Save it for later – Best things to do in Punta Gorda, Belize: