Best things to do in Taichung + Day Trip
Last Updated on July 21, 2023
Welcome to Taichung, Taiwan's cultural gem, where modernity meets tradition, and vibrant city life blends with natural beauty. If you're planning a visit to this enchanting city, get ready to indulge in an array of unforgettable experiences. Taichung is a captivating destination offering a plethora of attractions and activities for every type of traveler.
Taichung (pronounced Taijong) is a great city full of amazing places to discover. There are a lot of things to do in Taichung, and places to add to your Taichung itinerary from culture to nature, you're in for a great trip!
In this article, I share with you all the best things to do in Taichung, from exploring the kaleidoscopic wonders of Rainbow Village to immersing yourself in the bustling Feng Chia Night Market. But that's not all! Taichung also serves as an ideal base for exciting day trips to nearby hidden treasures. Venture beyond the city limits to discover the picturesque landscapes of Sun Moon Lake, the ethereal beauty of Gaomei Wetlands, or the historical charm of Lukang Old Street.
So, buckle up for an unforgettable journey as we unveil the top highlights of Taichung and unveil the hidden gems awaiting you on the best day trips from this captivating Taiwanese city. Whether you're a culture enthusiast, a nature lover, or a gastronomic adventurer, Taichung and its surroundings have something extraordinary in store for you.
HELPFUL WEBSITES TO HELP YOU PLAN YOUR TRIP
HELPFUL WEBSITES TO HELP YOU PLAN YOUR TRIP
Disclaimer: This post contains affiliate links, which means that if you click on any links and make a purchase, I'll get a small commission, at no cost to you.
Taichung Itinerary: How to spend 1 to 3 days in Taichung
Day 1: Explore Taichung City
Morning:
Suncakes Breakfast: Try a local breakfast favorite, "suncakes" (Taiyang Bing), at a nearby bakery. These sweet and flaky pastries are a popular morning treat in Taichung.
National Taichung Theater (Taichung Opera House): Start your day with a visit to the iconic Taichung Opera House, an architectural masterpiece designed by Japanese architect Toyo Ito. Explore its futuristic design and take some stunning photos.
Zhongshe Flower Market: tour the beautiful Zhongshe Flower Market (Chung She Tourist Flower Market), where you can enjoy a picturesque display of colorful flowers and gardens.
Afternoon:
Rainbow Village: Visit the colorful and whimsical Rainbow Village, a vibrant community adorned with lively murals. Immerse yourself in the artistry and creativity of this unique village.
National Museum of Natural Science: Spend the afternoon exploring the fascinating exhibits at the National Museum of Natural Science. It's a great place for both adults and children, featuring interactive displays and a beautiful botanical garden.
Evening:
Miyahara Ice Cream: Treat yourself to some delicious ice cream at Miyahara Ice Cream, a beautifully restored historical building that used to be an ophthalmology clinic. Don't miss their signature pineapple cake and other delightful treats.
Feng Chia Night Market: Head to one of Taiwan's most famous night markets for dinner. Feng Chia Night Market offers a plethora of mouthwatering street food options and shopping opportunities.
Day 2: Day Trip to Sun Moon Lake
Morning:
Travel to Sun Moon Lake: Take an early morning bus or arrange for a private tour to Sun Moon Lake, one of Taiwan's most scenic attractions. The journey from Taichung takes about 1.5 to 2 hours.
Boat Tour on Sun Moon Lake: Upon arrival, take a boat tour to fully appreciate the beauty of the lake and its surrounding mountains. Visit the Lalu Island and Xuanguang Temple.
Afternoon:
Shuishe Dam and Ci'en Pagoda: Head to Shuishe Dam to enjoy the panoramic views of the lake. Then, hike or take a cable car up to Ci'en Pagoda for stunning vistas.
Xiangshan Visitor Center: Learn more about the ecology and history of Sun Moon Lake at the Xiangshan Visitor Center. The center also provides information about the local indigenous culture.
Evening:
Return to Taichung: Head back to Taichung in the late afternoon.
Dinner at Yizhong Street Night Market: End your day with a flavorful dinner at Yizhong Street Night Market, another popular night market in Taichung. Sample a variety of local dishes and snacks.
Day 3: Lukang Day Trip
Morning:
Travel to Lukang: Take a day trip to Lukang, a charming town with a rich history. It's about a one-hour drive from Taichung or can be reached by public transportation.
Lugang Old Street: Stroll through Lugang Old Street, lined with well-preserved historical buildings, traditional shops, and street food vendors.
Afternoon:
Longshan Temple: Visit the impressive Longshan Temple, an iconic religious site in Lukang known for its intricate architecture and ornate decorations.
Tianhou Temple: Explore the Tianhou Temple, dedicated to the sea goddess Mazu, and admire its beautiful craftsmanship.
Evening:
Return to Taichung: Head back to Taichung in the late afternoon.
Dinner at Yizhong or Feng Chia Night Market: Choose either of the night markets for a last taste of Taichung's delicious street food.
Best things to do in Taichung City
1 – Visit the Rainbow Village

The Rainbow Village is one of Taichung City's most famous attractions. Although located a bit far from the center, the village is easily reached via public transportation. The village is actually a dozen houses brightly painted from roofs to floors. There is a cafe and a souvenir shop there. The entrance is free.
Rainbow Village (Cai Hong Juan Village) is a small settlement that was transformed into a vibrant, colorful, and creative attraction by a former soldier, Mr. Huang Yung-Fu. He took it upon himself to paint the walls, buildings, and streets of the village with bright and whimsical artwork, turning it into a living, open-air art gallery.
If you're planning to visit Rainbow Village, here are some helpful tips:
Getting There: Rainbow Village is located in Nantun District, Taichung City, Taiwan. The exact address is: No. 56, Chun'an Road, Nantun District, Taichung City, Taiwan. Depending on your starting point, you can take a taxi or public transportation to reach the village.
Best Time to Visit: The village is open to visitors all year round, but it's generally better to visit during good weather to fully enjoy the vibrant colors and take great photos. Spring and autumn are often considered the best seasons for traveling in Taiwan due to the milder temperatures.
Admission: The best part is that there is no entrance fee! You can explore the village and enjoy the artwork without any charge.
Photography: The village is a popular spot for photography enthusiasts. Don't forget to bring your camera or smartphone to capture the colorful murals and creative designs.
Respect the Art and Residents: Remember that Rainbow Village is not just a tourist attraction but also a residential area. While exploring, be mindful and respectful of the residents' privacy and property. Avoid touching or damaging any of the artwork.
Souvenirs: There might be small shops or vendors selling souvenirs related to Rainbow Village. Consider supporting the local artists and community by purchasing their unique creations.
Accessibility: The village is relatively small and can be explored on foot. It is generally accessible to people of all ages, but some areas may have uneven surfaces.
2 – Take a stroll in Taichung Park

More than a century old, Taichung Park is a nice place to go for a walk. Keep your eyes open for birds and squirrels. It gets pretty crowded during weekends and holidays. There are several recreational areas including a playground, tennis courts, some sports equipment, and a pavilion.
3 – Hang out with dinosaurs at the National Museum of Natural Science

Opened in 1986, the National Museum of Natural Science is the largest educational center in Taiwan and is the most-complete science museum. It's also one of the most visited museums in Taiwan.
The museum is home to 50 permanent exhibit areas about astronomy, space science, paleontology, ecology, gems and minerals, human cultures, tropical plants, and geology. In addition, there are several rotating exhibitions.
Closed on Mondays, open from 9 am to 5 pm. The entrance fee for the science center is free and NTD100 for the galleries. Official website.
4 – Explore the wetlands

One of the best things to do in Taichung, the Gaomei wetland offers amazing landscapes and unique views. The best time to go is for sunset when the sun reflects on the water. More than 120 bird species can be found there.
There's a pathway going through the wetland but you can also walk in the water in most parts, it's not really deep, just a bit muddy. The ecosystem there is really rich, the land is a mix of sand and soil, and is home to many small animals such as crabs and fish.
Be careful the boardwalk is often closed at high tide. There's no entrance fee. Official website.
If you're short on time, you can book a tour combining different Taichung's highlights and tourist spots, like this popular tour with hundreds of 5-star reviews.
5- Go back in time at Wufeng Lin Family House and garden

This historical site is an architectural treasure. The Wufeng Lin family house was built in 1851 and is divided into 3 parts: Upper House, Lower House, and Laiyuan (garden). The Lin family played an important role throughout history and their house is one of the best-preserved compounds in Taiwan.
The garden was built between 1888 and 1893, it is considered the best garden in Northern Taiwan and is the only garden in the country to have received the title of Historical Site. It is built in the Qing Dynasty style and inspired by Chinese traditional gardens.
The company running the house organizes group guided tours (in Chinese) and private tours (in English and Japanese). Part of the house is still inhabited so not accessible to visitors.
Opened from 9 am to 5 pm, closed on the first Monday of the month. Entrance fee: NTD 80. Official website.
6 – Grab a bite at Feng Chia Night Market

Taichung is famous for its vibrant night markets, where locals and tourists alike gather to indulge in delicious street food, shop for trendy clothes and accessories, and experience the lively atmosphere. Night markets in Taichung offer a unique blend of culture, flavors, and entertainment, making them a must-visit attraction for anyone exploring the city.
One of Taichung City's most famous and most busy night markets, Feng Shia night market (sometimes called fengjia) is a good place to try local food and immerse in Taiwanese culture. Close to the university, this area is mostly frequented by youngsters and is really dynamic with a lot of small shops and cafés.
Here, you can sample a wide variety of local and international dishes, including stinky tofu, fried chicken cutlets, bubble tea, and more. The market also offers a diverse range of fashion items, accessories, and electronic gadgets.
Here are some of others popular night markets in Taichung:
Yizhong Street Night Market: Yizhong Street Night Market is another popular spot for street food lovers. It is located near National Taichung University and is easily accessible. You'll find an array of local delicacies and snacks, including grilled squid, oyster omelets, oyster vermicelli, and many other tasty treats. The market also offers trendy clothing and accessories at affordable prices.
Zhongxiao Night Market: Zhongxiao Night Market is a smaller and more localized night market compared to Fengjia and Yizhong. It's known for its friendly atmosphere and authentic Taiwanese street food. Try the braised pork rice, fried buns, and various types of noodles while exploring the market.
Gongyi Road Night Market: Gongyi Road Night Market is a charming market that caters to local residents. It offers a delightful mix of food stalls, clothing shops, and traditional goods. This market is less crowded, providing a more relaxed and intimate experience.
Taichung Second Market: While not a typical night market, Taichung Second Market operates during the day and transitions into an evening market with food stalls at night. It's an excellent place to experience the local food culture and find fresh produce and local products.
Remember that the night markets are most lively in the evenings, usually opening around 5:00 PM and continuing until late at night, often past midnight. Exploring the night markets is an essential part of experiencing Taichung's vibrant street life and sampling some of the most delicious and diverse Taiwanese cuisine.
7 – Enjoy the view and the Sunday market at Dakeng Trail n°10

Dakeng scenic area is made of 10 trails from easy to hard. Number 1 through 5 are the most difficult ones and also harder to reach. Trails 6 to 10 are quite easy treks and are easily reached by public transportation. You'll get a super nice view of the city and the surrounding mountains. It's nice to have nature so close to the city.
At the beginning of Trail 9 and 10, you'll find a market on Sundays. Local farmers come and sell their products.
You can reach trails 9 and 10 with any bus stopping at Taipower Dongshan Service. Trails 6, 7, and 8 are reachable through the trails 9 and 10.
8 –  Dajia Jenn Lann Temple

More than 200 years old, the Dajia Jenn Lann Temple is dedicated to Matsu, goddess of the sea. Matsu is one of Taiwan's most important deities and this temple is one of the major Matsu Temples you'll find in the country. It's an important place of pilgrimage, especially in March, during the inspection tour, an important religious ritual.
Inside the temple look for the violet jade Matsu and the golden Matsu.
9 – Enjoy the hipster/bohemian vibe at Tung Hai Arts Street

Tung Hai Arts Street is a hub for artists and hipsters. The street and its surroundings are full of street art, artsy cafés, and antique shops. Art galleries and thrift shops are also common. It's a good place to shop handcrafted or vintage products.
Lune X Mauvis is a small shop selling jewelry made of brass, crystals, and stones. Ban Ban De Jia is great for decoration objects and Fiber Art Studio specializes in art made of fibers. Check out also Orange Cat Café, a café full of cats.
10 – Admire the architectural prowess at the National Taichung Theatre

Built by the world-renowned Japanese architect Toyo Ito, the National Taichung Theater was dubbed the "most difficult house to accomplish". Based on the concept of the sound cave, Toyo Ito broke the traditional codes by building an opera house almost entirely made of curved walls. The building is an experience in itself, from the lights to the sound everything was built around the effect it would have on the spectators.
The theater organizes guided tours, you'll have to book in advance. Official website.
11 – Try the local delicacies

Taichung is where bubble tea originated. It all started when Liu Han-Chieh, the founder of Chun Shui Tang Teahouse, came back from Japan and introduced cold tea to Taiwan after seeing coffee served cold. In 1988, during a business meeting, his product development manager, Ms. Lin Hsiu Hui, decided to mix her tapioca pudding with her tea. It became an instant hit and spread all over Eastern Asia. A trip to Taichung is not complete without drinking a bubble tea at Chun Shui Tang Teahouse.
Taichung is also famous for its Sun Cakes, a multi-layers pastry filled with maltose syrup. Another local dish is the thick noodles food. The noodles, thicker than usual, are mixed with fried garlic, shrimp, leeks, and dried radish.
Taichung also produces high-quality taro and makes a lot of different desert with it. You can try taro shortbread or shaved ice with taro balls.
12 – Stroll through Painted Animation Lane

Located in Taichung's West District, the Painted Animation Lane is a small stretch of walls with murals of old classic animation cartoons such as Winnie the Pooh, Spider-Man, Mario Brothers, the Simpsons, and Japanese anime characters…
It's worth checking out if you're passing by but as it's pretty small, it might not be worth a detour.
13 – Visit Zhongshe Flower Market
Visiting Zhongshe Flower Market (Chung She Tourist Flower Market) is a must-do experience that allows you to immerse yourself in a kaleidoscope of vibrant flowers and stunning gardens. Located in Houli District, Taichung City, Taiwan, the flower market is a popular attraction for tourists and locals alike.
Zhongshe Flower Market is known for its extensive displays of flowers and plants. Depending on the season, you'll encounter various types of blossoms, including sunflowers, lavender, tulips, cherry blossoms, and more. The market is designed to showcase a variety of beautifully arranged flowers, creating a visually captivating experience.
The market also features well-maintained gardens and flower fields with colorful blooms, offering excellent opportunities for photography and leisurely strolls. Each garden is themed differently, adding to the charm and uniqueness of the place. The thoughtful landscape designs make the market a fantastic location for capturing beautiful pictures.
In addition to the live flowers, you'll also find floral art installations and sculptures scattered throughout the market. These creative displays enhance the visual appeal and make for some fantastic photo opportunities.
The flower market often hosts seasonal festivals and events, especially during the blooming periods of specific flowers. For instance, during the sunflower season, you can expect additional activities, performances, and themed decorations.
There are dining options available within the market where you can try local snacks and refreshments. It's an excellent opportunity to savor some Taiwanese cuisine amidst the beautiful floral surroundings.
For the best photography experience, try to visit during the early morning or late afternoon when the lighting is softer and more favorable for capturing vibrant colors.
To get there, take the train from the main station, Taiwan Station, to Tai'an Station and, from there, it is about a 20-minute walk or 5 minutes/ $NT200 in a taxi/Uber. You can also book a tour combining different Taichung's highlights and tourist spots, like this popular tour with hundreds of 5-star reviews.
The market is open every day from 8 AM to 6 PM.
14 – Stroll along the Liuchuan Riverside Walk
The Liuchuan Riverside Walk is a lovely pedestrian path along the Liuchuan River featuring green areas and nice views of the cityscape.
The riverside walk is designed to accommodate both pedestrians and cyclists, making it ideal for leisurely walks or bike rides. Many locals enjoy cycling along the path, especially during the cooler hours of the day.
Locals usually flock at night when the parks get nicely illuminated and the food stalls start to appear.
15 – Have fun at Lihpao Land Theme Park

Lihpao Land is a popular theme park and entertainment complex located in the north of Taichung, Taiwan. It offers a wide range of attractions and activities suitable for visitors of all ages.
Lihpao Land is home to various thrilling amusement rides, ranging from roller coasters to water slides. The park boasts several adrenaline-pumping attractions that cater to both thrill-seekers and families. Some of the notable rides include the Gravity Max roller coaster, the Gyro Swing, and the Log Flume.
The park also features a water park section, which is especially enjoyable during the hot summer months. The water park offers a variety of slides, wave pools, lazy rivers, and other water attractions for visitors to cool off and have fun.
In addition to the exciting rides, Lihpao Land provides family-friendly activities suitable for younger children and those looking for a more relaxed experience. There are gentle rides, carousels, and interactive play areas for the little ones to enjoy.
Throughout the day, Lihpao Land offers live shows, performances, and parades to entertain visitors. These shows feature talented performers, colorful costumes, and engaging storytelling, adding to the park's overall experience.
There are numerous dining options within the park, offering a variety of cuisines to satisfy different tastes. You'll find local Taiwanese dishes, international fare, and snacks to keep you energized throughout the day.
Overall it's a great place to spend a couple of hours or even the day if you have extra time in Taichung or are looking for something fun.
16 – Take a Local Market Biking Tour
Embark on an unforgettable adventure through the heart of Taichung on a 3-hour cycling food tour. This unique experience allows you to discover the hidden gems of Taichung on two wheels while immersing yourself in the vibrant local culture.
Begin your journey at the iconic Taichung Train Station, where you'll meet your friendly and knowledgeable tour guide. Get ready to unlock the secrets of Taichung as your guide provides a brief introduction to the city's history and highlights.
Hop on your bike and set off on an exhilarating ride through the charming streets of Taichung. With the wind in your hair, you'll explore the city's nooks and crannies, uncovering historic landmarks that have shaped Taichung's identity. Marvel at the grandeur of the State Library and the elegant old dormitory of Changhua Bank, two architectural marvels that whisper tales of the past.
Pedal your way to the legendary birthplace of bubble tea – Chun Shui Tang. Indulge in the authentic flavors of this beloved Taiwanese beverage while learning about its fascinating origin story. Sip on the first-ever bubble tea, a delightful treat that locals and visitors adore.
Continue your culinary journey to Fifth Market, one of Taichung's largest and liveliest local markets. Here, you'll be welcomed by the mouthwatering aromas of delicious local delicacies. From savory snacks to sweet delights, discover a diverse range of street food that Taichung is renowned for.
This local market biking tour is a perfect blend of adventure, history, and gastronomy. It's an opportunity to see Taichung from a different perspective, interact with friendly locals, and taste the flavors that define Taiwanese cuisine.
Best Day Trips from Taichung
17 – Day trip to Sun Moon Lake

The famous Sun Moon Lake makes a perfect day trip from Taichung. Most of the shore is really developed but in some parts, you can find some peace and quiet. You can rent a bike and follow the bikeway. Unfortunately, It doesn't go all the way, but you can get back on the road if you really want to circle the lake.
You can also take a cruise on the lake, there are several operators offering the trip, and it usually is the same offer. The price is usually NTD300, but if you arrive late in the afternoon you'll get a discount (I paid NTD90). Coming from Taichung, you can park your car in Shuishe and take the boat from there or rent a bicycle.
Around the lake are several nice temples, such as Longfeng, Xuanguang, Xuanzang, and Wenwu Temples. There's also a peacock garden and a cable car taking you to the Formosan Aboriginal Culture Village.
You can get there by public transportation, drive there, or book a tour from Taichung. You can also check out this Formosan Aboriginal Culture Village Day Trip for something a bit different.
18 – Take a scenic bike ride through Hou-Feng Bike-way

This scenic bikeway is about 4.5 km long and will take you through historical and natural beauties. The bikeway was built along the old Mountain Railway Line. You'll cross the old iron bridge over the Dajia River then go through the old railway tunnel. You'll also see many scenic areas and beautiful landscapes.
To get there, take the train to Fengyuan station, you can rent a bike from there, then ride to Guofeng road, where the bikeway starts.
19 – Relax at Guguan Hot Spring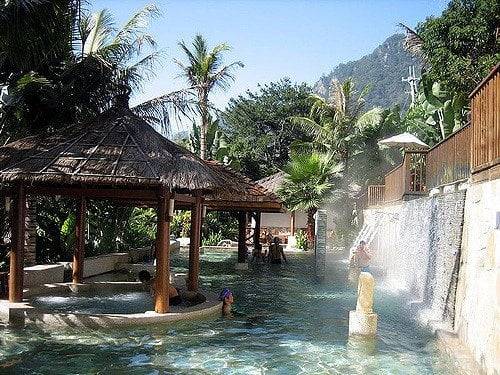 All over Taiwan, you'll find hot springs, Taichung is no exception to the rule. Guguan Hot Spring is a pleasant place, perfect for relaxing. Surrounded by high mountains and in the middle of nature, the hot spring is believed to be good for fertility, especially if you want to have a boy. There are several areas so it's never too crowded, still, it's best to avoid weekends.
There are several other things you can do around Guguan, such as trekking through the Shaolai walking trail, visiting the Cultural Museum of Hot Springs, or going to Shaolai or Guguan suspension bridges.
To get there take Bus 153 from Taitung Station and get out at the Guguan stop.
You can also book this Baxianshan Forest Recreation Area & Guguan Hot Spring Day Tour for more convenience.
How to Get to Taichung
To get to Taichung, Taiwan, you have several transportation options depending on your starting location and preferences. Taichung is centrally located on the island, making it easily accessible from various cities and regions in Taiwan. Here are the common methods of transportation to get to Taichung:
Flight: If you are coming from an international destination, you can fly directly to Taichung International Airport (RMQ). However, please note that Taichung International Airport has limited international flights, and you may need to consider flying to Taiwan's main international airports in Taipei (Taoyuan Airport) or Kaohsiung and then taking domestic flights or other transportation to Taichung.
High-Speed Rail (HSR): Taiwan's High-Speed Rail (HSR) system connects major cities on the western side of the island. Taichung has an HSR station called "Taichung HSR Station," which is conveniently located in Wuri District, just south of the city center. You can take the HSR from Taipei or Kaohsiung and arrive in Taichung in under an hour.
Regular Train: Taiwan's regular train system (TRA) also serves Taichung with multiple daily train services. The main station is "Taichung Station," which is located in the city center. Regular trains are a cost-effective option if you prefer a slower and more scenic journey.
Bus: There are intercity buses connecting Taichung to other cities and towns in Taiwan. Buses are a more economical option and can be convenient for traveling from nearby locations.
Car: If you prefer driving, you can rent a car and travel to Taichung. Taiwan has a well-developed road network, and driving can be a good option if you want more flexibility and independence in your travel.
Taxi: Taxis are available in Taiwan, but they are more suitable for short distances within the city rather than long-distance travel.
Once you arrive in Taichung, the city has an efficient public transportation system, including buses and taxis, to help you get around and explore various attractions.
What about you? Have you been to Taichung? What were your favorite places?
Related articles to help you plan your trip to Taiwan:
Like it? Save it for later: