25 Best International Outdoor Family Vacations Outside the US
Last Updated on September 22, 2023
The world is filled with spectacular landscapes, from the red sand dunes of Jordan to the lush Costa Rican rainforest to Africa's national parks – there is plenty to visit for adventurous people. If you are wondering what are the most family-friendly outdoor destinations in the world for your next international trip, discover below some of the top places for an outdoor family vacation outside the US.
These kid-friendly adventures are sure to please any outdoorsy family looking to spend their vacation in the wild, surrounded by fun outdoor activities, incredible scenery, and wildlife-spotting opportunities.
Related – 20 Best Outdoor Family Vacations and Adventures in the USA
Hvar Island, Croatia
By Zi from Craving Adventure
Hvar Island is located in the Adriatic Sea, off the coast of Croatia, and boasts a stunning coastline with crystal-clear waters and gorgeous beaches. It is a fantastic destination for an outdoor family vacation, with plenty of adventurous activities for all ages to enjoy and you can easily spend 5 or even 7 days there.
Hvar's main attractions are without a doubt the wonderful beaches and secluded coves, each with its unique character and atmosphere, make sure to add a couple to your Hvar itinerary.
Some of the best family-friendly beaches include Dubovica Beach, Mlini Beach, and Pokonji Dol Beach. These beaches have shallow waters and plenty of shade, making them perfect for young children to play safely. Jagodna Beach is the only sandy beach on the island and is fantastic for kids as well, but a little bit further from Hvar town.
Another must-do activity in Hvar is taking a boat trip to the Pakleni Islands. You can rent a boat or kayaks or book a guided tour to explore this stunning archipelago where you can enjoy swimming, snorkeling, and sunbathing.
Another popular boat trip is to the Blue Cave, however, this one isn't suited for young children who might get seasick.
While in Hvar make sure to climb up the Spanjola Fortress, which offers stunning views of the town and surrounding islands.
Cycling is also a popular activity on Hvar Island. The Stari Grad Plains are a great cycling destination for families, as they are flat and easy to navigate. The plains are a UNESCO World Heritage Site, and a must-visit on Hvar.
The best time for a family vacation on Hvar Island is during the summer months, from June to September, when the sea is warm and the days are long and sunny.
Amfora Hvar Grand Beach Resort is the perfect hotel for families with young children. This resort is located on the waterfront, just a few minutes walk from the center of Hvar Town, and offers spacious family rooms, a large swimming pool, a kids' club, and a small beach right in front of it.
Camino de Santiago, Spain
By Milijana from World Travel Connector
You have probably heard of Camino de Santiago in Spain. After all, it is one of the most famous pilgrimage and hiking routes in Europe and the world.
Camino de Santiago is a net of trails across Spain and Europe. Some Camino trails are 500+ miles (800+ km) long.
However, you don't need to hike the entire route to get your Compostela completion certificate. Some Camino de Santiago hikers walk only the last 62 mi (100 km) of the Camino, a prerequisite for getting a Compostela.
The most popular Camino trail is the French Way which starts in Saint-Jean-Pied-de-Port in France and ends in Santiago in Spain. The entire French Way is 483 mi (777 km) long. The last 100 km of the French Way starts in a town in Galicia called Sarria.
From Sarria, you need only five days to reach Santiago. This 5-day hike is one of the most walked parts of the Camino. Among those hikers are quite often families with kids. They are families who like spending active vacations and being in nature together. But also parents who wish to teach their kids about effort, perseverance, modesty, and purpose.
Camino hikers are people from all walks of life. They sleep in pilgrimage hostels and share hostel amenities with other pilgrims. Camino hikers often share their life stories, learn about each other, and make a 'Camino community' on the trail.
If you like moderate hikes, nature, and meaningful journeys, prepare a Camino de Santiago packing list for your kids and yourself and hike from Sarria to Santiago. This 5-day hike might teach your kids valuable life lessons. At the end of the Camino, reward your kids and yourself and book a room in the lovely Hotel Atalaia B&B in Santiago de Compostela.
Santiago de Compostela Airport (SCQ) is the nearest airport to Sarria. Buses run from Santiago to Sarria daily. A bus ride from Santiago to Sarria takes about 2 hours.
June and September are the best months to hike the French Way of Camino de Santiago.
Iceland
By Tamara from We 3 Travel
Families looking for adventure, especially those that don't mind the cold, need to put Iceland on their bucket list! The Land of Ice and Fire is home to many geological wonders that make this island nation a playground for adventure travelers. You will want to spend at least 5 days in Iceland exploring black sand beaches, natural hot springs, thundering waterfalls, epic rock canyons, and the otherworldly landscape of Iceland.
Even young children can enjoy an amphibian boat tour between the icebergs in the Jökulsárlón Lagoon, a walk through a lava tunnel (minimum age is three), or a super jeep tour through Thor's Valley.
However, it is better to wait until your kids are a little older if you want to enjoy some more thrilling adventures such as a glacier hike (minimum age 10), ATV tour (minimum age 8), snowmobiling on a glacier (minimum age 8), riding on a white water jet boat (minimum age 8), or exploring ice caves in the winter (minimum age 7).
Truly adventurous teens can even try ice climbing (minimum age 14), hiking up a volcano (minimum age 16), or mountaineering (minimum age 16.) Age eleven is a sweet spot for many soft adventures because they are old enough to participate but young enough to still qualify for child discounts.
Finding family-sized rooms in Iceland can be a challenge, but in addition to the many vacation rental cabins available, there are a handful of hotels in Reykjavik that will fit a family into one room to save money.
The Reykjavik Marina by Berjaya Iceland Hotels is a recently renovated landmark in a prime location near the Old Harbour. This hotel offers a "Studio 6" family room, which fits up to six people with double bed bunk beds, plus a pull-out sofa.
Algarve Region, Portugal
By Abbey from Trips on Abbey Road
If you are looking for the best outdoor destination for your family the Algarve region of Portugal is just the place. Here you can explore the beautiful beaches, hike the cliffs, take surf lessons, and plenty more to enjoy your vacation outdoors.
The sun shines over 300 days in Portugal every year. You can almost guarantee that you will have plenty of sunny days outside. The best time to visit the Algarve is in the fall and spring when the tourist season is a bit slower than in the summer.
Besides lounging at the beautiful beaches, there are plenty of hikes in the Algarve that are family-friendly.
One of the most popular hikes is the Ponta da Piedade hike in Lagos. Here you can walk along the boardwalk and seaside cliffs with your family starting at Praia do Barranco and ending at Paria Canavail Beach. This is the iconic hike with the heart cliffs out in the water. Without stopping to take in the sites, this out-and-back trail takes about 30 minutes.
When looking for where to stay in the Algarve a popular choice is Faro. It is the capital city of the Algarve and has an airport with local transportation that is good enough to get you around town.
For somewhere to stay try the Hotel Quinta do Lago. It is inside the Ria Formosa Natural Park and is a family-friendly hotel. When staying here guests are within walking distance of a private beach and can explore the Ria Formosa Natural Park at their leisure.
You are going to love being outside and getting to know the Algarve!
Isle of Lewis, Scotland
By Kristin of Scotland Less Explored
The Isle of Lewis is the largest island in the Outer Hebrides, a group of islands north of mainland Scotland. The island has fantastic beaches and scenery and is perfect for families who enjoy the outdoors.
Some of the best beaches are around Uig and at the very northern tip of the island close to the Butt of Lewis Lighthouse. It is possible to swim at many of the beaches as long as you can brave the cold water.
Around Uig, there are also several good walks in the Uig mountains. The terrain can be challenging and the walks long so most are only suitable for older children. For the younger ones check out some of the play areas such as Eoropie Dune Park close to the lighthouse.
Seals can often be seen around the Butt of Lewis lighthouse or take a boat trip to the Shiants islands where you are guaranteed to see seals. During May and June, you can also see puffins.
Lewis is accessible by ferry or a domestic flight from Inverness or Glasgow. The fact that it is time-consuming to get there is part of what makes it so special since the islands see a lot fewer visitors than the rest of Scotland. The best time to visit is from April to October.
Self-catering cottages are the most popular places to stay. Most are only available to rent for a minimum of 7 nights and book out well in advance so make sure you plan ahead. The best locations to rent a cottage are either around Uig, staying at a cottage such as Airebroc House, or in Stornoway, staying at 35 Newvalley.
Peak District, England
By Moumita from Chasing the Long Road
Britain's first national park, the Peak District is one of the best places in the UK for an epic adventurous holiday with family. There are plenty of kid-friendly things to do in the Peak District to make you fall in love with the picturesque English countryside.
It is a paradise for outdoor enthusiasts having many trails suitable for all abilities. The pretty village of Castleton sits at the head of Hope Valley in the Peak District. It is a great base to explore the nearby caves and taverns.
Also, Mam Tor – one of the popular walks in the Peak District, starts from here. The circular trail is absolutely family-friendly and takes in one of the Peak District's most iconic views.
History lovers would enjoy a visit to the magnificent Chatsworth House. Once here, you can explore the grand Painted Hall, historic State Rooms, the Sculpture Gallery of the Cavendish family, and the sprawling garden featuring various hiking trails.
Just a few minutes' drive from the Chatsworth House is the cozy town of Bakewell. Located on the banks of the River Wye, Bakewell is famous for inventing the delicious dessert, Bakewell Pudding. The popular Monsal Trail starts from there. The traffic-free, gentle path runs along the former Midland Railway line and provides breathtaking views of the surrounding area.
The Little Mill Inn is a great choice for family-friendly accommodation in the Peak District. The nearest airport to the park is Manchester Airport which is around 18.4 miles away. Also, the East Midlands Airport and Birmingham Airport are not too far from here. Driving is the best way to get around. But there is public transport too.
Malaga, Spain
By Linn Haglund from Amused by Andalucia
One of the best outdoor vacation spots for families is the coastal city of Malaga in southern Spain. Besides being an obvious beach destination in summer – and even far into October, there are so many fun outdoor activities to do with kids of all ages.
Go snorkeling in Nerja and explore the beautiful river walk of Rio Chillar or its lesser-known brother Rio Higueron where you will walk through the canyon walls in the water as you come across waterfalls and swimming holes.
While the hikes are long, they are popular family hikes as you can turn around whenever you want and even younger kids enjoy them.
The older kids might find it fun to go canyoning in Rio Verde in Ótivar.
There are also a wealth of beautiful white villages near Malaga that are set in the middle of nature and offer wonderful hiking opportunities.
One of the lesser known is Parauta, hidden in the heart of Valle Genal where you can take the little ones on a 2-kilometer trail in "Bosque Encantado", which is translated into the magical forest. The path is dotted with fairytale figures and statues, wood carvings, and even a colorful wooden house where the kids can play inside. There is also a picnic area so you can bring lunch and make a day out of it.
A great family-friendly place to stay in Malaga is Vincci Málaga, right on the beachfront.
Dolomites, Italy
By Candice from Mom in Italy
The Dolomites mountains in northern Italy are a playground for adventurous families in winter and summer. The area caters to all ages of children – even babies can enjoy the mountain views from a baby backpack or carrier.
In the winter, there are 1200 kilometers of ski slopes, over 450 lifts, and plenty of kid-friendly snow activities like skiing, snowboarding, snowshoeing, sledding, and playing in snow parks (snow slides, trampolines, and more). The area also hosts Italy's most picturesque Christmas markets and holiday celebrations.
In the summer, in-the-know Italian and international families flock to the area for incredible hiking (for all levels), cycling, rock climbing, exploring mountain villages, visiting the open-air WW1 museums, and of course, checking out Ötzi the Ice Man in Bolzano.
Dining is also family-friendly throughout the region, with a variety of foods available, from both Italian (pizza and pasta) and Austrian (canederli dumplings, schnitzel, and apple strudel) cuisines. Plus, what kid doesn't love a hot chocolate in the winter or a refreshing sciwasser (sparkling raspberry & lemon drink) in the summer?
The Dolomites are best reached by car, although you can visit with public transport (the bus system is excellent). The easiest entry points are from Bolzano and Venice, both of which are easily reached by train (and the latter, also by plane).
While the region is full of family-friendly accommodations, Cavallino Bianco Family Spa Grand Hotel in Ortisei excels in this category. Set in the scenic Val Gardena, the hotel caters to families and is in the perfect location to explore Alpe di Siusi and near spectacular family-friendly hikes like up to the Resciesa Mountain Hut.
Families looking for self-catering accommodation should check out the well-located apartments of B&B Residence Hubertus in the village of Fiè allo Sciliar.
Wild Atlantic Way, Ireland
By Cath from Travel Around Ireland
A great outdoor adventure for families is to take a road trip along the Wild Atlantic Way in Ireland. This 2500km driving route travels along the West Coast of Ireland from Malin Head in County Donegal to the Old Head of Kinsale in County Cork and journeys through some of Ireland's most stunning landscapes.
You can road trip this route with kids of any age but kids above the age of 6 will enjoy it the most, especially if you pick them up one of the Wild Atlantic Way passport books to get stamped along the way at the many points of interest and markers.
The Wild Atlantic Way passes no less than five of the National Parks in Ireland including the lunar-like landscape of the Burren and the wild Connemara National Park. See if you can spot some of the Connemara ponies that live in the national park.
As it is a coastal driving route, there are some amazing beaches to visit along the way, with some of them ideal for surfing if it's not too cold and windy. A beach not to miss is Keem Bay on Achill Island (recently featured in the film 'The Banshees of Inisherin'.)
And we cannot forget cliffs, such as the Slieve League Cliffs and the famous Cliffs of Moher.
You could enjoy a 7-day Wild Atlantic Way itinerary that includes exploring some of Northern Ireland's Causeway Coast, along which you can see the amazing Giant's Causeway.
There are lots of family-friendly accommodation options along the route including hotels, hostels, vacation homes, and even glamping options.
The best time to visit is between April and September when the weather is a bit more inviting. The West of Ireland can be a wild and uninviting part of the Emerald Isle when it is wet and miserable.
But no matter when you decide to journey along the Wild Atlantic Way, in full or part thereof, you will be amazed by the scenery, landscape, and friendly welcomes along the way.
Zakopane, Poland
By Diana from Travels In Poland
Located in the Tatra Mountains, in southern Poland, Zakopane is a popular vacation and an amazing outdoor destination for families. The town is surrounded by breathtaking mountains and valleys, and it offers a wide range of activities that are perfect for families with children of all ages.
Hiking is one of the best things to do in the area. Zakopane is a hiker's paradise, with so many trails for all levels of fitness. Families with young children can enjoy easy hikes to nearby waterfalls or scenic viewpoints, while older children and teenagers can tackle more challenging trails that lead to mountain peaks and ridges.
The nearby Morskie Oko is a great hike for families as it ends at the top of a beautiful lake between the mountains. It's about a 2-3 hour hike one way and absolutely worth it for families who want to be out and about in nature all day.
If going in the winter, skiing in Zakopane is an absolute must. There are multiple ski resorts in Zakopane and families can enjoy skiing, sledding, and snowshoeing.
The best time to visit Zakopane depends on what activities you are interested in. If you want to enjoy hiking and outdoor activities, the summer months (June to September) are ideal. For skiing and winter sports, visit between December and March.
The closest international airport to Zakopane is Krakow Airport, which is about 2 hours away by car or bus. From Krakow, families can either rent a car or take a bus or train to Zakopane.
For a family-friendly hotel, the Aries Hotel & SPA is the place to be. This 4-star hotel offers spacious rooms and suites, a restaurant, a spa, and plenty of activities for children, such as a playroom and a mini bowling alley.
Appenzell, Switzerland
By Shar from Sightseeing Shar
Appenzell is a small town located in Switzerland, known for its beautiful hiking trails, farmlands, and stunning vistas. This scenic village is a perfect destination for an outdoor family vacation spent exploring the beauty of Switzerland and marveling at the views, with plenty to do for outdoorsy kids and adults alike.
Summer is usually the best time to visit Appenzell. The weather is warm, making it perfect for swimming. Summer is also when herdsmen host cultural festivals every weekend called Alpstopede. People gather outside dressed in traditional attire and enjoy dance, music, and more. Tourists are more than welcome to join!
Hiking is the most popular activity in Appenzell with two famous hiking trails including the Ascher hike and the Seealpsee hike. A short train ride from Appenzell, the former takes adventurers to a gorgeous restaurant carved into the edge of a cliff. It is an easy one-hour trail perfect for kids! The latter is a little harder, but takes adventurers to Seealpsee lake, one of the most stunning Alpine lakes in all of Switzerland. From there, hikers usually go for a swim or rent a rowboat to explore the lake.
Being a very small town, Appenzell has limited accommodations. Alte Metzg Boutique and Hostel is a lovely choice for families. The guesthouse has six rooms with a well-stocked kitchen and a sauna and terrace. It is extremely clean and well-kept with friendly staff.
Book for at least three nights to receive the Appenzeller Holiday Card, which provides many perks such as free transportation to and from Appenzell from any station in Switzerland (including Zurich Airport), free transportation around Appenzell, and access to museums, free hiking boot rentals, gifts, and more.
Overall, Appenzell is the perfect Swiss outdoor adventure destination with so much to do and see for everyone in the family.
Namibia
By Jolene from Wanderlust Storytellers
Namibians, known for their friendliness and hospitality, make Namibia a perfect family destination for all ages. This vast country located in Southern Africa offers so many exciting family adventures and activities that kids of all ages can enjoy!
Enjoy the incredible wildlife whilst seeing the animals in their natural habitats in Etosha National Park, Waterberg Plateau Park, and the Namib-Naukluft National Park.
Namibia is home to some of the most breathtaking scenery in Africa, from the towering red sand dunes of Sossusvlei to the rugged mountains of Damaraland. Families can enjoy scenic drives and hikes through these stunning landscapes.
There are plenty of opportunities to learn about the rich cultural heritage of the local people. You can visit traditional villages, see traditional dances and music performances, and sample local cuisine.
Visit some of the most beautiful beaches in Southern Africa, which make the perfect spot for a relaxing family day out. If you fancy a more active day out, enjoy the many beautiful hiking trails where you can explore the rugged landscape and see some stunning views.
Namibia's landscapes are stunning year-round but if you prefer having a more adventurous holiday it is best to visit during the cooler months when the temperature is more comfortable.
A great place to stay is the Out of Africa Town Lodge. A great location to just relax when taking a break from the many adventures. This lodge offers a stunning swimming pool to keep cool in and the friendly and welcoming staff make your family stay just that little bit more special.
As Namibia is quite a large and vast country, it is best to hire a vehicle to get around and explore this magnificent, safe, and culturally rich destination. Namibia offers a wide range of family-friendly activities and experiences perfect for any family adventure.
Botswana
By Debbie from Introvert With Itchy Feet
A safari in Botswana is an amazing adventure for families. Explore the untamed spectacle of Africa's Okavango Delta with your kids, and let them learn about the astounding wildlife firsthand.
A safari in the wilds of Africa is an epic experience. Arrange a 3-day excursion or a 2 week one, tents or lodges – the choice is yours!
Make Maun or Kasane, both on the edge of the delta, your base. Either town is a great spot to allow you to be transported into the dream world of the African wilderness.
Arrange your safari through a tour company online – Viator has terrific options. Try to book it in advance if you can – June through October is the best time to go. Put yourselves into the hands of expert local guides. They know just where to find the animals, what their routines are, and are full of fascinating facts that your family will love.
Spend the day watching elephants at the watering holes, spotting leopards in the trees, and seeing giraffes tower over the landscape. The possibilities are endless.
A safari in Botswana's Okavango Delta is perfect if your kids are old enough to sit quietly on the safari vehicle and take it all in. It can take a little patience to spot the animals in the wild!
Getting there is easy, as both Maun and Kasane have small international airports. As well, you'll have no problem finding a great place to stay. If you decide on Maun, try the beautiful, family-friendly Phazama Farm.
If Kasane will be your base, check out the Sunbirds Chobe Hotel. Once you see what's waiting for you and your family here, you'll never want to leave!
Essaouira, Morocco
By Jenny from Explore Essaouira
Morocco is a fantastic destination for adventurous families, camping in the Sahara, trekking through the Atlas Mountains, getting lost in medinas. But if there was one destination to base yourselves for a week or so, it has to be Essaouira.
Perched on the Atlantic coast, a three-hour drive from Marrakech, Essaouira is perfect for kids with its traffic-free medina, snack stalls conveniently dotted around, and long stretch of sandy beach. It's far more relaxed than Marrakech, and even pram friendly if you're traveling with very young kids.
There are so many things to do in Essaouira, but an absolute must for kids age 5+ is surfing! Enroll them in a one-off lesson or perhaps sign them up for a week-long course. Older kids (age 13+) may want to try kite-surfing (Essaouira is quite the kite-surfing capital due to the high winds off the Atlantic).
There are limited direct flights to Essaouira from the UK and France. Otherwise, take a flight to Marrakech and then a transfer to Essaouira. Make note of when Ramadan is as many businesses close or have reduced hours. July and August are also best avoided as Essaouira is extremely busy with domestic tourists fleeing to the coast to escape the high inland temperatures, and it is also the Moroccan school holidays.
With regards to accommodation, if you want to embrace Moroccan culture and live like a local, there's a range of wonderful vacation rentals in the heart of the medina. Renting a house for your stay means that all the kids can have their own bedrooms and there is a kitchen for self-catering (kids are always hungry at odd times, right?).
For more convenience and comfort, look at a hotel such as Hôtel Le Médina Essaouira Thalassa Sea & Spa, which is just outside the medina and across from the beach.
South Africa
By Rehana from Rehana Mahomed
South Africa is one of the world's best outdoor destinations. With its natural beauty and endless coastline, it's no wonder that South Africa draws adventure seekers from all over the globe.
It is a great place to visit because it has a good all-year climate, with winters not being so cold. There are direct flights from the USA to Cape Town, making it very accessible and the strong US dollar compared to the South African Rand makes it affordable.
South Africans are amongst the friendliest people in the world. Along with this, the population's diversity ensures a variety of delicious sweet and savory cuisine.
There are many family-friendly places in South Africa where you could spend a few days enjoying the great outdoors.
Located just a short drive away from the city of Cape Town is the Kogelberg Biosphere, one of the richest diverse floral kingdoms on the planet. In addition to the natural beauty, the area offers opportunities for hiking, river rafting, whale watching, and surfing. It is an ideal place to explore South Africa's natural fauna and flora in an incredible setting.
Nearby, you can stay at the Southern Sun Arabella Hotel. It is a family-friendly hotel, offering bigger rooms to accommodate children. The hotel has ocean views and is within close proximity to the Kogelberg Nature Reserve and other outdoor attractions.
The Jamani Restaurant at the hotel serves fresh local cuisine which can be prepared according to relevant dietary requirements.
Insider tip – It can get quite windy in these areas, so pack accordingly.
Seychelles
By Samantha Tatro from Undiscovered Path Home
Crystalline blue waters, thick jungles, long hikes, and unique flora and fauna make the Seychelles the perfect destination for outdoor lovers and families alike. This group of 115 islands in the Indian Ocean offers a variety of outdoor activities and attractions that cater to both adults and children, and make for an unforgettable trip.
One of the main draws of the Seychelles is its stunning natural beauty. Families can spend their days exploring the islands' lush forests, sparkling beaches, and crystal-clear waters.
Snorkeling and scuba diving are popular activities for families looking to get up close and personal with the Seychelles' diverse marine life, including colorful fish, sea turtles, and even sharks.
For those who prefer to stay on land, the Seychelles has plenty to offer as well. Families can go hiking in the islands' national parks and nature reserves, where they can see rare bird species and other wildlife. The Seychelles also has several zip-lining and rock-climbing options, which offer a thrilling way to experience the islands' natural landscapes.
If you're planning to visit the Seychelles, look for flights to Seychelles International Airport. Prior to booking anything, look into the best time to visit the Seychelles to understand where to stay on each island, depending on the season.
If you're looking for a more secluded getaway on a private island, consider the Hilton Seychelles LaBriz Resort & Spa, a great family-friendly location with lots of activities for kids of all ages.
Jordan
By Keri from Family Travel in the Middle East
Jordan is an outdoor destination simply like no other. From unique desert-scapes to ancient cities, hiking through wadis and snorkeling in the Red Sea, it is a true adventure playground vacation spot for families.
The most obvious place to explore is the Lost City of Petra, which involves a fair amount of hiking, but it's certainly not the only highlight of Jordan. Depending on your children's ages, there are further hiking opportunities in the mountains, Wadi Mujib is a favorite. Younger children will enjoy exploring the various Crusader castles that can be found along the King's Highway.
Those that prefer water sports will love spending some time in Aqaba and the Red Sea, where snorkeling and diving are popular past-times. And, of course, you can't miss the opportunity to capture yourself floating in the Dead Sea! (Be warned, it's not great for young kids or if you have any open wounds!)
The best place to visit in Jordan, though, for outdoor adventures is the Wadi Rum Desert. The stunning red sand dunes and incredibly other-worldly landscapes are home to the legends of Lawrence of Arabia. You can enjoy sandboarding through to rock climbing within the protected desert reserve, but the highlight is camping overnight in the Wadi Rum desert. Sleeping in a traditional Bedouin tent or glamping in luxurious bubble tents are unforgettable family experiences.
The temperature in Jordan varies across the seasons, with southern Jordan staying relatively mild year-round, whilst Amman and the north can even see snow in winter. Like much of the Middle East, summers are very hot. For the perfect happy medium, Jordan is a great place to visit during spring and autumn.
Jordan is an easy country to road trip around, either self-drive or hiring a driver. We'd suggest overnight stays at least at the Dead Sea, Petra, and Wadi Rum to get a true flavor of the country. Most international flights will come in and out of Amman International Airport.
Bali, Indonesia
By Victoria from Guide Your Travel
Bali is the ultimate adventure destination and has been becoming more and more popular among families. The island is developing fast and is now the perfect place to visit for families with kids of all ages.
A fun activity is to spend the day at the beach, or even go for a walk during sunset when there are always kids playing on the beach. If you have older children, you can get them surf lessons, which is suitable for kids as young as 6. Snorkeling is another fun activity and the perfect way to introduce the little ones to the ocean in a safe way.
Make sure to visit a couple of waterfalls as well, like the gorgeous Gembleng Waterfall or hike to Munduk Waterfall.
Once you've had enough of the coast, head north to Ubud, where you can visit the Monkey Forest, which is a great alternative to going to a zoo. The monkeys here roam free and you can see hundreds of them in their natural habitat. This is an unforgettable activity and after you've spent a few hours here, you can head to Ubud Market where you'll be able to buy some souvenirs and have a delicious local lunch.
Make sure to visit Bali during the high season from June to September for the best chance of sunny and dry weather.
If you're looking for a family-friendly resort in Bali near the beach, head to the Novotel Bali Benoa, which has everything you need for kids of all ages. For something more secluded, surrounded by jungle, check out the villas available throughout the island.
Meghalaya, India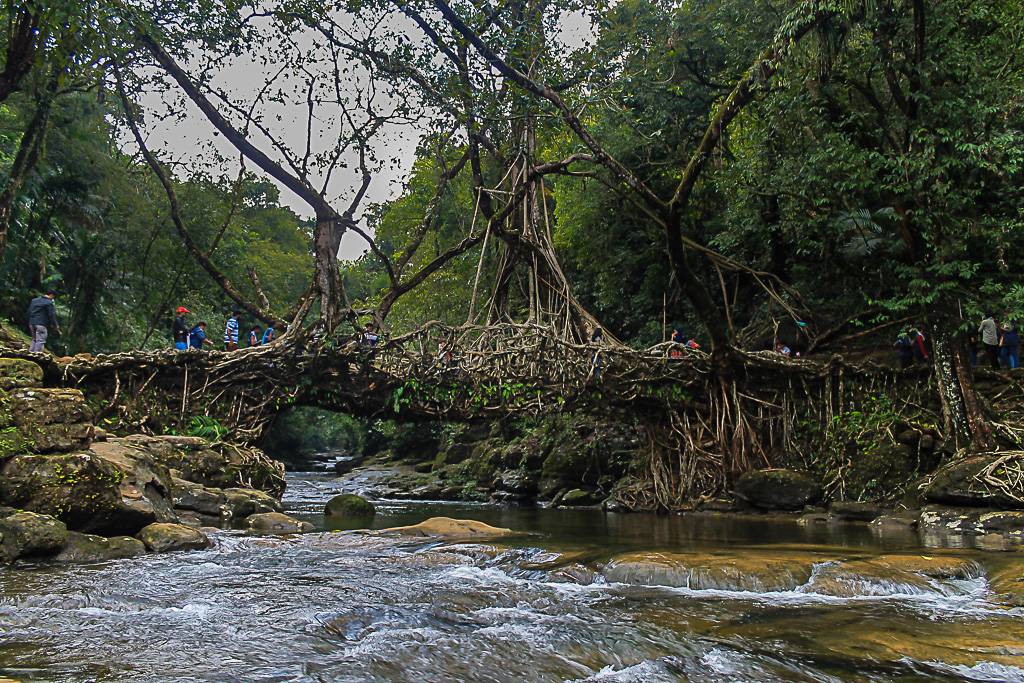 By Ami from Thrilling Travel
Meghalaya literally translates into the abode of clouds. With its gorgeous valleys and green cliffs, this beautiful state in northeastern India is an offbeat destination that offers a variety of outdoor experiences for families. What makes these experiences unique are the places themselves – some adrift with folklore while others can only be found in this state.
One of the best things to do here is to hike up to the unique living root bridges that the locals create by weaving together the roots of rubber trees. With younger kids, below 10 years old, you can head to the living root bridge in Mawlynnong – while with older ones, you can hike to the double-decker living root bridge.
Waterfall hopping is yet another thing that you can indulge in with your family, Meghalaya is home to several stunning waterfalls such as the Nohkalikai Falls, Seven Sisters Falls, and Elephant Falls. The scenic surroundings will be even more enchanting when you hear the folklore attached to each of these waterfalls.
This state is known as the caving capital of India and has several limestone caves that you can explore with your family. Some of these caves are among the world's longest caves and have caverns with lakes. You are bound to find raw fossils in many of the popular caves like the Mawsmai Cave, Krem Liat Prah, and Krem Mawmluh.
Meghalaya is also unlike the rest of India and is home to several indigenous tribes. There is a lovely museum in Shillong that helps you learn about their culture and traditions. You can also, visit the cleanest village in Asia, Mawlynnong, and interact with the locals – in fact even play a game of football with them.
The best time to visit Meghalaya would be between March to May (before the monsoons set in) and from October to March. The state capital Shillong has a lot of cherry blossoms in winter and even hosts a small festival around it in December.
The closest airport to Meghalaya would be in Guwahati – which is around a 3 to 4-hour drive from Shillong. You can hire a cab directly from the Guwahati airport to Shillong.
You can base yourself in Shillong, which has a wide range of options to suit every possible budget. However, most of the caves and waterfalls are located closer to Sohra. Sohra has very limited options for stays – mostly homestays and you will need to book them well in advance.
Queenstown, New Zealand
By Jac from Weekend Path
Queenstown, New Zealand is the ultimate destination for outdoorsy, adventurous families.
Known as the "adventure capital" of the world, Queenstown is like one big playground for kids and adults alike. Located next to Lake Wakatipu and nestled beneath snow-capped mountains, it's a beautiful and fun place for an active, family-friendly outdoor vacation.
Any time of year is a good time to visit Queenstown, so planning when to visit depends on what you'd like to do! Summer is best for hiking and lake activities. In winter, Queenstown turns into a world-class destination for skiing. Spring and autumn are both beautiful seasons to visit Queenstown, too, with fewer crowds and mild temperatures.
In spring, summer, and autumn, Queenstown's hiking trails are where to be. For some wonderful, family-friendly hikes, take the short but scenic drive from Queenstown to Glenorchy and stop for a hike at Bob's Cove, the Mt. Crichton Loop Track, or Lake Sylvan.
If you're after a ski holiday instead, visit between late June through August for the best snow conditions. The Remarkables Ski Field is just a 40-minute drive from Queenstown and has excellent options for everyone, from beginners to expert skiers.
No matter the time of year, one activity not to be missed is the Skyline Luge! Getting to the luge requires a quick ride up the Skyline Gondola to Bob's Peak, which offers amazing views over Queenstown. The luge tracks are so much fun for all ages.
Fuel up for your Queenstown adventures with a delicious breakfast at Yonder, and head to Lord of the Fries for hearty plant-based burgers.
The Novotel Hotel is a great place to stay in Queenstown—it's located right in the town center and is just steps away from some free, kid-approved attractions, including Queenstown Bay Beach, the Bathhouse Playground, and the Queenstown gardens.
You'll also find plenty of vacation rentals with great views over the lake and/or nearby mountains.
Australia's East Coast
By Victoria of My Australia Trip
The East Coast of Australia is a stunning region and is perfect a perfect outdoor destination for an adventure trip with the entire family. The best way to discover the beauty of this area is by going on a camping road trip, which will take you past beach towns like Agnes Water, Rainbow Beach, and Byron Bay, where you can set up camp.
Some of the best things to do along the way for families with children include going paddleboarding, swimming, or spending time in vibrant cities like Gold Coast or Brisbane. Brisbane especially offers plenty of fun activities for kids, such as exploring the interactive exhibits at the Sciencentre at the Queensland Museum. Kids will also enjoy riding the CityHopper ferry to see the city from a different perspective.
Then there is Airlie Beach, which is the gateway to the Whitsunday Islands. You can get on a kid-friendly day trip boat tour to Whitehaven Beach, which is known for its shallow and calm waters so it's perfect for swimming, even for small children.
If you're looking for something less touristy, head to Agnes Water instead, which also has beautiful, calm beaches but also tours in an amphibian vehicle, which transforms from a truck into a boat. The kids will love it!
Fiji
By Lanie from Make More Adventures
Head to Fiji for a fun family vacation that is just about entirely outdoors.
Fiji is fun for families with kids of all ages. Known for its resorts, the first thing families need to decide is if they want to stay on the main island in Fiji or on a remote island. Intercontinental Fiji Golf Resort and Spa is located about an hour south of Nadi Airport and has a beautiful beach in addition to multiple swimming pools and outdoor activities.
Fly into Nadi International Airport and then choose between renting a car, taking a taxi, or booking a shuttle to your hotel. Sabeto Hot Springs and Mud Pools as well as Garden of the Sleeping Giant are near the airport if you are looking for something to do outdoors while waiting for check-in time at your hotel.
If you are looking to explore Fiji with a day tour, there are plenty of options. Ecotrax is a popular tour that books out months in advance and includes riding an electric bike on abandoned railroad tracks. Anyone older than 1 year old, under a certain weight limit, is able to ride with Ecotrax.
Another option for both a day tour and an evening tour is with Robinson Crusoe. During the day, they have a Fiji Culture Tour that includes a riverboat ride, snorkeling off of an island, and learning about Fijian Culture. At night, guests enjoy dinner and a traditional show.
The best time to go to Fiji is during the dry season, from June to September. November to April is considered the wet season in Fiji and while it doesn't usually rain for long, it is when cyclones are possible.
La Fortuna, Costa Rica
By Jessica from UpRooted Traveler
La Fortuna, Costa Rica, with its volcanoes, rainforests, and waterfalls, has endless opportunities for outdoor adventure with your family. There are so many things to do in La Fortuna with kids to explore its incredible landscape.
For example, visit Mistico Hanging Bridges, where you'll walk through the treetops of the rainforest, across 16 bridges suspended above the jungle floor below. Along the way, you can marvel at incredible plants and spot wildlife, like howler monkeys and sloths.
For slightly older kids, consider going on a white water rafting tour. There's a variety of white water rapids around La Fortuna on the Balsa River, ranging from Class II to IV, allowing you to choose the perfect adventure for your family. Along the way, you'll get the opportunity to see incredible wildlife in the treetops above and cool down from the hot Costa Rican sun in the river's water.
La Fortuna is also known for its hot springs and while there are many that cater primarily to adults, you'll have no trouble finding family-friendly options. For example, Baldi Resort Hot Spring and Spa has a kids' pool with several slides and fountains to play in—and if you stay at its resort as a guest, you can enjoy its hot springs for free!
The best time to visit La Fortuna is mid-December through April, when the temperatures are pleasant and the skies are clear. Outside of this window, it can receive quite a bit of rain–it is in a rainforest after all!
To reach La Fortuna, fly into the Juan Santamaria International Airport in San Jose, Costa Rica and make the two hours and 45 minutes northwest drive to this lush paradise.
Panama
By Melissa from My Beautiful Passport
Panama is a great destination for families looking to explore the outdoors and have an unforgettable vacation. With its stunning beaches, lush jungles, and vibrant cities, Panama offers something for everyone. Plan to visit Panama City and Bocas del Toro to keep your family entertained throughout your stay.
For the more adventurous families, add Boquete in the mountains where you can go hiking, white-water rafting, and swimming in waterfalls.
One popular family-friendly activity in Panama City is a visit to the Panama Canal, where your family can learn about the engineering marvel and witness ships go through the locks. When done at the Canal, head back into the city and enjoy a walk through the historic area of Casco Viejo.
In Bocas del Toro, there are so many fun things to do for the whole family. See wildlife in their natural habitat, zipline through the tree canopy, and swim in the ocean.
The best time of year to visit Panama is between December and April. The weather is warm and dry during this time of year.
To get to Panama, fly into Tocumen International Airport in Panama City. Stay for a few days before flying to Bocas. Depending on the time of year and your budget, it's best to book early for the most affordable fares. To reach Boquete, fly into David and take a shuttle.
With a variety of hotels and accommodations catering to families, such as the Los Balcones Over the Sea in Bocas or the Sofitel Legend Casco Viejo, you'll be sure to find something that meets your needs.
Save it on Pinterest for later: