Dumaguete's best tourist spots + Itinerary
Last Updated on November 5, 2022
Dumaguete is a small but busy city. There's not much to do there apart from visiting old colonial buildings or enjoying the sparkling nightlife, but Dumaguete is a good base to visit its enchanting surroundings. From swimming with turtles to trekking to impressive waterfalls, with some farniente in paradise-like beaches in between, Dumaguete's tourist spots are enough to keep you busy for a couple of days.
Disclaimer: This post contains affiliate links, which means that if you click on any links and make a purchase, I'll get a small commission, at no cost to you.
Dumaguete tourist spots – Best things to do around Dumaguete:
Visit Valencia tourist spots
Nestled in the mountains, cool and beautiful Valencia is the best place for nature lovers. Many waterfalls, as well as adventurous trekking opportunities, await. Enjoy the fresh air and the lush scenery for a couple of days or just as a day-trip from Dumaguete.
You can easily reach Valencia from Dumaguete via public transportation, but once there, you'll have to rent a scooter or find a driver. If you just do a day trip from Dumaguete, you might as well rent the scooter directly in Dumaguete.
Valencia hot springs
With a volcano nearby, Valencia is the perfect place to take a dip in a hot spring. In some places, you'll see the mountains smoking with a nice smell of sulfur. Unfortunately, there are no « natural » hot springs as the water is just too hot to swim directly in the river. The hot springs you'll find in Valencia are pools that use the hot water from the spring and mix it with cooler one.
Worth a go if you're craving a warm bath but you might be disappointed if you're expecting something a bit more natural.
There are different places with hot pools around Valencia, the entrance fee is generally around 50 pesos. I recommend going to Red Rock Hot Springs, that the most natural-looking place.
Pulan Bato Waterfall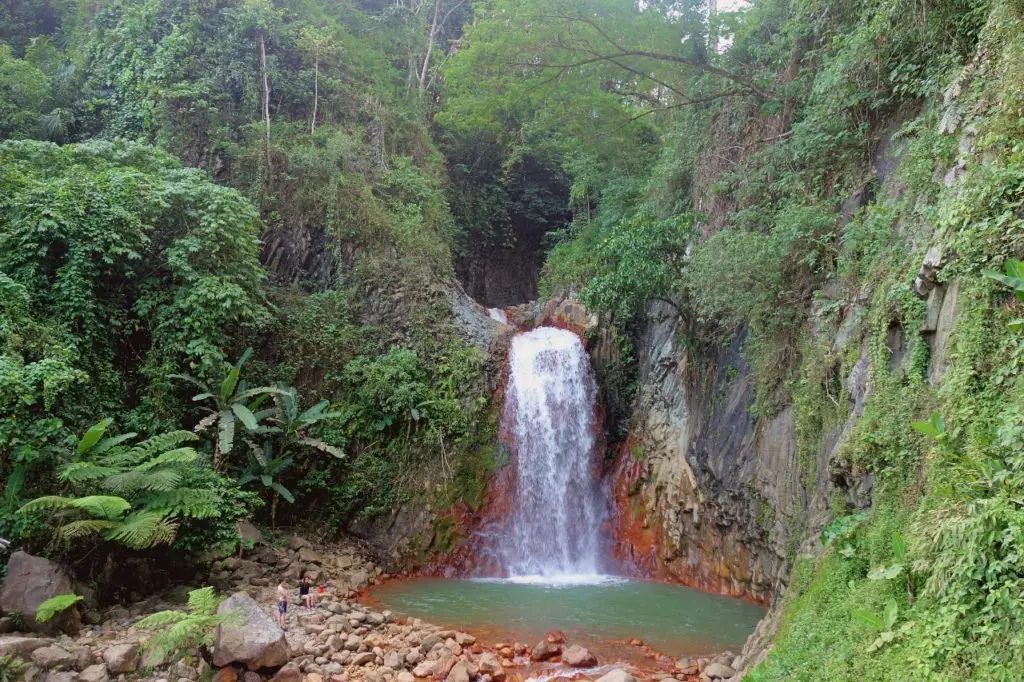 This fall is nice, really high but pretty narrow. The entrance fee is only 20 pesos, you'll need to hire or rent a motorbike to get to the fall. They are building bungalows there, so it will be soon possible to stay overnight at the fall. The place is pretty crowded, try to avoid it during weekends.
Casaroro Falls
If you want something wilder, try nearby Casaroro falls. You'll have to walk/hike for a while before you get to it. Be careful when ascending, a lot of accidents tend to happen there, try to find someone to guide you as the path is not clearly marked. The 30-meter fall is worth the trip, surrounded by lush jungle, you'll probably have the place all to yourself.
Mount Talinis
Ready for an adventure? The challenging climb up the 1903 meters Mount Talinis takes 2 to 3 days. The trek will take you to amazing viewpoints and breathtaking scenery through a dense and lush jungle. You'll need to hire a guide (700 pesos per day), and carry your own equipment or hire a porter for 500 pesos a day.
You can also arrange for a one day trek if you don't want to camp. Ask in Valencia Tourism Office to help you get in touch with a guide. Some hotels in Dumaguete can also arrange the trek for you.
Cata-Al WWII Museum
The slope of Mount Talinis was a hot-spot for combat during WWII. The Japanese troops were occupying the area and the Americans bombarded them quite often. Local Felix Constantina Cata-al has been collecting all war-related items he found in the forest. From Japanese swords to bombshells, the museum is full of war memorabilia. A good place to get a better understanding of the Philippines' involvement during WWII.
Dolphins watching and Manjuyod white sandbar in Bais
Bais has become quite famous for its dolphins and whale watching. During the migratory season (March to September) the chances of seeing the mammals are high. The whales are harder to spot but dolphins are almost always seen. During the typhoon season (October to January), boats usually don't operate because of the bad weather conditions.
The boat tour usually also includes a stop at the Manjuyod Sandbar, at the end of which are some cottages you can rent. Fishermen offer fresh catch, you can choose and they will cook it for you right on the sea.
Be careful there are two Manjuyod sandbars, the one you'll visit, only accessible by boat and the one attached to Manjuyod city. The last one is absolutely not worth the trip, it's a dirt road with a couple of dirty beaches on the side and a big factory at the end of it.
To arrange the trip, there are two options: you can book a boat through the tourism office in Bais or you can find a fisherman/private operator to take you. Both are basically the same.
My personal opinion about the Manjuyod Sandbar: I honestly don't think it's worth it, it's a famous tourist spot but I've seen far better sandbars in the Philippines. This one is crowded and, yes it's nice, but it's not as exceptional as other people make it to be. Moreover, the boat owners scam you. When I was there, the weather turned bad in the morning, the fisherman knew it and took us anyway, and when we were at sea, told us the sea was too rough to go see the dolphins. The sandbar is really close to the shore, we didn't go far but he still made us pay the full price.
Visit Balinsasayao Twin Lakes
Surrounded by nature, the Balinsasayao Twin Lakes National Park is the best place to escape the busy city. Only 30 minutes from the Dumaguete, the park is quiet and peaceful. Nestled inside a jungled crater, the two lakes, Balinsasayao and Danao, offer the perfect retreat. Just close your eyes, listen to the birds singing and feel the fresh air on your face.
The park is perfect for bird lovers, if you're patient enough you'll see many colorful birds some species only found in the Philippines, such as the Tarictic Hornbill. You might also spot eagles and monkeys. There's also a nice waterfall nearby you can swim in but it's only accessible by boat.
The trekking required is minimal. It takes about 5 minutes to walk down to the first lake, then you can either walk about 1 km to the second lake or hire a paddleboat to take you there (you'll still have to walk a bit). There's an observation tower in between the two lakes. The view from up there is amazing, it's also a good spot to see birds.
Read more about Balinsasayao Twin Lakes.
Snorkel with turtles in Apo Island

Tiny volcanic Apo Island can be arranged as a day trip from Dumaguete but it's best to spend at least a night there. The island is famous amongst divers. Home to Philippines' first and most successful marine reserve, the reefs can be counted as some of the most beautiful reefs in the country. Rich in corals and marine species, Apo's underwater world is amazing. Diving in Apo Island really is a treat for the eyes. Non-divers will also have a great time with some nice snorkeling spots and great trekking.
Read more about Apo Island.
Places to visit in Dumaguete City
Enjoy Dumaguete's nightlife
Dumaguete is a university city and as such, boasts a busy nightlife. The students meet every Friday and Saturday night along Dumaguete's Boulevard near the seaside. There you'll find plenty of bars and restaurants, many of which offer live bands. There are also a couple of nightclubs there.
Visit Dumaguete's landmarks
Dumaguete used to be a busy city during the Spanish occupation and still have some buildings left from the colonial era. The most beautiful one is the Silliman University, the buildings have been incredibly well preserved. You can enter the campus but you'll need to be dressed appropriately (no shorts).
You can also stroll along Rizal Boulevard or visit Catherine of Alexandria Church.
Where to stay in Dumaguete
You'll find plenty of options there, especially mid-range hotels. Surprisingly the backpackers/hostels are more expansive than in the rest of the Philippines. For the same price as a dorm bed, you can get a private room. I stayed in Northroad guesthouse (300 pesos for two), they got a lot of bad reviews, but when I was there, everything was clean and nice.
If you want something nicer, check out Green Condotel in the city center or 71% Diving Resort on the beach.
Getting around Dumaguete City
You can catch a tricycle anywhere on the street, the fare is only 8 pesos for the first 3 kilometers.
Dumaguete must-try food
Dumaguete is famous all over the Philippines for its Silvanas, a buttery pastry. You'll find the best ones in Sans Rival Restaurant.
Dumaguete Itinerary
Dumaguete city is not that big, there aren't many places to visit there, but you can spend several days exploring its surroundings.
Day 1 – Rent a scooter and visit Balinsasayao Twin Lake (you can also take a bus to the cross road, there will be habal-habal there waiting to take you to the lake). Next head to Valencia and visit Pulan Bato Waterfall and a hot spring.
Day 2 – Visit the Manjuyod Sandbar. If you're staying in Dumaguete, you'll need to live early. When you get back, you'll have some time to explore Dumaguete City.
Day 3 – Head to Apo Island, you can just take a day trip but I advise staying at least a night.
If you have more time and like trekking, you can spend a few more days in Valencia.
Related articles to help you plan your trip to Negros and the Philippines:
Like it? Save it for later: