Krabi Itinerary – How to spend a perfect vacation
Last Updated on June 18, 2021
Krabi is one of my favorite destinations in Thailand. The city is nothing exceptional, but its surroundings are spectacular. From kayaking in turquoise mangroves to rock climbing, Krabi is much more than just incredible scenery, it's also a hub of outdoor activities.
In this Krabi itinerary, discover all the things you should do while there plus some tips on how to plan your trip.
The first things you'll notice in Krabi are the huge karst rock formations sparkled along the region. The landscape in this part of Thailand is breathtaking, a true paradise. There will be tons of exciting places to visit during your Krabi Itinerary. I recommend spending at least two days, but you can easily stay for five days without getting bored.
Disclaimer: this post contains affiliate links, which means that if you click on any links and make a purchase, I'll get a small commission, at no cost to you.
Related – Thailand Packing List
Here is a 2 to 3-day Krabi Itinerary:
Day 1: Day trip to Tiger Cave Temple, Thung Teao Forest Natural Park, and Namtok Ron Khlong Thom hot springs
On your first day, take a day trip around Krabi. You can either book a tour or rent a motorbike or car. These three places are usually really crowded, try to live as early as you can if you're going on your own.
Tiger Cave Temple
This sacred site is known for the tiger paw prints left in one of the caves there. To get there, you'll need to climb a 1260-step staircase. At the top, the cave, a huge golden Buddha statue and a breathtaking view over Krabi.
The temple was founded in 1975 after a monk came to pray in the cave and saw several tigers roaming around. Legend also says that a huge tiger used to inhabit the cave.
There are also a couple of temples at the bottom of the hill, and a few other caves behind it. Be careful of the monkeys there, try not to bring food or to get too close to them.
The entrance fee is free, and the site is open from 8 am to 5 pm. There are Songthaew (public buses) that make the trip regularly. If you have a choice try to go early morning, or later in the afternoon as the heat can be tough.
Thung Teao Forest Natural Park
This natural park will strike you by the beauty of its forest and the color of its water. People come here to take a dip in the beautiful Emerald Pool, a beautiful natural lagoon. If you go past it, you'll see a pond filled with translucent water. The color of the water is incredible, it looks like it's glowing. You're not allowed to swim in this pond to protect it and maintain the right levels of minerals for the water to have this color.
You can also trek the nature trail to get a chance of spotting some wildlife, mostly birds, lizards, and monkeys.
The entrance fee is 200 bahts (includes the hot spring below). The park is open every day from 8 am to 5 pm.
Namtok Ron Khlong Thom hot springs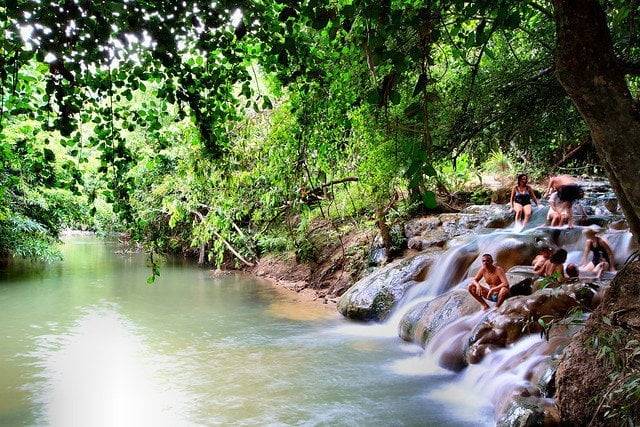 Finish the day relaxing at the hot springs. The river has created several small pools, it looks like natural jacuzzis. The hot water falls into these pools then into the fresh water of the river. If it's too hot, take a dip in the river to cool down or where the waters meet for warm water.
It's usually a bit crowded, but the spring is surrounded by nature and singing birds.
The entrance fee for the hot spring alone is 90 bahts, and the site is open every day from 8 am to 5 pm.
You can finish the day visiting Krabi Town's night market to sample some street food (don't miss the pad thai).
Day 2: Kayaking in Thalane Bay
Kayaking is a must-include activity in your Krabi itinerary. You can either book a tour with the transfer, the kayak and the guide are included, or drive there and rent a kayak to go on your own.
Thalane Bay is known for its beautiful mangrove forest, karst formations, and caves. It really feels like a world apart. In the tour, you'll explore caves, inlets, and discover hidden lagoons. It's also a great opportunity to see wildlife, such as monkeys, birds, and fishes.
Some tour companies, offer this tour with an elephant riding trek. Please don't ride elephants, if you don't know why you should never ride elephants, check out this article about it.
The Kayaking usually takes half a day, so in the afternoon you can hang out at the beach or explore Krabi Town. Alternatively, you can also do white water rafting.
Here are a few places you should check out in Krabi Town:
Wat Kaew: a Buddhist temple mostly white, the first structure there was built in 1886. (closes at 5 pm)
Andaman Art Museum: a simple museum retracing the history of Thailand through its crafts and exhibiting some artwork as well.
Khao Khanab Nam: from the city center, on the riverside, you can see the twin rocks, emblematic of the city.
Day 3 – Island Hopping
Krabi coastline is a treat for the eyes. Crystal-clear water, white sandy beaches, and picturesque scenery, everything is there to swipe you off your feet. You'll fall in love with this part of Thailand, the landscape is incredible. A Krabi itinerary wouldn't be complete without touring the Andaman sea and discovering its treasures.
If you're a large group, you can hire a boat and choose your itinerary, otherwise, you can join a tour. If you're planning on going to Koh Phi Phi know that some of the tours offered there are similar to the ones offered in Krabi.
The most popular tour is the Four Islands Tour, which includes:
Phra Nang Cave: famous for its "Phallus Shrine", the cave is filled with huge stalactites and stalagmites, and with wooden penises. Locals believe the spirit of a Princess inhabit the cave, they come to pray for happiness and her protection. They put the phalluses to thank her when someone gets pregnant.
Chicken Island: a great place for snorkeling, the island got its name from one of the rock formations, shaped like a chicken.
Tup Island: Ko Tup and Ko Mor are two tiny islands that are connected at low tide, transforming the space between them in an incredible beach.
Poda Island: the reef there is amazing as well as the marine life and the picture-perfect beach.
Alternatively, you can take a tour to:
Koh Hong: the island is famous for its pristine beaches and its hidden lagoon. The two beaches are separated by a huge rock formation, and both are great for snorkeling.
James Bond Island: famous for its huge but thin rock standing in the middle of the sea, this island was part of the 1974 James Bond movie "The man with the golden gun".
Other activities to include in your Krabi itinerary:
Rock climbing
If you like climbing, or want to learn, several tour operators offer climbing tours. Climbing these impressive karsts mountain is tough, but it's also a unique experience.
Trekking in Khao Phanom Bencha National Park
Less frequented than other Krabi's attractions, this National Park is a great place if you like trekking and want to see wildlife. The trails are well-maintained, and it's easy to explore the park on your own. Don't forget your swimsuit as there are several waterfalls in the area.
Check out other National Parks you can visit in Thailand.
Hike to the summit of the Dragon Crest Mountain
Also known as Khao Ngon Nak, this mountain offers a spectacular view over the sea and the surrounding jungle. The trail to the top is relatively easy, it takes around 2 hours. On the way, there are a couple of waterfalls you can swim in.
Relax at Tubkaek Beach
Next to the Dragon Crest Mountain, you'll find the quiet Tubkaek Beach, one of the region's most scenic beaches.
Explore Railay Peninsula
Railey peninsula is one of Krabi's highlights. If you didn't do the four islands tour, you can visit the Phra Nang Cave from the beach. Only accessible by boat from Ao Nang or Ao Nammao pier, this set of four beaches is well worth the trip. Surrounded by lush vegetation and rock formations, the beaches boast crystal-clear water and white sand.
Susan Hoi or the Shell Cemetery
This geological site certainly is a strange sight. Believed to be 20 million years old, you won't see many similar places around the world. This rocky area is filled with fossils and remains of shellfish.
Where to stay in Krabi:
When planning your Krabi itinerary, you have two options to choose from: you can either stay in Krabi town or in Ao Nang. Krabi Town is more central and practical but Ao Nang is quieter, nicer and it's nearer to the beach.
Here are a few accommodation options in Krabi Town:
Budget:
NOMAD Hostel Krabi: 4 to 12-bed dorms, all with AC and curtains you can close around your bed, lockers, clean, breakfast available, perfect location. ~10 USD
Uncle House: guesthouse with super friendly owners, each room comes with AC, a fridge, a private bath and a balcony with a view of the river. Great location, free transfer to the pier. ~25 USD
Mid-range:
Family Tree Hotel: comfortable, well-decorated hotel, great location, breakfast available, room service, AC, TV, private bath and balcony in each room.
Luxury: you won't find any high-end hotel in Krabi town, here's the closest option:
The ShellSea Krabi: 5-star resort, located by the sea in Ao Nam, 10 miles from Krabi town. They offer rooms and villas, some with a private pool and a sea view. Private beach and a great restaurant.
Here are a few accommodation options in Ao Nang:
Budget:
Surf Hostel: Clean hostel near the beach, all dorms have AC and a curtain around each bed, some have a TV, breakfast included. ~10USD
Sea Star House: near the beach, all rooms come with AC, a private bath, TV, and a fridge. ~25 USD
Mid-range:
Golden Beach Resort: perfect location, on the beach, surrounded by karst formations, pool, restaurant. Large rooms with AC, TV, some with a balcony.
Aonang Princeville Villa Resort & Spa: 4-star resort, large rooms, great decoration, all rooms have a view on the garden or the pool, AC, cable tv. The hotel has a pool, a restaurant, and a spa.
Luxury:
DusitD2 Ao Nang Krabi: family resort near the beach with great amenities (spa, pool, gym, restaurant, bar, child care)
Related articles to help you plan your trip to Thailand:
Like it? Save it for later – Krabi Itinerary: