10-day Thailand Itinerary – How to spend 10 days in Thailand
Last Updated on April 15, 2023
With its pristine beaches, lush jungles, varied wildlife, and incredible culture, without forgetting about the food, Thailand is one of the most stunning places in Southeast Asia, and for that, one of the most visited countries in the world as well.
If you are thinking of traveling to Thailand and wondering what you can visit in 10 days, you have come to the right place. We have come up with this awesome travel guide on how to spend 10 days in Thailand. From centuries-old temples to pristine beaches, it will take you through most of the country's highlights in 10 days.
Keep on reading to discover this 10-day Thailand itinerary starting in Bangkok, and find out where to go and what to do in 10 days in Thailand.
Travel tip – Before any international trip, make sure to get travel insurance and check visa requirements.
Disclaimer: this post contains affiliate links, which means that if you click on any links and make a purchase, I'll get a small commission, at no cost to you.
10-day Thailand Itinerary – See the Highlights
Bangkok – 2 days
Bangkok is a great starting point for a 10-day Thailand itinerary. Bangkok is as messy as a city can get, but you'll understand why Thailand is called the Land of Smiles. It's a great place to take in the local atmosphere. Don't miss visiting one of the city's many markets and trying street food.
What to do in Bangkok – Day 1:
Grand Palace and Wat Phra Kaew: try to go at opening time (8:30 am) to avoid the crowd;
Wat Pho (Temple of Reclining Buddha)
Chinatown
Have dinner at the Rod Fai Night Market before enjoying Bangkok's nightlife
What to do in Bangkok – Day 2:
Most of the places are within walking distance, or you can take a Tuk-Tuk to go around (agree on the price first). For longer distances, take a metered cab.
Check out some of the tours you can take in Bangkok here>>
The next day, fly to Koh Samui.
Where to stay in Bangkok:
For backpackers, check out Tiny Taladnoi Hostel – they offer clean dorms with 8 beds maximum and a privacy curtain for each bed. They also offer private rooms with shared bathrooms. The location is ideal and they are one of the top-rated hostels in Bangkok.
For a mid-range hotel, The Quarter Silom by UHG is a great option. Featuring modern rooms, the hotel offers several bars and restaurants and an outdoor pool.
For a high-end option, check out Avani+ Riverside Bangkok Hotel. The rooms have a stunning view over the river and the rooftop pool is amazing.
Koh Samui – 2 days
Located in the Surat Thani Province, in Thailand's Gulf, Koh Samui is a pretty big island with a lot of things to do. On your first day, you can rent a scooter and go around the island and on the second, go on a boat tour. The most central location is Chaweng Beach, you should stay there or at least close to it.
Places to visit and things to do in Ko Samui:
The 12-meter big Buddha statue at the Phra Yai Temple;
Plai Laem temple;
Hin Ta and Hin Yai rock formations: this place became an attraction because one of the rocks is shaped like a penis and another like a vulva;
Namuang Waterfall;
The Secret Buddha Garden: a garden filled with Buddha statues in the middle of the jungle;
Check out a Ladyboy show in Chaweng Beach ;
Relax at Lamai, Maenam, or Lipa Noi Beaches ;
For the second day, I recommend visiting Ang Thong Marine Park. Only accessible by boat, you'll need to go through a tour agency. Ang Thong is an archipelago of 42 islands with lush jungle, picturesque viewpoints, paradise-like beaches, and rich wildlife.
If you have more time, you can even camp there for a night or two.
Ang Thong Marine Park is a great place for snorkeling, trekking, and enjoying the beach. Some companies usually also include some kayaking.
On the third day, head to Krabi. If you don't want to lose one day in transportation, fly from Koh Samui to Krabi.
Check out other tours you can take in Koh Samui.
If you want something more laid-back and to experience Thailand's famous full-moon parties, you can head to Koh Phangan instead.
Where to stay in Koh Samui:
For travelers on a budget check out Timeless Hostel, everything is really clean and well organized, with privacy curtains on each bed inside the dorms. The common areas are great with a restaurant and a bar, perfect to meet people. The location is perfect, close to the beach, restaurants, and nightlife. For a hostel with private rooms, check out Us Samui.
For a mid-range option, check out the Villa Nalinnadda Petite Hotel & Spa offering spacious rooms with a view of the beach.
If you want to splurge, Banyan Tree Samui is a stunning hotel offering villas with a private pool and a spectacular view of the bay as well as 5-star services and amenities.
Krabi – 2 days
Krabi city in itself has not much to offer, but it's a central location to enjoy what's around. Some travelers decide to stay in Ao Nang instead, near the beach. Krabi is a must if you're planning your 10 day Thailand itineray.
From either Krabi or Ao Nang, you'll either need to rent a car (or a motorbike) or join tours. For tours, don't hesitate to negotiate and shop around.
Places to visit near Krabi:
Tiger Cave Temple: Legend has it, tigers used to inhabit this cave, hence the name. The temple is pretty big with several structures, the main attraction is the 1237-step staircase that will take you to a golden Buddha. You'll be rewarded with an impressive view of the surroundings. On ground-level, if you go around the hill, you'll see several other cave temples.
Rock climb one of the many limestone mountains: Most operators offer advanced courses as well as courses for beginners.
Kayak tour: My favorite activity in Krabi, you'll pass through mangroves, caves, and amazing rock formations. It's one of the best ways to admire the area's landscape.
Thung Teao Forest Natural Park: After a short trek, you'll arrive in Emerald Pool, the color of the water is unbelievable, to preserve it you cannot swim there but, a bit further, you'll find a spring you can swim in.
Namtok Ron Khlong Thom: After a day of exploring, relax in this hot spring, if you're too hot, jump in the river to cool down.
Visit the Wat Kaew Temple in Krabi town
If you spend two days in Krabi, you can take a tour of the Tiger Temple, Thung Teao, and the hot spring on the first day. And your second day, go kayaking and rock climbing.
Don't miss the night market in Krabi, the food is delicious, and you can buy cheap clothing too. Be careful it finishes early, contrary to most night markets in Thailand.
If you like beaches, don't missing the stunning Railay Beach and Ao Nang Beach.
Related article – Krabi Itinerary – Best things to do and see
Here are some tours you can take in Krabi here>>
Where to stay in Krabi:
Budget – The Guest Hotel Krabi: 6 to 8-bed dorms, all with AC, lockers, clean, breakfast available, perfect location. ~10 USD – Uncle House: guesthouse with super friendly owners, each room comes with AC, a fridge, a private bath and a balcony with a view of the river. Great location, free transfer to the pier. ~25 USD
Mid-range – Family Tree Hotel: comfortable, well-decorated hotel, great location, breakfast available, room service, AC, TV, private bath and balcony in each room.
Luxury – you won't find any high-end hotel in Krabi town, here's the closest option: The ShellSea Krabi, a 5-star resort, located by the sea in Ao Nam, 10 miles from Krabi town. They offer rooms and villas, some with a private pool and a sea view. Private beach and a great restaurant.
Where to stay in Ao Nang:
Budget – Surf Hostel: Clean hostel near the beach, all dorms have AC and a curtain around each bed, some have a TV, breakfast included. ~10USD – Sugar Marina Resort: near the beach, all rooms come with AC, a private bath, TV, and a fridge. ~25 USD
Mid-range – Golden Beach Resort: perfect location, on the beach, surrounded by karst formations, pool, restaurant. Large rooms with AC, TV, some with a balcony – Aonang Princeville Villa Resort & Spa: 4-star resort, large rooms, great decoration, all rooms have a view on the garden or the pool, AC, cable tv. The hotel has a pool, a restaurant, and a spa.
Luxury – DusitD2 Ao Nang Krabi: family resort near the beach with great amenities (spa, pool, gym, restaurant, bar, child care).
On the next day, just take a boat to Koh Phi Phi.
Koh Phi Phi – 2 days
Koh Phi Phi is an incredible island, it's super crowded with backpackers, but it's still a great place. During the day, the best thing to do is go island hopping or diving, the landscape there is just incredible, one of the best you'll see in Thailand. At night, head for the beach and dance at one of the many beach bars, gazing at the stars and looking at fire dancers.
Here are a few things to do on Phi Phi Island:
Go diving in Phi Phi Marine National Park, or anywhere in the area, the coral and marine life in this part of Thailand is spectacular;
Go island hopping, on a regular boat or on a party cruise;
Snorkel from Haad Yao beach, you might see some clownfish;
Hike the Ao Lo Dalam trail to get an impressive view of the island;
Kayak around the island;
Last but not least, relax at the beach and enjoy the nightlife!
The famous Maya Bay from the movie The Beach was closed off to tourism due to environmental issues. It reopen with limited daily visitors and a few other restrictions.
If you're traveling with children or aren't in a party mood, head for Koh Lanta instead.
Check out some of the tours you can take from Koh Phi Phi.
On the third day, take a boat to Koh Lipe.
Koh Lipe – 2 days
Koh Lipe is one of Thailand's best-kept secrets. This small island features terrific beaches and crystal-clear water. The laid-back atmosphere makes it the ideal place to chill and relax at the beach for a few days. It's touristy but not crowded, I'll say it's the perfect mix between Koh Lanta (more of a family destination) and Koh Phi Phi (the party island).
Here are a few things to do on Koh Lipe :
Watch the sunrise at Sunrise Beach (Hat Chao Ley), after you can go snorkeling right from the beach. You can rent snorkeling gear at any dive shop;
Watch the sunset at Sunset Beach (Hat Pramong), at night you might even see bioluminescent plankton, you can join a tour to nearby islands to make sure you'll see some;
Take a yoga class (you can check out the one at the Castaway Resort);
Go kayaking to deserted islands and enjoy the beach all to yourself. From Koh Lipe, you can easily kayak to Koh Usen and Koh Kra;
Join a Trash Hero meet-up to help clean the beach;
Go on a snorkeling/island hopping tour;
Take a long tail boat taxi to Koh Adang to trek to the top of the island and get a spectacular view of the bay;
If you're coming from Malaysia, you can start your 10-day Thailand itinerary from Koh Lipe. You can take a boat from Penang to Koh Lipe. To get back to Bangkok, from Koh Lipe, take the boat to Pak Bara Pier, then a shuttle to Hat Yai airport.
Alternative Itinerary: 10-day Island Hopping in Thailand
If you want to spend your whole 10 days island hopping in Thailand, from Bangkok take a flight directly to Koh Samui. You can stay there for 5 days and go island hopping every day, it's a good base camp to visit all the neighborhood islands. Make sure you visit Ang Thong Marine Park one of the highlights of a Thailand trip.
Then you can fly to Krabi and base yourself there for the last 5 days. If you want to stay by the beach, head to Ao Nang. From there, there are tons of islands you can visit as part of an island hopping tour.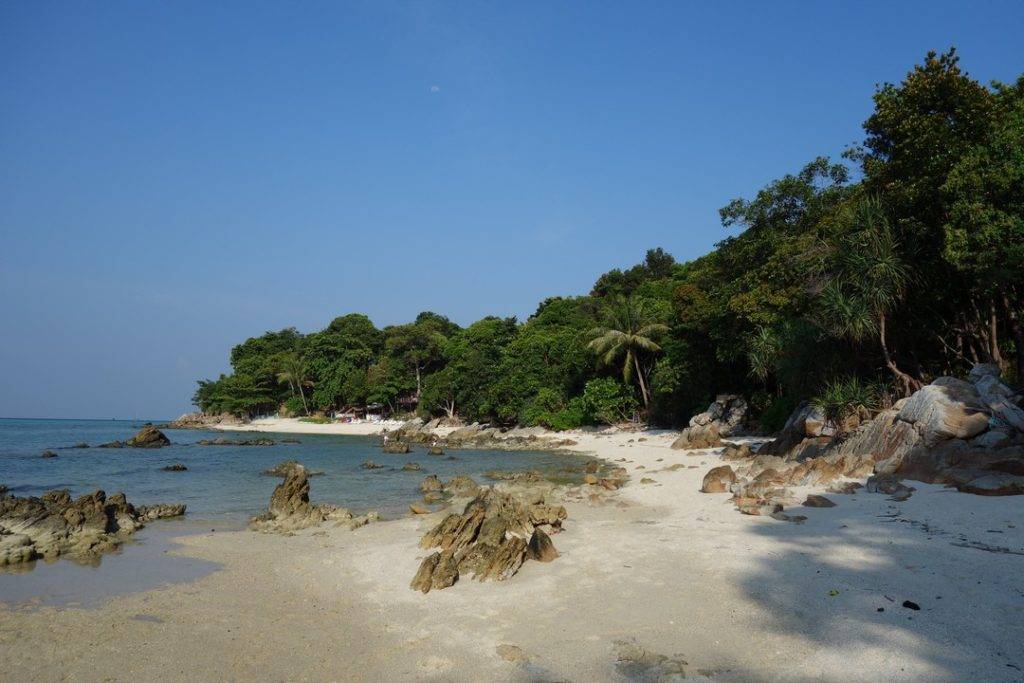 Alternative Itinerary: 10 days in Thailand for nature lovers
If you want to skip the touristy islands and want to visit national parks, spending your vacation trekking and meeting wild animals, then head for Northern Thailand where you'll find lush mountains, remote villages, and where incredible experiences await.
Starting in Bangkok, stay 2 days there and visit the city (see above for things to do while in Bangkok), taking in the local atmosphere, and then fly to Chiang Mai. Spend a day exploring the city, its temples, quirky cafes, and food markets. Make sure to visit Wat Chedi Luang, Wat Phra Singh, and Wat That Doi Suthep
On day 4, take a day trip to Doi Inthanon National Park, the highest peak in Thailand. Don't miss the Wachiratharn Waterfalls. You can also spend the day water rafting, ziplining through the rainforest, or hiking in the jungle.
The next day, head to Pai and spend at least a night there. Pai is surrounded by nature and the song of birds. It's the perfect place to relax for a while. There, you can go trekking, spend some time at the river, or take a dip in a hot spring.
Don't miss the Tham Lod cave, a stunning cave with an underground river inside it, only reachable via wooden rafts. For waterfalls, head to Mo Paeng or Pam Bok. Finish the day in Pai canyon to watch the sunset.
Either spend an extra night in Pai or head back to Chiang Mai catching the last minibus of the day.
Next, from Chiang Mai, take a day trip to Chiang Dao where you can do some trekking, cave exploration, or waterfall chasing.
Then, head to Chiang Rai where you can visit Wat Rong Khun, also known as the white temple, take a tour of the Golden Triangle, and plan a trek to Phu Chi Fa (the best is to spend a night there and start the trek early morning to watch the sunset. In the afternoon catch a flight from Chaing Mai to Bangkok.
Tips to help you plan a 10-day in Thailand itinerary:
General Thailand Travel Tips
Don't buy the cheap alcohol, they usually mix it with ethanol;
Be careful with jellyfish, some are really toxic, check if there are any warnings before entering the water (it's usually seasonal);
Don't hesitate to haggle, sellers expect it and set their price knowing it will go down;
Thailand is a generally safe country but always keep an eye on your belongings when you're in a crowded space;
When visiting temples, cover your shoulders and knees, and don't take picture with your back to a Buddha statue.
Make sure you get travel insurance for your trip.
Related article – Everything you need to know before visiting a Buddhist Temple
Things to keep in mind when planning your itinerary
Thailand is a big country, if you don't want to lose a day in transportation each time you move to a new destination, you'll need to fly.
There are a lot of places to visit in Thailand that caters to all travel style, the main itinerary here is a blend of everything, but you can adapt it if you want more of a cultural experience, more beach time, or more wilderness.
What to pack
You want to be ready for the beach, exploring the jungle, and visiting temples. If you want to pack light the best is to bring loose clothing that covers you, this way you are ready for anything.
Pick clothing that won't keep you warm and that will protect you from the sun and the mosquitoes. In touristy areas, you can dress as you want but if you visit temples or go to more remote areas make sure to cover your knees and shoulders.
Be also prepared for rain, rainy season in Thailand depends on where you are, but you should expect rain year-round.
Make sure to pack sunscreen (preferably reef-safe) and mosquito repellent.
Check out the complete Thailand packing list.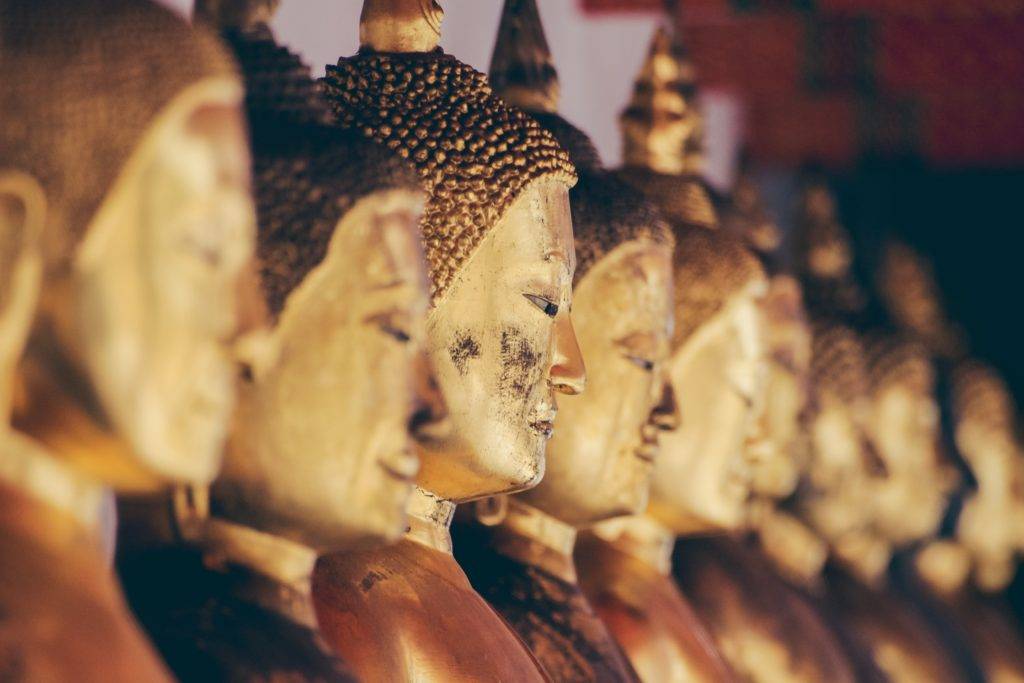 Best time to visit Thailand :
The best time to visit Thailand is between January and March. The seasons in Thailand are numerous and depend on the area you're in.
In the North, the dry season is from November to May. The temperatures are the highest from March to May, and it can get a bit chilly from November to February because of the northeast monsoon. The rainy season is from May to November with the southwest monsoon.
In the South, the southwest monsoon brings rain to the west coast from April to October. On the east coast, the rainy season runs from September to December.
Check out this guide for more information on traveling to Thailand.
Budget for 10 days in Thailand
Thailand is pretty cheap and won't cost you much if you are traveling on a budget. It all depends on how you want to travel, you could spend as little as $300 in 10 days if you are mindful, you can also splurge and spend thousands of dollars or anything in between. It also depends on whether you drink or not, drinks are cheap but it quickly adds up, especially if you party every day.
On average people spend $100 a day per person in Thailand.
Backpacking around Thailand usually costs $30–35 USD per day, it's perfect when you have more time and want to slow travel. With only 10 days, you'll have to fly to save time, and because you only have a 10-day vacation, you'll probably don't want to scrap every penny and indulge a bit more. I would advise budgeting between $100 to $150 a day.
Budget breakdown for 10 days in Thailand:
Food: a meal on the street is about $1, maximum $5 at a basic restaurant, more if you go to fancier restaurants. For drinks, beers are usually around 50 cents, hard liquor around $1-2.
Accommodation can be as cheap as $10 dollars a night, on average count between $30 to $50 a night for something nice.
Transportation is also cheap, for this itinerary, because you'll be flying it will cost a bit more, count $150 for the flights (prices might go up or down depending on the season) add about 10$ a day for local transportation.
For activities, tours, and entrance fees, count between $10 to $50 USD a day, so on average $30 a day.
Like it? Save it for later – 10-day Thailand itinerary: