Best places to visit in Tozeur: mountain oases and Star Wars sets
Last Updated on November 5, 2022
Tozeur, near the Algerian border, is home to many wonders. From trekking to mountain oases to exploring Star Wars sets in the middle of the Sahara, the region will keep you busy. I guarantee you'll be impressed and mesmerized by its splendid beauty.
Disclaimer: This post contains affiliate links, which means that if you click on any links and make a purchase, I'll get a small commission, at no cost to you.
Places to visit in Tozeur and around:
1 – The medina

Tozeur's Medina is special and unique, different from the others in Tunisia; it reflects the architecture of the region. The buildings are made of small ocher-colored bricks, assembled to create amazing geometric patterns. The designs usually represent flowers or Quranic verses.
Notice also the massive doors with three knockers, the one on the left for women, the one on the right for men and the one under for children. This way, people inside the house could know who was knocking and, hence, know who had to open the door.

Inside the medina, you can check out the Dar Ben Azouz, a traditional house that you should be able to visit if it's open (they tend to close whenever they feel like it). You can also visit the Museum of Arts and Traditions (rue de Kairouan). It's located in an old Koubba (monument elevated on top of a marabout's tomb) which served as a Quranic school and mosque during the 15th century. Same as for the Dar Ben Azouz, it's often closed when it should be open.
Discover more Medinas across Tunisia.
2 – The palm groove

Another great place to visit in Tozeur is its palm grove, one of the biggest in the country and also one of the most beautiful. Around 350 000 palm trees, spread on 2 000 ha, creating a true jungle, consisting of three layers of vegetation: culture fields, fruit trees, and the palm trees.
You can visit the palm grove on foot, or you can rent a bicycle. You'll find several restaurants and cafes here and there. In Eden Palm, you can take a tour to learn everything about palm trees. In Sahara Lounge, you can play paintball, play monkey in the trees, go up the climbing wall and do many more outdoor activities. In Chak Wak, you can take a tour that will take you to the origin of the world until today, it's supposed to be serious, but you'll laugh a lot.
3 – Day trip to the mountain oasis
The three mountain oasis of Chebika, Tamerza, and Midès, will definitely be the highlight of your stay in Tozeur and are some of the best places to visit in Tozeur. The landscape, as well as the old villages, are impressive.
Chebika
Chebika is the closest oasis to Tozeur and is beautiful. On your way there, you can take a detour to the palm grove then keep on following the touristic circuit. You'll stop at the old village, abandoned in 69 after massive floodings, the new town is a bit farther up the road.

There's a small trek you can do, follow the path to the waterfall then up the mountain, and further you can go down to the old village.
Tamerza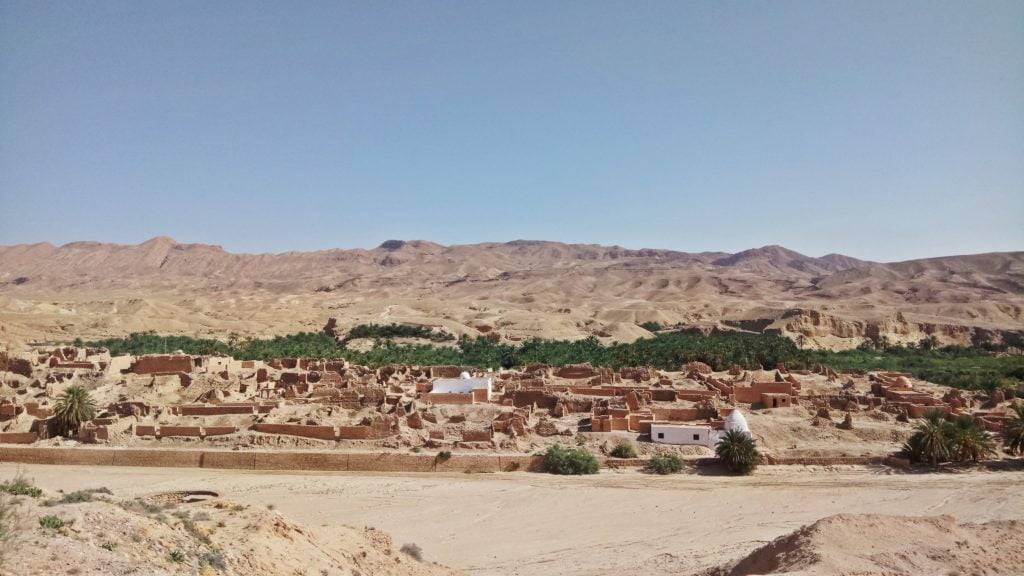 Next stop is Tamerza, Tunisia's biggest mountain oasis. The old village there has also been abandoned in 69. From afar it looks like a giant sandcastle.
In Tamerza you can organize a trek from there to Chebika. It takes around 5 hours, the views are amazing and the guides extremely knowledgeable. You can ask at the Syndicat d'Initiative de Tamerza. They can also help you visit the numerous caves of the region, usually full of fossils and prehistorical remains.
Midès

Midès is the Arizona of Tunisia; its canyons are quite a sight. The canyon used to surround the village completely (now abandoned), but cultivation needs have made the villagers fill one side of it. Down the canyon is the river, there's a path leading down, and you can walk following the river. You can even swim, and there are some sandy parts.

How to visit the mountain oasis:
You can take a louage from Tozeur to Chebika and Tamerza, but it might be hard to find one to get back. The best option is to either rent a car or go through a tour. If you're there during high season (winter) you can easily join one, during summer you'll need to rent the jeep all for yourself. Ask your hotel about it, they will help you find a tour or a private car. You can couple this trip with a Sahara tour.
Related article: Discovering Southern Tunisia's troglodyte villages
4 – Chott el-Jerid

Chott el Jerid is a salt plain, aka a mirage. I always had thought that mirages were hallucinations, it's not, it's more of an optical illusion. Salt plains are frequent in the Sahara, and the reflection of the sun on the salt makes it looks like there's water. This Chott is a top-place to visit while in Tozeur
Chott el-Jerid is the biggest salt plain in Tunisia, around 2000 square miles and the Douz-Tozeur road is right in the middle of it. It's an impressive sight, and the landscape is truly unique. If it weren't so hot out there, the lake would look like snow.
5 – The Sahara
Ever since I'd set foot in Tunisia, I'd been dreaming of seeing the Sahara and let me tell you, I wasn't disappointed one bit when I did. It's magnificent. The Sahara is one of the last great wild places left in the world. It's rough yet soft, dangerous and yet so peaceful. When you're there, and you see nothing but sand, you just want to go deeper and deeper, until you find one of its hidden treasures. The Sahara is full of amazing sights, in Tunisian part, there are a lot of oases and ksour. Taking a méharée (camel safari) is a one-in-a-lifetime experience.

From the beginning of May until the beginning of October, the Sahara is officially closed. You cannot organize any long trip there. There are still several options if you wish to see the Sahara, you can arrange a little tour at sunset, and even spend the night in the desert. The best is to go in winter and take a 3 to 7 days trip in the desert.
6 – Ong Jemel

Ong Jemel (meaning camel neck) is a big rock shaped like a camel laying down and a famous attraction in Tozeur. Located in the middle of the desert, a visit to Ong Jemel is usually included in the Sahara day-tour. You can climb on top but be careful, it's steep and slippery when you get down. From up there, you'll get a beautiful view over the Sahara and its dunes.
7 – Mos Espa (Star Wars set)

A lot of scenes from Star Wars first saga were filmed in Tunisia, some of the sets were real villages already there before the crew came, and some others like Mos Espa were entirely created for the movies.
It's a great place to take pictures, especially at sundown. The landscape around is fantastic: the Sahara and huge dunes surround the set.

It's uninhabited, but there's always souvenir sellers there. You can also take a tour around on camel-back.
You can go there on your own with a regular car, there's a track, just learn beforehand what to do in case of a sand storm as you'll be crossing the desert.
8 – Nefta

Nefta is another place to visit near Tozeur, a smaller city with a medina just as cute. The palm groove is also worth a look, located at the bottom of a vast natural pit. Nefta used to have dozens of sources alimenting the palm grove, but now it's all dried up. Thanks to the UNESCO's help, it benefited from an ambitious regeneration program and is now looking better than ever.
Nefta means "what comes out of the earth" in Arabic, and it is believed that the Triton lake from Greek mythology could have been located here. Nefta is also a profoundly spiritual city, with a strong Sufi tradition and around 100 marabouts (Saints' mausoleums).
For more places in Tunisia, check out this Tunisia General Travel Guide.
Like it? Save it for later: