Troglodyte villages in Southern Tunisia
Last Updated on November 5, 2022
Berber tribes used to flourish in North Africa before the Arab conquest, during the Middle Age. They were forced to improvise and started to build their villages up the mountains to be able to protect themselves against Arab raids better. Traditionally, the Berber houses were built underground or inside a rock, like a cave. This way the temperature stays cool during the hot summer months and warm during the winter.
Not many people in Tunisia still live inside a troglodyte house; the villages have been mostly left to fall in ruins while others have been turned into hotels to attract tourism.
Disclaimer: This post contains affiliate links, which means that if you click on any links and make a purchase, I'll get a small commission, at no cost to you.
Here are some of the must-see troglodyte villages in Tunisia:
Toujane

Toujane, sometimes spelled Toujene, is an incredible troglodyte village located in the mountains, near Tunisia second highest peak, Djebel Bireno.
Few people remain in the village, most of its inhabitants have moved down the mountain to New Toujane, a couple of miles away. They left the ancient town intact, and you can see the old brick houses and how people used to live before. Now only the "modern-style" houses are inhabited (the one painted in white).

Toujene is really quiet and remote; you won't see many tourists there. Notice the way the women are dressed, with a long shawl wrapped around them and held with jewelry. It's typical of the area. Notice also the face tattoo on the older women, made when they were three years old. Now, this Berber tradition is being abandoned as Islam forbids tattoos.
One of the best experiences in Toujane is to stay in a troglodyte house, the Berber traditional house. To face the hot summer, the cold winter and the lack of materials, Berbers used to dig their homes inside the mountain, creating a cave in most places. There are different types of troglodyte houses find in Tunisia, depending on the tribes. The temperature in the Berber house is 70 degrees Fahrenheit (21° C) year-round and sleeping in one is a great experience.

You'll find several homestays in Toujene; the price is usually around 50 dinars with breakfast and dinner included. Now, the troglodyte houses have been turned into rooms, and are more comfortable than what they used to be. Unless you're claustrophobic, I highly recommend staying in this type of place. They also offer regular rooms. I stayed in the Auberge Ben Ahmed, here's the contact number: +216 96 958 004 (no one speaks English so ask someone to book it for you).

Toujene is also an excellent place for trekking, the landscape is spectacular and the views breathtaking. The best time to visit is during the spring when the weather is not too hot, and everything is green. You'll need to arrange for a guide. An easy trek you can take is up to the mountain facing the village. You'll get a superb view over the town and the coast, and you can visit the ruins of a centuries-old house, built on top of the village highest peak.

Getting to Toujane can be a bit tricky, the easiest way is to take the bus from Gabes, there's one early morning (around 5 am) and one around noon. The louages will only take you to New Toujene, from there you'll need to wait for the bus or ask a local to drive you.
Matmata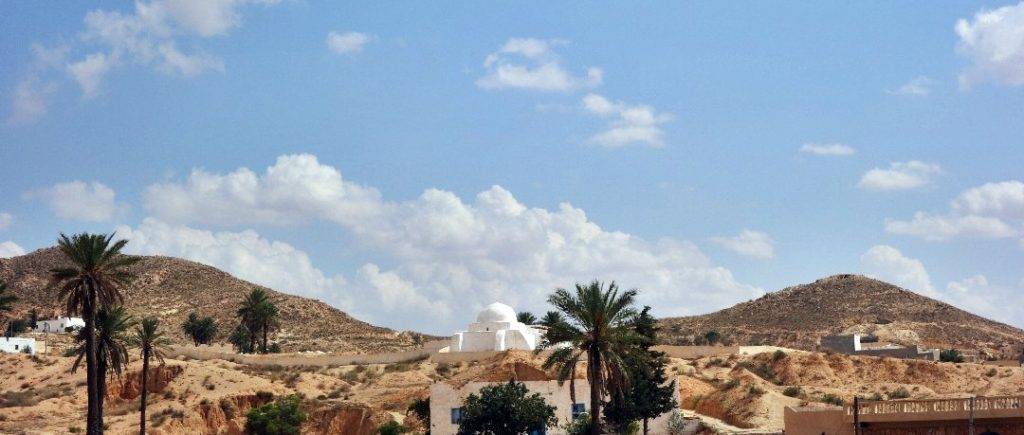 Matmata is famous among tourists and day-trippers from Djerba, during high season it's usually crowded with buses and hoards of tourists. There's not much to do in Matmata apport from visiting one of the area Troglodyte houses.

In Matmata, Troglodyte houses are built underground or inside a rock. The different rooms are built around a "patio" allowing light to come in.
Matmata is actually famous because some scenes from Stars Wars have been filmed there. Matmata is Luke Skywalker's hometown. The building they used is still standing and is a renowned tourist attraction. What you see in the movie hasn't been created or imagined for the film, it's the way locals used to live and built their house. The set is also now a hotel, so you can actually spend the night in one of these tiny "caves."

Tataouine:
Tataouine is surrounded by troglodytes villages, almost impossible to reach via public transportation. The best option is either to rent a car or to hire a driver. Most people visiting Tataouine go through an organized tour from Djerba. It's also possible to find a driver, just ask around. I paid 80 dinars to visit the three nearest ksour (troglodyte villages). In my opinion, there's no need to visit all of the ksour; three is enough.
For each village, you'll find the "new" village, with all the modern houses and commodities, and the "historical" one a bit farther. The troglodyte houses are now uninhabited and visiting these abandoned villages is a fantastic experience.
Quick vocabulary guide:
Ksar: Berber fortified village
Ksour: plural of Ksar
Ghorfa: a vaulted room used by Berbers for storing grain.
Ksar Haddada
Another famous Star Wars' movie set in Tunisia, it has now been turned into a hotel, so you can actually sleep there. Not all of the village has been restored; you can still see the more ancient parts if you get a bit away from the hotel part. It's actually pretty small, and no one has been actually living there for decades.
Entrance fee: 2,5 dinars
Guermessa
Get ready for a steep walk up the mountain, Guermessa is worth every step. The landscape viewed from up there is impressive. This abandoned village is beautiful with its white mosque overlooking the valley, just listen to the silence of the desert. Everything is so quiet up there.
Chenini

Chenini is one of the most visited ksour, and it's not for nothing. The view is spectacular and the experience utterly memorable. Berber people built the village in the 16th century on a mountain top to protect themselves from raids.

Apart from the Ksar, Chenini hides another treasure: The Mosque of the Seven Sleepers. According to a Muslim legend, seven Christians, persecuted by the Roman, fled into a cave and slept for four centuries. When they woke up, the country was Islamic. They converted to Islam and lived happily ever after. Chenini is not the only place claiming to be the home to the Seven Sleepers cave.

On-site, you'll find a Berber guide willing to explain everything to you about the place. Notice the huge tombstones, originally a Christian cemetery; legend has it that the Christians buried there grew up after their death.
The guide there will expect a tip, he's also a trekking guide and can take you to other Ksour, such as Douiret. Trekking is not possible during summertime.
Other Ksour you can visit around Tataouine:
Ksar El-Ferech: less impressive than other ksour, this ksar is pretty well preserved and is home to around 300 ghorfas. It's one of the largest ksour in this area.
Ksar Hallouf: a cute little ksar, out of the touristic circuits.
Douiret: a beautiful ksar, easy to reach from Tataouine, the road leading to it is gorgeous. It's also one of the oldest ksour (12th century).
Ksar-Ouled-Soltane: probably the most beautiful ksar in Tunisia, it has been fully restored not long ago. It hasn't been entirely abandoned, so it's nice to witness the locals' daily lives.
If you're staying in Djerba, you can do a day tour to Tatatouine and some of the Ksour.
Want to discover more travel destinations in Tunisia? Click here.
Like it? Save it for later: