San Luis Potosi and the Huasteca Potosina Ultimate Travel Guide
Last Updated on November 3, 2021
The Huasteca Potosina in San Luis Potosi is a true paradise on earth and is one of Mexico's best-kept secrets. Picture lush forests, endless wilderness, and stunning waterfalls, and you'll get an idea. The Huasteca Potosina is a beautiful region in central Mexico, it's wild and remote, the perfect place if you prefer nature to cities.
There, you'll have the chance to see breathtaking scenery, swim in crystal-clear water, and visit incredible places.
Read on to discover all the best places in the Huasteca Potosina, useful travel tips to help you plan your trip, and recommended itineraries.
Disclaimer: This post contains affiliate links, which means that if you click on any links and make a purchase, I'll get a small commission, at no cost to you.
Best things to do in San Luis Potosi
Cultural places to visit in the Huasteca Potosina
Edward James' surrealist garden – Xilitla

This garden is a magical place and one of the highlights of a trip to the Huasteca Potosina. Edward James was a British poet and a strong support of the surrealist art movement. He fell in love with Xilitla and created this garden, filled with strange sculptures. The settings are incredible, the garden is kept wild and you can easily get lost. Each structures is a true piece of art, surrounded by nature, creating something you won't see anywhere else.
There you'll also find a waterfall and natural pools you can swim in (unless it has been raining a lot).
The entrance fee is 100 pesos per person. Only 100 people are allowed at the same time inside the garden. You might want to avoid going during public holidays and week ends. The garden is open every day from 9 AM to 6 PM. Count around 2 hours to visit the garden.
Leonora Carrington Museum – Xilitla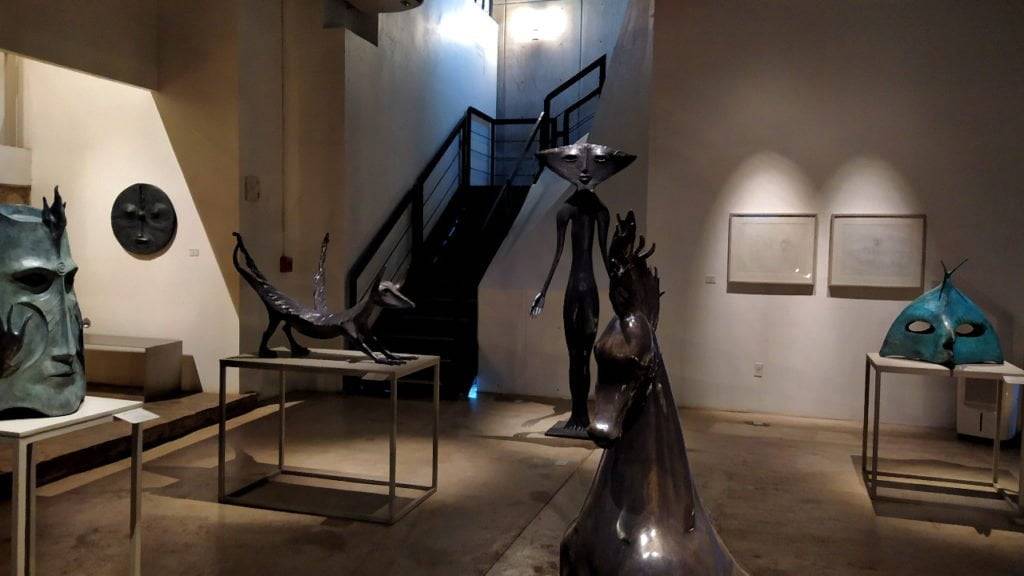 Leonora Carrington fled Europe during the war and ended up in Mexico. The museum in Xilitla was inaugurated in 2018 and is a must-see while in Xilitla. You'll find several of her sculptures as well as sketches and some paintings.
The museum is open every day except on Mondays from 11 AM to 5 PM. The entrance fee is 40 pesos.
San Luis Potosi City's Historic Center

San Luis Potosi's center is a jewel of colonial architecture. Part of the UNESCO World Heritage Sites, the city's historic center is a must-see. To visit it, you can join a tour bus (70 pesos per person) or you can do it walking.
Here are the places you should visit in San Luis Potosi City:
Nuestra Señora de Guadalupe Shrine: built from 1772 to 1800 in Baroque style;
San Luis Potosi Cultural Center;
Caja del Agua: public fountain from 1835 and symbol of the city;
San Fransico church, the Regional Museum and the Aranzazu Plaza
Ipiña Building: a copy of the buildings on Rue de Rivoli in Paris;
The University (UASLP): you can enter it and visit the patio;
The Government Palace
Plaza de Armas
The Catedral
Plaza del Mariachi
Plaza del Carmen
San Augustin Garden and church
You can pass by the Tourist Office first so they can give you a map and recommendations on places to visit.
Real de Catorce

Real de Catorce is a Pueblo Magico (Magical Town) and is known across the country for its ancestral traditions. Real de Catorce is home to many Chamans and one of the rare places where you'll find Peyote. The peyote is a plant with hallucinogenic properties, it is used by shamans during traditional ceremonies and has a strong spiritual connotation.
In theory, only the Huichol are allowed to cultivate and consume peyote, in reality its consumption by tourists is more or less tolerated. It's illegal though, so it's up to you if you want to try it or not. It has to be lived as a spiritual experience to be worth it.
Outdoor activities and waterfalls in Huasteca Potosina
Comales Waterfall – Xilitla

The Comales Fall used to be part of Edward James' Garden but is now managed by different people. The entrance door was made by Edward James, there are a couple of small structures he made inside as well. The fall is really close to the entrance, it's about 150 meters. You can swim there, but when it has been raining the current is strong so be careful. I was told there were changing rooms, but I didn't see them on my way there, so ask where they are exactly if you need to change.
Apart from swimming, you can go down rappelling or you can enjoy a Temazcal, a traditional pre-hispanic steam bath (they only do it for groups). You can contact them via their Facebook page for more information.
The fall is open every day from 8 AM to 6 PM. The entrance fee is 50 pesos.
Sotano de las Golondrinas – Aquismon

The Sotano de las Golondrinas is a huge hole in the middle of the mountains. It is known for being home to thousands of birds. Every day they leave the cave to go looking for food and come back at night to sleep. Because of the strong wind, they come up circling the cave and exit it at around 70 km an hour, to get back in, they need to reach a speed of around 110 km/h.
The sight is spectacular, a once in a lifetime experience. Seeing hundreds of birds flying in circles and finally breaking free is amazing.
You have to be there at around 6 AM. In the parking lot, there are a few shops and bathrooms. It takes around 30 minutes to reach the sotano. The whole way is made of stairs (more than 500 steps), it can be slippery so be careful and bring adequate shoes. Going down is relatively easy, it's going up that's harder. Once you reach the sotano, you'll have to be quiet and sit on the rocks. Normally, the birds start to leave at around 6:30/7 AM. When I was there, only a few left early and the other waited until past 9 AM. In the evenings, they come back at around 5 PM.
The closest town is Aquismon, there are a couple of hotels you can stay at. You can also come from Xilitla or Ciudad Valles. If you don't have a car, your best option is to go through a tour or get to Aquismon in the afternoon, go to the Sotano with a combi, camp there (they rent anything you'll need) and in the morning hitch a ride back or to the Tamul waterfall.
What to bring:
Snacks and water
Long pants and a jacket/sweater
Tamul Waterfall – Aquismon

Tamul waterfall is the highest one in the state and one of the Huasteca Potosina's highlights.
The adventure starts 4 kilometers downstream. There, you'll find a couple of shops and restaurants, and the docks. None of the boats have motors to preserve the river, but that means you'll need to row.
It's better to leave all your valuables and electronics in the car. If you come by public transportation, buy a dry bag. You can easily get wet especially as some of the other boats you'll be passing might throw water at you, and you might throw some at them in return.
Once the journey starts, the landscape is spectacular. Surrounded by nature, you'll see high cliffs, dense vegetation and a few birds here and there. Once you get to the waterfall, you'll stop for a few minutes. You cannot swim there or get too close as the current is strong. Normally the water is turquoise but if it had been raining, the water will be muddy. The view of the waterfall is still breathtaking, clear water or not.
If you like adventure and adrenaline, you can also rappel down the waterfall. I haven't been to the top, but it looks spectacular.
On your way back, you can stop at a cenote. The water is fresh, deep and crystal clear. The cenote is inside the cave but the entrance is big enough to let light in and to not feel claustrophobic.
Useful information:
There are several ways to get there:
by joining a tour from Xilitla or Ciudad Valles
by driving, the closest town is Aquismon, it takes around an hour to get to the fall
by public transportation, on the Xilitla-Ciudad Valles road get down at the intersection to Aquismon, take a shared cab or a combi into town, from there, there are combis going to the waterfall, you can also try hitchhiking.
If you come on your own, the entrance fee is 10 pesos and the boat is 150 pesos per person.
What you'll need to bring:
Swimsuit
Towel
Change of clothes
Hat or cap
A waterproof camera or a dry case for your phone
Trinidad – Xilitla
Near Xilitla, if you like trekking and nature, you can spend a couple of days in Trinidad. There are a campsite (you can rent camping equipment there) and a few cabins. If you have your own car you can go on a day trip, with public transportations you'll have to spend at least a night.
Trinidad is a small Nahuatl community, wild and remote. It's not that much developed, and not many tourists make the trip there, so it's a great place to unwind and enjoy nature.
Check the community's website for more information.
Micos Waterfall – Cuauhtemoc

Visiting Micos was one of my trip highlights. The waterfall is spectacular and offers all sorts of activities. The most famous one being waterfall jumping. You'll need to hire a guide (check on Facebook) or check directly on site. The guide will take you back to the main road where you'll walk upstream. From the top of the first waterfall, you'll start jumping through 7 falls until you reach the main one (from where you entered).
Alternatively, you can rent a kayak (you won't be able to go far), swim or just find a quiet spot and relax for a while. If the water level is low, you can walk along the river for a while.
There you'll find cheap restaurants and some shops. You can easily catch a Vencedor bus from Ciudad Valles and ask to be dropped off at the village entrance or at the stairs to the fall (there are two ways in).
Entrance fee: 30 pesos – Waterfall jumping: 180 pesos
Minas Viejas Waterfall – El Naranjo

It's worth planing to spend a couple of days in El Naranjo to explore this magical place. Minas Viejas is one of its highlights. If you don't have time to stay for the night, you can easily take a tour from Cuidad Valles or Xilitla.
Entrance fee: 30 pesos – There's a restaurant there and a camping area.
El Meco Waterfall – El Naranjo

Another incredible waterfall to visit in El Naranjo, on top of the waterfall there's a mirador where you'll get an amazing view and can eat something at the restaurant there.
Puente de Dios (God's Bridge) – Tamasopo

Tamasopo, located between Rio Verde and Cuidad Valles, is a must-see in the Huasteca Potosina. The place is just stunning. After a short trek (mostly stairs), you'll end up at a viewpoint where you see the fall and the bridge. You can get down and swim in the river. Don't miss the cave under the second waterfall.
Life jackets are mandatory, you can rent one at the viewpoint, they also can keep your stuff but there's not always someone from the staff there, so anyone can take your stuff. Down at the river, there are big rocks where you can lay down and leave your bags.
Without a car, it's a 45 minutes walk from town, you can also hitchhike. The entrance fee is 40 pesos. Be careful there's another Puente de Dios nearby so don't confuse the two.
Tamasopo Waterfall

Tamasopo is another emblematic place of the Huasteca Potosina. As always, the scenery is amazing and the color of the water, incredible. The fall is easy to reach and you'll find restaurants, shops, and places to change nearby,
The entrance fee is 50 pesos.
El Trampolin – Tamasopo

El Trampolin is not on most people's radar, you can take a shared taxi to reach it. It's also a beautiful place where you can swim in the river and enjoy the small waterfalls. There's a lot of green areas to relax for a while.
Charco Azul Lake – Rio Verde

This a secret spot I'm sharing with you, only locals know about this. This small lake, surrounded by nature, is literary in the middle of nowhere. Once more, the colors are spectacular and you might have the place all to yourself if you go during the week.
You'll need a car to reach the lake. Just type "Charco Azul Lago" on Google Maps.
Media Luna – Rio Verde

The Media Luna (Half Moon) is another famous tourist spot in the Huasteca Potosina. It's a huge lake, with small rivers all over. It can be crowded at times but you can easily manage to find a quiet spot. Without a car, you'll need to hitchhike or hire a cab. Once there, you'll find everything you need (food, drinks, restrooms…).
Even if it's privately owned, it kept a wild touch. You'll find plenty of trees to hide under if the sun is too hot. You can also camp there if you want to.
The entrance fee is 40 pesos. Closed on Tuesdays during the low season.
San Luis Potosi/Huasteca Potosina Itineraries
To get to San Luis Potosi and the Huasteca Potosina, you can fly to the city of San Luis Potosi or to Queretaro. From Queretaro, take a bus to Xilitla. If you start from San Luis Potosi, you can follow the same itineraries the other way around.
I really recommend renting a car, especially if you don't have much time or don't have the budget to book a tour every time.
Before or after visiting the Huasteca Potosina, you can include a tour to the Sierra Gorda in Queretaro. Just as magnificent, the Sierra Gorda is a beautiful place to visit.
3-day itinerary in the Huasteca Potosina
Starting in Xilitla, take a day to visit Edward James Garden and the Comales Waterfalls. They're right next to each other, you can walk from the city center, take a cab, or stay at Casa Caracol. Casa Caracol is an eco-friendly hotel build in the same style as the garden. Even if you don't stay there, you should have a look at it. On the same day, you should have time to visit the Leonara Carrington Museum. Nearby, you can check out the market and the church.
On the next day, take a tour (or drive if you have a car) to the Sotano de Las Golondrinas and Tamul Waterfall.
If you're on a budget, you can spend the night before in Aquismon (you can take a van from Xilitla), try to find people going to the Sotano the next day or wake up early and hitchhike. Almost all the people at the Sotano will be going to Tamul Waterfall next so you can easily catch a ride. There are also vans from Aquismon going to Tamul but not that many, Alternatively, you can go to Aquismon in the afternoon, hitchhike to the Sotano, camp there, and head to Tamul the next day.
On your third day, take a tour (or drive) to the Puente de Dios, Tamasopo Waterfall, and Micos Waterfall.
If you want to visit these places independently, you'll need two days, I would advise going to Micos first, you'll have to change bus in Cuidad Valle, spending the day there. Maybe spend the night in Cuidad Valle. And the next day, head to Tamasopo and also spending a night there.

5-day Itinerary in the Huasteca Potosina
If you have more time, head to Rio Verde on the 4th day to visit the Media Luna. Spend the night there if you travel via public transportation or head to San Luis Potosi City. Spend your last day touring the city.
7-day Itinerary in the Huasteca Potosina
If you have more time and feeling a bit adventurous, you can add El Naranjo to your itinerary. After the third day in Tamasopo and Micos, head to El Naranjo and spend two days there. A great place to stay near El Naranjo is Bel Ha Ecoparque, surrounded by nature and wilderness and right next to Minas Viejas Waterfall.

Advice – What to pack
Get a waterproof camera or at least a waterproof case for your phone
Invest in water shoes, you'll absolutely need them in some places where flip flop or walking barefooted is not an option
Many places require you to wear a life jacket, you'll have to rent one every time or buy one. Some places are more lenient than others, if you tell them you can swim it should be fine.
If it has been raining a lot in the last couple of days make sure the places you want to go to are open.
Outside of the cities, many places don't have signal.
During weekends and public holidays, some places get extremely crowded, try to go during the week.
Many of the places listed above are not serviced all the way by public transportation if you don't want to book a tour or rent a car, don't hesitate to hitchhike.
If you're traveling by bus, check out BlablaCar, a carpooling app, look for Facebook groups as well. Locals use it a lot there, it's half the price of the bus and goes way faster.
Vencedor is the cheapest bus company there, it's also the least comfortable and the least reliable, their buses are always late.
Keep in mind that depending on rainfalls, the places can look totally different from the pictures. During the dry season, the falls won't be as big and during the raining season, the water might not be as blue.
Related articles to help you plan your trip to Mexico:
Like it? Save it for later: