Things to do in Queretaro – Historic center + Day trips + Itinerary
Last Updated on November 10, 2022
Santiago de Queretaro is one of the best travel destinations in Mexico. Its historic center is stunning, with its paved streets and impressive colonial buildings, there's a lot see. Queretaro State and its cute villages are also worth exploring and taking day trips to. Sparkled with vineyards and Pueblos Magicos, there are a lot of places to visit and things to do in Queretaro.

Disclaimer: This post contains affiliate links, which means that if you click on any links and make a purchase, I'll get a small commission, at no cost to you.
Places to visit and things to do in Queretaro
Queretaro Historic Center is a UNESCO World Heritage Site and a place rich in history. You should definitely join a walking tour or take one of the touristic buses to learn about the city's past and all the legends that surround it. You should also just walk around and get lost in the city's historic streets. Don't miss the many squares and sculptures.
The Aqueduct

The aqueduct in Queretaro is one of the biggest and best-preserved aqueducts in Mexico. It was build in the 18th century by the Marqués Del Villa Del Aguila. According to the local legend, the Marques fell in love with Clarissa, a nun. Clarissa would hear nothing and told him to prove his love to her. He then proceeded to build the aqueduct, providing water to the entire city. No one knows if she finally gave in to his love.
To get a nice view of the aqueduct and most of the historic center, head to the Mirador (near the Pantheon of Illustrious Queretanos, also worth a look).
Historical houses and buildings

There are several houses, that have been turned into museums, you can visit. Others are now official buildings, but you can usually enter them and take a look around the patio.
Among the houses you can visit, are the Casa de Ecala, Casa de la Corregidora, Casa de Los Cinco Patios, Casa de la Zacatecas, Casa de Don Bartolo. Most of the houses are surrounded by legends and history, in most of them, you'll find explanations in English.
Also, have a look at the Teatro de la Republica, the city's first theater, built in the 19th century.
Museums

Queretaro is full of museums, among them, you should visit the Art Museum (Museo de Arte) set in a stunning traditional building. There you'll find mostly contemporary art, they change exhibit frequently. Even if you don't like contemporary art, the museum is worth visiting only to see the edifice.
You can also visit the Queretaro Regional Museum where you'll find the entire history of the state, from prehispanic artifacts to religious art and documents from the independence. The building is also worth visiting in itself.
Churches

There are a lot of churches to visit in Queretaro's historic center. Here are the major ones:
Santa Roso de Viterbo (don't miss the wooden sculptures depicting the Last Supper)
Templo La Cruz (famous for its tree, they make crosses with the spikes from it)
Temple de San Fransisco (the oldest one)
Queretaro Cathedral
Noche de Leyendas (Legends Night)
Joining a Noche de Leyendas tour is a great way to learn more about the city's history, if you speak Spanish. They take you around the historical center, telling you about the story of some of the buildings and the people that lived there before. They also have actors, acting some of the stories. Several companies offer the tour, unfortunately, none do it in English.
Cerro de las Campanas
One of the city's most iconic spots, this park, and more precisely this hill, is famous because it's where Mexico's last Emperor, Maximilian of Habsburg, was executed.
Day trips: what to do around Queretaro
Peña de Bernal

Peña de Bernal is home to the third-largest monolith in the world. The sight is spectacular. You can walk until about mid-way, if you want to reach the top, you'll need to climb. You can contact Exxi Mexico to organize the climb or book a tour online.
The village is also worth a look, it's not necessary to do the trek (I didn't), the best part is seeing this huge rock rather than the view you get from it. Peña de Bernal is a Pueblo Magico and is definitely worth a stroll. Most of its streets are pedestrian and are filled with handicraft shops.
There you can have a look at the San Sebastian Church, the Castillo, and the Mask Museum (Museo de la Mascara).

Chapulines, a type of cricket, is a local delicacy here. People usually eat them grilled, like a snack, but you can also find them in tacos or other Mexican dishes. Another local delicacy you can try is the Nopal en Penca (~stuffed cactus), or the gorditas.
If you take a day trip to Bernal, you can also visit Tequisquiapan on the same day.
Tequisquiapan

Tesquisquipan, Tequis in short, is a charming Pueblo Magico (Magic Town) not far from Queretaro. Strolling through its paved street, checking the local craft market and sampling some local delicacies is the best way to spend a day there. The weekends are pretty busy, with many people from the city coming as a day trip to enjoy their time off.
Here are some of the things you can do in Tequisquiapan:
Visit the main square (Plaza Miguel Hidalgo) with its church and colonial buildings;
Visit the Cheese and Wine Museum, and sample some of it. Queretaro State is known for producing wine and cheese (a paradise for me), you'll see wine cellars and cheese shops in every corner. They usually let you try some. If you're there at the end of May/beginning of June, you can join the famous Wine and Cheese National Festival;
Museo Mexico Me Encanta: a small museum depicting Mexican life through small figurines;
Take a stroll in La Pila Park and see its ancient aqueduct
Stand in the center of Mexico, depending on how you calculate it, Tesquiquipan can be in the center of Mexico, they built a sculpture at the exact point (Monumento Al Centro Geografico);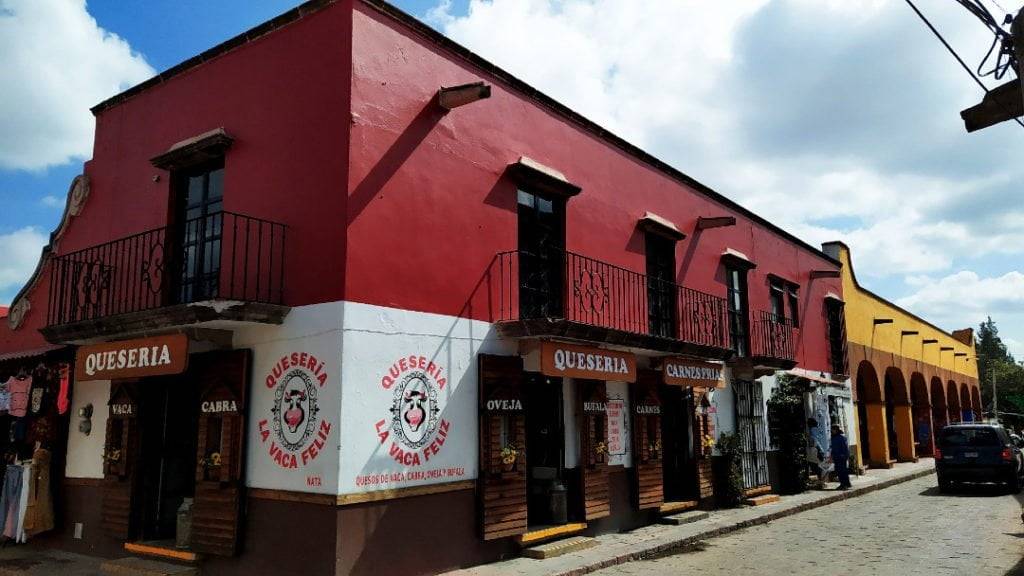 If you came by car (you can also take a cab), you can go to the nearby Opalò Mine. The Mina de Opalò is an open-air opal mine. It's still in use today, and you can visit the mine and the workshop.
There's a company (Vuela en Globo) offering hot-air balloon rides over the area from Tequisquipan. Flying over the region, you'll get stunning views of the vineyards, and Peña de Bernal.
Another great experience is trying a Temazcal. Temazcales are medicinal sauna from the prehispanic era. In Tequisquiapan, you can go to Tres Marias. They also give massages and spa treatments.
What to eat in Tequisquiapan: apart from cheese and wine, you can try mole with turkey meat (mole de guajolote), barbacoa, or porc (carnitas de puerco) with gorditas martajadas or beef chicharron.
Day trip to the Art, Wine and Cheese route

As I said, Queretaro State is known for its wine and cheese. You can visit most of the vineyards and some of the cheese factories. If you don't have a car, go through a tour or hire a cab for the day. For cheese, you can go to the Bocanegra Cava de Quesos, they organize a guided tour every day from 10 AM to 4 PM (one tour every hour) for 110 pesos.
There are around 20 vineyards you can visit, I went to San Juanito Vitivinicola, known to make one of the best wine in the region (it was good). You can ask for the map of the route in Tequisquipan in any place selling tours.
Nearby, there are two other Pueblos Magicos you can visit and include in your day trip: San Joaquin and Cadereyta. Both cute and worth visiting, strolling around the villages.
San Miguel de Allende

San Miguel de Allende is one of the most popular travel destinations in Mexico. It's also a Pueblo Magico, but bigger than average. It's more of a small city than a village. It's also a mecca for rich American expats, so everything tends to be overpriced there. You'll find a lot of small shops selling expensive decorations stuff and artsy furniture.
San Miguel de Allende is a great place to spend a couple of days. There are a lot of cultural activities and places to visit. The city is gorgeous, with paved streets and colorful houses.
You can visit San Miguel de Allende as a day trip from Queretaro but I would advise spending at least a night, to fully enjoy the city.
Where to stay in Queretaro
Queretaro being an important city, you'll find a lot of chain/standardized hotels, here are a few options if you want something more authentic:
Septimo Hostal: Great budget option, they have dorms and rooms (all with private bathrooms), the decoration is tasteful and everything looks brand-new. Convenient location, near the historical center. 15US for a bed in the dorm and 35US for a private room.
Markee Hotel Boutique: spacious rooms in a traditional colonial house, right in the heart of the historic center, beautiful patio and decoration, mixing modernity and the building's original features. Around 45US a night.
Meson de Santa Rosa Luxury Hotel: old colonial house turned into a luxury hotel, spacious rooms, great service and amenities, restaurant, outdoor pool, perfect location. Rooms start at 200US a night.

Queretaro itinerary
The best would be to stay at least three days, so you have two days to visit Queretaro City and on the third day, you can visit: Bernal, Tequis and a vineyard, and eventually San Joaquin and Cadereyta. This only works if you rent a car. If not, you can reach everything with public transportation, but then count two days. Several tour agencies organize day trips to Bernal, Tequis and the wine and cheese route from Queretaro.
If you only have two days, then just spend only one day visiting Queretaro, and do a day trip to the Pueblos Magicos the next day.
If you like the outdoor and have a few more days to spare, you should definitely visit the Sierra Gorda and the Huasteca Potosina, trust me, you won't see many places like this in the world. The scenery is spectacular.
Related articles to help you plan your trip to Mexico:
Like it? Save it for later: