Southeast Asia most stunning beaches to add to your bucket list
Last Updated on September 4, 2022
Southeast Asia is home to some of the most beautiful beaches in the world. With thousands of options, it might be hard to choose. To help you, here is a great list of 35 of the best beaches in Southeast Asia, country by country. Ready to add to your bucket list?
Myanmar Beaches
Ngapali Beach

Ngapali Beach, on the west coast, is one of the most popular beaches in Myanmar. White sanded and laid back, this beach is the best place to spend a couple of days, go snorkeling, gorge on seafood and party.
Mergui Archipelago

The remote Mergui Archipelago is famous for its white-sanded beaches and crystal clear water. This archipelago is a good option if you want to go off-the-beaten-path in Myanmar. There, you'll easily have the beach all to yourself, and if you're lucky you might spot some wild monkeys. If you can, try to be there during the Salone festival in February.
Thailand Beaches
Railay Beach, Krabi

A trip to Southern Thailand is not complete without a visit to the famous Railey Beach near Krabi. White sand and crystal-clear water await for a great day at the beach. The place is pretty busy but you can easily find a quiet spot. You can also join one of the many activities offered in the area.
Related article – 3-day ultimate itinerary in Krabi
Koh Phi Phi

Koh Phi Phi is a famous party destination in Thailand. This small island is home to many beautiful beaches and offers spectacular island-hopping opportunities Walking a farther away from the main town, you can easily find a quiet spot on the beach.
Koh Lipe

Koh Lipe is a quiet and laid back island near Thailand's western coast. Miles away from the party vibe that most Thai islands have, Koh Lipe is the perfect place if you're looking for some peace and quiet. The island is surrounded by beautiful beaches and you can also join an island hopping tour to visit some of the nearby deserted islands.
Sai Nuuan Beach, Koh Tao

Koh Tao is home to some of the best diving spots in the world. Non-diver will appreciate the deserted beaches during the day and the low-key party vibe at night. Sai Nuuan Beach is one of the best beaches in Koh Tao, boarded by palm tree and crystal-clear water, it's the perfect place to chill for a few hours (or days).
Ban Tai Beach, Koh Samui

Koh Samui is a relatively big and developed island where you can party, enjoy the beach and visit Buddhist temples. There are tons of things to do in Koh Samui and one of them is taking a trip to the beautiful and quiet Ban Tai Beach.
Related article – Ultimate 10-day itinerary in Thailand
Malaysia
Tioman Island

Tioman offers picture-perfect beaches and spectacular reefs. Covered by rainforest and surrounded by beautiful beaches, Tioman if the perfect place for diving and spending time at the beach in natural and remote settings.
Monkey Beach, Penang

Monkey Beach, located in Penang National Park, is a drop-dead gorgeous beach, only accessible after trekking for about an hour. There, coconut trees and monkeys await, a few stands here and there offer drinks and local food. You can enjoy the beach for a while and then trek to the lighthouse, from there the view is breath-taking.
Tanjung Rhu Beach, Langkawi

Langkawi, famous for its many waterfalls and pristine beaches, is a small island off of Malaysia west coast. One of its most beautiful beaches is Tanjung Rhu. Boarded by dense vegetation, it's the perfect place to get away from it all.
Perhentian Islands

The Perhentian Islands are a small paradise on Earth. There, no roads or cars, only a couple of houses and hotels on the beach. It's a great place to relax at the beach for a couple of days and unwind. You also can go snorkeling and island hopping to discover more of these gorgeous islands.
Tun Sakaran Marine Park

Tun Sakaran Marine Park features some of Borneo's most stunning beaches. Getting there is not easy but it's worth the trouble. Many virgin islands are sparkled across this marine park famous for its world-renown diving spots. Even if you don't dive, the snorkeling is amazing and the beaches stunning.
Indonesia
Derawan Archipelago, Kalimantan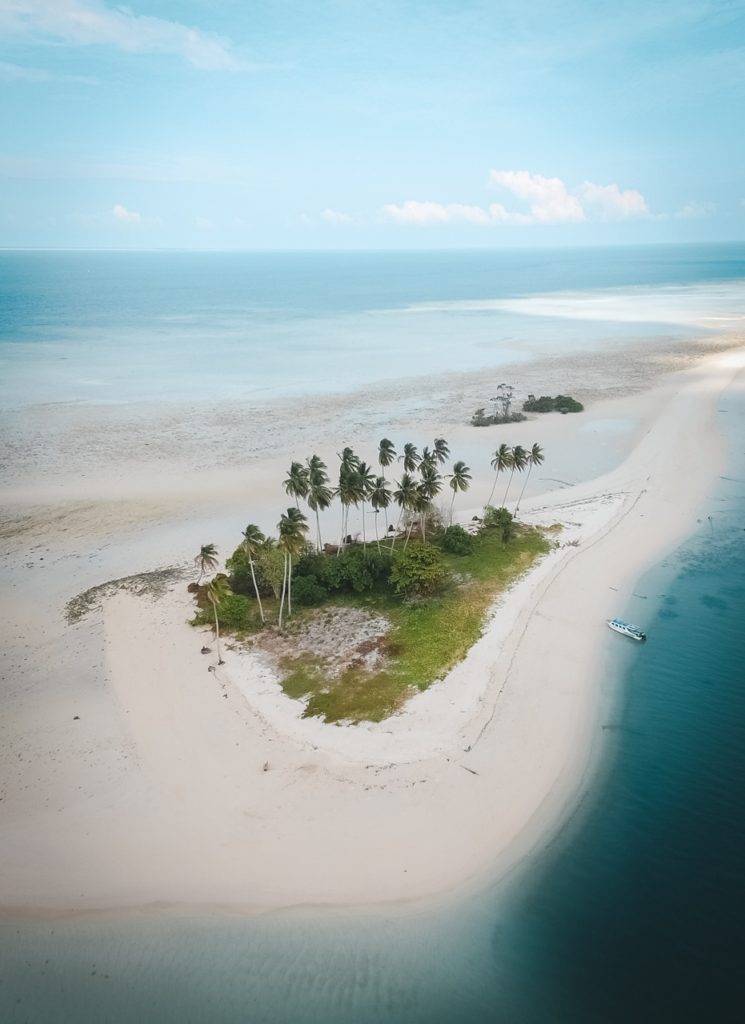 The hard-to-reach Maratua Island, off of Kalimantan's East coast, is worth all the trouble. The island is part of the Darawan Archipelago, there are tons of things to do while there, especially island hopping and enjoying virgin beaches. The archipelago is also filled with famous diving spots and the snorkeling is just unique.
Related article – 8 adventures of a lifetime in Kalimantan
Tanjung Karang Beach, Sulawesi

Tanjung Karang Beach is a hidden paradise near Palu in Sulawesi. The beach, mostly frequented by locals, is stunning. During the day you might find yourself alone there. There's also great diving spots nearby and you can snorkel off the beach. There are a few accommodation options or you can just take a day trip from Palu.
Togian Islands, Sulawesi

Not many tourists make it to Sulawesi and even less to the beautiful Togian Islands. The islands mostly live from tourism so you'll find everything well adapted to tourism yet it's uncrowded. The island has kept a wild touch and you can easily find deserted beaches.
Related article – Best things to do in Sulawesi & Itinerary
Coca Beach, Flores

Flores, a volcanic island, is known for its rugged landscape, stunning scenery, and beautiful beaches. In Coca Beach, you can enjoy sipping on a coconut while enjoying the breath-taking view over the sea and the nearby mountains.
Komodo National Park, Flores

Komodo National Park is a world-famous diving hotspot. Located at the western tip of Flores, the National Park is home to dozens of islands and islets, some of them home to luxurious resorts. You can join a live board to discover Komodo, snorkel or dive, and visit the dangerous komodo dragons. You can also go on day trips and spend the day laying on a picture-perfect beach.
Kuta, Lombok

Kuta is a majestic beach in Southern Lombok. It's a perfect spot for surfers but also for swimmers as there are quieter spots. The backpacker vibe makes it a great place to chill for a few days. You can rent a scooter and explore some of the nearby beaches like the famous Pink Beach (not always pink though).
Karimunjawa, Java

Karimunjawa, left untouched by tourism for many years, is now getting the attention it deserves. This archipelago off of Java's north coast is a true paradise on earth. Around the main island, hundreds of deserted islets await. The water is as transparent as it gets and you might never want to leave.
Timor Leste
Jaco Island

Jaco Island is a true paradise on earth. Hard to reach, adventurous travelers will be rewarded with crystal-clear water, amazing snorkeling spots, and white-sanded beaches. Jaco Island has been left untouched for the island is considered sacred by the locals. Only a short boat ride away from the mainland, Jaco could easily rank as one of the most beautiful beaches in the world.
Related article – Jaco, the beach at the end of the world
Philippines Beaches
With more than 7000 islands, the Philippines is filled with gorgeous beaches. From remote, deserted beaches to popular beach destinations, here are a few of the most beautiful beaches in the Philippines.
Bonbon Beach, Romblon

Romblon is a remote group of islands that not many travelers visit. On Romblon island, you'll find one of the Philippines' best beaches and sandbars. At low tide, you can walk on the sandbar, surrounded by crystal clear water, to the small uninhabited islet nearby. You'll probably have the beach all to yourself. Pack plenty of water and snacks, as it's truly a deserted beach.
Related article – Best beaches in Romblon + Complete Travel Guide
Canigao Island, Leyte

Mostly frequented by local tourists, Canigao Island is a hidden gem off of the coast of Leyte Island. This small island is only inhabited by the staff working at the small resort managed by the community. There, you can walk around the island, go snorkeling, enjoy the beach, and eat some fresh seafood fishermen have just caught.
Kalangaman, Leyte

Kalangaman is another hidden treasure in Leyte. The island and sandbar are perfect for a photoshoot thanks to its paradise-like views. You can do a day trip to this deserted beach or plan a camping trip.
White Beach, Boracay

Boracay is one of the Philippines' most visited island, and it's not for nothing. The beach is beautiful, especially since they closed it for months to make the island most sustainable. Boracay is a great place if you like busy destinations. There you'll find tons of activities to do, fancy restaurants, luxurious resorts, and great bars to party.
Paradise Beach, Bantayan

Bantayan is one more great island part of Cebu Province and is home to one of the most gorgeous beaches in Southeast Asia: Paradise Beach, the name says it all. This small island is perfect for backpackers and travelers, it's adapted to tourism yet not too crowded.
Related article – Bantayan Ultimate Travel Guide
Port Barton, Palawan

Port Barton, in Palawan, is the perfect place to go island hopping without the hordes of tourists you'll find in El Nido. The coast is sparkled with pristine beaches and amazing reefs, perfect to spend a few days snorkeling and relaxing at the beach.
Coron, Palawan

Coron is another island hopping paradise with hundreds of gorgeous islets, hidden lagoons, and virgin beaches awaiting.
Cambodia beaches
Koh Ta Kiev

Koh Ta Kiev is a small paradise, while it has some development, the island keeps many untouched beaches. There's a fair amount of accommodations, bars, and restaurants, but the island is far from being crowded with tourists. You can spend a few days there, unwinding at the beach or you can visit it as a day trip if you don't have much time.
Sihanoukville

Sihanoukville is a famous beach destination in Cambodia, surrounding the city are dozens of pristine beaches and small islands. You could spend a week there and you wouldn't see all the beaches nearby. From deserted and wild beaches to busy and lively beaches, you'll find something that fits the vibe you're looking for.
Koh Rong

Koh Rong is a famous destination among travelers to Cambodia and is home to some of the most beautiful beaches in Southeast Asia. The island is famous for its stunning beaches and its party vibe. Koh Rong boasts endless miles of deserted beaches, the most famous one is Long Beach, or Sok San, which is easily accessed from the town.
Vietnam Beaches
Phu Quoc

Phu Quoc, located in the Gulf of Thailand, is mostly made of dense tropical jungle, high mountains, and beautiful beaches. Among the most stunning beaches are Khem Beach, recognized as one of the most beautiful beaches in the world, and Sao Beach. Head to North Long Beach for cheap accommodations and a party vibe.
Ha Long Bay

Ha Long Bay needs no introduction. This archipelago, a UNESCO World Heritage Site, is made of hundreds of islands and islets, each one more beautiful than the next. Several beaches are worth the trip, the most popular and accessible is Bai Chay. If you have more time check out Ti Top Island or Ban Chan Beach. To fully enjoy your trip, considered joining a live board on a traditional boat.
Nha Trang

Nha Trang is a popular beach destination in Central Vietnam. From the main beach, you'll get a stunning view of the bay. There, you'll find a couple of resorts, restaurants, and bars, it gets pretty crowded, especially on weekends or at sunset. For more secluded beaches, check out nearby Hon Lon and Hon Tre.
Con Dao Islands

This stunning archipelago of 16 islands, in southern Vietnam, features breathtaking scenery and stunning beaches, some of the best beaches in Southeast Asia to be precise. Renowned for its pristine beaches, diverse marine life, and coral reefs, the Con Dao islands are all gorgeous. You'll easily find a deserted beach where you can enjoy the island's laid-back vibe.
What about you? What are your favorite beaches in Southeast Asia? Have you ever been to one of these beaches?
Like it? Save it for later – Best beaches in Southeast Asia