Top 20 Winter Vacation Spots and Destinations in the US
Last Updated on February 17, 2023
The nights are drawing in, and the temperatures are starting to plummet, which can only mean one thing – winter is on its way. Sure the season is unpredictable and cold, but this doesn't mean you have to batten down the hatches and stay indoors. It is also a perfect time to pack your suitcase for an unforgettable vacation. So here is a dose of holiday inspiration – our top 20 winter vacation spots in the United States in no particular order.
Of course, traveling is a little different this year, so before you set out on your trip, check local government restrictions and safety measures related to COVID-19.
Disclaimer: This post contains affiliate links, which means that if you click on any links and make a purchase, I'll get a small commission, at no cost to you.

1 – Be Dazzled By the Festive Lights at the San Antonio River Walk, Texas 

Stroll the network of walkways along the banks of the San Antonio River under a canopy of lights hanging from trees that border the water's edge. They're turned on each year the day after Thanksgiving and remain on from dusk to dawn daily until the night of January 2. For an extra special treat, glide under the lights on a night cruise along the river.
Don't forget to book your accommodation in advance, especially toward the holidays! Check out the best deals here >> Some of the best hotels in San Antonio include the Drury Plaza Hotel San Antonio Riverwalk, the Inn on the Riverwalk, and the Mokara Hotel and Spa. All beautiful and well located.
Related – Most Romantic Weekend Getaways in Texas
2 – Get Away From It All at Yellowstone National Park, Wyoming

Yellowstone is an astonishingly beautiful wilderness during any season but holds a unique thrall in winter when the snow and frost comes. Although some of the roads are closed, there is still lots to explore via cross-country skis or snowmobile tours.
See frozen lakes, white-dusted forests, steaming geysers, and much more. With fewer tourists at this time of year, you and your travel companions may feel like you are the only souls around.
Unique accommodation options near Yellowstone:
Wyoming Inn of Jackson Hole: a stunning hotel with a rustic feel yet providing all the comfort you need after a day of exploration;

Rustic Inn Creekside: a luxurious resort and spa, that offer top quality services in a cozy atmosphere;

Teton Mountain Lodge and Spa: with great views over the mountains, this hotel offer everything you need on site as well as an outdoor heated pool surrounded by the mountains;
3 – Jackson Hole Mountain Resort, Wyoming

Slip into salopettes, strap on your skis, and make tracks for the powder of an alpine destination with 2,500 skiable acres spread across two mountains. In addition to trails for beginners, intermediates and experts, there are approximately 3,000 acres of backcountry terrain.
Participate in other snow-based adventures, including snowshoeing, ice skating, sleigh riding, and snowmobiling.
Away from the slopes, soothe tired muscles in one of the spas. Jackson Hole Mountain Resort also features an abundance of restaurants, bars, live music venues, boutiques, and outdoor shops.
4 – Mardi Gras Celebrations, New Orleans

Let your hair down, and dance like nobody's looking at one of the biggest parties in the USA. The New Orleans Mardi Gras takes place on February 16, although the carnival season officially kicks off on January 6.
Thrill to spectacular parades, colorful floats, marching bands, and dance troupes. Tuck into world-famous cuisines and explore a wealth of attractions.
Visit Mardi Gras World to see where floats are made and browse a collection of Mardi Gras Carnival court gowns and costumes at Germaine Cazenave Wells Mardi Gras Museum. There is something for revelers of all ages.
5 – Chill Out on a Miami Beach

If your body is aching for some warmth and you want to shake off the cold air and snow, escape to a sun-kissed sandy haven in Miami. Stretch out on silky soft white sands, sip on cocktails while staring at the horizon, and cool off with a refreshing dip.
Your only dilemma will be which beach to choose from. Among the most popular are Lummus Park Beach, Sunny Isles Beach, and Fort Lauderdale Beach, picture-postcard destinations that tropical dreams are made of.
Check out the best activities to do in Miami here>> and the best accommodation options here>>
6 – Pictured Rocks National Lakeshore, Michigan

Explore a natural winter wonderland of frozen waterfalls and icicle-covered caves. During the winter, when the temperature drops, snow and ice transform the sandstone cliffs and lakeshore caves into a magical white covered fairy-tale place.
Experience the scenic beauty on the two groomed and tracked cross-country ski trails that snake their way through more than 20 miles of fields, hills and conifer forests. Trail loops range from easy to difficult, and some feature interpretive wayside exhibits covering the natural and human history of the area. Typically, the region receives approximately 140 inches of snow per year, so you're guaranteed good snow coverage.
Check out the official website to start planning your trip!
Related – Best Ski Resorts in the Northeast for families
7 – Ouray Ice Park in Ouray, Colorado 

Push yourself to the limits by ice climbing at Ouray Ice Park, one of the world's largest parks dedicated to ice climbing. Scale frozen flows that cling to the side of the scenic Uncompahgre Gorge.
Try and coincide your visit with the annual Ice Festival, which is held over three days and four nights in January and features climbing competitions, interactive climbing clinics, multimedia presentations, dance parties, and music.
At night, rest your head in the nearby picturesque mountain town of Ouray, known as "The Switzerland of America."
8 – Embrace the Outdoors and Winter Sports at Whitefish Mountain Resort, Montana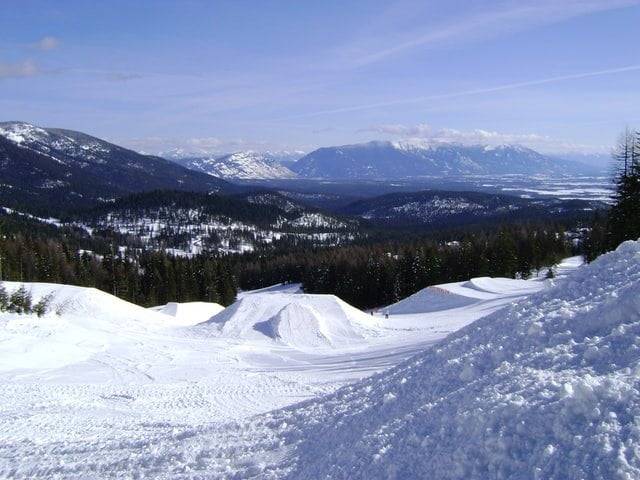 Powder hounds, adrenaline junkies, and nature lovers will not be disappointed with a vacation at Whitefish Mountain Resort.
Ski across 3,000 acres of skier and rider accessible terrain, hit jumps and slide rails at the terrain parks, and learn about local flora and fauna at the Summit Nature Center.
Extend your skiing day after sundown by skiing down floodlit slopes at night. When you can tear yourself away from your skis, venture into the town of Whitefish for its bars, coffee shops, restaurants, and boutiques.
9 – The New Year's Eve Ball Drop and Firework Show, Gatlinburg, Tennessee

Say goodbye (and possibly good riddance!) to 2020 and hello to 2021 at one of the country's largest organized New Year's Eve events. At the stroke of midnight on December 31, fireworks will shoot out from the top of the 400-foot tall Space Needle observation tower accompanied by music.
Stick around the Tennessee town for a winter break filled with lots of activities. Pick up unique gifts at the Great Smoky Christmas Arts and Crafts Show and enjoy the Fantasy of Lights Christmas Parade's colorful spectacle.
10 – Bavarian Ice Fest, Leavenworth, Washington

Every January, the Bavarian-style village of Leavenworth says a big "I heart winter" with its Bavarian Ice Fest, a chilly spectacle for all the family. Wander through streets festooned with hundreds of thousands of twinkling lights, marvel at the spectacular snow sculptures, watch live ice carving, and participate in games. Among them are Ice Cube Scramble, Frisbee Sweep, and snowball tossing.
The frosty festivities occur on Saturday, January 18 and Sunday, January 19, and conclude with a fireworks show.
Make sure to book your accommodation well ahead as it can be tricky to find a room last minute. If you want to splurge check out the StoryBook Riverside Inn, luxurious with a cozy atmosphere, the rooms are beautiful, the service exceptional, the view over the mountain stunning, and the location ideal.
11 – It's Party Time at Saint Paul Winter Carnival, St. Paul, Minnesota 

With snow-filled activities, parades, ice sculptures, live entertainment, and more, Saint Paul Winter Carnival is a fun-packed winter extravaganza for all the family. The annual celebration is now in its 135th year and is held from January 28 until February 7, 2021.
Most events are free and undoubted highlights will be the Saint Paul scavenger hunt, the drive-thru ice and snow sculpture park, the winter carnival music series, and the frozen family fun night. This all-ages event includes family-friendly activities, a bonfire, and visits by snow princesses.
12 – Hot Springs, New Mexico

Beat off the winter chill by soaking in New Mexico's hot springs. Thanks to geothermal activity, the southwestern state is a hot spot for blissful relaxation in a variety of natural and cultivated hot springs.
Hike through woods to reach San Antonio Hot Springs, a series of rock-walled pools in the mountains. Travel to the Montezuma Hot Springs, located six miles northwest of Las Vegas, and surrender your body to soaking pools ranging from warm to very hot. If you prefer a pampered spa-like experience, consider resorts such as Ojo Caliente and the hot spring spas of the village of Jemez Springs.
13 – Poconos Indoor Waterpark, Pennsylvania
It may be cold outside, but the temperatures are positively tropical at the Poconos Indoor Waterpark, where it's summer year-round. Hurtle down water slides, catch the waves of the surfing simulator, ride in a fully enclosed aqua tube, chill out in a warm lagoon, and let the young ones splash around in the kiddie pools all under a transparent roof. Take advantage of an array of poolside amenities such as swim-up bars, poolside shops, and cabanas.
Related – Best family-friendly Spring Break destinations
14 – Horsetail Falls, Yosemite National Park 

Lovers of the joys and wonder of nature are in for a treat at this seasonal winter and spring waterfall. When the light is just right, the tumbling water appears to be on fire and resembles lava flowing down the side of a volcano. This special light effect can be seen for about two weeks in February and is created when the small waterfall is backlit by sunset. It only occurs during evenings with a clear sky.
15 – See the Northern Lights in Alaska

We all love Christmas lights illuminating homes and shops, but one of the best light shows comes courtesy of nature. Travel to Alaska and point your eyes skywards to see the bright dancing lights of the aurora borealis or northern lights.
Chase the phenomenon while onboard the Aurora Winter Train, which travels through the Alaskan backcountry. Week-long vacation packages are available that include plenty of viewing opportunities and overnight stops.
16 – Festive Frivolities in New York 

During the festive season, the Big Apple is as Christmassy as Santa's red and white suit and Rudolph's nose. Major city attractions are transformed with a ho-ho-holiday makeover.
There are Christmas markets, oversized light installations, ice rinks, large Christmas trees, and much more. Among the many highlights are the endless shopping opportunities, the Rockefeller Christmas Tree, Bryant Park Winter Village, the LED light projections on Saks Fifth Avenue's ten-story façade, and ice skating in Central Park.
Check out the best things to do in New York during the holidays.
17 – Wine Tasting in Napa and Sonoma Valleys 

While you can go wine tasting in Napa and Sonoma at any time of the year, winter is extra special because it is yellow mustard season. The vineyards and valleys are carpeted with vivid yellow blooms of wild mustard flowers. Whether growing wild or cultivated by vineyard managers, your eyes are in for a feast.
The seemingly endless fields of mustard blossoms make a spectacular backdrop to your wine tasting adventures. If you're feeling energetic, get closer to the plants on a hike through meadows and nature parks or with self-guided vineyard walks.
18 – Backpacking Through the Sonoran Desert, Phoenix

Embark on a desert adventure with a backpacking trip through the Sonoran Desert. Weather wise, it's perfect. The day temperatures are warm, and the sunsets and sunrises are spectacular. Sure the temperature dips at night, but you can keep the cold at bay with a cozy, crackling fire.
Take your pick of the trails, from the remote wilderness of the Estrella Mountain range to the varying terrain of higher desert regions. Try and spot some of the local fauna, including mule deer and cottontail rabbits.
19 – Swooping Down the Slopes of Big Sky, Montana

Feel the rush of adrenaline as you carve through snow while the cold air nips at your nose at Big Sky Resort. This year-round Rocky Mountains destination encompasses 5,850 skiable acres across 300 named runs on four connected mountains. More than 2,300 of those acres are for beginners and intermediates.
If you want to practice, develop, or show off your freestyle skills, stop by one of the terrain parks. Seven are scattered throughout the resort, and all experience levels are catered for. Enjoy other activities, including guided half-day or full-day ski treks through the mountains.
20 – Hiking in Crater Lake National Park, Oregon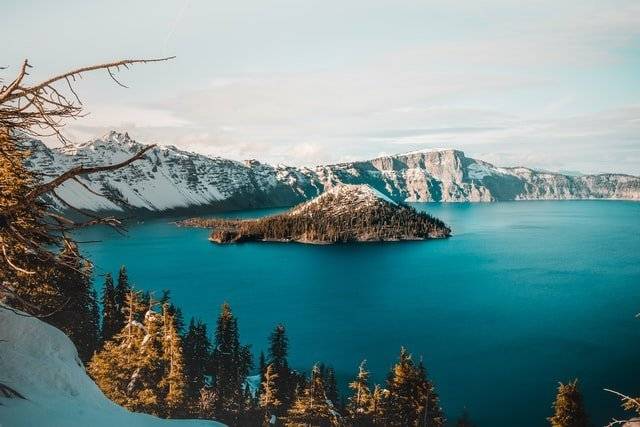 The deepest lake in the United States and one of the deepest in the world is a great place to visit at any time of year. But during the winter, it is a stunning snow-covered playground ripe for exploration.
Embark on ranger-guided snowshoe walks through forests and meadows along the rim of the lake, during which you will learn how the local flora and fauna survive the chilly conditions. No previous snowshoe experience is required. Self-guided activities at Crater Lake National Park include snowboarding and skiing along miles of marked and unmarked trails.
Check out some of our other USA Travel Guides:
Or winter vacation travel guides:
Like it? Share it on social media and save it for later:


About the author:
Paul Arnold is a former BBC producer turned freelance writer who loves to travel and explore the hidden and not so hidden corners of the world. From his home in Andalusia, southern Spain, he writes and ghostwrites articles, books, and websites for clients in numerous countries.