15 Best Arizona Winter Vacation Spots
Last Updated on July 14, 2023
Planning a trip to Arizona during the colder months? I've got the best winter vacation spots in Arizona for you to help plan your trip!
From stunning desert vistas to snow-capped mountains to wine regions, Arizona offers a plethora of winter getaways that can cater to any traveler. 
You'll be surprised by how many ski resorts there are to choose from in this state known for heat, cacti, and year-round sunshine.
Whether you're craving warmth or looking to enjoy traditional winter activities such as snowboarding or skiing; you'll find it all in Arizona!
HELPFUL WEBSITES TO HELP YOU PLAN YOUR TRIP
HELPFUL WEBSITES TO HELP YOU PLAN YOUR TRIP
Disclaimer: This post contains affiliate links, which means that if you click on any links and make a purchase, we'll get a small commission, at no cost to you.
Flagstaff
If you're craving a real winter escape in Arizona, head to Flagstaff in Northern Arizona to find the snow! Flagstaff is 7,000 feet above sea level and actually sees an average of over 100 inches of snow per year.
Drive just 2 hours North of Phoenix to Flagstaff to ski or snowboard at the Arizona Snowbowl. 
The ski season here typically lasts from November to April, with the most reliable snowpack in the months of February and March.
There are also high-elevation trails at the Snowbowl that you can snowshoe on to enjoy some more solitude you won't get on the busy ski lifts.
There's fun for the whole family at the Flagstaff Snow Park where you can go snow tubing. 
And the Arizona Nordic Village, also located in Flagstaff, has cross-country skiing and snowshoeing trails, as well as fat biking. 
Warm up in Flagstaff at a local coffee shop or at one of the town's many breweries. And you've gotta try a Navajo fry bread taco while you're in Flagstaff. I make it my mission every time I visit Northern Arizona to get fry bread in some way, whether in a taco or as a sweet bread. 
It's so good and something you can't get in many other places! I tried the restaurant Hankerin' most recently and their fry bread was delicious.
Sedona
Sedona makes for the perfect winter vacation spot in Arizona, with the likelihood of comfortable temperatures but also the chance to see snow on the red rocks! 
Winter is my personal favorite time to go to Sedona since it is usually so crowded at other times of the year. I went to Sedona in January one year and found the crowds had thinned out a lot and finding parking for hiking trails was much more doable.
January and February will see highs of 60-64°F, which is perfect hiking weather. Some of the most popular trails in Sedona are Devil's Bridge, Cathedral Rock, Seven Sacred Pools, Bell Rock, and Boynton Canyon. 
If you're craving a hike a little more off the beaten path, consider hiking to the Merry Go Round Rock, scrambling up the Keyhole Cave, or doing the challenging climb up Bear Mountain. 
Looking to be outdoors but not go on a hike? There are still plenty of options for you. Go on a hot air balloon ride over the red rocks of Sedona at sunrise, or get a thrill on a Pink Jeep tour to go off-roading. Both are unique ways to see this desert paradise.
Grand Canyon National Park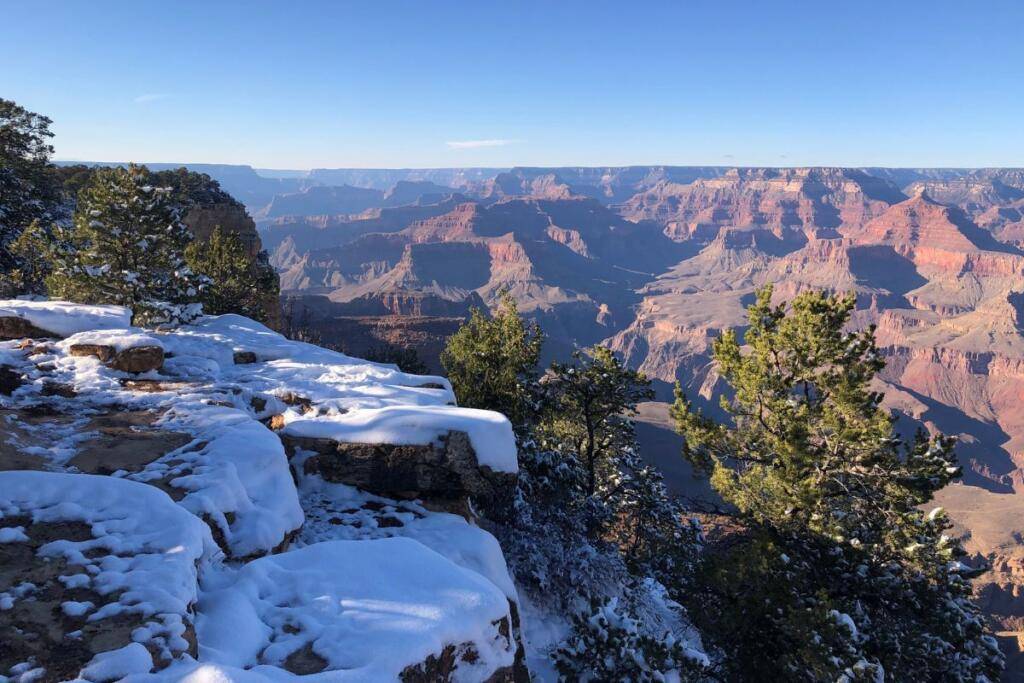 Going to the Grand Canyon in the winter can make for an epic trip, but be prepared for winter conditions. Since the rim of the canyon sits at a high elevation, you're likely to encounter snow and ice on hiking trails.
Also note that only the South Rim of the Grand Canyon is open during the winter months and the North Rim is closed.
Scenic drives, overlooks, and trails will be less crowded for those willing to bundle up in the cold.
Booking a room to stay on the rim is much easier during this time as well, which is an amazing experience. Being able to walk straight from the hotel room and watch the sunrise over the Grand Canyon is an experience I won't forget!
Stay up to date with the National Park Service before going in the winter for any road or trail closure information. If you plan to hike, wear plenty of layers and carry crampons in case you encounter ice. 
Page
Although I always readily suggest the destination of Page in the summer, winter can also be a great time to visit. You won't have warm summer activities like boating on Lake Powell or kayaking down the Colorado River, but there are still plenty of things to do!
Hike to the famous Horseshoe Bend overlook. This is another usually popular place that you'll be able to enjoy with fewer people. 
My favorite time to hike this trail is at sunrise. You'll encounter fewer crowds and you get to see the sky turn pretty colors. The hike is just 1.5 miles round trip with 135 feet of elevation gain. There is a fee of 10$ per vehicle to park and hike here.
No visit to Page is complete without a tour of Antelope Canyon. This long and stunning slot canyon is on Navajo land so you must visit with a native guide. 
You have a few options including Lower Antelope Canyon, Upper Antelope Canyon, and Canyon X. Lower Antelope Canyon is considered one of the best options since the tours run single file, unlike the Upper portion. Canyon X is a great option for those looking for something off the beaten path since it isn't as popular.
Speaking of hidden gems, Alstrom Point just over the border into Utah is one of the best viewpoints in the Southwest. You do have to have a 4×4 high-clearance vehicle to get out there, but the view over Lake Powell is spectacular. 
Greer
Greer, Arizona is located 4 hours East of Phoenix. This quaint mountain town sits at 8500' above sea level in the White Mountains of Arizona. Greer is typically under a blanket of snow during the months of November- March. 
Visit Sunrise Ski Park and Greer Lodge for skiing, snowboarding, tubing, and sledding. Yup- Flagstaff isn't the only place in Arizona where you can partake in winter sports in Arizona!
Greer Lodge also has cabins to rent in the winter, with bonfires, cable TV and wifi, and board games onsite to keep you and your family occupied when not outdoors. 
Head to the Rendezvous Diner for generous portions for breakfast and lunch, and don't forget to try their cobbler! 
Prescott
If you're planning a trip around Christmas time and wondering what the best winter spot is in Arizona- look no further than Prescott.
Prescott is located just under 2 hours from Phoenix. It makes for the perfect weekend trip, or as a pit stop on your way up to Sedona or Flagstaff!
The town decks out Whiskey Row and Courthouse Plaza with beautiful Christmas lights and decorations. This area is so charming, you'll just want to bundle up with a cup of hot cocoa and wander around the festive lights.
Prescott also has craft fairs, parades, light displays, and more- all happening during the month of December.
While you're in town, also check out Watson Lake. During the warmer months, this lake makes for a great paddling and kayaking spot. But during the winter it is also beautiful to walk up to and enjoy. Maybe if you're lucky you'll see the dells surrounding the lake dusted with snow!
Jerome
Jerome is somewhat of a lost and rediscovered town and perfect to add to your list of winter destinations in Arizona.
The town used to be a booming mining town until the copper mine closed in the 1950s. Now it is touted as a historic ghost town, with visitors and locals sharing ghost stories and the theme can be seen throughout the town.
Visit the Gold King Mine & Ghost Town, a funky stop that will make you feel right in the Old West. 
And walk past Jerome's old Sliding Jail. This jail interestingly used to be 200 feet uphill before years of mining underground forced it to slide downhill.
Book a night at the extremely charming and unique Surgeon's House Bed and Breakfast, listed on the National Historic Registry. And eat at the Haunted Hamburger, a well-known local eatery with sweeping views of the valley below.
Cottonwood
Cottonwood, Arizona, located just about 30 minutes from Sedona, is in the heart of the Verde Valley wine region. This is the perfect winter getaway in Arizona if you're looking for a weekend in wine country. 
There are only 3 wine regions in Arizona, and Verde Valley is the only one located in Northern Arizona.
Some of the best wineries in Verde Valley are: Pillsbury Wine Company, Arizona Stronghold Vineyards, Burning Tree Cellars, and Carlson Creek Winery.
Visit Historic Old Town Cottonwood while you're here as well for art galleries, antique shops, and great restaurants. 
Phoenix
The winter months are perfect for visiting Phoenix, especially if you're a hiker. While summer temperatures can average well over 100°F, the winter months see comfortable high temps of 68-72°F.
Some of the best hikes in Phoenix are to the Wave Cave, Piestawa Peak, Pinnacle Peak, and Tom's Thumb. 
And head to the Lost Dutchman State Park to watch the sunset over the Superstition Mountains, it is really stunning!
The Desert Botanical Garden spans over 100 acres in Phoenix and features many different plant species that can be seen year-round. 
Saguaro Lake is about a 30-minute drive from downtown Phoenix and a spot mainly only locals know about. During the winter you can take an 80-minute narrated cruise on the lake with Desert Belle Cruises. They also offer live music and craft beer or wine nights during the months of October- June for a fun night out!
If you're looking for a unique stay connected to nature, consider booking a night at the nearby Saguaro Lake Ranch. The property and surrounding mountains are jaw-dropping, and they serve a great home-cooked breakfast every morning! I stayed here for the first time for a few nights this year and had the most incredible time.
Tucson
Head further South from Phoenix to the city of Tucson. The drive will take you about 2 hours one way. Soak up the sun and warmth on a hiking trail, golfing, and eating at one of the local restaurants.
Tucson is actually a UNESCO City of Gastronomy because of the Mexican and Native American traditions that date back 1000s of years. So if you're looking for a foodie spot, Tucson has got you covered. Check out Tumerico for some of the best vegan tamales in town.
Some of the best hikes around Tuscon include the trail to Seven Falls in Sabino Canyon, Tumamoc Hill, and Blackett's Ridge. 
If you're in Tuscon in the month of December, there is an annual Winterhaven Festival of Lights that also supports a local food bank to give back to the community. The Festival of Lights supports green energy and features enough lights to be able to take a 40-minute driving tour of the property!
There is also the annual Gem and Mineral Show every February which is the largest and oldest gem and mineral show in the world!
Saguaro National Park
Go to Saguaro National Park to enjoy towering Saguaro cacti. This National Park is divided into 2 sections: East and West.
Saguaro East is more mountainous and rugged but offers a paved scenic drive that is worth doing. This part of the park also covers a larger area. 
Saguaro West is smaller but offers a greater species of cacti and plants.
In Saguaro East, drive the Cactus Forest Drive, hike the Mica trail, and walk the Desert Ecology trail. 
In Saguaro West, do the short but sweet 6-mile Bajada Loop drive to hike up to Signal Hill and see the petroglyphs, and watch the sunset from Valley View Overlook.
Organ Pipe Cactus National Monument
Organ Pipe Cactus National Monument is located a 4-hour drive Southwest of Phoenix. Winter is a fantastic time to visit this gorgeous piece of desert since it is so hot most of the year. Winter actually brings bearable temperatures for camping and hiking.
Relatively still under the radar, this UNESCO biosphere reserve will thrill cactus lovers like myself. There are over 25 different types of cacti species here. 
One of the best things you can do here is drive the Ajo Mountain Drive. Set aside a few hours for this scenic drive so you can take your time and stop for lots of pictures. There are stunning views of the Organ Pipe cactus and mountains throughout the drive.
Some of the best hiking trails in the park include the Arch Canyon trail, the Desert View trail, and the Alamo Canyon trail. 
The park has two campgrounds: Twin Peaks which is much larger and also suitable for RVs, and the Alamo Canyon Primitive Campground which is secluded with only 4 sites available.
Petrified Forest National Park
Petrified Forest National Park is located in Northeastern Arizona, about 50 miles from the New Mexico border. This park is known for its large deposits of petrified wood and colorful badland hills. The park also has petroglyphs, fossils, buttes, and mesas.
While there, visit the Rainbow Forest Museum to learn how petrified wood was created more than 200 million years ago and about the dinosaurs that used to prowl the lands.  
Hike the 1-mile flat Crystal Forest trail loop that will bring you across loads of petrified wood. And head to the Jasper Forest Overlook for one of the best views of the badlands. 
The Blue Mesa trail is also a great hike to enjoy both the badlands and petrified wood that is emerging from the hills. 
It is otherworldly here, and perfect for a short weekend trip in the winter when the crowds have dissipated. 
Mount Lemmon
Just an hour's drive North of Tucson in the Coronado National Forest, you can trade the sun-drenched desert for pine trees and snow. The peak of Mount Lemmon sits at just over 9,150 feet above sea level. 
Head to Ski Valley for skiing and snowboarding with beginner, intermediate, and black diamond trails. 
The town of Summerhaven just down the road from Ski Valley is a cozy place to stay a few nights in a cabin on your winter vacation in Arizona.
While in town, stop by the Mt. Lemmon Cookie Cabin for giant cookies and Sawmill Run Restaurant for a hearty lunch or dinner.  
Chiricahua National Monument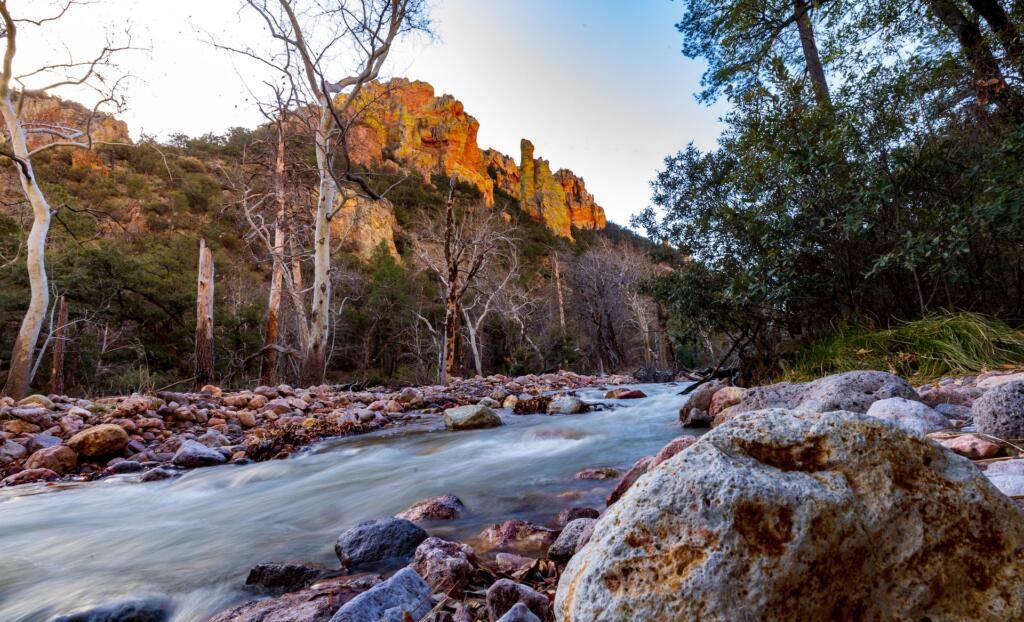 To round out the best winter vacation spots in Arizona, we have the Chiricahua National Monument. This monument is like so many other places in the Southwest where you feel like you are on another planet. 
This park is about 90 miles from Tucson near the town of Wilcox, Arizona. The park was established to protect the hoodoos, balancing rocks, and pinnacles that are naturally found here.
It does snow on occasion in the winter here, so stay up to date on weather and road and trail conditions on the National Park website.
In the park, you'll find an 8-mile scenic drive and some hiking trails to get out into this stunning and unique landscape. The best hikes in the park are to the Echo Canyon grottoes, the Heart of Rocks loop trail, and to Big Balanced Rock.  
Wrap up: 15 Best Winter Spots in Arizona
And there you have it! The top winter spots in Arizona. This state offers such a diverse range of winter destinations that are sure to appeal to all types of travelers.
From the breathtaking beauty of the Grand Canyon to the charming small towns like Sedona and Flagstaff, there is something for everyone in this southwestern state.
Whether you are seeking outdoor adventures, cultural experiences, or a warm escape from the cold weather where you live, Arizona has it all.
So start planning your next winter getaway to Arizona to discover the magic that awaits in these winter destinations.
Written by Kate of Kate Roams the World.
Save it for later on Pinterest: