14 BEST Northeast Fall Weekend Getaways
Last Updated on September 25, 2023
Planning a fall weekend getaway in the Northeast?
Travel experts share their favorite destinations in the Northeast for a fall weekend getaway. These hand-picked destinations are ideal to enjoy a romantic escape or a family trip while taking in the beautiful fall scenery this region has to offer.
Whether you're planning a Northeast fall family vacation, a romantic fall trip, or a road trip with friends, you'll find plenty of perfect destinations to visit in the Notheast during fall. Explore natural areas chasing for fall colors, relax at a seaside town without the summer crowds, and visit walkable cities during the best time of year temperature-wise.
Keep on reading to discover all the best Northeast fall weekend getaways and vacation spots that your whole group will enjoy!
Boston, Massachusetts
By Sam of New England Wanderlust
If you're looking for a cozy weekend getaway in the Northeast, there's really no better place than Boston in the fall. Between beautiful displays of fall foliage, amazing boat tours, charming cobblestoned streets, and easy fall day trip opportunities, it's got everything you could need for the perfect fall getaway.
For the best fall color views, you'll want to check out the Public Gardens, Boston Common, and the Charles River Esplanade. These are the places where you'll see the brightest foliage displays in the city.
For a cozy and picturesque walk in the city, head to the Beacon Hill neighborhood, which is especially beautiful in the fall season. You'll find cobblestoned streets sprinkled with fallen leaves, charming boutiques, and Instagram-worthy moments at every turn.
Before venturing to this neighborhood, stop at Tatte Bakery for a fall beverage and apple pastry to get into the spirit of the season.
For the perfect fall day trip from Boston, head to Salem, which is just a quick ferry ride away! In Salem, you can tour the famous Hocus Pocus filming locations, visit the Salem Witch Memorial, enjoy all the cute shops, and take in even more gorgeous fall foliage colors.
The best time to visit Boston for peak fall foliage is mid-October. This changes from year to year, and can sometimes even extend into Halloween. But mid-October is your best chance at seeing the brightest fall leaves around the city.
To get to Boston, you can fly into Boston Logan International Airport, and then rely on public transportation or ride-share services to get around. No need for a car!
A great place to stay this time of the year is Revere Hotel Boston Common, which is steps from the Public Gardens and Commons to admire the fall color.
Baltimore, Maryland
By Anastasia from Travel Realist
Baltimore is a nice destination for a fall weekend getaway in the Northeast. There is more to this city than true crime series. It is also famous for its historic ships collection and fall festivals.
Baltimore's Inner Harbor is only 30 minutes away from Baltimore-Washington International (BWI) Airport via light rail. If you plan to drive to Baltimore, research your parking options in advance. Downtown parking garages charge $15-20 per car.
There is a fleet of 4 historic ships in Baltimore. The museum has a 19th-century tall ship, a lightship, a submarine, and a Pearl Harbor cutter. They are docked at different piers. The whole area will take you about 30 minutes to explore on foot.
You can see the ships from the inside as well. Admission is about $20 per adult. You can visit different ships on different days on the same ticket. It works best if you plan to stay in Baltimore for a few days.
The first half of September is the best time to explore Baltimore's historic ships. Fleet Week and Flyover Baltimore Festivals happen around that time. This is a great way to explore even more ships (for free!) and learn about the Navy.
You can take a sunset boat tour from the harbor or enjoy an evening walk in Federal Hill Park. Get dinner with a view at Rusty Scupper Restaurant & Bar. Or get tickets to see the Baltimore Orioles play, if you're into baseball.
Stay in the Downtown area near the Harbor. This neighborhood has lots of hotels and restaurants. It is well connected by public transport, too. Check out the 1840s Carrollton Inn, a historic boutique hotel.
Washington DC
By Linda of Linda on the Run
If you're not sure where to go in the northeast this fall then consider booking a weekend trip to Washington DC. After all, the intense heat and crowds of summer are gone, allowing you to find great deals on hotels and flights.
And if you plan your trip any time between mid-October and mid-November, you'll be able to see amazing fall foliage in places like The Tidal Basin, the U.S. National Arboretum, Swann Street, Rock Creek Park, and Georgetown.
In particular, Theodore Roosevelt is a great hidden gem where you can spot lots of epic fall colors. Plus, this little island in the Potomac River is overflowing with gorgeous ponds, bridges, and water fountains. You can even hike the Swamp Trail and enjoy stellar views of Georgetown's waterfront.
But, if you're looking for some fall-inspired fun while you're in the city then check out Fright Fest at Six Flags America. It's a great event for the whole family that features haunted houses, extra creepy shows/attractions, and more.
You can also take a day trip to Mount Vernon and see what life on a successful plantation was like in the 18th century. Because the former home of George Washington features a variety of fall-themed events that everyone will enjoy, like wagon rides, play colonial games, fall wine tastings, and family trick-or-treating.
Then, when you're ready to relax spend the night at The Line DC. It's a fabulous hotel with vintage rooms that sit inside an old church from the 19th century. The property also has three great bars and restaurants on-site too.
New York City, New York
By Martha of May Cause Wanderlust
NYC is a thrilling destination year-round, but fall is a particularly good time to visit because of the relatively mild weather and the gorgeous colors around the city as the leaves on the trees change to red, orange, and yellow.
One of the classic things to do in New York City in the fall is exploring the city on foot. Whilst the summer months can be a bit too hot to be out on the concrete sidewalks for long, the cooler temperatures in fall mean the city is much more walkable.
Fall is a good time to see the iconic landmarks in Manhattan, including the Empire State Building, The Chrysler Building, New York Public Library, and Top Of The Rock. You might also want to visit the 911 Memorial and Museum to pay your respects.
You should also definitely explore the city parks. In September, Central Park can still be quite green and warm, which is lovely for boating on the lake or picnicking. And into October, as the leaves turn, the park is repainted in an autumnal palette.
You might want to get out to Queens County Farm Museum for their Fall Maize Maze or to pick a pumpkin in the run-up to Halloween.
Finally, even as the temperatures cool, it's not necessarily too late to enjoy New York's rooftop bars, as some open year-round and amend their menus to include seasonal drinks like hot Irish coffees and cider. Seeing the lights of Manhattan sparkle is one of the best things to do in New York at night.
For an amazing view of Manhattan, check out Westlight, the rooftop bar at the top of the William Vale Hotel in Brooklyn, which is also a very comfortable place to stay.
Martha's Vineyard, Massachusetts
By Maria of Love That Place Travel
The charming island of Martha's Vineyard, just 7 miles off the coast of Cape Cod, is well-known as a summer vacation destination. However, if you want to avoid big crowds and high prices, fall is actually the perfect time to visit this picturesque island.
September and October bring very pleasant temperatures to Martha's Vineyard. The days are still warm, making it the ideal time to explore the island's outdoor attractions. Rent a bike and enjoy miles of cycling trails, visit Mytoi Japanese Gardens, or take a kayaking trip around Sengekontacket Pond.
With fewer crowds at this time of year, you'll enjoy a more peaceful and relaxed atmosphere in the downtown areas. Martha's Vineyard has 6 charming and unique towns for you to explore. Although most island businesses operate seasonally, many stores and restaurants are open through the early fall months.
As an island, Martha's Vineyard is only accessible by boat or plane. The most frequent ferry services depart from the Cape Cod town of Woods Hole, multiple times a day. You can walk on as a foot passenger, or bring your car but an advance reservation is essential for vehicles. Alternatively, the island is a short, 19-minute flight from Boston.
The Winnetu Oceanside Resort is an ideal base for your fall trip to Martha's Vineyard. The hotel is within walking distance from South Beach and you can hear the waves crashing at night from the cozy comfort of your room. There is a pool, fitness center, and tennis courts on-site as well as top-class dining at The Dunes restaurant.
Bennington, Vermont
By Krystianna of Volumes and Voyages
One of the absolute best places to visit in the Northeast during fall is Bennington, Vermont. This lively town in southwestern Vermont borders both New York and Massachusetts but is in a valley surrounded by the beautiful Green Mountains. Which, as you can imagine, turn vibrant colors of orange, red, and yellow come fall!
There are so many fun things to do here during the fall months, including picking apples at Terry's Orchard, taking in the view of the town from above at the Bennington Battle Monument, pumpkin picking, and eating apple cider donuts at the nearby Apple Barn and Country Bake Shop, and of course, hiking (one of the best fall hikes is up to Bald Mountain if you're up for an all-day hike through the fall foliage).
The downtown area of Bennington also comes alive in the fall, and it's a great place to shop and meet the locals.
Because this is a small town, note that there's not much public transportation. You'll want to get there by car – most people use Vermont Route 9. Luckily, parking is fairly easy to come by because the town is so small.
You can't go wrong by booking a stay at a local bed & breakfast, like the Four Chimneys Inn on West Road.
Burlington, Vermont
By Karen of Outdoor Adventure Sampler
Burlington, Vermont is a vibrant city located on the shores of Lake Champlain. While it is a wonderful all-season destination, Burlington in the fall is extra special due to the colorful foliage, fall festivals, and pleasant weather.
Festivals in Burlington in the fall include the South End Art Hop celebrating creativity with all types of art, while harvest festivals in the surrounding countryside are fun for the whole family.
Outdoor enthusiasts can rent a bike and ride on the Burlington Greenway path. A section of this rail trail crosses Lake Champlain on a causeway. Views of the Green Mountains and Adirondacks are phenomenal. In addition, the stunning fall foliage can be seen on day hikes within the Burlington city limits.
Church Street, a pedestrian marketplace, is a wonderful place for cute shops, fabulous restaurants, and street performers. Stroll along with an ice cream cone from the iconic Ben and Jerry's parlor.
Burlington is known for its farm-to-table culinary scene. The local produce and cheeses find their way to restaurants in the fall so you can dine on the best of Vermont. Try the Eastern Mediterranean mezze at Honey Road restaurant.
Since Vermont has more breweries per capita than any other state, don't miss Burlington's craft beer scene. Look for special fall brews specially made to fill out your flight of beers. Local favorite Foam Brewery has views of Lake Champlain from its outdoor beer garden.
The sunset over Lake Champlain is the best in the Northeast. Therefore, book a lake-facing room at the Hilton Burlington Lake Champlain to watch the sunset right from your window.
The Hamptons, New York
By Sam Opp from Find Love and Travel
When planning a fall weekend getaway in the northeast of the US, The Hamptons always comes to mind. In fact, this is many locals' favorite time to visit the area.
While The Hamptons is known for its incredible beaches, beachfront rentals, and surfing culture, the fall offers a fresh perspective on this location.
Southeast Long Island is known for having a lot of local farms, so fall farm festivities are a top attraction. One of the best things to do on Long Island in the fall is going apple picking. While there, enjoy all the apple cider and apple cider donuts.
You can also go pumpkin picking and wander through corn mazes. If you want to enjoy something a little more upscale, visiting one of the Hampton's vineyards is a great way to enjoy the day.
The Hamptons have public transport options, but the best way to get around the Hamptons is by car. You'll also find that areas are far less crowded than during the summer and spring.
You should expect the weather to fluctuate during the fall season, but for the most part, temperatures will remain between 40's – 60's with it being warmer during the day and cooler in the morning and at night. Be sure to pack a couple of extra layers, just in case!
Hotel prices also tend to be much more reasonable during the fall. The Southampton Inn is an affordable hotel with a specific cozy atmosphere. Here you'll have access to a delicious heart-warming breakfast menu and beautifully landscaped gardens.
Philadelphia, Pennsylvania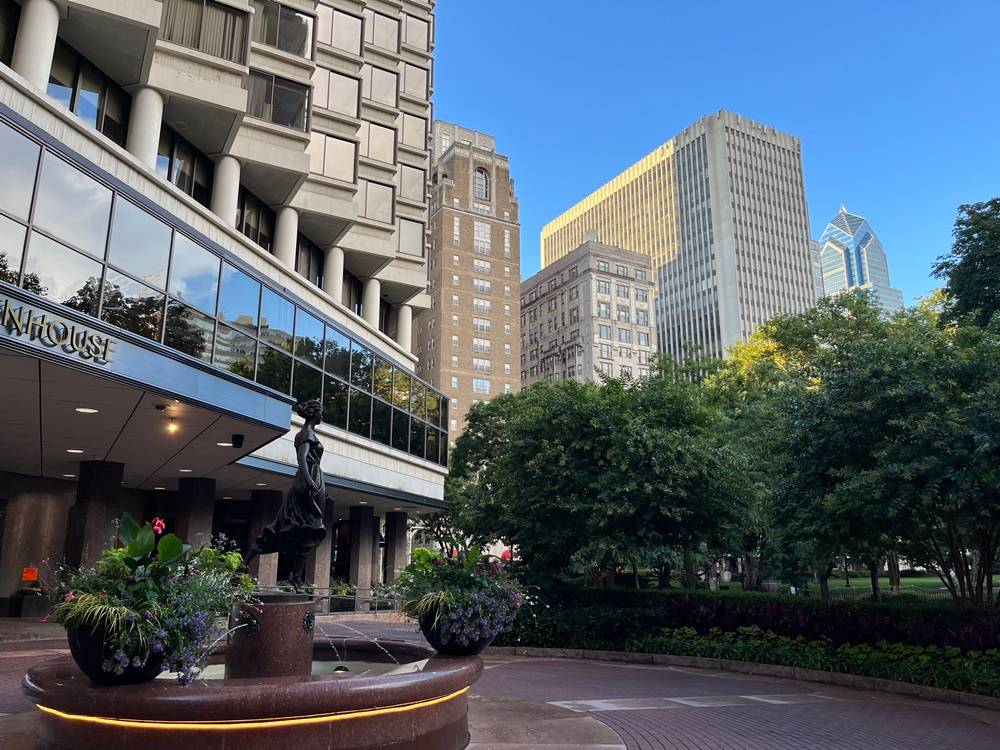 By Jess of Travel + Tannins
Philadelphia is a bustling city in Pennsylvania that offers rich history, culture, and food that is the perfect fall weekend getaway in the northeast. With its proximity to other east coast destinations such as New York and New Jersey, it is easy to plan a perfect weekend or day trip to enjoy this beautiful city.
A car is not necessary if you plan to stay only within the city of Philadelphia due to the robust transit system. If you plan to venture outside of the city, though, I recommend bringing a car to easily get to other destinations.
Philadelphia is known as the birthplace of American Independence, as Independence Hall is where the Declaration of Independence and United States Constitution were created and signed! Independence Hall and the Liberty Bell are two highly recommended historical sites to visit while in Philadelphia. 
Longwood Gardens is a botanical garden just outside the city that is the perfect place to view fall foliage in Philadelphia! The gardens span over 1,000 acres, making it an incredible getaway to enjoy nature. 
For wine lovers, visit New Jersey wine country, located only 20 minutes outside of Philadelphia. Fall is grape harvesting season across the United States, and there are many wine festivals to enjoy in New Jersey during a weekend getaway.
Rittenhouse Hotel is a luxury hotel that I recommend staying at while in Philadelphia. It is located in a peaceful neighborhood adjacent to the city center, and has its own cocktail lounge and restaurant. 
Litchfield Hills, Connecticut
Spending a weekend in Litchfield Hills during the fall season is a delightful experience, immersing in the region's captivating natural beauty and charming ambiance. Nestled in the northwestern part of Connecticut, Litchfield Hills becomes a haven of vibrant colors as the foliage transforms into a breathtaking tapestry of reds, oranges, and yellows.
Arriving in Litchfield Hills, visitors are greeted with picturesque landscapes that seem straight out of a postcard. The rolling hills, dotted with farms, orchards, and quaint villages, create a perfect backdrop for outdoor activities and leisurely drives. As you embark on a scenic journey along Route 7 or Route 63, the panoramic vistas unfold before your eyes, revealing the magnificence of nature's autumnal palette.
Exploring the region's charming towns is a must during your weekend getaway. Litchfield, with its historic center, exudes a timeless appeal. Stroll along its tree-lined streets, adorned with colonial-era homes, antique shops, and art galleries. Grab a cup of freshly brewed coffee and savor a homemade pastry at Krafted Brew Lab while soaking in the small-town atmosphere.
Outdoor enthusiasts will find ample opportunities for adventure in Litchfield Hills. Hiking trails such as those in Macedonia Brook State Park or Mohawk Mountain State Forest offer rewarding experiences, allowing you to witness the fall foliage up close and personal.
Take a leisurely hike to summit peaks, where panoramic views of the surrounding countryside unfold before your eyes, showcasing nature's artwork.
For a cultural experience, consider visiting the Hill-Stead Museum in Farmington. This grand colonial revival house houses an impressive collection of paintings, along with meticulously maintained gardens that add to the autumnal charm. Explore the museum's galleries, stroll through the picturesque grounds, and revel in the tranquility that surrounds you.
Additionally, Litchfield Hills is home to numerous wineries and cider mills that offer tastings and tours. Indulge in the flavors of the season as you sample local wines or sip on freshly pressed apple cider, perfectly complementing the crisp autumn air.
In the evenings, cozy up in the charming Litchfield Inn, where warm hospitality and a crackling fireplace create a cozy ambiance. Before savoring a delicious meal at the popular At the Corner restaurant, you might even catch a live band playing.
Acadia National Park, Maine
A list of the best Northeast fall weekend getaways wouldn't be complete without including the stunnnig Acadia National Park, one of the prime location in New England to enjoy fall colors.
Situated on the rugged coast of Maine, Acadia National Park boasts stunning landscapes, breathtaking vistas, and an abundance of outdoor activities.
As you venture into Acadia National Park, you'll be greeted by a tapestry of red, orange, and gold foliage blanketing the forests and mountains. Hiking trails like the iconic Precipice Trail or Jordan Pond Path offer a chance to immerse yourself in the park's autumnal beauty. From rocky cliffs to serene lakes, every turn reveals a picturesque scene that showcases nature's artistry.
Acadia National Park is also renowned for its scenic drives. The Park Loop Road winds its way through the park, offering panoramic views of the coastline, forests, and mountains. Witness the beauty of Cadillac Mountain, the highest peak on the eastern seaboard, as the sun casts a golden glow over the landscape during sunrise or sunset.
For those seeking a more leisurely experience, enjoy a picnic by Jordan Pond or take a leisurely bike ride along the carriage roads. These well-maintained paths wind through the park's diverse landscapes, allowing you to appreciate the fall colors at a relaxed pace.
The park's coastal beauty is equally captivating during the fall. Embark on a boat tour to explore the picturesque islands and lighthouses dotting the coastline.
During your weekend in Acadia National Park, be sure to visit the charming town of Bar Harbor, located on Mount Desert Island. Here, you can indulge in fresh seafood, browse through local shops, and immerse yourself in the welcoming coastal atmosphere.
As for places to stay, book a secluded cabin close to the park or an ocean-front cottage. You also find a range of accommodations in Bar Harbor or nearby communities, check out the well-rated the Elmhurst Inn if you want to indulge in some luxury.
Fall evenings in Acadia National Park offer a chance to stargaze under the clear night sky, appreciating the peacefulness and tranquility that the park has to offer.
Delaware Water Gap, New Jersey and Pennsylvania
A great destination for a fall weekend getaway in the Northeast, the Delaware Water Gap offers a plethora of outdoor activities and breathtaking landscapes. As you venture into the Delaware Water Gap National Recreation Area, you'll be greeted by a symphony of colors as the foliage transforms into a kaleidoscope of reds, oranges, and yellows.
The hiking trails that wind through the area, such as the Appalachian Trail or the McDade Recreational Trail, offer a chance to witness the fall foliage up close. As you meander through forests, along riverbanks, and up to scenic overlooks, you'll be rewarded with gorgeous panoramic vistas.
The Delaware River itself is a focal point of the area, providing opportunities for kayaking, canoeing, or simply enjoying a leisurely boat ride. Fall is an ideal time to explore the river, as the surrounding trees create a picturesque backdrop, reflecting their vibrant hues on the water's surface.
For history enthusiasts, the Delaware Water Gap area is rich in cultural heritage. Take a road trip along Old Mine Road to visit the charming town of Milford, Pennsylvania, with its historic buildings and quaint shops. Explore the Grey Towers National Historic Site, once the summer home of conservationist Gifford Pinchot, or discover the fascinating history of the region at the Upper Delaware Scenic and Recreational River Visitor Center.
In the evenings, find respite in one of the many cozy accommodations available in the area. Whether you choose a rustic cabin nestled in the woods or a charming bed and breakfast, you'll have the perfect setting to unwind after a day of exploration.
White Mountains, New Hampshire

The White Mountains area in New Hampshire is a perfect destinations for a Northeast fall vacations or weekend trip. Nestled in the heart of New England, the White Mountains offer breathtaking landscapes, charming towns, and a wealth of outdoor activities.
As you venture into the White Mountains, you'll be greeted by a kaleidoscope of colors as the leaves turn vibrant shades of red, orange, and gold. Scenic drives, such as the Kancamagus Highway or the Franconia Notch Parkway, provide awe-inspiring views of the fall foliage against the backdrop of majestic peaks and meandering rivers.
The region boasts a network of hiking trails, allowing you to explore the forests, waterfalls, and mountain peaks up close. Popular hikes include Mount Monadnock, Mount Washington, and Franconia Ridge. As you ascend to higher elevations, you'll be rewarded with panoramic vistas that showcase the breathtaking tapestry of fall colors stretching as far as the eye can see.
Charming towns like North Conway and Lincoln offer a delightful respite after a day of outdoor exploration. Browse through quaint shops, enjoy farm-to-table dining, and savor locally brewed craft beer. Don't miss the chance to ride the Conway Scenic Railroad, which offers scenic journeys through the picturesque valleys and mountains of the region.
For a more leisurely experience, embark on a scenic gondola or chairlift ride to take in the sweeping views of the surrounding foliage. Capture the beauty of the fall colors reflected in serene lakes such as Squam Lake or Lake Winnipesaukee.
In the evenings, find comfort in cozy accommodations nestled amidst the mountains. Whether you choose a vacation home, a charming bed and breakfast, or a luxury resort, you'll have the perfect retreat to relax and reflect on the day's adventures.
Narragansett, Rhode Island
Narragansett, Rhode Island, is one of the best Northeast fall trips you can take if you're looking for a serene coastal getaway with beautiful scenery and a relaxed atmosphere. This charming seaside town, known for its stunning beaches and picturesque landscapes, becomes an idyllic destination as the summer crowds subside and the fall foliage paints the surroundings in vibrant hues.
Start your weekend in Narragansett with a visit to the town's renowned beaches. Take a leisurely stroll along Narragansett Town Beach or Roger Wheeler State Beach, enjoying the cool ocean breeze and the sound of crashing waves. The beaches are less crowded during the fall, providing a tranquil setting to take in the coastal beauty.
Explore the historic Point Judith Lighthouse, perched on the rocky shoreline. This iconic landmark offers breathtaking views of the ocean and surrounding landscapes.
Indulge in the area's fresh seafood at one of the local restaurants, which often feature seasonal specialties highlighting the flavors of autumn. Savor a delicious meal while enjoying waterfront views and the peaceful ambiance that Narragansett offers during the fall season.
For outdoor enthusiasts, take advantage of the milder temperatures and explore the numerous hiking trails in the area. Visit the John H. Chafee Nature Preserve or the Trustom Pond National Wildlife Refuge, where you can observe migratory birds and immerse yourself in the natural beauty of the fall foliage.
In the evenings, relax and unwind at one of the charming accommodations available in Narragansett. Whether you choose a waterfront hotel, like the Atlantic House, a cozy bed and breakfast, like the Break Hotel, or a vacation rental, you'll have a comfortable retreat to recharge and reflect on the day's adventures.
Save it on Pinterest for later: