15 Best West Coast Romantic Getaways and Vacation Spots for Couples
Last Updated on December 27, 2022
Planning your next West Coast romantic getaway? Discover some of the best destinations on the West Coast for couples looking to spend some quality time together.
Whether you're more into outdoor adventures, exploring cities, or small towns full of charm, you'll find the perfect destination for you and your partner. With cozy bed and breakfasts, scenic views, fun activities, and romantic restaurants, these places are ideal for a romantic weekend getaway, a vacation, or a day trip if you live nearby.
Keep on reading to discover some of the most romantic getaways on the West Coast.
Romantic Getaways in Washington
Olympic National Park
By Jessica from Uprooted Traveler
Washington state's Olympic National Park, with its dramatic beaches and moody forests, is perfect for a romantic getaway, especially for outdoorsy couples. It was the setting of the romance series, Twilight, after all! Tucked away in the Olympic Peninsula, this gorgeous national park is 175 miles northwest of Seattle.
If you visit during the summertime, consider hiking any of the incredible trails, where you can explore Olympic's dynamic landscape, from craggy sea stacks towering out of the Pacific to snow-capped mountains.
For a particularly romantic experience, consider hiking and camping at Shi Shi Beach, a secluded beach with spectacular sunsets, beachside campfires, and gentle waves lulling you to sleep at night.
For a slightly lower impact option, head to the Hurricane Hill, where you can walk across a mountain ridgeline, hand in hand, and gaze at the peaks of the Olympic Mountains around you. In the summertime, the slopes of the mountains are covered with colorful wildflowers and you might even spot a mountain goat or two.
If you're visiting in the wintertime, book a stay in a cozy lodge or cabin, like the Kalaloch Lodge, overlooking the Pacific Ocean and with romantic details, like mulled wine and fire pits.
The coastal area provides moderate temperatures year-round, so you can still explore beaches and rainforests, like the Hoh Rainforest, a UNESCO Biosphere, regardless of the time of year. Just make sure to pack a raincoat- it is the Pacific Northwest, after all!
Related – Best National Parks on the West Coast
Orcas Island
Part of the San Juan Islands, Orcas Island makes for a perfect weekend getaway on the West Coast with your better half. Take time to enjoy the scenery, go on a couple of hikes, and discover the island's arts and culture scene.
You can spend a day driving the Orcas Island Scenic Byway, stopping along the way to visit small towns, enjoy the beach, and just admire the island's stunning landscape.
The highlight of a trip to Orcas Island is, of course, going on a wildlife cruise. Year-round the chances of spotting orcas, minke whales, harbor seals, Dall's and harbor porpoises, and other bird species are high, but the best time is between March and October.
There are plenty of opportunities for hiking any time of the year, while you can enjoy water activities during the warmer months.
Don't miss exploring the island's historic buildings. Stop at Orcas Island Historical Museum where you can visit six homestead cabins and see artifacts of Orcas' Native American and settler history.
Many other buildings have been turned into hotels and restaurants. Don't miss the Outlook Inn, where you can grab a bite at their New Leaf Café, the Orcas Hotel, Rosario Resort, and Doe Bay Resort & Retreat, one of the first post offices (and taverns) on Orcas Island.
To get there, take a ferry from Anacortes, between Seattle and Vancouver.
Otter's Pond Bed and Breakfast is one of the best places to stay on the island for couples. Featuring garden view rooms, the hotel offers a tasty breakfast and a hot tub making it an ideal romantic getaway.
If you want more privacy, you can also check out the vacation rentals around the island, plenty feature stunning views and romantic amenities like hot tubs and fireplaces.
Spokane
The perfect blend of outdoor and cultural activities makes Spokane one of the best West Coast romantic getaways. Visit the city's museums and historic buildings, sample the local gastronomy, go on a scenic hike, you'll find plenty of romantic things to do in Spokane.
In town, visit the Northwest Museum of Arts and Culture and its exhibits on art, culture, and Native American heritage. Then, tour the 19th-century Tudor-style Campbell House, before strolling through the Vast Riverfront Park and its sculpture walk. There, don't miss riding the cable car to the top to get impressive views over Spokane Falls.
You can also go for a stroll (and picnic if the weather is nice) at John A. Finch Arboretum home to thousands of different types of plants. Manito Park is another popular garden to visit while in Spokane.
Outside of town, you can shop for fresh produce or pick your own fruits at the farming community of Green Bluff.
For some outdoor adventures, head to Mount Spokane State Park, where you can hike and mountain bike during the warmer months and ski or snowboard in the winter. You can also go whitewater rafting at one of the many rapids nearby.
If you like wine, you should go wine tasting at the award-winning and family-run Latah Creek Winery.
When it comes to places to stay, the Historic Davenport is undoubtedly one of the best options in Spokane. For something more intimate, book a vacation rental either in town or outside if you'd rather be surrounded by nature.
Romantic vacation spots in Oregon
Portland
By Candice from CS Ginger
Portland, Oregon is a fantastic place for a romantic getaway. The best time to visit is around June until the end of August. This is because you will have the best weather during this time, but don't let that deter you from going outside of those months. The city is worth visiting even if the time of year is outside of those months.
The city is full of life with many fun things to do, it is also a great foodie destination. You can spend your time strolling through the multiple romantic flower gardens, learning about the city's history at the Pitk Mansion, or taking a bike tour around town.
There are also lots of fun day trips to take from Portland. The Pacific Northwest is such a beautiful part of the country, and many great places are within a few hours of downtown Portland. The Oregon Coast is just over an hour away. Cannon Beach is a very charming and romantic coastal town with a quaint downtown area and great hiking trails in Ecola State Park.
Another fun area to explore is the Columbia River Gorge. It is home to the famous Multnomah Falls as well as many other waterfalls. You can take a romantic day exploring the beautiful waterfalls, packing a picnic to enjoy at one of them.
You will also love many of the unique and modern hotel accommodations, from small boutiques to gorgeous luxury hotels. Portland is the romantic destination we should all be visiting with our significant other. One of the best places to stay in Portland is Jupiter NEXT. It is a beautiful boutique hotel within walking distance of many of the fun areas to explore in downtown Portland.
You'll also find plenty of quirky condos and apartments available for rent near the downtown area.
Ashland
From stunning landscapes to a rich cultural life, Ashland in Southern Oregon is an ideal getaway on the West Coast for couples looking for a blend of outdoor activities, great festivals, and plenty of entertainment options.
Ashland is known to host the 8-month-long Oregon Shakespeare Festival where you can watch a performance almost every day from February to October. Visit the Schneider Museum of Art with rotating exhibits featuring art from the 20th and 21ft centuries.
If you want to spend some time outside, go on one of the many scenic trails you'll find at Lithia Park. There you'll find themed gardens, ponds, historical landmarks, picnic spots, and an ice skating rink. You can also head to Emigrant Lake County Park where you can camp, rock climb, swim, kayak, and hike.
More adventurous couples can go on a whitewater rafting trip down the Rogue River. During winter, you can also enjoy a plethora of winter activities on Mt. Ashland.
For a place to stay, check out the top-rated Arden Forest Inn, ideal for couples looking for a romantic getaway option. For something more intimate, book a private cottage in or outside of town.
Romantic getaways in Northern California
San Francisco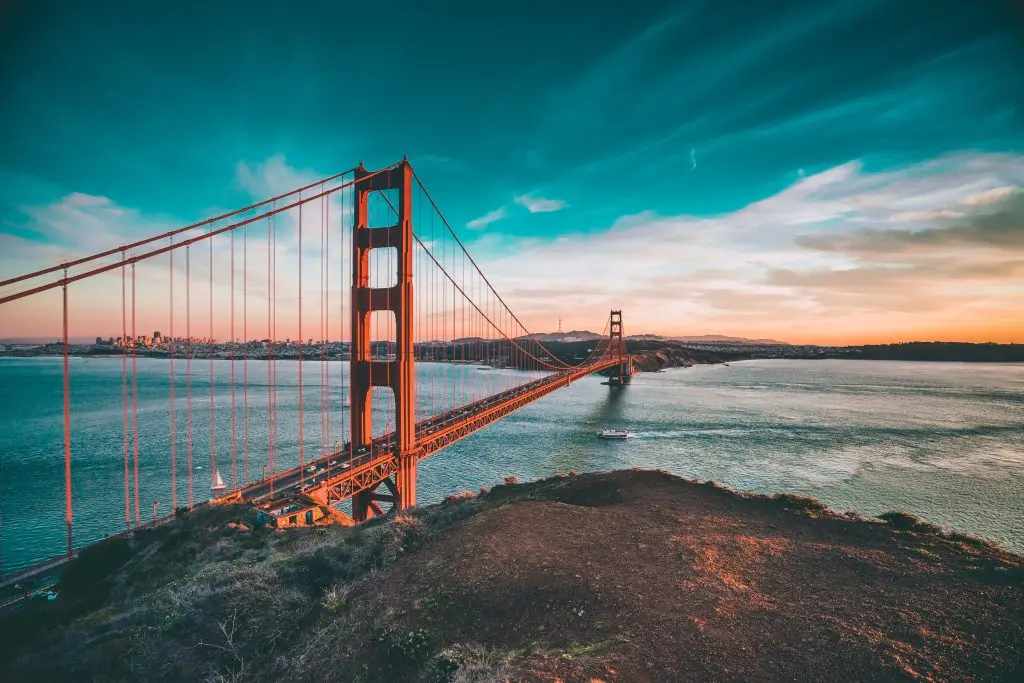 By Mary from Be Right Back by Mary
From the Golden Gate Bridge to the Painted Ladies, San Francisco is a gorgeous city located in the north of California and makes a perfect romantic vacation spot. Visited by millions of tourists every year, the city is more than just touristy spots. San Francisco offers lots of romantic activities for couples thanks to the stunning scenery it offers. 
One romantic activity to do in San Francisco at night is to hop on a sunset cruise in the Bay. With a glass of wine, you can enjoy a calm cruise with gorgeous views of the San Francisco skyline and a whole new perspective on the Golden Gate Bridge. If you're lucky, you might even come across dolphins. This is a must to add to your San Francisco itinerary!
An alternative to that for active couples is to go kayaking in the Bay. Bottlenose dolphins sometimes even come up to the kayaks!
A fun day activity for couples in San Francisco is to head to the other side of the Golden Gate Bridge to the small municipality of Sausalito. Sausalito is a boat house neighborhood with lots of different pontoons you can walk on. The houses are eclectic and well decorated with lots of flowers. This is a fun and unique part of San Francisco to discover with a partner.
After exploring San Francisco, you can spend a night at the Fairmont Hotel which offers stunning views of the city and also offers a large pool with a bar. You can also book a vacation rental for more privacy and access to a kitchen.
Napa
By Tori from Tori Pines Travels
A getaway to Napa, California is one of the most romantic trips that you and your significant other could dream of. Located near San Francisco in Northern California, a Napa day trip is great if you don't have a lot of time, but you could easily spend a week there!
Napa Valley is known for its delicious wine, and you'll likely want to try some while you're in town. The most romantic winery is Castello di Amorosa, which has a castle located on the vineyard. After your tasting in the castle, wander its back hallways and take in stunning views of the valley.
Check out downtown Napa for a variety of gourmet food at restaurants like Bistro Don Giovanni or Compline, both extremely romantic and serving delicious bites. If you're looking to wow your special someone, try one of the four Michelin Star restaurants in the area instead.
The best thing you and your partner can do in Napa is to take a ride on the Napa Valley Wine Train. During a daytime ride, you can view the valley and vineyards, or enjoy a romantic evening experience. Whichever you choose, you'll be served delicious food, drink local wine, and enjoy time together.
To top off the trip, you must book a couples massage at one of the luxurious spas in town. There are so many to choose from, but a great option is Calistoga Spa Hot Springs for a massage together, a volcanic ash mud bath treatment, and then relaxing in the hot springs pools. You might want to stay the night here as well!
You'll find plenty of vacation rentals with stunning views of the mountains and vineyard as well.
Getting to Napa is easy, fly into San Francisco International Airport and rent a car, and drive north for 1.5 hours. Or, book a driver if you don't need a car during your stay.
Mammoth Lakes
By Jessica from UpRooted Traveler
Mammoth Lakes, California, a charming ski town tucked away in the eastern Sierra Nevadas, is the perfect place to cozy up with a loved one.
Given the surrounding epic mountains, it's no surprise that there are world-class ski resorts, like Mammoth Mountain, here, so if you're visiting in the wintertime, hit the slopes and take in the spectacular alpine views around you. Afterward, get an apres-ski drink or soak in an outdoor hot tub to warm up from the chilly temperatures.
If you're visiting, instead, in the summertime, there are plenty of ways to explore the spectacular landscape, from hiking, kayaking, or backpacking. If you're looking for a more lowkey activity, take a picnic basket to the shores of the Mammoth Lakes basin, and afterward, rent a canoe to get out on the water.
Regardless of what season you visit, be sure to enjoy some of the incredible hot springs sprinkled throughout town, like Wild Willy's Hot Spring. Here, you'll find a natural pool, filled with naturally steamy water, with panoramic views of the Sierra Nevadas around you.
One of the best things about Mammoth Lakes is its remoteness- it feels like there's nothing around beyond you and the gorgeous mountains. That being said, you'll need to either fly into Los Angeles (a 5-hour drive away) or Las Vegas (5 and a half hours away).
Once you arrive in Mammoth Lakes, consider making the Westin Monache Resort, with an outdoor heated pool and hot tub, your home base for your stay. You'll also plenty of gorgeous condos with incredible amenities for couples.
Mendocino
By Denise from Chef Denise
Three hours north of San Francisco, Mendocino offers the picture-perfect romantic getaway for couples on the West Coast: a charming town, gorgeous scenery, amazing restaurants, and stunning sunsets.
The small town itself in shades of pastel looks like it came out of a storybook. Historic Victorian buildings house restaurants and boutiques that look out at the Mendocino Headlands State Park.
The park trails lead you along the dramatic cliffs to spectacular views of the coastline and the Pacific Ocean. Known for its rugged coastline, there are countless vista points with incredible views. For those that prefer an actual beach, just outside of town there's Van Damme State Beach. You'll also find Van Damme State Park with trails through the Pygmy Forest and Big River where you can kayak or canoe.
A few miles to the north lies one of the most romantic places for couples to stroll in the spring, the Mendocino Coast Botanical Gardens. Advance tickets are required to walk through the 47 acres of blooms along coastal bluffs.
There are lots of excellent restaurants in Mendocino. But if you're looking for a romantic setting, The Ravens at the Stanford Inn by the Sea is the spot for breakfast or dinner. Request a window that overlooks the garden and ocean. Even better, if you stay at the inn, your daily breakfast is included.
You'll also find many gorgeous and romantic cottages with sweeping ocean views.
Romantic getaways in Central California
Paso Robles
By Anu from Destination Checkoff
Paso Robles is an awesome romantic getaway destination on the central coast of California known for its world-class wineries and vineyards. It is also known for its rejuvenating mineral hot springs, charming historic downtown, and an amazing light show called Sensorio.
Paso Robles is around a 2 to 3-hour drive from both northern and southern California, making it the perfect destination for a weekend getaway for locals in California. For people visiting from outside of California, flying to either San Jose international airport, Santa Barbara airport, or Los Angeles airport will be the best option. From there, Paso Robles is around a 2-hour drive.
Fall and Spring are great seasons to visit Paso Robles. In fall there are many harvest festivals and in spring the rolling hills of Paso Robles come alive with a brilliant color of green.
Sensorio Field of Lights in Paso Robles is a famous light and art display by internationally acclaimed artist Bruce Munro and is a must-visit! It is a perfect date night experience to spend an evening at Sensorio walking among the thousands of colorful lights set against the backdrop of the Paso Robles rolling hills landscape.
Paso Robles has a laid-back downtown and is very charming with numerous boutiques, art galleries, and shops around the main city park square. The downtown has wine tasting rooms for most of the famous vineyards in the region. The city park is a great place to have a romantic picnic or visit the historic Carnegie library museum.
Sculpterra winery and sculpture garden has interesting art sculptures to admire, it also has live music and food trucks on most weekends.
If you choose to stay in Paso Robles, a vacation rental downtown is a good option, so you can walk to many of the wine tasting rooms, restaurants, and shops. There are also some great hotels in downtown Paso Robles like the historic Paso Robles Inn. At Paso Robles Inn you can request a room with a mineral hot tub on a private balcony!
Paso Robles is a beautiful town for a romantic getaway on the West Coast.
Big Sur
By Nikki from Inspired Routes
If you're looking for the best romantic getaways on the West Coast, look no further than Big Sur, California. Nestled just south of Monterey, Big Sur is one of the most beautiful, natural coastlines in all of the US.
Big Sur can be explored as a day trip from the adorable town of Carmel, California. Or, couples can begin their adventure in Carmel and stay a night – or two throughout the coast to really see more of it. The Big Sur River Inn and Alila Ventana Big Sur are both great, romantic spots to enjoy along the coast.
There are so many things to do in Big Sur you could spend a long weekend or a full week exploring the area. Top attractions include the Bixby Creek Bridge, Pfeiffer Beach, McWay Falls, and Sand Dollar Beach. There are countless scenic overlooks as you make your way down the coast, too.
The best time to visit Big Sur for a romantic vacation is spring and fall. The fog is most dense in the summer months which inhibits the view, and the rainy season is over the winter months. Although any time of year it's possible to see sunshine on the California Coast.
Couples will want to fly into the airport in Monterey California and rent a car for the journey. Driving the Pacific Coast Highway through Big Sur is a bucket list vacation, and couples will love the experience.
Romantic destinations in Southern California
Related – Best Romantic Destinations in Southern California for Couples on a Budget
Lake Tahoe
By Meg from Fox in the Forest
One of the best romantic getaways on the west coast is Lake Tahoe. It is a stunning alpine lake in the Sierra Nevadas that straddles the border between California and Nevada.
As a result, it is brimming over with incredibly romantic things to do that you and your partner will love.
So, fly into Reno-Tahoe International Airport and drive around 45-minutes to the North Lake Tahoe area. Just use I-580 S and US-395 S/NV-431 W to take you to Incline Village and North Lake Tahoe.
Once there, settle into a suite at the Hyatt Regency Lake Tahoe Resort Spa and Casino. Not only does this place have its own private beach but rooms have a charming, alpine theme.
You also can't leave without going for a swim in the heated outdoor pool before cozying up in the hot tub together and booking couples massages at the award-winning Stillwater Spa & Salon.
Then, start your romantic Lake Tahoe itinerary with a ride on the Heavenly Gondola. After all, this gondola ride will whisk you away to some of the best skiing in the region. Alternatively, you could always just relax at the observation deck area and sip on hot cocoa at Cafe Blue while admiring the vast landscape.
Next, go on an hour's drive to the Sierra Hot Springs with its romantic domed hot spring, meditation pool, historic bathhouse, and more.
Enjoy the 102-degree water before heading to Emerald Bay State Park and tackling incredible hikes like the Eagle Falls/Eagle Lake hike and the Emerald Bay – Vikingsholm Hike.
Finally, spend a romantic evening savoring incredible New American cuisine at the sophisticated Lake House Restaurant and enjoy some of the best food in the region.
San Diego
By Nikki from She Saves She Travels
One of the most romantic getaways on the West Coast is San Diego, California. With beautiful beaches, a fantastic food scene, and so many things to do, couples will love visiting San Diego.
Enjoy walking around the streets of La Jolla while shopping, watching street performers, and dining. Or, for more adventure, take a kayak tour of the La Jolla Cove. Be sure to grab gelato at Bobboi's Natural Gelato while you soak in the views of the coast.
Next, head to Old Town San Diego where you'll find tons of rich history and fabulous Mexican food. Couples can walk the streets of Old Town, discovering the monument marking the birthplace of California, checking out museums, an artisan market, live music, and so much more. There are so many things to do in Old Town San Diego, but perhaps the best yet is all the Mexican food!
While spending a romantic weekend in San Diego, be sure to visit Coronado Beach. The bougie island near downtown San Diego offers super soft, white sand, perfect for an afternoon on the beach. Bring a picnic or grab a pizza and enjoy the sunset with the sparkling sand. There's truly nothing more romantic for couples on vacation!
And if it's within your budget, be sure to stay at the Hotel Del Coronado. Rich in history and located right on the beach, it's an incredible stay. You will also find plenty of vacation rentals at all price points.
San Diego is busiest in the summer months, but it's also the warmest, especially if you want to swim in the water. Fall and spring in San Diego are perfect with mild temperatures and not as many tourists. Winter is a perfect escape from the cold, and the second busiest time in the city for visitors.
Solvang
By Reshma from The Solo Globetrotter
Solvang is a cute town in Southern California known for its rich Danish history, architecture, and culture, and is one of the best romantic getaways on the west coast.
From exploring the city's major attractions to attending festivals and tasting local delicacies, you will spend a relaxing romantic vacation in Solvang, known for its laid-back vibes.
The mild climate and many sunny days make magnificent Santa Ynez Valley one of the best places for wine tasting. Take tours of stunning wineries surrounded by fantastic landscapes, where you can enjoy lunch or dinner with wine in the restaurants overlooking beautiful views of the valley.
Solvang hosts festivals most of the year, so plan to attend a few of them with your special one. In spring, the famous cultural festival Danish Days is a beautiful fest, and if you are here during the fall months, attend the wine festival Grape stomp.
Although spring and fall are the best seasons to visit Solvang, December is an excellent month if you are looking for a romantic California getaway. The town transforms into a winter wonderland during Christmas, with decorations everywhere, resembling a European Christmas town full of holiday spirits.
Mirabelle Inn & Restaurant in downtown Solvang is a fantastic Danish-style cottage featuring a spa, pool, and other comfortable amenities, plus spacious rooms and excellent reviews. You'll also find plenty of romantic vacation rentals around town.
Save this article on Pinterest for later: