30 best couple vacations and romantic getaways in the US for 2023
Last Updated on February 22, 2023
Disclaimer: This post contains affiliate links, which means that if you click on any links and make a purchase, I'll get a small commission, at no cost to you.
Top romantic destinations in the US:
1 – Charleston, South Carolina
Charleston is a dreamy city, full of southern charm and beauty, definitely one of the most romantic cities in the US. With its cobblestone streets, shadowed by tall oak trees, strolling around Charleston's historic district is a treat. Couples can spend the day lounging at the beach on Sullivan's Island and the night sampling some traditional Southern comfort food, listening to a live band.
Related – Best getaways in South Carolina for couples
Where to stay in Charleston:
John Rutledge House Inn – a romantic luxurious bed and breakfast located in the historical district and set in a beautiful, traditional house.
Francis Marion Hotel – spacious rooms with two-poster beds, the time has stopped in this beautiful hotel where southern charm and modernity blend perfectly. They have an amazing spa and have live jazz music at the bar on most nights.
Zero George Street – probably the most stunning boutique hotel in Charleston, the room are spacious and elegant, the staff friendly and professional, and the restaurant serves tasty southern food.
You can also book a vacation rental in the historic district.
Top romantic things to do in Charleston:
Take a scenic walk via the Morris Island Lighthouse Trail;
Visit the Cypress Gardens;
Go for a stroll in a plantation's garden;
Romantic restaurants in Charleston:
Circa 1886 – offering a unique fine dining experience, Circa 1886 is one of the best fine dining restaurants in America according to Trip Advisor. Serving traditional dishes made with locally sourced ingredients, the atmosphere is romantic and the food delicious.
High Cotton – One of the best seafood restaurants in Charleston.
Fulton Five – Considered the most romantic restaurant in Charleston, it's a great place for a candlelight dinner.
Magnolias – Serving contemporary and upscale food, they offer amazing brunches.
2 – Denali National Park, Alaska
By Adriana Plotzerová from Svatbeni
The beauty of unspoiled nature and pure wilderness, that's Denali – one of the most stunning National Parks in Alaska. It's home to caribou, moose, foxes, arctic ground squirrels, bears, as well as Mount Denali – the highest mountain in North America. It's a perfect romantic place for all adventurous souls!
A must-do is a bus trip to the park (there is no other way to get into the park, except for sightseeing flights). There are several alternatives and tours you can choose from (the deeper you go into the park, the more wildlife you see). You can also head out into the wild with your partner for a few days with a "camper bus". Backpacking in Denali National Park is a very unique and romantic experience. If you decide on a backpacking adventure, start at the Ranger station to get your permit and learn about camping safety.
The coolest accommodation in the area is Kantishna Roadhouse – a full-service backcountry lodge located 90 miles into pristine nature.
The best time to visit the Denali National Park is in the summer season, approximately from June to August. At the end of August, there is a good chance to see the Northern Lights.
3 – Orlando, Florida
By Alice from Alice in Wonderland
Often referred to as the theme park capital of the world, Orlando is often overlooked as a romantic destination in the US in favor of big cities like New York or San Francisco. However, much more than just the home of Mickey Mouse, Orlando is full of wonderful things for couples to do together.
The great thing about Florida is that it's warm almost all year round. But, for the most pleasant warmth and avoiding the staggering crowds that Orlando attracts, visiting between March to June or September to October is best. Some of the most romantic things to do in Orlando include a swan peddle-boat ride on Lake Eola, a champagne ride on The Ferris Wheel at ICON Park, a trip to a romantic spa inside Walt Disney World, or a memorable dinner at the Hillstone Restaurant in Winter Park which is quite the proposal hot spot!
For accommodations options, Disney World may seem like rather a corny option, but it gives you access to the ultra-romantic Disney Boardwalk, perfect for drinks at the AbracadaBar, and a delicious meal at the recently renovated FlyingFish, before a moonlit stroll and, of course, a fireworks display! But for other options outside Disney, the Grand Bohemian Hotel is the perfect downtown Orlando suite and boutique, The Alfond Inn is also a fine choice, with the option to book a vacation rental instead.
A trip to Orlando can be just as romantic as it can be family fun – it's entirely what you make it! Plus, who's to say you can't have a romantic time plunging down log flumes at Universal, strolling down Diagon Alley, or on a ride at Disney World?
Related – Romantic Getaways in Florida for Couples on a Budget
4 – Rockport, Massachusetts
By Tegan and Alex from Why Not Walk Travel Guides.
Rockport is an ideal romantic getaway in coastal Massachusetts year-round, due to its more temperate seaside location compared to the rest of the region. Situated at the tip of breathtaking Cape Ann, Rockport is the perfect place for lovers of seafood, fine dining, local art, music, and romantic strolls. Rockport has some of the most picturesque streets in the region in its Bearskin Neck area, as well as a sublime rocky coastline and lots of viewpoints of the serene, navy-blue ocean.
Don't miss the most-painted landmark in the United States, the delightful Motif #1, as well as exploring one of the country's oldest art colonies, also in the Bearskin Neck area. For a wonderful dinner, check out My Place By the Sea for award-winning New American fare before an evening out on the town with a jazz or chamber music act at the Shalin Liu Performance Center.
Romantic accommodation options include the Addison Choate boutique hotel (with delicious included breakfast!), the oceanfront Emerson Inn, which dates back to the 1800s, or one of the many vacation rentals with ocean views.
5 – Honeymoon Island State Park, Florida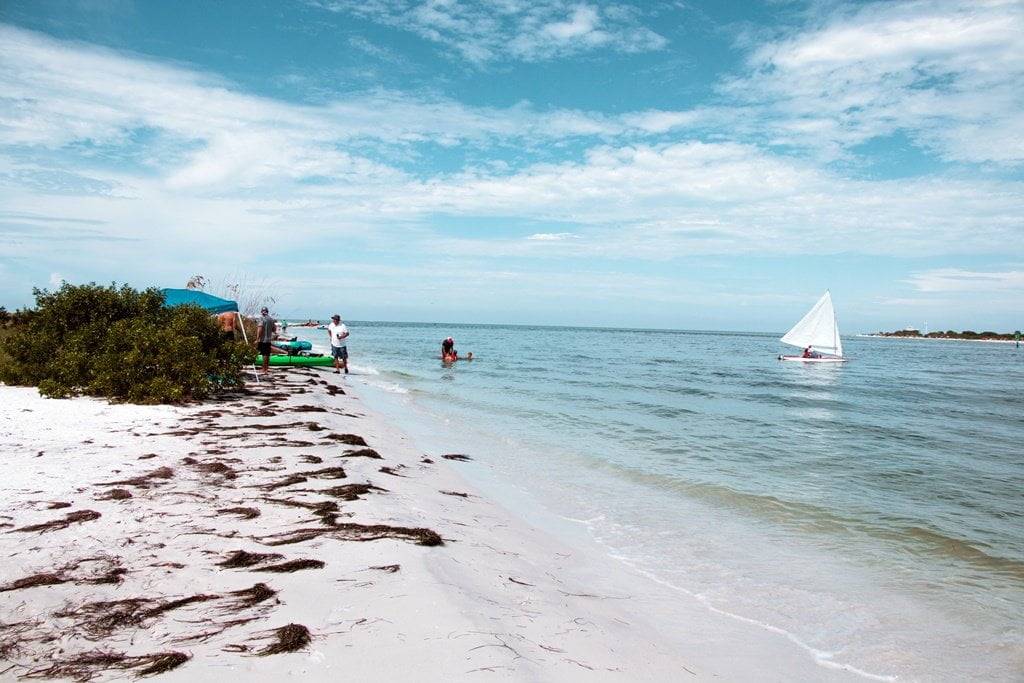 By Paula from Paula Pins the Planet
If you are looking for an incredible, less touristy beach and a very romantic place to visit in Florida with your better half, Honeymoon Island State Park is a great place for outdoor lovers of any age as it offers many options like soaking in the sun, swimming, kayaking, biking, and hiking
Honeymoon Island features 4-miles of amazing beaches to explore and a 3-mile hiking trail through one of the last remaining virgin slash pine forests. Also, the sunsets at Honeymoon Island are as epic as any you'll find on Florida's Gulf Coast – pinks, purples, blues, and oranges swell and fade like breathing watercolors as the blazing ball of sun descends.
Honeymoon Island has a sweet and romantic name for a reason, many couples choose to get married here. Pristine and beautiful Honeymoon Island is one of Florida's finest beaches, making it an ideal destination for wedding receptions. And really, who could resist getting married in a place called Honeymoon Island?
Honeymoon Island State Park is located about twenty-five minutes north of Clearwater Beach in the Tampa Bay area on Florida's west coast, at the end of the Dunedin Causeway. The Park is open 365 days per year, from 8 am until sunset. To enter the State Park, you have to pay an entry fee of $8 per vehicle.
There is no option for accommodations inside Honeymoon Island & Caladesi Island. But is just a short distance driving from Clearwater or Dunedin, where you can find several options for accommodations.
6 – Great Smoky Mountains National Park
By Stephanie from Explore More Clean Less
Great Smoky Mountains National Park is a must-visit for couples who love the outdoors! This national park is easily accessible by multiple airports and a day's drive from several major cities. The majority of the park is accessible year-round but spring is primetime for wildflower hikes and fall is perfect for leaf-peeping as the colors change.
It doesn't get much more romantic than spending time near a rushing waterfall! The trails in the Smokies are lush, moss-covered, and peaceful; perfect for unplugging and reconnecting while you walk under the trees. Check out this list of ten things not to miss in smoky mountains national park for help picking out the perfect hike.
There are countless charming log cabins surrounding the park; choose one with a hot tub and soak your muscles under the stars. Or pop over to nearby Asheville and cozy up in a romantic geodesic dome with Asheville Glamping.
7 – Sedona, Arizona
By Debbie Fettback from World Adventurists
Sedona, known as Mother Nature's red rock country, offers a breathtaking backdrop with its sandstone scenery and towering cliffs for all of your romance and adventure.
Start off the romance with winery hopping along the Valley Verde Wine Trail. Just a short 20 minutes from downtown Sedona, you'll be able to tour 20 wineries.
A hiker's paradise, Cathedral Rock offers one of the best sunset viewing spots in Sedona. Cathedral Rock is a natural sandstone butte in the Sedona skyline and is also one of the most-photographed sights in Arizona.
Romance can be thrilling, too! Sedona is also a fabulous place for some off-roading fun. Take one of the iconic Pink Jeep Tours to explore the rocky terrain. If you're not feeling like an adrenaline rush, take a romantic hot air balloon ride instead.
Sedona is full of vortexes. This energy is said to assist healing, meditation, and self-exploration. Because of this, Sedona is an incredible place for rejuvenation, making their spa experiences top-notch. You will not want to leave Sedona without experiencing a treatment that is inspired by the desert ecosystem and ancient Navajo traditions.
The best hotel in Sedona for romance is the Enchantment Resort. The spa within the resort, Mii Amo, was named #1 in America by Travel + Leisure two years in a row. Alternatively, you can book one of the many vacation rentals available in town (or outside for something more secluded).
The best time to visit Sedona is between March and May. The temperatures are not too hot and you'll find the outdoor paradise in full bloom.
Related – Best destinations in Arizona
8 – Joshua Tree National Park, California
By Stéphanie from Bey Of Travel
Joshua Tree National Park is without a doubt one of the most romantic destinations in the US. You can visit the park during a West Coast road trip and enjoy an overnight stay in an Airstream, or make it a full vacation! Make sure to visit the park during sunrise or sunset, golden hour is magical in between the Joshua Trees. You can visit Joshua Tree National Park in just one day.
While in the park enjoy the Barker Dam Trail. During this peaceful hike of 1.1 miles, you first pass several interesting rock formations. One of these rocks is even in the shape of a heart, super fun to take a picture with.
Make sure to stop at the Keys View, where you have a view over the Coachella Valley and San Andreas Fault.
Don't forget to take enough food and drink with you for the trip, since you won't find any stores once you're in the park. You can visit the park throughout the year, but keep in mind that it will be busier during the summer and school vacations.
Related – Romantic destinations in Southern California
9 – Maui, Hawai
By Luke from Wild About BC
Hawaii is an amazing place to visit and it doesn't come much better than the island of Maui – definitely one of the best romantic getaways in the united states. This is an ideal getaway for couples looking for a romantic retreat. It's home to many beautiful beaches, lush green gardens and there are so many luxury resorts you can enjoy with your other half.
The summer months of June, July, and August are the most popular times to visit the island but going on the shoulder season on either side of these months may be a better choice as you still get great weather but with fewer crowds.
When you visit Maui, one of the best things to do is enjoy the endless beaches around the island. Makena Beach is one of the best beaches on the island and as it is slightly outside of the main tourist areas, it is much quieter than a lot of the other beaches. You can come here to enjoy the peace and quiet and be totally surrounded by nature as the beach is in a state park.
Another great thing to do with your partner is to enjoy a Luau on the beach. Watch the sunset while you enjoy delicious food, music, and entertainment in the most picturesque surroundings.
The best place to stay for couples looking for something extra special is the Four Seasons Resort Maui at Wailea. It's right on the beach and will provide the ultimate level of luxury for your romantic getaway. There is no shortage of amazing things to do around Maui and you'll definitely enjoy a romantic trip to this beautiful island.
10 – Cape May, New Jersey
By Susan from AC 365 Fun
While you may envision the New Jersey shore as a party destination for college coeds or a family vacation spot, the historic Victorian seaside town of Cape May makes a lovely romantic escape and is one of the best couple getaways in the US. This is especially true in the off-season. Of course, it is amazing during the summer months but the shoulder seasons and winter months bring a slower pace and fewer families.
Start your couples retreat with a bit of pampering at the Cape May Day Spa. Try their side-by-side couples massage or one of their packages including a soak in an oversized whirlpool tub.
Take in a sunset over cocktails and a plate of fresh oysters (try the locally grown and harvested Cape May Salts) aboard the Schooner American docked on the Fisherman's wharf. September and October offer some of the most consistently breathtaking sunsets.
Enjoy the salty ocean air with a stroll along the promenade. Walk hand in hand with your sweetheart through the pedestrian mall in the center of town. Or, venture away from the mall to view the lovely Victorian-era summer retreats.
But one of the most romantic ways to experience this town is strolling through the gaslit side streets of this National Historic Landmark with your sweetheart.
Couples seeking an intimate stay might want to opt for a quaint bed and breakfast such as the Angel of the Sea. Those looking to maintain the intimacy with a few more amenities should consider the 24-room Virginia hotel, located on historic Jackson Street. Otherwise, check out the vacation rentals in town, many offering stunning ocean views.
11 – Lake Santeetlah, North Carolina
By Rai from A Rai of Light
Lake Santeetlah, found in north-central Graham County, feels like a world of its own just under 100 miles west of Asheville. Its natural landscapes and quiet location away from the city, completely enclosed by forests and mountains, makes it a popular choice for a romantic getaway.
The best time to visit is in early spring when over 3,000 acres of translucent waters lie waiting to be discovered along the Indian Lakes Scenic Byway.
Forming part of the Nantahala National Forest, a large portion of the region remains undeveloped, with clear waters living up to its name meaning "blue waters." Recreational activities in the area are swimming, hiking, canoeing, and kayaking alongside facilities that include a swimming beach, a boat ramp, and a campground.
Couples, in particular, will enjoy the ample camping and picnicking options on offer in addition to the peace and quiet offered by the surrounding nature. Boats and kayaks are available to rent at Santeetlah Marina to explore the lake while the clear waters offer good fishing.
If you don't want to camp there, check out some of the secluded cabins available for rent in the area.
Often said to be one of the most picturesque lakes in the country, Lake Santeetlah is highly recommended as one of the best US vacation spots.
12 – Nantucket, Massachusetts
By Linn Haglund of Brainy Backpackers
Idyllic beaches, lighthouses, old, charming houses, and a harbor town, there are endless reasons why Nantucket, right outside Cape Cod, Massachusetts, is one of the best vacation spots for couples in the United States. There are many things to do in Nantucket, and most of them are pleasantly enjoyed as a couple.
Start by exploring the island by bike to enjoy secluded beaches or go for a walk on the forest trails by Madaket. Walk the Sconset Bluff Walk from Siasconset to Sankaty Head Lighthouse just before sunset to enjoy the mesmerizing pastel colors changing the lighthouse into a painting. Downtown is also super cute with lots of cafes and restaurants to enjoy each other's company.
The best time to go is during the summer months when the weather is nice and it's possible to head out on whale safaris.
Stay at the charming 1800s Martin House Inn for a luxurious and romantic getaway or book an intimate cottage near the beach.
13 – Austin, Texas
By Daphna from A Tiny Trip
One of the most romantic cities in the United States is Austin, Texas! This funky town is a mecca for outdoor living and live music shows. If you are an outdoorsy couple, then Austin is the best place to enjoy nature with all the amenities of a thriving downtown.
The one activity you absolutely must do is go hiking in Austin! Other ideas for romantic activities in town, include kayaking on Town Lake, climbing up Mt.Bonnell for views of downtown, or grabbing a coffee at Mozart Coffee Roasters on Lake Austin! At the end of the day, check out some of the eclectic shops around South Congress St, and enjoy fine dining at one of its many restaurants. Top off your night with a live music show!
Austin has generally mild weather year-round, but the spring and fall are the best times to visit, with temperatures in the 70s and 80s. For a boutique hotel near downtown and the University of Texas, try the Hotel Ella which features a beautiful outdoor pool, veranda, and even afternoon tea on the weekends! Otherwise, you'll find plenty of vacation rentals.
Related – Most romantic getaways in Texas
14 – Santa Fe, New Mexico
By Agnes from the Van Escape
Santa Fe, New Mexico's capital, is one of the most charming and romantic cities in the USA's Southwest.
Situated in the Sangre de Cristo foothills, Santa Fe is surrounded by picturesque scenery. Known as America's oldest capital city, with over 400 years of history, the city offers amazing Spanish Pueblo-style architecture and culture. Moreover, it has achieved world-class status as a fascinating getaway destination with delicious cuisine, incredible art, and fabulous activities.
The best time to visit Santa Fe is from spring to summer. But it's also a perfect winter destination, thanks to its many skiing areas. Moreover, Santa Fe has over 300 days of sunshine a year.
Santa Fe is considered one of the world's greatest art cities because of its many art galleries and installations. The best places to visit are Meow Wolf Gallery, New Mexico Museum of Art, and Georgia O'Keeffe Museum.
A great romantic getaway is also nearby Ojo Caliente Hot Springs. Hikers lovers can wander in Kasha-Katuwe Tent Rocks National Monument or Bandelier National Monument. For more tips and places worth visiting, check the detailed 3 Days in Santa Fe Itinerary.
Romantic accommodation options:
Rosewood Inn of the Anasazi is a luxury 5-star hotel with a restaurant near Santa Fe Plaza in the town center. Another romantic option is Four Seasons Resort Rancho Encantado Santa Fe, which is a 5-star amazing mountain resort with a spa near Santa Fe Opera. You can also book a vacation rental if you want more privacy.
15 – Fredericksburg, Texas
By Bruna Venturinelli from Roaming the USA.
With lovely German architecture and great wineries around town, Fredericksburg is a great town for couples in the core of the Texas Hill Country and one of the best hidden getaways in Texas. This little town was founded by German immigrants, and although it is small, it has lots of history (and coziness, too).
Since it can get pretty warm in Texas during summer, off-shoulder seasons are the best time to visit this romantic enclave in the Lone Star State.
Start off your romantic itinerary by sampling European cuisine in Texas—this is by far one of the best things to do in Fredericksburg! With locally grown produce, Otto's German Bistro brings the best of German cuisine to your table.
After indulging in downtown, prepare to experience the real Texan wine. Fredericksburg is in the heart of the Texas Wine Country and boasts some world-class wineries in town, which are incredibly romantic.
Top off your romantic experience in Fredericksburg by staying in a German-themed cottage, the Rarumpelpunzeldornaschenwittchen. It has a darn long name, but it is a quaint cottage that will make your trip even more special!
16 – Naples, Florida
By Lori Sorrentino from Naples Florida Travel Guides
If your romantic vacation dreams come with a side of Italy, you can find that in Naples, Florida. Located on the southwest Gulf coast of Florida, coastal Naples has so many things to do for couples on a romantic getaway.
As its name implies, Naples is a touch of Italy with a tropical twist. The year-round subtropical weather means over 270 days of sunshine during the year. Visitors flock to the soft sandy beaches, enjoy dinner and shopping along glitzy 5th Avenue, then take a sunset stroll on the famous Naples Pier.
Coastal Naples sits at the gateway to the Florida Everglades so nature-lovers will find plenty to explore. But this watery ecosystem is perfect for boating, paddling, and shelling, so a sunset catamaran cruise or shelling cruise is highly recommended and the perfect way to cap your romantic getaway.
For a luxury stay in the heart of downtown, the Inn on Fifth is a lovely place to enjoy a pampered vacation. With its concierge services and rooftop terrace, a visit to Naples doesn't get much better. For a quieter option close to the beach, the Edgewater Beach Hotel is right on the sand and can arrange the perfect romantic beach dinner to complement your stay.
You'll also find plenty of beach-front properties available.
17 – Key West, Florida
By Disha from Disha Discovers
The United States is filled with so many romantic destinations and Key West, Florida is one of them. With stunning sunsets, laid-back island vibes, and warm ocean breezes, Key West sets the tone for the perfect romantic getaway.
The best time to visit Key West is between March and June. You'll have the island all to yourself as the winter crowds have diminished. As a result, you'll get better rates on hotels and tours. Plus, you'll be missing hurricane season and the weather will be beautiful.
One of the most romantic things to do in Key West is to watch an epic sunset. One of the best places to do this is at the Southernmost House with a cocktail in hand. Another romantic thing to do is to rent a private sailing charter. Be sure to keep your eyes open for dolphins and other marine life.
Further, enjoy a romantic dinner and sample the local cuisine. Key West is known for Cuban food, conch fritters, French cuisine, key lime pie, and more. Lastly, rent a bicycle and explore Duval Street.
Key West offers many romantic accommodation options and one of the best ones is The Gardens Hotel. Kids under the age of 16 aren't allowed and all of their rooms and cottages have a unique theme.
Lastly, for a more romantic experience, do a road trip from Miami to Key West. The stops and the scenery along the way are incredible.
All in all, Key West is the perfect place to rekindle your love!
18 – Acadia National Park, Maine
James Ian from Parks Collecting
Acadia National Park and the nearby town of Bar Harbor are the perfect romantic destinations. The national park is scattered over islands and peninsulas and surrounded by water. Summer is the best time to visit, when you can fully enjoy the water, though the fall foliage is also spectacular, making this another romantic time to visit.
The area is known for its tasty cuisine, and a dinner down by the water is the perfect way to spend a romantic evening (or lunch outside in the sun). You will also want to spend a lazy afternoon sampling some local sweets together by the pond at Jordan Boathouse.
You can take a kayak trip along the rocky shoreline or a sunset sailing trip around the islands. If you are more active, rent a bicycle in Bar Harbor and ride the carriage roads that crisscross the national park. There are also plenty of wonderful hikes to do – many to mountain peaks with stunning views.
Then drive up to Cadillac Mountain at sunset for stunning views. It's a wonderful place for a late afternoon picnic.
A lovely romantic place to stay is the classic old hotel, the Bar Harbor Grand Hotel – or you can book an oceanfront cottage or a secluded cabin in the wood.
19 – Huntington Beach, California
By Olivia from the Girl With Blue Sails
Huntington Beach, California is the perfect place for a romantic getaway. From walking in the sand at sunset to strolling the pier after brunch, this surf town is one of the best couple vacation spots in the US. Located on the coast of sunny Southern California, Huntington Beach is popular for both locals and tourists alike.
Every day of the year you will find singles and couples lounging on Huntington's gorgeous stretch of beach. If visiting in the summer, it's best to hit the beach in the morning or afternoon to avoid the heat and crowds. If visiting in the winter, mid-day or afternoon is best to avoid chilly morning temperatures.
While the warm sand and cool waves of the beach are undoubtedly Huntington's major attractions, this town offers many other activities that are perfect for a date night. Strolling along the iconic Huntington Beach pier is a major must-do. Offering beautiful clear views of the coast, the pier stretches far into the ocean, also giving you a great view of the surfers below.
Right in the heart of town, you will also find some amazing accommodation options, all with similar gorgeous views of the beach. Highly recommended is Paséa Hotel and Spa. This upscale beachfront hotel offers amazing views of the shore and extremely luxurious amenities. Relaxing at your hotel overlooking the romantic California sunset is the perfect way to end your evening in Huntington Beach.
20 – Arches National Park, Utah
By Ale Leon from Sea Salt & Fog
Made up of stunning red rock formations, Arches National Park is beautiful. Reminiscent of the old west, the park is the perfect romantic destination for couples who find beauty in nature.
Located right outside Moab, Utah, the park is best known for its natural, gravity-defying arches. The most famous of all is Delicate Arch – a huge, freestanding arch that makes the perfect backdrop for a couples' photoshoot. You'll want to bring a blanket to snuggle up with your significant other at this arch and watch the sunrise or sunset.
Other things to add to an Arches National Park itinerary include the windows, double arch, park avenue, and hiking the devil's garden. At night, the stargazing here is unlike any other – you can see the Milky Way even with a full moon!
The park is best visited in the spring or fall months for cooler weather. Winter offers the fewest crowds and pretty snow, but it's cold and hiking is slippery.
Plan to stay in nearby Moab. The Sorrel River Ranch resort is pure luxury, with gorgeous views, and a spa – or book a vacation rental nearby.
21 – Outer Banks, North Carolina
By Pamela from The Directionally Challenged Traveler.
One of the best romantic destinations in the US is also one of the best beach destinations – the Outer Banks, North Carolina. With stunning sunrises, miles of beaches, historical locations, and adrenaline-pumping activities, there is something for every couple!
Couples who enjoy nature can visit the wild horses of the Outer Banks or go bird spotting along Kitty Hawk Bay. Fans of history can visit the Wright Brothers National Memorial or Historic Corolla Park. Many of the attractions on the island are available year-round. If you want to get your heart racing, try paragliding, or even hang-gliding with Kitty Hawk Kites!
For a romantic place to stay, check out First Colony Inn in Nags Head. The home-like atmosphere inn is within walking distance of the beach.
22 – New York City, New York
By Krisztina Harsanyi from She Wanders Abroad
It might sound a little bit mainstream, but NYC definitely belongs among the most romantic destinations in the US. From sunset stroll across the Brooklyn Bridge to picnicking in Central Park or watching a Broadway show hand in hand, the list of romantic things to do in New York City is practically endless.
Although the city that never sleeps is massive and you can spend several weeks there without getting bored, spending 4 days in New York City is a great start to see the best of the city. During this time, you can take in the best views from the Top of the Rock or the Empire State Building, stroll around Central Park and go for a boat ride on the lake, and attend a sunset cruise with your significant other.
Visiting NYC is always a great idea, but if you're looking for the most romantic period, try to schedule your visit around Christmas and New Year's Eve. New York City just looks utterly breathtaking and romantic under the snow, not to mention all those incredible Christmas decorations!
While you're at it, don't forget to check out the huge Christmas tree in front of the Rockefeller Center where you can also go ice-skating on one of the most iconic ice-skating rinks in the city.
23 – San Francisco, California
By Jyoti from Story At Every Corner
With some of the most iconic vistas, San Francisco is one of the most romantic places to visit as a couple, any time of the year.
During the day you can visit the Golden Gate Bridge, Golden gate park, some of the most beautiful mosaic stairs in San Francisco, and the painted ladies.
One of the most romantic things to do is a sunset sail in the bay followed by dinner at any of the amazing Michelin star restaurants, Ghirardelli square, food trucks, or any cuisine you can think of. There's something for every budget.
If you're into sports, check out if there is a home game for the Warriors or the Giants. If you enjoy music, check out a performance at the San Francisco Opera. It'll surely be a memorable evening.
If you're visiting San Francisco for a romantic getaway, you might want to stay at St Francis, the Ritz-Carlton, the Fairmont. A good place to stay would be around Union Square, where you'll find plenty of vacation rentals as well.
24 – Big Sur, California
By Elaina Vieira from Mind Over Matter Travel
Picture cruising down the highway with the windows rolled down, breathing in the ocean air, soaking in the warmth of the sun, hearing the crashing waves, and sitting side-by-side with your partner. Being by the water induces a sense of happiness, leading to an enjoyable experience for couples.
Taking Highway 1 down to Big Sur will reward you with one of the most romantic getaways in California. Big Sur provides plenty of gems for couples to explore together.
Aside from enjoying a scenic drive with one another, couples can indulge in a picnic on the beach, revel in scenic views, or go on a romantic hike. Some of the best beaches to picnic at include Pfeiffer Beach or Sand Dollar Beach. If the goal is to find the most epic views, don't miss key stops like Bixby Creek Bridge and McWay Falls. For the best hikes, visit one of Big Sur's seven state parks.
The perfect way to end a day at Big Sur is by the water watching the sunset on the horizon.
Big Sur is amazing to visit at any time of the year for any length of time. But, to get the most out of this romantic getaway, couples should aim to visit for a couple of days in early fall. This is the perfect time, because you will avoid summer crowds, but there will still be temperate weather.
For romantic overnight trips, book a stay at Big Sur River Inn or book a vacation rental near the beach.
25 – Vero Beach, Florida
By Lisa from Planning Away
Vero Beach, Florida is the perfect place for a romantic getaway. This cute town located on the Atlantic side of Florida is the perfect romantic destination any time of the year. There are so many things to do in Vero Beach which makes it the perfect choice for a getaway.
The Costa d'Este Beach Resort and Spa is the perfect place to stay. Many weddings actually are held inside the resort because it is so beautiful and located right on the beach. There are different types of suites to suit your needs from a weekend getaway to a honeymoon or anniversary celebration.
The amenities at Costa d'Este are hard to beat. The beautiful pool is just steps away from the beach. There are cabanas and beach chairs available to relax and enjoy the view. If you enjoy doing activities together the resort offers paddleboards and kayaks. There is a sunken ship 400 yards away from the resort. You can swim out and snorkel. Complimentary beach cruiser bikes are available so you can cruise around Vero, Beach.
There are some amazing restaurants located along Vero, Beach. Mulligans and Ocean Grill are fabulous. The views are spectacular and the food is amazing.
Vero, Beach is a great choice for a romantic getaway!
26 – Las Vegas, Nevada
By Mayuri from To Some Place New
Las Vegas makes for an amazing romantic getaway. Las Vegas is more than a gambling resort, and the best part is there are so many things that you can do for free in the city, whilst enjoying a great vacation with your loved one.
We highly recommend visiting Vegas in the autumn or winter months, to beat the crowds and to enjoy it at ease.
When in Vegas, you must explore the Strip, walk hand in hand and take in views of stunning buildings and architecture. This romantic activity is absolutely free. Do make time to stop by the Bellagio and watch the wonderful water show (yes for free!)
In terms of accommodation, one of the best romantic things to do in Las Vegas for couples is to book a luxurious resort with a pool, and a spa package to get pampered in style. Being a holiday destination, Las Vegas has plenty of amazing hotel properties to choose from, including the Venetian (and go on a gondola ride at the hotel).
You can also add an awesome concert, hit an Ice Bar, or fine Italian dining to the mix, and your sweetheart will thank you for a wonderful trip!
27 – Jackson Hole, Wyoming
By Kerra from Earth to Kerra
Wanting a weekend getaway with your special someone? Look no further than Jackson Hole, Wyoming! Jackson Hole is sk full of fun and romantic activities to enjoy with your sweetheart. Celebrities like Kanye West, Sandra Bullock, and Brad Pitt flock to this little mountain town for its tranquility, breathtaking natural beauty, and luxurious amenities.
Nestled next to the majestic Grand Teton National Park and equipped with its own ski resort, you can visit Jackson Hole any time of year and have a great experience. From late spring to early fall you can go trekking with a local guide and enjoy a packed picnic.
For even more adventure and a perfect winter activity, book a snowmobile tour. Make sure to wake up early one morning and grab a takeaway breakfast so you can cozy up and watch the sunrise light up the Grand Tetons. After a full day on the slopes or hiking trails, book a couple's massage at one of the many spas in town.
For a romantic evening out, make dinner reservations at one of the 5-star restaurants in town like Figs or The Blue Lion.
As for where to stay, make sure to check out Amangari, a luxurious 5-star hotel tucked away just outside of town. For best access to the slopes, check out the Four Seasons Jackson Hole. For a more budget-friendly option close to the action in the town center, check out The White Buffalo Club or book a vacation rental.
28 – Poconos, Pennsylvania
By Derek and Mike from Robe Trotting
One of America's most romantic travel destinations is the Pocono Mountains in northeastern Pennsylvania. It's the ideal back-to-nature getaway for any couple wanting a romantic escape.
The Poconos region is defined by a stunning landscape of forested peaks and mountain lakes. It boasts miles and miles of hiking trails, many that include waterfalls and peaceful streams as you hike. The Poconos is unmatched for beautiful nature and it offers a range of seasonal activities for couples who make the trip.
In the winter month, the region couples can keep busy at ski resorts like Camelback, Big Bear, and Montage Mountain. Winter hiking, snowmobiling, and relaxing at local spas are more great couples activities. The Poconos region is home to luxurious cabins and most Poconos Airbnb homes rival high-end resorts.
In the fall months, leaf peepers flock to the Poconos for the incredible fall foliage and springtime is the opening of zip lines and other outdoor activities. All summer, antiquing and boating can add to your couple's itinerary – there's truly something for every pair.
29 – Portland, Oregon
By Matt from Wheatless Wanderlust
If a weekend spent sampling a selection of artisanal donuts, local beer, and specialty coffee shops sounds like your idea of a romantic getaway, head to Portland.
It may not fit the traditional definition of "romantic getaway" – the one that involves rose petals on the bed and a couples spa treatment – but Portland is a charming city with a thriving food and drink scene and some great locally-owned shops and boutiques worth browsing. It's also relatively affordable, with prices that won't have you saving for months for your weekend in Portland.
There is no better time to be in Portland than the summer, when long, warm days give you plenty of time to explore the city and the natural beauty just outside its city limits.
Spend the morning on a hike in the Columbia River Gorge, taking in the spectacular views around every bend in the trail and stopping at towering Multnomah Falls before heading back to the city, stopping for a well-earned donut at Pip's Original or Blue Star on your way back.
Head back to your hotel to freshen up and spend the afternoon and evening exploring a local neighborhood, like the upscale Pearl District or the eclectic stretch along Hawthorne Blvd, eating dinner at one of Portland's famous food carts before enjoying the selection of locally-brewed beers and ciders available in Portland.
If you're looking for a beautiful boutique hotel, stay at the Hoxton, which is super central and stylish, using local materials to craft modern-yet-rustic rooms featuring plenty of wood tones that are a staple of Pacific Northwest design. For a more unique stay, look at Caravan Tiny House Hotel. When in Portland, right? Caravan is in the heart of the Alberta Arts District, one of the most interesting neighborhoods in Portland, with plenty of great bars and restaurants within walking distance.
Related articles:
What about you? What are your favorite romantic destinations in the US?
Like it? Save it for later: