20 Best Vacation Spots in the Southeast for your Next Getaway
Last Updated on September 26, 2023
Looking for a place in the US to spend your next vacation? In this travel guide, travel bloggers share their favorite destinations in the Southeast and all the best things to do while there – so you can find inspiration for your trip to come.
Whether you want to go on a quick weekend getaway or a full-on vacation, a family trip, or a romantic one, you will find the perfect Southeast destination for you. From hiking in national parks and relaxing at the beach to cultural activities and visiting cities, discover the top things to do and the best vacation spots in the Southeast!



HELPFUL WEBSITES TO HELP YOU PLAN YOUR TRIP
HELPFUL WEBSITES TO HELP YOU PLAN YOUR TRIP
Disclaimer: This post contains affiliate links, which means that if you click on any of those links and make a purchase, I might get a small commission, at no cost to you.
Jekyll Island, Georgia

By Alanna from Periodic Adventures
One of the best and most underrated destinations in the Southeast is Jekyll Island, Georgia. This small barrier island was originally a winter escape for rich, bigshots in the Northeast. Now it's a peaceful getaway that rivals big-name beaches like South Beach, Florida.
There are so many great activities on Jekyll Island to fill your relaxing days.
Rent a bike and ride around the whole island (yes, it's that small) through beautiful draping Spanish moss-covered trees and by the Horton House ruins, a free-standing structure built in 1743.
Head to the Georgia Sea Turtle Center, an animal rescue and rehabilitation facility that also has a sea turtle education center and museum. The admission goes right back to helping the turtles. Plus, you'll learn about how to better protect these precious creatures on Jekyll Island and beyond.
Don't miss Driftwood Beach that Jekyll Island is known for. This beach isn't like other tropical beaches because it has GIANT driftwood pieces that have floated onto the shore. Like entire trees! It's a great spot for photography (both day and night) and fun for kids to visit because they can climb on the trees.
The best time to visit is late spring or early fall, when the temperatures are warm, but mild. In the summer. it can reach the 90s so it gets uncomfortable, humid, and bug-ridden.
There are a number of hotels along the beachfront, but the Days Inn is a nice choice with private beach access, swimming pools, and balconies. You'll also find plenty of gorgeous vacation rentals around the island.
Hilton Head, South Carolina

By Alex from Wander With Alex
If you are looking for a great vacation spot in the Southeast with access to great beaches, golf courses, and warm weather, then Hilton Head, South Carolina is your destination. Ranked among the top 10 best golf course resort cities, Hilton Head is a golfer's paradise.
And if you're looking for somewhere to take the family, Hilton Head has a reputation for being extremely family-friendly. Hilton Head Island offers a great deal of things to see and do.
When to Visit
The best time to visit Hilton Head is from April through October. Temperatures will be warm enough for you to jump in the ocean, take a bike ride, go boating, hiking, golfing, and much more. Pro tip: If you want to skip the crowds, visit in either April and May or September and October.
Where to Stay
If you're looking for a place to stay, the Palmera Inn & Suites comes highly recommended. It's centrally located just 15 minutes from almost everything you'll want to see and do in Hilton Head. The hotel has a pool, hot tub, complimentary breakfast, and Wifi.
You'll also find plenty of great vacation rentals, many with ocean views.
Things to do in Hilton Head
When vacationing in Hilton Head, you must visit the cute neighborhood of Harbour Town! Climb the 114 steps to the top of the lighthouse, while learning all about its history on the way up. Once you've conquered the climb, marvel over the beautiful views of the water, the town, and golf courses. The town also hosts several local boutique shops and restaurants for you to enjoy.
Of course, when in Hilton Head you'll want to play in the water. There are several beaches on the island, but the most popular is Coligny Beach Park. The beach has a ton of amenities including showers. You can also rent beach chairs and umbrellas. Not to mention, right across the way is the Coligny Plaza Shopping Center filled with more local shops and restaurants for you to visit.
And lastly, bike trails! Lots and lots of bike trails! Be sure to stop by one of the many bike rental shops, like Hilton Head Outfitters, and rent bikes for the day! You can bike almost anywhere on the island– even on the beach!
Related – Best vacation spots in South Carolina
Virginia Beach, Virginia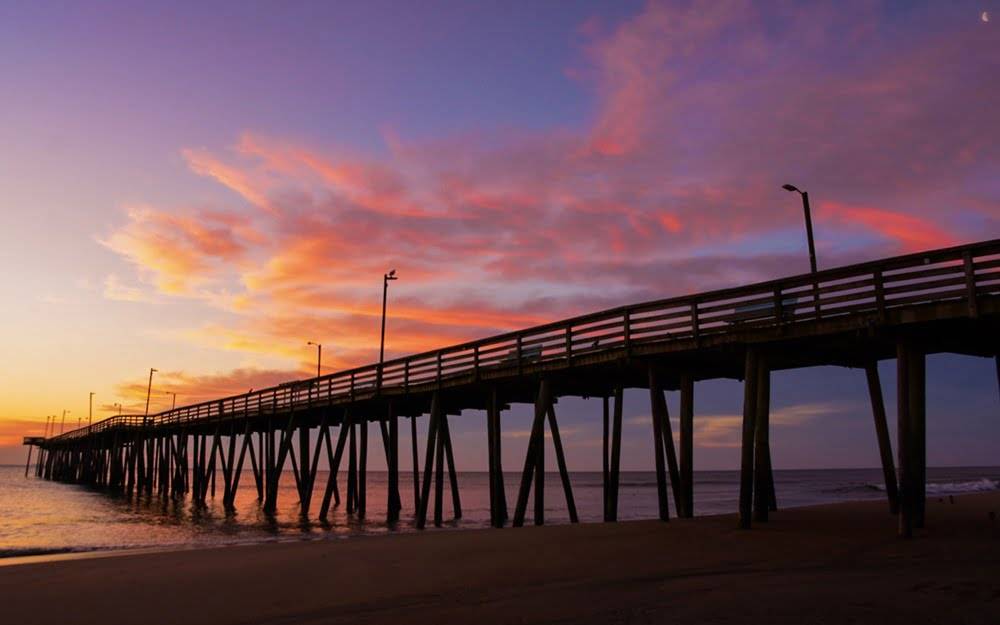 By Erin Gifford from Go Hike Virginia
Virginia Beach is an ideal Southeast vacation destination for those who love surfing, beaches, bike trails, state parks, and vibrantly-colored murals. It's a delight to order up a scoop of sorbet at Lolly's and stroll the three-mile length of paved boardwalk.
Walk the ViBe Creative District to see dozens of colorful murals, including the "Greetings from Virginia Beach" mural at The Beach Bully on 19th Street. You'll find dozens of murals, some that take over entire exterior walls of buildings across this fun-loving beach town.
Spend the day at False Cape State Park. Take the Blue Goose Tram in to walk the trails or bike in to pedal all across this coastal state park. A selfie with the red, yellow, and black "Southernmost Virginia State Park" buoy at the visitor center is an absolute must while at the park. Visit in early spring when there are fewer bugs or in summer to splash in the salty waves.
Settle in for the night at the Sheraton Virginia Beach Oceanfront Hotel, which is just steps from the beach at the north end of the boardwalk. Enjoy an outdoor pool, as well as waterfront dining at the on-site Fusion Restaurant. The hotel is also a short walk from the 34-foot-tall statue of King Neptune at the 31st Street beach entrance.
You can also book a cottage near the beach or an oceanfront condo.
Boone, North Carolina

By Lanie from Make More Adventures
A small mountain town located in the Blue Ridge Mountains in Western North Carolina, Boone is a popular vacation destination, especially during the summer and fall.
Boone is known for its outdoor activities such as whitewater rafting, skiing down nearby Beech and Sugar Mountains, and hiking along the Blue Ridge Parkway.
Grandfather Mountain State Park is home to Mile High Swinging Bridge, the highest suspension footbridge in the US. Grandfather Mountain has gorgeous hikes for every level and camping sites for those who are completing overnight hikes.
Every small town needs a general store, and Mast General Store does not disappoint. Clothing, food, home goods, and gifts are just some of the items that can be found at the general store on King Street.
Lots of breweries and wineries are located in and around Boone, with tasting rooms, outdoor seating, and delicious food options. Daniel Boone Inn is Boone's most famous restaurant, with meals served family-style. King Street, across from Appalachian State University, offers many options for meals, from soups, sandwiches, and salads at Our Daily Bread to Southern options at Vidalia or pay what you can at F.A.R.M. Cafe.
Boone has many options for chain hotels downtown, plus bed and breakfasts such as Lovill House, or boutique hotels such as The Horton Hotel. You'll also find many vacation rentals for all budgets.
Boone is the perfect place to explore, enjoy nature, and just enjoy the mountain views and relax.
Savannah, Georgia

By Ada from Beyond the Yellow Brick Blog: A Travel Blog
Known for its beauty and walkability, Savannah, GA makes a perfect weekend destination in the Southeast. As America's first planned city, the small city was deliberately designed around green common areas. Depending on how you count, Savannah boasts 22 – 25 green squares in its historic downtown.
However, Savannah offers a lot more than just Spanish-moss draped streets and spaces. During your visit, you'll definitely want to do a walking tour to learn about the city's complex history. Free Savannah Walking Tours offers an excellent 1.5-hour tour that doesn't shy away from the unsavory details of Savannah's storied past.
Tour at least one historic house – such as the Owens-Thomas House – during your visit to learn about antebellum living in Savannah.
You'll find shopping opportunities galore on both Broughton and River Streets. As the largest container ship port in America, you can watch ships of all sizes cruise up the Savannah River. If you want to do some cruising yourself, hop aboard the Georgia Queen riverboat.
For the best of both Savannah's historic downtown and River Street stay at the Olde Harbour Inn. Located in a converted River Street warehouse, Olde Harbour Inn provides comfortable suites as well as a friendly staff and nightly wine happy hour. The inn is accessed from Factors Walk, a cobblestone thoroughfare known for its beautiful wrought-iron skywalks overhead.
Alternatively, you can rent a historic vacation townhome right in the heart of the historic district.
With its temperate climate, you can have a pleasant visit to Savannah any time of year, although most tourists prefer to visit in the spring or autumn to avoid summer heat.
Chattanooga, Tennessee

By Stephanie from The Unknown Enthusiast
Chattanooga, Tennessee, is a fantastic hidden gem vacation spot in the Southeast United States. Despite being a relatively small city, there is a lot to see and do with a weekend in Chattanooga!
You may have heard the song, the Chattanooga Choo Choo, and sure enough, Chattanooga is known for its historical importance in the rail industry. Today, you can visit the old Terminal Station, which is now restored into a hotel. Or, you can ride a historic train at the Tennessee Valley Railway Museum, which they call a "living museum."
There are many fun activities around the Tennessee River, which cuts through the middle of downtown. You can walk across the Walnut Street pedestrian bridge, hang out at Coolidge Park or walk the Riverwalk Parkway, go kayaking on the river, or cool off at the unique splash pad at The Passage.
Make sure you head up to Lookout Mountain for the sunset. Sunset Rock is a popular place, but any west-facing area of Point Park (a historical Civil War monument on Lookout Mountain) is a great spot, too!
Spring and fall are definitely the best times to visit, while the weather is pleasant and before the oppressive heat and humidity of summer set in.
The Read House in downtown is one of the best places to stay in town. This hotel is set up in an old, historic building, and the details in the lobby are beautiful. You can also book a vacation rental.
Gatlinburg, Tennessee

By Kim from The Traveling Swansons
Gatlinburg is a mountain town and gateway to the popular Great Smoky Mountains National Park making it one of the best destinations in Tennessee. Since Gatlinburg is located next to the Smoky Mountains, you have beautiful scenery, great hiking trails, and amazing waterfalls all within a close distance.
Gatlinburg is perfect for a vacation destination in the Southeast because there are a wide variety of activities for families, couples, or friends. Along the parkway in Gatlinburg, you will find many restaurants, shops, and attractions.
Take in beautiful views by riding the Gatlinburg SkyLift and then walking across Skybridge, the longest pedestrian suspension bridge in North America! Visit Anakeesta, where you can take in more incredible views, shop, dine, zipline, and walk the treetop bridges.
The best and most popular times to visit Gatlinburg are in the fall and summer. Fall is a popular time because the town is beautifully decorated for the season and the leaves turn a beautiful red, yellow, and orange color.
Summer is a great time because the weather is warm and perfect for hiking and exploring the outdoors.
Greystone Lodge On the River is a great hotel to stay in while visiting Gatlinburg. The location is perfect for walking to Gatlinburg's best attractions. It is also located on the Little Pigeon River. Get a room with a balcony to enjoy the beauty and sounds of the river!
You can also rent a vacation rental, you'll find plenty of charming cottages with stunning mountain views.
Shenandoah National Park, Virginia

By Anna from Stuck on the Go
Outdoor activities, cute small towns, and gorgeous views make Shenandoah National Park one of the best vacation spots in the Southeast.
The most popular activity in the park is hiking. Old Rag is the most iconic hike here but also the most difficult. Stony Man, Doyles River Falls, and Hawksbill are all some of the best hikes in Shenandoah National Park.
Don't worry if hiking isn't your thing because there are plenty of overlooks where you can pull off of Skyline Drive to stop and enjoy the view. Bring a picnic to make it extra special.
While you are road tripping down Skyline Drive, stop in the towns of Front Royal, Luray, Sperryville, or Elkton for some small-town charm.
You can also kayak at Shenandoah River State Park, check out Luray Caverns, or visit the wineries of the Shenandoah Valley.
Many people love visiting Shenandoah in the fall for the beautiful colors but spring and summer are great times to visit as well. Waterfalls will be gushing full force in the spring and the cooler mountain temperatures are nice in the summer. Winter brings many amenity closures.
Cell phone service is very spotty on Skyline Drive so make sure you look up hours for any locations you want to visit and either download a portion of Google Maps or bring a paper map with you.
If you plan on doing any hiking you'll want to wear good shoes – preferably hiking boots – and think about bringing trekking poles. The terrain is very rocky and many trails are steep.
Camping in the National Park is fun and you are close to the trailheads as soon as you wake up. If you want something a little nicer then you can stay at Skyland or Big Meadows Lodge, or book a vacation rental.
There are also many bed & breakfasts in Luray, VA which is a good middle point of the park.
Asheville, North Carolina

By Carrie from Trains, Planes and Tuktuks
With easy access to the highest mountains in the East, some of the wildest rivers in America, and one of the top food and beer scenes in the region, Asheville has something for every traveler.
Hikers, paddlers, and mountain bikers will find limitless outdoor adventure possibilities around Asheville. The city is within an hour of two national parks, three national forests, half a dozen state parks, and wilderness areas galore. You can be on a wilderness trail within 10 minutes of downtown in any direction.
When your muscles get sore, relax in the natural hot springs 30 minutes from town, or on the beach at Lake Powhatan right in the city.
Not a hiker? You can still get spectacular views driving the Blue Ridge Parkway, which cuts right through town. Take it up to Mount Mitchell State Park for a short, wheelchair-friendly walk to the highest summit east of the Mississippi.
If you're more of an urbanite, West Asheville's street art scene, the River Arts District's quirky galleries, top-notch bluegrass shows at the Grey Eagle, and the gardens at the Biltmore Estate will keep you occupied for days. Shop local all over downtown while you check out the art deco architecture. And don't miss a mountain sunset from a rooftop bar like Capella on 9 or Hemingway's Cuba.
Asheville is a year-round travel destination, but the peak seasons are July-August and October. You'll have a more pleasant visit if you avoid weekends during these months. Whenever you visit, expect lots of rain.
The best place to stay in Asheville is the Lion and the Rose B&B. This mid-range guesthouse offers superb breakfasts and stylish rooms in the Montford Historic District, a few minutes' walk from downtown. You can also check out the vacation rentals, either in the downtown area to be near everything or a bit outside for stunning views.
Sanibel and Captiva Island, Florida

By Lori from Naples Florida Travel Blog
One of the best vacation spots in the southeast US is Sanibel and Captiva Island, Florida, for so many reasons: if ever there were a destination for every kind of vacation and every kind of traveler, this tropical destination is it.
Located in southwest Florida off the coast of Fort Myers, the island of Sanibel, together with its sister island of Captiva, are two of the most pristine and still unspoiled barrier islands of Florida, though the two are separated only by a small bridge.
There's just one way on and off the island, which creates an exclusive and remote island feel right from the start. Both Sanibel and Captiva are uniquely different depending on what type of vacation you're seeking, although both offer families and couples alike a laid-back atmosphere with small-town charm that's not easy to find in Florida.
Hands down, the biggest reason visitors flock here are the white sand beaches and the tons of beautiful seashells that wash ashore every hour of every day.
Nature can be found everywhere on and off the island, and cycling the bike paths that stretch the entire length of the island or kayaking in the J.N. "Ding" Darling Wildlife Refuge are the best ways to immerse yourself in it. Many visitors also take boat tours to surrounding smaller islands to spend the day on deserted beaches all to themselves.
The best time of year to visit Sanibel and Captiva are the winter months of December through March, though the crowds can be overwhelming. Waiting until the shoulder season of April through June offers the same lovely weather with fewer crowds.
As for where to stay, the Sundial Beach and Tennis Resort is a great option for both families and couples. Otherwise, book a vacation rental near the beach.
Blue Ridge Parkway, Virginia/North Carolina

By Cosette Karsmakers from KarsTravels.
The Blue Ridge Parkway runs through the states of Virginia and North Carolina. It winds through the Blue Ridge Mountains and there are 469 miles of road to enjoy. It's a perfect vacation destination in the Southeast for everyone that loves road trips. There are beautiful views at every turn.
There are numerous overlooks, perfect to enjoy endless views and to watch the sunset. The Blue Ridge Parkway is a must for people who love hiking and to chase waterfalls.
The parkway connects Shenandoah National Park in the North with the Great Smoky Mountains National Park in the South. Both parks are worth your time, so add them to your vacation. Other attractions on the Blue Ridge Parkway are Grandfather Mountain, Natural Bridge State Park and Mount Mitchell State Park. And there's more you can do, have a weekend getaway or a week-long vacation, you won't get bored.
All year long is perfect for the parkway, but Fall with the colors of Fall foliage is extra perfect.
The Fancy Gap Cabins has beautiful views of the mountains. Another great option is the Best Western Asheville. For a retro motel experience, stay at the Buena Vista Motel in the town of Buena Vista.
Nashville, Tennessee

By Alicia from Travels With The Crew
There is so much to do in Nashville! It is a great place to visit to get a taste of Country music and Rock and Roll. If you are a music lover you're sure to find something to do!
While in Nashville take a tour of the Ryman Auditorium and the Country Music Hall of Fame, and learn how to country line dance!
The Ryman is what helped make Nashville Tennessee what it is today. When the Ryman was built in 1892 it became known as the "Mother Church of Country Music" and was home to some of the greatest country music entertainers.
The Country Music Hall of Fame is a museum that has all kinds of memorabilia from famous country singers and bands throughout the decades. It also houses costumes, records, awards, instruments, sheet music, films, photographs, letters, and other artifacts. Follow the yellow footsteps to find your way around this museum!
The Wildhorse Saloon is a fun place to visit if you are interested in line dancing. The saloon has a dance floor that is large enough for hundreds of your new friends and line dancing lessons take place every evening.
Nashville is such a fun town and you will find something amazing to do while you are there.
The Gaylord Opryland Hotel is truly gorgeous and one of the best accommodation options in town. This hotel contains 9 acres of gardens that surround several hotels and restaurants. You will also find plenty of vacation rentals available around town.
Natural Bridge State Resort Park, Kentucky

By Rebecca from Whatever Packs Your Bag
One of the best vacation spots in the Southeast is Natural Bridge State Resort Park located near Stanton Kentucky. It is enough off the beaten path, that you can truly get some hiking and nature exploring in, and truly enjoy some time off the grid.
You could visit anytime, but the summer months have more recreational options than the colder months. The Natural Bridge is a carved sandstone arch and is 65 feet high. The park is 2,300 acres and is surrounded by the Daniel Boone National Forest, which has even more trails to explore.
The park offers some great things to do, during the summer months there is a sky lift you can ride up to the top of the Natural Bridge. Once at the top you can wander, take some pictures and enjoy all the views.
You can also rent kayaks and canoes, or go miniature golfing.
There are 10 trails from super easy to more moderate trails. The Balancing Rock is worth the time to get to, and the path has quite a few steep steps up, but it is totally worth the effort.
Exploring the Red River Gorge area is a must, there is an adorable coffee shop the Daniel Boone Coffee Shop that offers non-dairy milk options. The Red River Rockhouse has some great food options.
Hands down the best hotel option is Dome Town which is this awesome combo of treehouses and dome homes. You can also rent a cabin in the woods for an incredible stay!
New Orleans, Louisiana

By Denise of Chef Denise
New Orleans is undoubtedly one of the best getaways in the Southeast U.S. Known for its Mardi Gras festivities, jazz music, Creole and Cajun cuisines, and bayous, NOLA celebrates its own unique culture. The city motto "laissez les bons temps rouler," or "let the good times roll," pretty much sums it up.
Visiting the French Quarter should be at the top of your New Orleans bucket list. Stroll the streets of this historic neighborhood and admire the gorgeous structures with ornate iron balconies built in the 1700s. Don't miss Jackson Square with its lush park and America's oldest cathedral, the St. Louis Cathedral. Walk down the famous Bourbon Street where music plays all day, but only truly comes alive at night.
You can spend your whole vacation in the French Quarter, but if you have the time, venture out to the Garden District. Ride the St. Charles Avenue streetcar, admire the old mansions, and peak in at Lafayette cemetery known for its elaborate above-ground crypts.
Two of the most popular things to do in New Orleans include plantation tours and swamp tours (you can also combine both in one day trip), both are worthwhile. Plantation tours dive into the history of slavery in the area. Swamp tours explore the bayous draped in mossy trees where you'll hope to spot alligators in their natural environment.
New Orleans boasts the largest museum in Louisiana, the National World War II Museum. Take time to watch one of the museum highlights, Tom Hank's production, Beyond All Boundaries.
A city that truly has something for everyone, you can easily spend a week in New Orleans. Stay in or around the French Quarter and you'll be close to most attractions. Try the New Orleans Marriot, some rooms have views of the Mississippi River, or book a vacation rental.
Visit during the spring to avoid the summer's extreme heat and hurricane season, June through November.
Hunting Island State Park, South Carolina

By Candice from CS Ginger
One of the best vacation destinations in the Southeast is Hunting Island State Park. It is a small island just off the coast of Beaufort, South Carolina. There is a beautiful beach there that has been named as one of the top ten beaches in the country.
The highlight of the island is the Hunting Island State Park Beach. It is a beautiful beach with miles of coast to enjoy. Be sure to visit at low tide to look for shells on the beach.
Another fun thing to do there is to climb the lighthouse. There are 167 steps to the top and kids have to be 4'4" to climb. Admission is $2 per person.
The best place to stay on Hunting Island is at the campground. It is just off the beach and has both tent and RV campsites. It is such a fun place to camp on the beach. The campsite has 102 RV spots with power and water. Also, in the campground, you will find a playground, a small store, and bathroom facilities.
If you do not want to camp, the closest hotel is the Fripp Island Golf and Beach Resort. You'll also find many oceanfront cottages and apartments nearby.
Keep in mind that it is a small island with limited amenities. There are not any restaurants or grocery stores on the island, so it is a good idea to bring your lunches and snacks with you. If you find yourself in a bind, you can pick up limited supplies like sunscreen, snacks, and drinks at the Lighthouse Gift Shop.
Lafayette, Louisiana

By Marquita from Marquita's Travels
If you're a lover of good food and history, then Lafayette, LA is one of the best vacation spots in the Southeast. As a midpoint between Houston and New Orleans, Lafayette is a short 2 to 3-hour road trip from either location.
Touring a cultural museum is a must-do while in Lafayette. Both Vermilionville and Acadian Village will transport you back to the life and culture of the 18th century. The experience includes the various homes, music, and history of that time- including learning how they made their garments, prepared their food, and educated their children.
Similarly, downtown Lafayette is a must-visit. It's such a cute and quaint area with various restaurants, boutiques, coffee shops, and restaurants.
Scratch Farm Kitchen is a wonderful restaurant that offers delicious, fresh food. Down the street, you can find Pop's Poboys, which is home to one of Louisiana's staple cuisines, Poboys is a French bread sandwich filled with the yumminess of your choice.
Also located downtown is The Mouton Plantation Bed & Breakfast. Originally built in 1820, this B&B embodies both history and beauty. In addition, every morning you will experience an authentic cajun breakfast. And if you're lucky, you may catch a live Zydeco performance.
You'll also find plenty of historic houses available as vacation rentals that will make for a perfect getaway.
You can get more details on things to do in Lafayette here.
St. Augustine, Florida

By Mary from Calculated Traveller
St. Augustine, Florida, is a charming city perfect for any type of visitor. Known as the oldest occupied city in the US, visitors of all ages will love the romance and history of the centuries-old buildings and hidden courtyards throughout the city.
Families will love seeing history come to life as they learn about life in the past through the eyes of actors dressed in period costumes at attractions such as the Old Jail, the Oldest School House, and the Fountain of Youth Archaeological Park.
Old Town St Augustine is easily walkable, especially if you stay within the historic district. The stunning St George Inn is one of the top-rated boutique hotels in town. Located near Fort Castillo San Marcos and the Colonial Quarter, the St George Inn places you steps away from everything. With suites situated on the second floor above St George Street, you can watch all the action from the comfort of your balcony.
With a vibrant food and drink scene, foodies should plan a tour and, of course, a tasting at St Augustine Distillery, Whetstone Chocolates, and San Sabastian Wine.
Sun worshippers will be happy to hear that St Augustine has plenty of beautiful beaches and boasts 42 miles of shoreline just waiting for you to relax the day away. An excellent option for nature lovers and budget travelers would be to camp right by the beach at nearby Anastasia State Park.
Read more about St Augustine here.
Pensacola, Florida

By Tavia from Big Brave Nomad
Pensacola is one of the best vacation spots in the Southeast United States. It is located on Florida's panhandle and is home to the iconic Emerald Coast.
While Pensacola Beach brings the clear blue water and powdery white sand, Pensacola proper is rich in history and is arguably the oldest settlement in the United States.
Since its creation, Pensacola has been ruled by Spain, France, Britain, the Confederacy, and the United States gaining the name "City of Five Flags." No matter if you're a history buff, foodie, or nature lover; Pensacola has everything you want!
Downtown Pensacola offers a plethora of family-friendly dining including the famous Jacos on the Bayfront, McGuires, and Five Sisters Blues Café.
For entertainment, snag tickets to one of the Blue Wahoos games, climb the Pensacola Light House, watch a Blue Angels practice or show, explore Fort Pickens, relax on the most beautiful beaches in the USA (make sure to check out Navarre Beach!), rent a boat, kayak, or paddleboards, or even walk the nature trails in Big Lagoon State Park.
The absolute best place to stay in Pensacola is right on Pensacola Beach at Margaritaville Beach Hotel; they have amazing food, a zero-entry beachfront pool, private beach access, and covered parking. You can also book a vacation rental near the beach.
Don't forget to document your Pensacola memories with a photo at the famous Pensacola Postcard!
Orange Beach, Alabama

By Nikki from She Saves She Travels
One of the best vacation destinations in the Southeast is Orange Beach, Alabama. Known for its stunning white-sand beaches, it's a spot full of southern charm that will steal your heart.
There's a variety of activities in Orange Beach for every travel style. Visit one of the best state parks in the region, Gulf State Park, go mini-golfing, or take a Segway tour. For more fun, be sure to enjoy a dolphin tour, take a pottery class, dine at one of the many amazing restaurants, or of course, hang out on the beach.
One of the town's best attractions is The Wharf Orange Beach. Shop till you drop, enjoy water-front dining, or ride the largest Ferris Wheels in the Southeast. Enjoy it on a rainy day or when you need a break from the beach.
The best time of year to visit Orange Beach is really anytime! If you're looking to swim in the Gulf of Mexico, then April – October is the right time for you. Keep in mind hurricane season is June – November. Peak travel season is the summer, when you'll see the biggest crowds.
If you're looking to stay right on the water, the Hampton Inn & Suites Orange Beach has phenomenal views. The Springhill Suites Orange Beach at The Wharf has a pool and views of the marina – or book a vacation rental for added convenience.
Whether you're into nature or beaches, active vacations or relaxing, you'll love spending time in Orange Beach, Alabama!
Outer Banks, North Carolina

By Julia from The Cure of Curiosity
If you're looking for a beautiful beach location full of history, nature-focused activities, and relaxation, head to the Outer Banks in North Carolina. Here you'll find over 100 miles of shoreline with extensive beaches, as well as a number of activities to keep you busy during days you don't want to spend at the beach!
In fact, there are a lot of amazing activities in the Outer Banks. You won't want to miss finding the wild horses at the Currituck National Wildlife Refuge, learning the history of flight at the Wright Brothers National Memorial, or climbing the sand dunes of Jockey's Ridge State Park!
You can also visit the famous Cape Hatteras National Seashore and the picturesque Currituck Beach and Cape Hatteras lighthouses to admire more of the coastline.
Plan to visit in the early fall if you want to avoid the summer crowds but still have warm beach days with swimmable water. It's also the opportune time to get a better deal on the many rental houses and condos in the area.
Alternatively, there are some amazing hotels to check out, like the fabulous Sanderling Resort in Duck, NC.
By staying in Duck, you can catch the sunset on the Duck boardwalk and grab dinner at some of the fabulous restaurants overlooking the water. Not to mention, you'll be close enough to grab the renowned Duck Donuts for breakfast!
With so many fun areas and things to do, it's a vacation destination that will bring you back again and again.
Charleston, South Carolina

By Theresa from Fueled By Wanderlust
Charleston, South Carolina is a beautiful destination for a vacation in the southeastern United States. This elegant, colorful city offers lots of southern charm with its wide porches, tall church spires, and narrow alleyways. Visitors to Charleston can enjoy the awesome food scene, various historical sights, and long sandy beaches.
Charleston's beauty is one of the biggest reasons to vacation in this cosmopolitan southern city. There is street after street filled with gorgeous pastel historical homes that seem straight out of a magazine. One of the most famous examples is the highly photographed Rainbow Row, which is a short stretch of brightly painted homes on E Bay Street.
As Charleston was founded in 1670, this is the perfect city for history lovers. Immerse yourself in Charleston's past by taking a walking tour, visiting Fort Sumter, or browsing the Historic City Market.
You could even stay at a historic inn, like John Rutledge House.
In addition, visitors with a car should drive out to one of the nearby plantations, like Drayton Hall or Middleton Place. A plantation tour provides an even more robust overview of how Charleston was built and acquired wealth via the slave trade.
Charleston is ideal in spring when the flowers are in full bloom. Fall is another popular time to visit, with cooler temperatures making the city more comfortable to explore.
Many couples also visit Charleston as a romantic getaway over Valentine's Day, or in summer when nearby beaches like the Isle of Palms become irresistible. No matter when you visit, be sure to immerse yourself in Charleston's foodie scene at restaurants like FIG, Husk, and R. Kitchen.
Check out some of our other USA travel guides:
Save this post on Pinterest for later – Best Vacation Spots in the Southeast: