20 Romantic Getaways and Vacation Spots in the Midwest for Couples for 2023
Last Updated on March 6, 2023
Planning a romantic getaway in the Midwest and wondering where to go? Discover some of the best vacation spots in the Midwest for couples. From short weekend getaways and city breaks to romantic stays in gorgeous lodges and cozy inns surrounded by nature, you will find the perfect Midwest destination for you and your partner.
Whether you're the adventurous type or looking for a relaxing experience, you'll find plenty of epic destinations in the Midwest and romantic things to do! Get some romance going and share a trip you won't forget.
Keep on reading to discover some of the best romantic getaways and vacation spots in the Midwest for couples!
Related – Best destinations in the US for couples
Disclaimer: This post contains affiliate links, which means that if you click on any links and make a purchase, we'll get a small commission, at no cost to you.
Grand Marais, Minnesota
By Kyle from Via Travelers
Grand Marais, Minnesota is a charming town located on the shores of Lake Superior. The town is well known for its art community and is a popular destination for artists and nature lovers – it definitely is one of the top midwest weekend getaways. There are plenty of galleries and studios to explore, as well as hiking and biking trails that wind through the forests and along the lake.
This picturesque lakeside town is the perfect place for couples looking for a romantic getaway. There are plenty of things to do in Grand Marais, including art galleries, hikes, and quaint restaurants.
One of the most popular activities is taking a walk along the shore of Lake Superior. The views are stunning and it's a great way to spend an evening. Another romantic option is to take a sunset cruise on the lake. There are several companies that offer this service and it's a great way to see the area.
Grand Marais is located in northeastern Minnesota, about three hours north of Minneapolis by car and that's the best way to get there. You can take Highway 61 north to Grand Marais. This is one of the most scenic drives in the United States, so make sure to take the North Shore Scenic Byway.
If you want a quicker route and are coming from out of state, you can fly into Duluth International Airport, and then the drive is about an hour and a half from there.
While you are there, we recommend staying at a vacation rental to get the full North Shore of Minnesota experience.
In terms of dining, you need to try the Trail Center Lodge, and if you'd like a pre or post-dinner drink make sure you check out the excellent craft beer at Voyageurs Brewing Company.
Kansas City, Missouri
By Brittany from Travel by Brit
Kansas City is the perfect city for a romantic getaway in Missouri with the ideal blend of adventurous and relaxing activities to enjoy. There are tons of museums, breweries, distilleries, and historical sights to explore – just to name a few of the best things to do in Kansas City, Missouri! 
Kansas City is most easily reached from the Kansas City International Airport (MCI), just 30 minutes from Downtown Kansas City. While in Kansas City, you can utilize the clean (and free!) public transportation system to get around the city.
Kansas City is nicknamed the "Paris of the Plains"—so with a name like that, you know it has to be romantic. Kansas City has more boulevards than any other city except Paris, and more fountains than any other city except Rome, so it's a romantic place to walk around (and pretend you're in Europe!).
While in Kansas City on your romantic getaway, you can sample beer, wine, and cocktails at the local wineries, breweries, and distilleries.
If you're looking for an especially romantic outing, drive along the KC Wine Trail, a collection of wineries across Kansas and Missouri, like KC Wine Co. and Aubrey Vineyards.
And if you're looking for a romantic restaurant, look no further than Gram & Dun, an upscale restaurant in Country Club Plaza.
Kansas City is also home to some world-class museums. If you and your partner love art, you can't miss the chance to visit The Nelson-Atkins Museum of Art, and if you love history, visit the National WWI Museum and Memorial.
If you're looking for a romantic place to stay, consider Hotel Kansas City in Downtown Kansas City or The Fontaine overlooking Country Club Plaza. For more privacy, you can also book a vacation rental.
Lawrence, Kansas
By Brandon from Zimmin Around the World
Lawrence is the sixth-largest city in the state of Kansas. Located right along Interstate 70 and about 30 minutes from Kansas City. Lawrence is a great escape from city life for a romantic getaway.
The closest airport, Kansas City International, is about 45 minutes away. A car is recommended to travel to Lawrence as public transportation is almost non-existent.
First things first, Lawrence is a college town. But don't let that ruin your plans, there is an abundance of activities going on and sites to see that are not related to the University of Kansas.
Lawrence has a rich history dating back to 1855. The town itself is charming, with brick buildings lining the sides of Lawrence's main street, Massachusetts Street. Along Massachusetts Street, there are cute and unique shops, restaurants, breweries, and even concert venues.
Why not grab a fresh beer from Free State Brewing Company? Free State Brewery is said to be the first legal brewery in Kansas. Free State also has a restaurant with a great food selection including vegetarian options.
If beer isn't for you, perhaps try a wine from one of the many wineries around town. Davenport Orchards & Winery or Bluejacket Crossing Vineyard & Winery are some of the best in the area. Visitors can sit outside of these wineries, sample various wines, and enjoy the beautiful views and company.
One of the more popular attractions near Lawrence is Grinter's Sunflower Farm. This is a seasonal attraction, but visitors flock to this farm to view the thousands of sunflowers in bloom come August and September.
If staying for more than a day in Lawrence, you'll find plenty of typical inns and vacation rentals. Try something new and stay at a bed and breakfast or a historical hotel like the Eldridge Hotel.
Chicago, Illinois
By Patti from The Savvy Globetrotter
There are many romantic things to do in Chicago for every budget and the city is one of the top romantic getaway destinations in Illinois.
Couples visiting during the warmer months can enjoy the city's many outdoor attractions and events. An architecture river cruise and a lake cruise are must-do activities. Walk along the Riverwalk and Lakefront Trail or find a spot to sit and relax while people and boat-watching.
Enjoy a picnic at one of Chicago's many beaches, parks, gardens, and green spaces. Ride the large ferris wheel at Navy Pier and stay for the free fireworks show that takes place twice a week all summer.
In addition to its many outdoor attractions, Chicago is also full of museums, cultural institutions, and indoor attractions including the Art Institute of Chicago and the public observatories at two of the tallest buildings (Willis Tower and 360 Chicago).
Make sure to visit one of the many rooftop bars and restaurants to grab a bite or drink with a view. One of the best rooftops is Cindy's Rooftop Restaurant which has an open-air terrace with panoramic views of Millennium Park (including The Bean) and Lake Michigan.
Chicago has many places to stay at every price point, but couples on a budget should consider the Chicago Getaway Hostel or Courtyard by Marriott. If you want to splurge The Publishing House Bed and Breakfast is perfect for couples looking for a romantic stay.
Mackinac Island, Michigan
By Linda from Midwest Explored
Head to stunning, Mackinac Island and uncover one of the most romantic destinations in the Midwest United States. After all, this lovely island sits right in between the upper and lower peninsula of Michigan and offers visitors stunning views of surrounding Lake Huron.
Plus, no cars are allowed on the island and nearly 80% of the island is made up of natural, protected land. Therefore, be sure to park your car at the Mackinac Island Ferry docks and enjoy an 18-minute ride to the island.
Once there, hike through Mackinac State Park and see the famous limestone Arch Rock formation that the area is known for.
Next, admire the awesome Victorian architecture of the Victorian Grand Hotel before visiting The Richard and Jane Manoogian Mackinac Art Museum to admire work from various local artists.
You can also take in the incredible history of this place with a trip to Fort Holmes before enjoying a scenic kayak tour with none other than Great Turtle Kayak Tours.
Then, when the sun goes down, grab some rum-infused cocktails at the Pink Pony as you enjoy this vibrant bar's great live music while enjoying some of the best things to do in Mackinac Island.
Finally, unwind for the night at one of the charming, independently owned bed and breakfasts on the island, like Bogan Lane Inn or Small Point Bed and Breakfast, or book a lakefront vacation rental.
North Shore, Minnesota
By Kassidy from Kassidy's Journey
The North Shore in Minnesota is the top destination in the Midwest for a romantic getaway. Between the endless views, fun activities, and delicious restaurants, you're bound to have a great time with your significant other.
The North Shore runs from Duluth to Grand Portage, following Lake Superior's shoreline for the entire drive.
If you're up for a bit of adventuring, check out one of the 8 state parks along Lake Superior.
The tallest waterfall in Minnesota, High Falls, lies in Tettegouche State Park.
Also nearby is the incredible Palisade Head, which is one of the best viewpoints on the shore and is the perfect place for a picnic together.
Head just a bit further south into Duluth, and enjoy time in Canal Park, with views of the Aerial Lift Bridge.
During the summer, visit Leif Erickson Park and watch the waves crash in while viewing the beautiful rose gardens.
Nearby you'll find the popular Portland Malt Shoppe where you can grab a delicious treat to enjoy as you stroll along Lake Superior.
When you're ready to grab a bite to eat, head to the popular Rustic Inn Cafe for delicious food and some of the best pies in the state.
If you're looking to enjoy a few drinks, Castle Danger Brewery has locally brewed beers with water from Lake Superior.
When it's time to lay your head down for the night, book a stay at the AmericInn in Silver Bay, the perfect place for a romantic weekend getaway.
Hocking Hills State Park, Ohio
By Jenna from Up and Away Magazine
Set just 60 miles south of Columbus, Hocking Hills State Park is one of the most romantic weekend getaways in the Midwest. Easily accessible, but still far enough away from the city to feel remote, it can be enjoyed year-round and is especially cozy during autumn and winter.
Known for its cabin culture, there are hundreds of romantic Hocking Hills luxury cabins to choose from that come with hot tubs, fireplaces, and panoramic forest views. If you'd rather stay in a cottage or yurt, check out the Inn and Spa at Cedar Falls.
There are several beautiful hikes, caves, and waterfalls to explore in the area. Don't miss the 1.5-mile trail to Old Man's Cave, which traverses several bridges and ends at a recess cave formerly inhabited by hermit Richard Rowe.
Another area favorite is Ash Cave – the largest recess cave in all of Ohio. It has a small waterfall that flows over the rim and cascades into a pool below. Take a picnic along and enjoy the stunning views.
A romantic escape wouldn't be complete without a day of relaxation and pampering, and the Inn and Spa at Cedar Falls is the perfect place for it. The spa offers a host of treatment options and includes specific packages for couples.
Round off your visit with a wine tasting at Hocking Hills Winery.
Milwaukee, Wisconsin
By Paulina from Paulina on the Road
If you are looking for romantic vacation spots in the Midwest to go with your loved one, Milwaukee is the place to be. From wonderful buildings with historic importance to the breathtaking views of Lake Michigan, there is everything to love about this place. Couples come and fall in love again here. You can enjoy everything from romantic to creative activities with your partner.
If you wish to spend some quality time with our partner, start the day with brunch at Cafe Hollande, European style. They offer a lot to choose from, with tons of savory and sweet options.
After that, enjoy a calming stroll in the twinkling and bustling streets of the Historic Third Ward. This neighborhood is known for its charm and is the perfect place to spend a romantic evening with your partner.
You both can also appreciate some beautiful art at the Milwaukee Art Museum, Milwaukee's largest art museum featuring above 30,000 pieces.
If you both enjoy waters, grab the opportunity to witness the picturesque landscape while taking a boat tour. Riverwalk Boat Tours are the right pick if you are looking for date ideas in Milwaukee.

You can have a romantic dine-in experience at an intimate restaurant like The Pasta Tree Restaurant and Wine Bar.

Tip: You can take a flight to Mitchell International Airport, which is 8 miles from downtown.

When you come to your room after a tiring day, your stay should be peaceful. For that, rely on Hyatt Regency Milwaukee. It is budget-friendly and provides a satisfying stay. If you want to treat yourself to a romantic and luxurious stay, check out The Pfister Hotel and its collection of Victorian art.
Brown County, Indiana
By Pamela from Our Adventure is Everywhere
With its rolling hills and beautiful wooded areas, Brown County, IN is ideal for a romantic weekend getaway in the Midwest. Just an hour south of Indianapolis or north of Louisville, KY, it's easily accessible from either city's airport.
Stay right in the midst of Brown County State Park at the Abe Martin Lodge. There's something extra romantic about enjoying a hot cup of coffee early in the morning while admiring the gorgeous views.
Interesting hikes for all ability levels are right out the front door, and although lovely year-round, the park is especially spectacular in the fall when the leaves are changing.
Nearby Nashville, IN is chock full of unique boutiques and restaurants. After strolling the downtown streets, head over to Hard Truth Hills to enjoy a locally made adult beverage and a delicious meal on the outside patio. Hard Truth often offers tastings, classes, tours, and more, so it's fun to participate in whatever is happening.
Related – Best Romantic Getaways in Indiana
Marquette, Iowa
Couples looking for a peaceful Midwest getaway surrounded by nature will love staying at the Trickling Waters Retreat near Marquette, Iowa. Featuring a beautiful garden, a fire pit, and a hot tub, this adult-only hotel offers comfy and quiet rooms with garden views and a patio or terrace.
Nearby, you can go hiking in Effigy Mounds National Park and Pikes Peak State Park.
Wine lovers will love going wine tasting at the award-winning Eagles Landing Winery while history buffs will enjoy a visit to the Villa Louis Historic Site and the McGregor Historical Museum.
At night you can head to the riverboat Casino Queen Marquette and have dinner at the typical The Barn Restaurant.
Dubuque, Iowa
Located along the Mississippi River, Dubuque is a small town rich in history and culture. Home to several museums (don't miss the National Mississippi River Museum) and historic districts, the town is perfect for a romantic getaway.
Take a stroll through the Dubuque Arboretum & Botanical Gardens then visit Mathias Ham Historic Site, a 19th-century house on the National Register of Historic Places.
Outside of town. you'll find plenty of outdoor activities as well. Head to The Mines of Spain State Recreation Area and E. B. Lyons Nature Center for a short hike and to take in the views or explore Crystal Lake Cave.
For a romantic stay, pick the historic Redstone Inn and Suites. This charming Victorian mansion features gorgeous decor and architecture with free breakfast and many sights within walking distance.
Slattery Vintage Estates, Nebraska
Couples looking for a unique stay in Nebraska will love spending a few days at the Slattery Vintage Estates – one of the top romantic getaways in the Midwest!
The estate is just stunning with plenty of nature trails and hikes available nearby. – and of course, they offer plenty of wine tasting opportunities! They also often have live music, and organize yoga classes.
The winery features a couple of luxurious tents with full bedding and antique furniture – perfect for a romantic stay.
Lincoln, Nebraska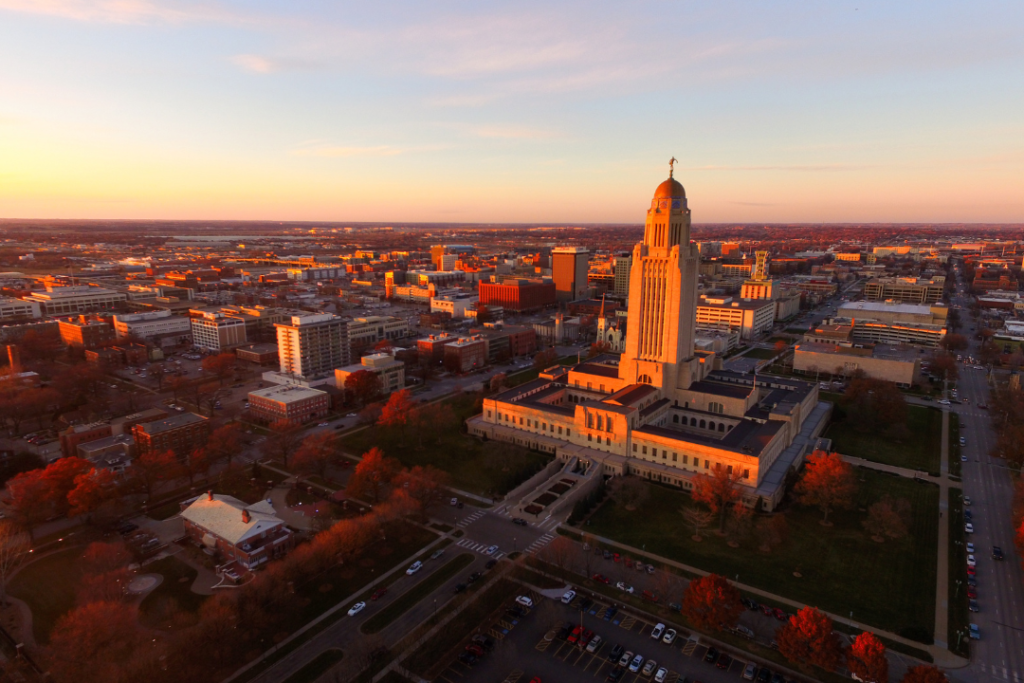 The capital city of Nebraska, Lincoln has a lot to offer to couples looking for a romantic Midwest weekend getaway. Rich in history and culture, the city features plenty of historic buildings and museums you can visit.
Make sure to climb up the observatory tower of the Nebraska State Capitol to get stunning views over the city. Next, head to the Pioneers Park Nature Center for a hike or to do some mountain biking – or take a stroll through the beautiful Sunken Gardens.
You can also visit one of the city's many museums like the National Museum of Roller-Skating, the Museum of American Speed, the Great Plains Art Museum, or the University of Nebraska State Museum.
When you're hungry head to Honest Abe's Burgers & Freedom for a burger and a milkshake – or to The Rabbit Hole Bakery for a tasty pastry.
The Rogers House Inn Bed and Breakfast is perfect for a romantic getaway in Nebraska. The settings are perfect for some romance with some rooms featuring a hot tub. They also serve a delicious breakfast and offer free bike rentals.
Lake Metigoshe State Park, North Dakota
Adventurous couples and outdoor lovers will love spending a few days at Lake Metigoshe State Park. Nestled in the scenic Turtle Mountains on the shores of Lake Metigoshe, the park features over 12 miles of hiking and mountain biking trails and can be visited year-round.
The park offers several campgrounds as well as lodges and cabins, they even have a yurt by the lake. There, you can rent kayaks, canoes, and cross-country skis. Just make sure to book everything in advance.
Related – 20+ Dreamy Mountain Destinations in the USA
Table Rock Lake, Missouri
A great summer destination if you're looking for a beach getaway in the Midwest, Table Rock Lake State Park is a paradise for outdoorsy couples. Whether you just have a weekend or a full week vacation, you'll find plenty of things to do within the park, with a perfect blend of relaxation and outdoor activities.
Apart from swimming and spending the day at the beach, you'll find several water activities like boating, kayaking, canoeing, parasailing, water skiing, or diving. There are also plenty of hiking and bird-watching opportunities.
You'll find plenty of accommodation options around the lake from campgrounds and lodges to luxurious resorts and cozy bed and breakfasts. The Cabins at Green Mountain by Wyndham is a great choice for couples.
Millersburg, Ohio
Located in the heart of the Amish Country, Millersburg is a quaint little village full of charm and one of the most romantic getaway destinations in Ohio. Wander along picturesque streets and historic buildings, go on a road trip, sample some local food, or cycle through scenic back-country roads.
Start your day at the Holmes County Open Air Art Museum then visit the gorgeous Victorian House Museum.
Foodies will enjoy visiting Guggisberg Cheese Factory and stopping for treats at Hershberger's Farm & Bakery. During the week, you can check out Troyers Country Market where you can shop for local food and fresh produce. Millersburg Brewing Company is a must-visit for any craft beer lover.
You can also take a road trip through the scenic Amish Country Byway, stopping along the way in villages and local farms. If biking is more your thing, make sure to add Holmes County Trail to your itinerary.
For a romantic stay, check out the charming and intimate The Inn at Honey Run. This boutique resort is surrounded by nature with several trails and a restaurant – it offers spacious rooms that are perfect for couples looking for a romantic getaway in Ohio.
Lake Geneva, Wisconsin
For a romantic lake getaway in the Midwest consider Lake Genova, one of the best vacation spots in Wisconsin. With plenty of lake houses, lodges, and resorts, you're guaranteed to have a peaceful stay with gorgeous views.
For something intimate, check out some of the houses available on VRBO, some with direct access to the lake, or book a room at the gorgeous Geneva Inn featuring lake-view rooms with a balcony.
The best time to visit Lake Geneva and enjoy all the water activities it offers is during summer from mid-May to the end of September.
Apart from things to do on the lake like kayaking, swimming, or boating, you can take a walk around the lake, spend some time at the beach, visit one of the historical mansions in the area, do some ziplining, or take a balloon ride.
Frankenmuth, Michigan
Known for its Bavarian-style architecture, Frankenmuth is a great vacation spot in the Midwest for couples. Its quaint shops, cute streets, and cozy inns make it perfect for a romantic getaway in Michigan.
For a romantic getaway, book a room at the cozy Marv Herzog Hotel. Featuring a riverside patio, this boutique hotel offers rooms with age-old European decor coupled with contemporary amenities, some with a balcony, a river view, and a spa bath.
Enjoy a one-hour historical tour of the Frankenmuth area aboard the Bavarian Belle Riverboat, then learn more about the city's history at the Frankenmuth Historical Museum.
Get some Christmas spirit going year-round at Bronner's Christmas Wonderland, the world's largest Christmas store, or shop for handmade toys, souvenirs, and chocolates at the Castle Shops at the Bavarian Inn Restaurant.
There are also plenty of fun outdoor activities to do in the area such as kayaking, hiking, or ziplining.
There are plenty of fun festivals going on all year, so make sure to check out what's going on when you're there. Summer is a great time to visit, but comes winter, the town turns into a Christmas wonderland.
Flint Hills Prairie, Kansas
One of the last remaining tallgrass prairie ecosystems in the world, The Flint Hills Prairie spread through parts of Kansas and northern Oklahoma. Couples who love nature and are looking for some epic scenery will love to plan a Midwest weekend getaway to the Flint Hills.
You can plan a road trip through the Flint Hills National Scenic Byway – featuring endless sunflower fields, farmhouses, limestone bluffs, herds of bison, and, of course, tall grass. The byway will also take you through the towns of Wichita, Manhattan, Wamego, Lawrence, and Emporia, where you can plan to spend the night.
If you like hiking, make sure to check out part of the 117-mile Flint Hills Trail (check out the access points here>>) and the Flint Hills National Wildlife Refuge, offering plenty of day hikes and opportunities to see wildlife.
More romantic getaway destinations in the US:
Save it on Pinterest for later – Best Romantic Getaways and Vacation Spots in the Midwest for Couples