Top 10 Places to Visit in France Outside of Paris
Last Updated on October 21, 2023
France is a wonderful country with tons of places to visit, whether you like nature, culture, history, cities and so on, you'll always find something to your taste. Paris is France's main destination, but where to go once you've visited it or if you simply don't like being surrounded by hordes of tourists? Check out these great alternatives and top cities to visit in France, perfect for a second trip to France, a French road trip, or if you want to go beyond Paris and discover more of France.
Apart from Toulouse and Nice in Southern France, you can visit all of the other cities listed below as a day trip from Paris.
Keep on reading to discover the top 10 places to visit in France outside of Paris and where to go in France besides Paris!
Travel tip: before any international trip, make sure you get good travel insurance.
Disclaimer: This post contains affiliate links, which means that if you click on any links and make a purchase, I'll get a small commission, at no cost to you.
Related Article – The top trendy restaurants in Paris
Where to go in France besides Paris
Lille

France's fourth biggest city, Lille is believed to have been founded in 640 by two giants. The first written evidence of the city dates back to 1066, but the city only became part of France in 1667. Lille historic center is proof of the city's rich past and is an architectural gem. For all the beauty of the historic center, Lille is the perfect blend of traditions and modernity.
Best places to visit in Lille
There are tons of places to visit in Lille, some, part of the UNESCO World Heritage List, most of them located in the Vieux Lille (Old Lille). Here are the city's main attractions:
Palais des Beaux-Arts de Lille (Palace of Fine Art): One of France's biggest museums, set in a beautiful edifice from the 19th century, it showcases masterpieces from most of Europe major artists.
Musée des Canonniers Sédentaires de Lille (Sedentary Gunners Museums): set in an ancient convent, this museum features artifacts from the Sainte Barbe Brotherhood.
Musée de l'Hospice Comtesse: an ancient hospital founded in the 13th century in the Flemish architectural style.
Pasteur Institute Museum: a blend of a House Museum and a science museum, showcasing science objects from all periods.
Charles de Gaulle House: If you're a history buff you can visit the house where Charles de Gaulle was born and grew up.
Natural History Museum
Lille's Churches: Saint-Etienne, Saint-André, Sainte-Marie-Madeleine, Saint-Maurice, Notre-Dame de la Treille, Sainte-Catherine.
The city doors: Porte de Roubaix, Porte de Paris and Porte de Gand.
The ancient fortifications: the citadel and the Fort du Réduit.
Beffroi de L'Hôtel de Ville: a huge tower from which you'll get a panoramic view of the city.
The city's Tourism Office offers walking tours in English of the Historic Center every Saturday at 10:15 AM (13 euros). The tour starts in front of the Rihour Palace.
What to eat in Lille
The local dishes you must try are the Welsh (beer-marinated bread, grilled with ham, mustard, and cheddar) and the Cramique, a type of sweet bread (you'll find the best ones at the Boulangerie Brier).
How to get to Lille
From Paris Nord train station, a TGV train will take you in under 1 hour to Lille, so you can even just go as a day-trip from Paris.
Reims

Reims is famous for its UNESCO World Heritage Cathedral that's definitely worth a look as well as the whole historic part of town. Reims is one of France's oldest city, it used to be an important place during the Gallic period, even before the Roman conquest. Traces of all the civilizations that passed through the city can still be found, making Reims a great place if you like history and architecture.
Best places to visit in Reims
Gallo-Roman vestiges: the cryptoporticus and the Mars Door.
Museums: Fine Arts Museum, Saint-Rémi Museum (UNESCO), Hôtel Le Vergeur Museum.
Churches: Saint-Rémi Basilica (UNESCO), Sainte-Clotilde Basilica, Cathedral of Our-Lady (UNESCO), Saint Jacques Church.
Landmarks: the Carnegie library, the opera, Bourlingrin Halls, Tau Palace (UNESCO).
For more information, you can check out the Reims Tourism Office's website.
What to eat in Reims
Reims is a city recognized for its gastronomy, you will find 5 Michelin-starred restaurants and plenty of cheaper alternative. The best place to try local food is the Bourlingrin market (Wednesdays, Fridays, and Saturdays morning).
Local delicacies include the Jambon De Reims (Reims' ham) and the Biscuit Rose or Rose cookie (rose as the color, not the flower), you can find the best ones at the Maison Fossier, it can be eaten alone or dipped in a cup of champagne. Reims being at the heart of the Champagne region, you cannot miss the opportunity to drink Champagne. If you spend a few days in Reims, you can also visit a vineyard (or a couple).
How to get to Reims
From Paris Est train station a TGV will take directly to Reims' city center in 45 minutes.
Metz

A medieval city, Metz is full of historic landmarks that are worth having a look at. Strolling around the historic center, passing through paved streets and gothic edifices, a visit to Metz makes for a great day-trip from Paris. You can also spend a few days and explore the stunning Lorraine region or nearby Luxembourg.
Main places to visit in Metz
Museums: Pompidou Center (contemporary art museum), Cours-d'Or Museum (splendid edifice featuring archaeological, medieval and fine arts exhibits).
Churches: Saint-Etienne Cathedral (one of the highest gothic edifices in Europe), Temple Neuf, Templars Chapel (a perfect blend of Roman and Gothic architecture), Saint-Maximin Church, Saint-Pierre-Aux-Nonnains Church (Metz's oldest edifice), Récollets Cloister.
Landmarks: Opera-Theatre (the oldest one in France), Saint-Louis Plazza, the Arsenal (a military building built by Napoleon the third and turned into a cultural center), Porte des Allemands (what's left of the medieval ramparts), the Train Station, Foch Avenue.
Metz Tourism Office has put together an app so you can visit the city and its surroundings on your own. It's in English and it doesn't require the internet once it's downloaded. Download it here on the App Store or here on Google Play.
What to eat in Metz
You probably already know the region's most typical dish: the Quiche Lorraine, a dish you absolutely need to try in Metz. On the sweet side, the region makes France's best mirabelles (small yellow plums), so try a mirabelle pie or any deserts with it. They also make a great Mirabelle liquor.
How to get to Metz
From Paris Est train station you can catch a TGV to Metz, it takes around one hour and a half.
Strasbourg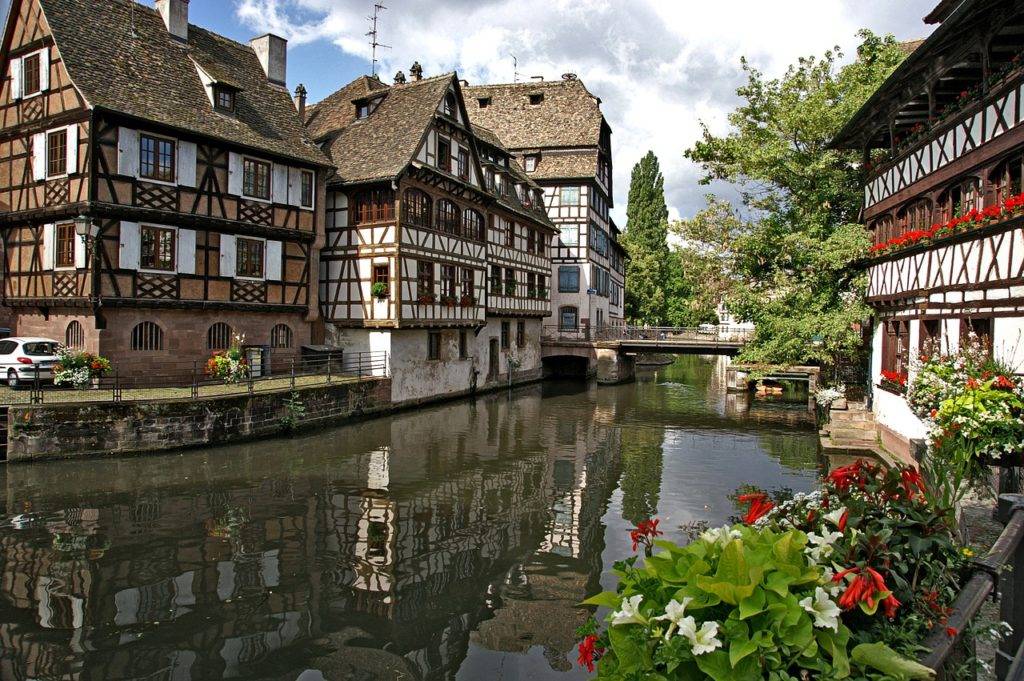 Strasbourg is a unique city in France, its architecture is so different and so beautiful, it would be one of my top picks for cities to visit in France. Just walking around, along the canals, one can't get tired of looking at the traditional houses and buildings. Strasbourg Historic Center is known as La Grande Ile (the Big Island) and is a UNESCO World Heritage Site. There are plenty of things to do in Strasbourg to keep you busy for a few days but you can also just plan a day trip from Paris.
Best places to visit in Strasbourg
Museums: Alsacian Museum, Vodou Castle, Pays du Hanau Museum.
Churches: Strasbourg Cathedral (a jewel of gothic architecture), Saint-Pierre-le-Jeune Church, Saint-Thomas Church.
Landmarks: Kammerzell House, Rohan Palace, the Neubau, Kleber Plaza, Broglie Plaza, Republic Plaza, the Military Governor's Hotel.
Neighborhoods: La Grande Ile, the Quartier des Meuniers (millers' quarters), the Neustadt (build by the Prussians after they annexed the region in the 20th century), the European Quarter.
What to eat in Strasbourg
Alsacian gastronomy is recognized as excellent all over France, the famous Choucroute is one of its emblems (cabbage and sausages, you can get a vegetarian option). The best type of restaurants to try local dishes are the Winstubs you'll easily find in the historic center. You shouldn't either miss the wine, one of the region's specialties.
How to get to Strasbourg
From Paris Est Train station catch a TGV to Strasbourg, you'll be there under 2 hours.
Dijon

Rich in history, Dijon used to be the capital of the powerful Dukes of Burgundy and is one of the top cities to visit in France. The historic center is incredibly well preserved and full of spectacular edifices. Make sure to stop at the tourism office where they'll give you a walking tour map.
Main places to visit in Dijon:
Museums: Fine Art Museum, Archaeological Museum of Dijon (set in the ancient Saint-Bénigne Abbey), Sacred Art Museum, Rude Museum (François Rude's sculptures, set in an ancient church), Magnin National Museum (private art collection set in a beautiful palace).
Churches: Chapelles des Élus, Saint-Philibert Church, Notre Dame Church, Saint-Bénigne Cathedral, Saint-Michel Church.
Landmarks: Burgundy States and Dukes Palace, Bretagne de Blancey Hotel, Sassenay Hotel, Berbisey Hotel, Coeur de Roy Hotel, Philippe-Le-Bon Tower, Moise's Well, and the Champnol Charterhouse.
What to eat in Dijon
We all know Dijon Mustard, and if you want to learn more about it or even learn to make it, head to the Moutarderie Fallot, the only place where they still make it the traditional way. Gingerbread is also a local delicacy, you should try the Nonettes, cookies made with gingerbread, orange marmalade, and honey.
If you like cheese, try the Époisse, made with cow milk and refined with grape eau-de-vie.
Typical main dishes would be the Oeufs en Meurette (eggs served with a wine sauce), the famous beef Bourguignon, Bourguignon-style snails (snails cooked in butter, parsley, and garlic).
How to get to Dijon
From Paris Gare de Lyon, take a TGV to Dijon, you'll be there in less than 2 hours.
Lyon

Lyon is known for its Light Festival (Festival des Lumières) which takes place every year at the beginning of December. All of the city's main buildings are illuminated with intricate designs. Even if you can't make it to the festival, Lyon is still worth a look. Lyon is a vibrant city where you'll find something to do to anyone's taste. From monuments and museums to nightlife and gastronomy, the city has it all.
Lyon's origin date back to the Gallo-Roman period, walking in the Vieux Lyon (Old Lyon), you'll be able to see traces of all the civilization that passed through the city. Most of Lyon is a UNESCO World Heritage Site.
Museums: Confluences Museum (world-renown contemporary museum), Fine Art Museum (set in an abbey from the 17th century), Lyon History Museum, Lumière Museum.
Churches: Fourvière Basilica, Saint-Jean-Baptiste Cathedral, Saint-Nizier Church, Saint-Bruno-les-Chartreux Church, Saint-Bonaventure Church, Temple du Change.
Landmarks: the Traboules (passageways to go from one street to another, through buildings), the Roman theater, the Trois Gaulles Amphitheater, the Aqueducts, Tony Garnier Murals, Thomassin House, Chamarier House.
What to eat in Lyon
Deli meat is the city's main specialty from Rosette to Brioched Saucisson, you'll find all types of dry ham and such. Another typical dish is the Salade Lyonnaise (lettuce with lards and a poached egg). If you like cheese you should try the Saint-Marcelin. On the sweet side try the Praline Pie, it's unique and delicious.
How to get to Lyon
From Paris Gare de Lyon take a TGV to Lyon, you'll be there in under 2 hours.
Nice

Nice is one of the top cities to visit in Southern France. It's a great city and the door to the Province region. Apart from visiting the city, there are tons of easy day trips you can take from Nice and lots of things to do nearby, involving incredible landscapes and unique experiences.
The city's origins date back to antiquity, strolling around the city center you'll be able to see how traditions and modernity blend perfectly.
Main places to visit in Nice
Museums: Terra Amata Prehistory Museum (important site where the first traces of fire domestication were found), Asian Arts Museum, Matisse Museum (set in a 17th-century villa), Masséna Museum, Naive Art Museum. Fine Art Museum, Lascaris Palace, Cimiez Archaeological Museum, Natural History Museum.
Churches: Saint-Martin Church, Notre-Dame Basilica, Sainte-Rita Church, Chapelle de la Miséricorde, Sainte-Réparate Cathedral, Russian Orthodox Church.
Landmarks: Saint-François Square, the Mediterranean Palace, Mont Alban Fort, Hôtel de Ville (Town Hall), Rossetti Square, Prefecture Palace, Régina Hotel, Cours Saleya, Promenade des Anglais, Opera, Negresco Hotel.
If you are there between mid-June and mid-August, make sure to visit one of the nearby lavender fields.
What to eat in Nice
Salade Niçoise needs no introduction, you definitely have to try the original one when you're in Nice. You should also try Socca, a type of pizza with the dough made of chickpea flour, and the Pissaladiere, a type of quiche.
How to get to Nice
From Paris Gare de Lyon you can catch a TGV to Nice, it takes 5 to 6 hours. Alternatively, you can fly from most major European cities.
Related article – Most romantic European destinations for couples
Toulouse

Nicknamed the pink city, Toulouse is a bubbly student city where you'll find plenty of bars and restaurants, and an interesting cultural scene. Toulouse is the door to the Occitanie region, which will allow you to witness a different culture and traditions.
Main places to visit in Toulouse
Museums: Bemberg Museum (Renaissance and Impressionism museum set in the city's most beautiful mansion), Le Chateau d'Eau (photography exhibits), Compagnonnage Museum, Saint-Raymon Archaeological Museum, Georges-Labit Museum, Vieux-Toulouse Museum.
Churches: Saint-Sernin Basilica, Saint-Etienne Cathedral, Jacobins Convent, Saint Jerome Church, Notre Dame de la Dalbade, Carmelites Chapel.
Landmarks: Assezat Hotel, Pont Neuf, Archives Tower, the Capitole, Roman Amphitheater, Bernuy Hotel.
What to eat in Toulouse
Deli meat is a local delicacy, you'll find the best one at the market, try the Jambon de porc noir de Bigorre (Bigorre Black Porc Ham), the Toulouse sausage and the Goose Foie Gras. On the sweet side try Fenetra (almond and lemon cake) and Violettes candies.
How to get to Toulouse
You can catch a TGV from Paris Montparnasse that will take you to Toulouse in 4 hours, There are slower one leaving from Paris Gare de Lyon.
Bordeaux

Bordeaux is a top city to visit in France. Famous for its delicious wine, the city has a lot to offer as a tourist destination. Getting lost in the UNESCO historic center's small streets, visiting museums and centuries-old churches, trying the local delicacies, you'll fall in love with Bordeaux.
Main places to visit in Bordeaux
Museums: Aquitaine Museum, Fine Arts Museum. Bernard Magrez Cultural institute (set in a beautiful 18th-century mansion), Ethnography Museum, La Cité du Vin (Wine Museum).
Churches: Sainte-Croix Abbey, Flèche Saint-Michel, Annonciade Convent, Notre Dame Church, Saint-Seurin Basilica, Saint-Pierre Church.
Landmarks: Grosse Cloche (the Big Bell), Cailhau Door, Rohan Palace, Bourse Square, Pey Berland Tower, Gallien Palace, Tourny alleys.
What to eat in Bordeaux
Of course, one of Bordeaux's main specialty is wine, try to visit a vineyard if you can or go to a wine tasting. You'll also find some of the best oysters there as well as delicious beef, with the famous rib steak served with its Bordelaise sauce. For dessert, you cannot miss the Canelé, one of my favorite French sweet, you'll find the best ones at Baillardran or La Toque Cuivrée.
How to get to Bordeaux
From Paris Montparnasse, you can catch a train that will take you to Bordeaux in 2 hours.
Tours

Tours is mostly left aside by international tourists and they're missing on something great. Less than an hour away from Paris, the city has a lot to offer. The historic center is stunning and the gastronomy delicious. Tours it's also a good base camp to visit the many nearby castles, and you might even want to experience spending the night in one of the castles along the Loire River.
Main places to visit in Tours
Museums: Fine Arts Museum (set in the Archevêques Palace), Compagnonnage Museum.
Churches: Saint-Gatien Cathedral, Saint-Julien Church, Saint-Martin Basilica.
Landmarks: Rue Colbert (from the Middle Age), rue de la Scellerie (antiques' shops, book shops…), Grand Théatre, Beaune-Semblançay Hotel and its fountain, Rue Nationale, Plumereau Square, Saint-Pierre-le-Puellier garden, Tristan House, Charlemagne Tower, rue des Halles.
What to eat in Tours
Like most typical dishes in France, local delicacies include meat and cheese. The first ones you should eat are the Rillettes de Tours (a type of paté), the Rillions (spiced pork confit), and the Andouillete (sausage). For the cheese, you can't miss the Sainte-Maure (goat cheese). On the sweet side, try the Nougat de Tours (a cake), the Fouace de Rabelais (brioche), and the Poire Tapée (which translates to beaten pear).
How to get to Tours
From Paris Montparnasse, you can catch a TGV that will take you to Tours in about an hour.
Tips for visiting France's top cities
Make sure you take a TGV train, the others can take twice as much time;
Book your train ticket in advance, it will be cheaper in most cases;
Make sure to book your accommodation in advance as well;
Always stop at the tourist office, they can recommend the best places to visit, the best restaurants and so on, and they often organize guided visits;
Learn some French;
Watch a few movies set in Paris or France;
Pack comfortable shoes as you'll have to do a lot of walking;
Most of the cities in France have some kind of city pass you can buy at the tourism office;
Some French vocabulary to know when visiting France's top cities
Bonjour – Hello
Merci – Thank you
S'il-vous-plaît – Please
Pardon – Sorry
(Est-ce-que) vous parlez anglais? – Do you speak English?
Je ne comprend pas – I don't understand
Je ne parle pas français – I don't speak French
Où est…? – Where is…?
Je voudrais… – I would like
Combien ça coûte? – How much does it cost?
Related articles to help you plan your trip to France:
Like it? Save it for later – Top cities to visit in France: